Features
Henry Winkler Says Barry is the Best Thing He's Ever Done…and He's Right
Henry Winkler's Gene Cousineau is something of a co-lead on season 3 of HBO's Barry. And the legendary TV actor is as grateful as ever.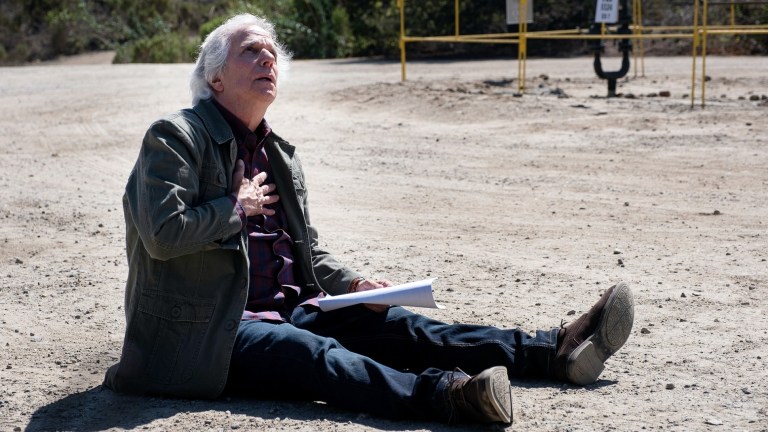 This article contains spoilers for Barry season 3 episodes 1 and 2.
It's hard to have a more vibrant TV acting career than Henry Winkler.
First introduced as the jukebox-slapping, shark-jumping, thumb-extending Arthur "Fonzie" Fonzarelli on classic sitcom Happy Days, Winkler would go on to have a prolific second act as a comedy character actor in projects like Scream, The Waterboy, Arrested Development, and much more.
Everybody knows Winkler from something, and perhaps even has their own personal favorite performance. For the man himself, however, nothing tops his current project: Barry.
"It's a kettle of fish that I don't think I have ever tasted in my entire career," Winkler tells Den of Geek prior to the Barry season 3 premiere.
It's a bold claim from the man who once donned TV's most iconic leather jacket…and it also might shockingly be a correct one. Barry won Winkler his first Primetime Emmy award for acting and introduced him to a new generation of viewers who don't know a Potsie from a Chaci.
"I've been in some pretty great things. None of them touch this," Winkler says. "The Fonz introduced me to the world. He was so much fun to play. The people are still my family. But man oh man. Barry is in a category by itself."
In Barry, which started its third season on HBO on April 24, Winkler stars as outcasted Hollywood acting teacher Gene Cousineau. It's Gene who serves as a surrogate father to the series titular hitman (played by Bill Hader) and it's also Gene who serves as his current hostage. 
In the finale of season 2, Barry Berkman's old handler Fuches (Stephen Root) guides Gene to the body of his lost love Detective Janice Moss (Paula Newsome) and reveals that Barry is the one who killed her. At the end of the season 3 premiere, Gene decides to enact his revenge. Armed with an ancient six-shooter gifted to him by the late Rip Torn, Gene invites Barry to their old acting studio and pulls out the weapon…only for all of the bullets to fall out of the loose chamber onto the floor. 
"They pick the greatest crew and that crew built the best gun. And it did what it was supposed to do. If I had to manipulate it would that have happened that way," Winkler says of the complicated firearm maneuver.
Unable to retaliate and kill his beloved mentor, Barry opts for a different route. He's going to keep Gene under his eye and revive his dormant acting career so he'll love him again and overlook this whole "murdered his girlfriend" thing. This marks new territory for the show and is in fact the first time someone within Barry's acting world finds out about his day job and lives to tell the tale.
It also has the added benefit of turning Winkler's Cousineau into something of a co-lead this season. Now fully embedded into Barry's "other" life, there are no scenes that Gene needs to take off and indeed Winkler misses very few, going toe-to-toe with Barry over and over again.
"It's scary," Winkler says. "You know, you have to work up to getting to the moment when you're filling the screen. That's what is so amazing to me. Here's a guy they've written where he knows who killed his love. He's filled with anger. And sometimes I'm so nervous that I have to change my shorts. And sometimes I I go 'You know what? Go fuck yourself!' And it's all the same guy. That guy has just had a journey of the first two years. You never know where he's going."
Gene's unpredictably is now a boon for Winkler but in seasons' prior it was a challenge. In the show's second season, in particular, Winkler had a harder time connecting his character, necessitating a meeting with Hader and fellow co-creator Alec Berg.
"I said 'look, I love this show and I love my character but I don't recognize my character from the first season. His name is Gene. This guy could be Bob.' They said 'we hear you, we can accommodate a bit of what you said but this is where we're going.'"
With the third season, there was no conversation needed.
"I just got my ticket and got on the train," Winkler says. "They are an amazing team. They really are. They write a different kind of comedy. I am amazed when I see where the journey goes from script to script. I just hope that I'm able to get close to their vision."
Winkler doesn't know where Gene will go in Barry's likely fourth season, should he be lucky enough to survive to get to it. But for now he does know one thing.
"Can I just say – you're talking to somebody who is awfully grateful. Man, did I have a journey in this (season)."