Features
Brockmire Season 4 Faces The Future of Baseball…and Everything Else
Hank Azaria and Amanda Peet discuss Brockmire's unexpectedly dystopian final inning.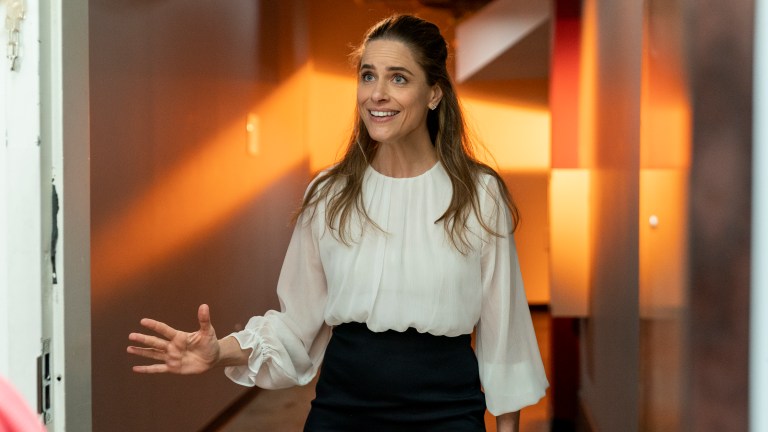 It all started with a short. Posted to Funny or Die's YouTube channel in 2010, "A Legend in the Booth with Hank Azaria (Gamechangers Ep 3)" was the world's first introduction to baseball announcer Jim Brockmire. Played by Azaria, the golden-voiced Brockmire capably called baseball games while also sprinkling in graphic details of his wife's infidelities amid the total destruction of his life.
Now it's a decade later and the IFC comedy that bears Brockmire's name is set to air its fourth and final season. Only the story that began with a simple, if well-executed four-minute short now flashes forward 10 years to a dystopian, climate-ravaged future. Yes, in the world of Brockmire season 4 there are food shortage riots, "moderate" summer temperatures of 114 degrees, and a section of the continental U.S. known as "The Disputed Lands" (of which Arizona is obviously a part). We've come a long way since Funny or Die. And according to series star Azaria, that was always the plan.
"It was always supposed to be four years. That was (creator and showrunner) Joel Church-Cooper's vision," Azaria says. "I tried to talk him out of it but he was insistent that this is what he wanted to do. Joel loves social commentary, and saw this as a good way to do it."
Social commentary has always been an integral part of Brockmire. The character has never been shy of expressing his decidedly leftist political opinions as he watches fracking, advertising, and all other manner of greed destroy the sport he loves. Brockmire's final season just broadens the scope of said commentary…while never losing sight of its main character's ability to make baseball seem like the most important thing in the world.
Brockmire season 4 hones in on that particular skill of Jim's, elevating him to the commissioner of baseball in the year 2030. In that role Brockmire will have to revive interest in the centuries-old game for a generation that is preoccupied with a dying planet, global pandemics, and shattered attention spans. So you know…nothing like our world currently.
Obviously baseball, and the world at large, find themselves in a similar, yet decidedly less extreme position now. Though traditional metrics like TV ratings remain relatively strong for baseball, there is a growing sense that America's Pastime's inability to change is alienating younger generations and leaving the game in a precarious spot going forward. Like his fictional counterpart, Azaria does have some proposed solutions to fix the sport.
"Pitch clocks I'm definitely for. Any way to shorten the game is definitely a good idea," Azaria says. "I think all sports could use like a third less of their season, maybe except for the NFL. Fewer games means more urgency and the postseason in baseball is very exciting. It'll never happen, because it's money-driven, and (the owners) are not going to give up that kind of revenue. But that's what I really would do."
Whether Azaria or Brockmire can fix baseball is beside the point, however, as this series has always been about one man trying to fix himself. After spending two full seasons in a drug, alcohol, and sex-induced haze, Brockmire achieved sobriety in the season 2 finale and has stayed on the bandwagon through season 3 and hopefully through season 4. This means that Azaria has effectively played two versions of one character.
"I much prefer (to play) drug-addled insane-o," Azaria says. "It's more fun to be the complete jet fuel version of the guy, than the sober, responsible version of the guy."
This being the last season, Brockmire will get the chance to reconnect with characters from his past who knew him best as the drug-addled insane-o. After starring in season 1 as Morristown Frackers owner and baseball lifer Jules James, Amanda Peet only recurred through seasons two and three. She's back in earnest this time around and she represents an adventurous lifestyle that Jim has tried his best to leave behind.
"I love working with Amanda, and missed her," Azaria says. "She has the most to do of any season now in this last season. It was sweet. I do love these two characters."
"It was just so fun. I mean, she's such a delicious character, and it was really fun to go back to," Peet adds. "I remember someone early in my career saying, 'comedy is rigidity.' And certainly Joel wrote Jules that way. I love all the things she's rigid about."
Rigidity for Jules means opening the season in Morristown, Pennsylvania where it all began – right down to the first bar that Brockmire and Jules shared time at. Though fun, the familiar set was not without its perils for the actress.
"I got hit with a beer can (in the head) when we weren't filming," Peet says. "I was practicing shotgunning beer, and I got hit with the beer can. We had to stop shooting. I have a little beer can scar."
Though consistency and accidental scars may be the preferred recipe for comedy, Brockmire season 4 makes some time for its most dynamic character too. Starting as the Morristown Fracker's digital media guru, Charles (Tyrel Jackson Williams) flourished into a successful tech entrepreneur in subsequent seasons. Azaria sees Charles's ascent as another one of the ways that Church-Cooper deftly plotted out the arc of the series.
"Some of it is that thing where you write for an actor, and then you see how great they're doing, so you take it that way more. But Joel really did have an idea of where all these characters were going right from the beginning," Azaria says "Things that were just asides in season 1 – like the kid is savvy with technology – and what his journey was really had a direction."
Everyone's journey has had a logical direction on Brockmire. And that's what makes this most wild of final season swings connect. Jim Brockmire would never be allowed to go out with anything other than a big, weird bang. This is man who has survived a mental breakdown, called cockfights for Manilla television, and against all odds befriended Joe Buck. The end of the world is only the beginning for Jim Brockmire. And if it's not, there are still many blacked out memories of Southeast Asia to recover.
"I always thought that a fun, kind of bonus track season would be going back and visit Brockmire's lost years. Maybe we'll do that someday," Azaria says.