Features
Ted Lasso Season 2: Hannah Waddingham on Embracing Rebecca's Boss Potential
Actress Hannah Waddingham discusses finding Rebecca's moment of clarity in Ted Lasso season 2 episode 3 "Do the Right-est Thing."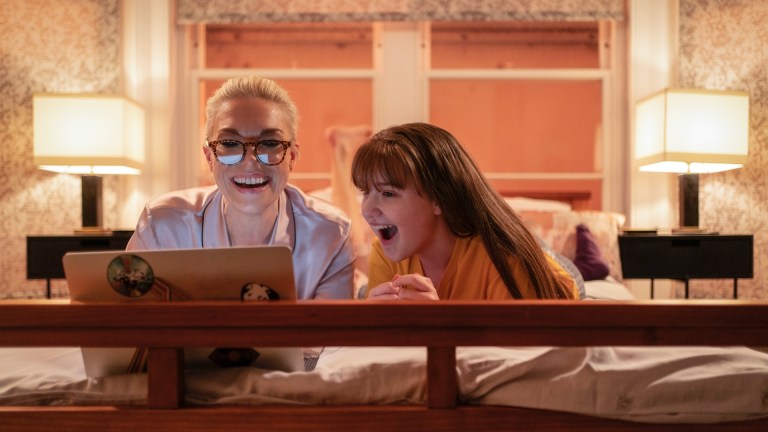 This article contains spoilers for Ted Lasso season 2 episode 3.
AFC Richmond owner Rebecca Welton (Hannah Waddingham) was the closest thing that the otherwise cheerful Ted Lasso had to a villain in the beginning.
Following a tough divorce from the awful Rupert Mannion (Anthony Head), Rebecca took it upon herself to hurt her ex in the cruelest way she could imagine: by destroying his beloved football team. As the new sole owner of Richmond, Rebecca brought in American college football coach Ted Lasso to torpedo the team's chances of success. In that regard, she was actually quite successful as the club found itself relegated to the lower Championship level. It didn't take long, however, for the show to reveal that Rebecca isn't nearly the villain that we, or she, thinks she is.
Following Rebecca's redemption in season 1, the character enters into season 2 as a firm part of the team. According to the actress who plays her, that required some adjustments.
"I genuinely found it slightly unnerving," Waddingham says. "I was like 'Where's my attrition? Where's the attrition?' There's no attrition with Ted. There's no attrition with Higgins. Rupert hasn't rocked up. It made me feel quite discombobulated, but that's good, because that's where she should be."
Though the show bears his name, Ted Lasso (Jason Sudeikis) is currently not one of its most dynamic characters. Despite his recent divorce and brush with panic attacks, Ted is a consistent, seemingly self-actualized presence…at least until Dr. Sharon (Sarah Niles) breaks through his outer shell. Until Ted realizes he needs to change though, it's up to the show's other characters to seek self-improvement. And thus far, no character's journey has been as turbulent or interesting as Rebecca's.
Season 1 disassembled Rebecca Welton down to the brakepads and now season 2 allows her to consider what kind of boss and what kind of person she intends to be.
"She shouldn't really know how to function yet. And I was really pleased to see that she's not all together sorted out," Waddingham says. "That's a long time to have been with somebody – for 13, 14 years. Even if it was wrong and toxic, you're just used to that. But she's found a new family."
Rebecca takes her biggest step forward towards a found family yet in episode 3 "Do the Right-est Thing." This half-hour finds Rebecca catching up with her old friend Flo Collins a.k.a. Sassy (Ellie Taylor). While Sassy is speaking at a conference in Brighton, Rebecca is charged with entertaining Sassy's teenage daughter Nora for the night.
Rebecca hasn't spent time with Nora since she was a child six years ago (now she's "one errant cobblestone away from her first period," Sassy notes). As such, Nora operates like a mirror set up on a planet six lightyears away, reflecting back to Rebecca what she used to be. And what she used to be is not particularly good with children. Rebecca strikes out trying to take Nora out for a tea date and then again outside of a doll shop.
Thankfully, that's when Rebecca runs into the Great Roy Kent who has some great advice for her for the second time in three episodes. Kids don't want to be coddled or entertained, Roy says. They just want your time. They want to be where you are and do what you do. So Rebecca invites Nora to work.
"I've always wanted to see what it's like to own a football club," Nora says.
"Really? Since when?" Rebecca asks.
"Since you started running one."
Once Rebecca is back in her element as boss, her relationship with Nora flourishes. Nora is even by her side as Rebecca navigates the most stressful aspect of her AFC Richmond ownership tenure yet. When Nigerian defender Sam Obisanya no longer wants to associate himself with the club's corrupt sponsor Dubai Air, the powers-that-be at Dubai Air instruct Rebecca to cut him. Of course, she will be doing no such thing. Rebecca composes a sternly-worded email, ignoring all of Nora's profane suggestions save for the last – signing the email as "Boss Ass Bitch."
While the terms "boss" and/or "ass" and/or "bitch" may have been applicable to Rebecca in less charitable contexts in season 1, season 2 finds her really blossoming into the Boss Ass Bitch that her friends, family, and team need.
"Isn't that great? Don't you just love it when they're writing the letter on the bed and Nora doesn't expect her to write Boss Ass Bitch?" Waddingham says. (EDITOR'S NOTE: Yes, we do like it.) "I just think it's so charming. And I got to play the fact that Rebecca is 100% the boss of that team, and is looking after her boys, and at the same time, showing her young ingenue how to hold herself as a woman in sport and in business."
In Ted Lasso's world, it's good to be the boss. If only because it means another opportunity to help.
Ted Lasso season 2 premieres new episodes every Friday on Apple TV+.