Features
How Ted Lasso Sneakily Crafted its Empire Strikes Back Season
Ted Lasso season 2 borrows some daddy issues from Star Wars to craft a real conflict.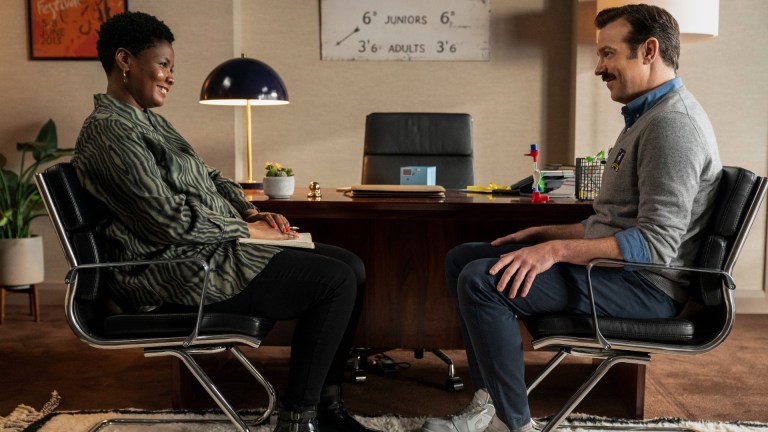 This article contains Ted Lasso spoilers through season 2 episode 8.
Perhaps you've heard, but Apple TV+ series Ted Lasso was the subject of some dreaded Discourse recently.
Since the Internet is infinite and we privileged few in the media have nothing but time, a handful of features came out weeks ago essentially questioning what Ted Lasso season 2 was even all about. Many of these features were well-written, well-argued, and fair, but when filtered through Twitter's anti-nuance machine (i.e. Twitter itself), every feature boiled down to the same reductive take: Ted Lasso season 2 doesn't have a conflict.
In some respects, this take was the inevitable reaction to the metanarrative surrounding Ted Lasso in the first place. Despite drawing its inspiration from a series of somewhat cynical NBC Sports Premier League commercials, the first season of Ted Lasso was all about the transformative power of kindness.
Or at least that's what we critics declared it to be. And I don't blame us. Awash in a flood of screeners about antiheroes, dystopias, and the end of the world, the simple kindness of Ted Lasso seemed revolutionary. They made a TV show about a guy who is…nice? They can do that? But the inherent goodness of its lead character was always Ted Lasso's elevator pitch, not its thesis.
There's been a darkness at the center of Ted Lasso since its very first moment, when an American man got on a flight to London in a doomed attempt to save his marriage. And, as season 2's brilliant eighth episode rolls around, it's become clear that that darkness is what the show has really been "about" this whole time.
Season 2 episode 8 "Man City" (the title is referring to AFC Richmond's FA Cup match against opponent Manchester City but also stealthily reveals that this installment will be all about men and their respective traumas) is quite simply the best episode of Ted Lasso yet. It also might be the best episode of television this year. Near the episode's end, right before AFC Richmond plays a crucial FA Cup match against the mighty Manchester City, coach Ted Lasso (Jason Sudeikis) finally comes clean with his coaching staff. He's been suffering from panic attacks of late. His assistant coaches hear him, accept him, and then head off to the pitch where Man City absolutely obliterates their team.
Man City destroys AFC Richmond. They annihilate them. Embarrass them. Stuff them into a locker and steal their lunch money. The final score is 4-0 but it might as well be 400-0. The coaching staff is rattled but the players are hit even harder. Richmond's star striker and former Man City player Jamie Tartt (Phil Dunster) is forced to endure watching his scumbag father cheer for his hometown team from the Wembley Stadium stands at the expense of his son.
After the game, Jamie's father, James (Kieran O'Brien), enters the locker room where he drunkenly accosts him for being a loser and demands that Jamie grant access to the Wembley Stadium pitch for him and his scumbag friends to run around on. When Jamie refuses, his father pushes him, so Jamie reflexively punches him right in the face. James is dragged out of the locker room by Coach Beard (Brendan Hunt), leading a stunned and traumatized Jamie Tartt standing in the middle of the room, as if in a spotlight of pure pain, surrounded by teammates too afraid to even approach him. And then something amazing happens…
Here's the dirty secret about television: there's a lot of it. Due to the sheer number of TV shows released each year, even the best of them are destined to become little more than memories long-term. Sometimes all you can ask from multiple episodes and seasons of television is to provide you with one moment, one line, or one warm feeling to carry with you into the future. I don't know how much I'll remember from Ted Lasso 30-40 years from now when I'm immobile and reclined in my floating entertainment unit, Wall-E style. But I know I'll at least remember the moment that Roy hugs Jamie.
The great Roy Kent (Brett Goldstein) – a character so disconnected from his own emotions that some fans are convinced he's CGI – embraces the one person in the world he is least likely to embrace. As Roy and Jamie wordlessly hug, it's hard to tell which man is more shocked by the moment. Ultimately, however, it might be Ted Lasso himself who is hit hardest. Shortly after seeing Roy play father to the younger Jamie, Ted quickly exits the locker room and calls sports psychologist Dr. Sharon Fieldstone (Sarah Niles) on his Apple TV+-apporved iPhone.
"My father killed himself when I was 16. That happened. To me and to my mom," Ted says, weeping.
And that, my friends, is what Ted Lasso is all about. Pain. And dads. But mostly pain.
None of us can say that Ted Lasso didn't warn us it was coming. To go back to the discourse of it all real quick – I don't blame anyone for not picking up on the direction that this show was so clearly heading in. Ted Lasso is, first and foremost, a sitcom. The beauty of sitcoms is that you welcome them into your home to watch at your own pace and your own terms. If having Ted Lasso on in the background so you can occasionally see the handsome mustache man who smiles while you fold your laundry is the way you've chosen to engage with the show, then great! Just know that season 2 has been operating on a deeper level this whole time as well.
Let's take things all the way back to the beginning – back to before season 2 even began. You've likely heard the old philosophical thought experiment "if a tree falls in a forest and no one is around to hear it, does it make a sound?" Well Jason Sudeikis's interviews leading up the season 2 premiere beg an equally as interesting hypothetical "how many times can one man mention The Empire Strikes Back before someone notices??"
Sudeikis referred to Ted Lasso season 2 as the show's "Empire Strikes Back" multiple times before the premiere including in his local Kansas City Star and his technically local USA Today. The show even explicitly mentions the second Star Wars film in this season's first episode when Richmond general manager Higgins (Jeremy Swyft) tells Ted that his kids are watching the trilogy for the first time. Sudeikis (who co-created and produces the show) and showrunner Bill Lawrence clearly want us to take the idea that Ted Lasso season 2 is The Empire Strikes Back seriously. And why would that be?
Think of how ESB differs from its two Star Wars siblings in the original trilogy. This is the story that features arguably the series most iconic moment when Luke Skywalker discovers his dad is a dick on a literal universal level. It also has the only unambiguously downer ending of any original trilogy Star Wars film. Luke is thoroughly defeated in this installment. Having one's hand chopped off by their father and barely escaping with their life is definitely the Star Wars version of a 4-0 defeat.
The Empire Strikes Back can safely be boiled down into two concepts:
Dads are complicated.
Everything sucks.
When viewed through those two conceptual prisms, so much of Ted Lasso season 2 begins to make more sense.
Episode 1 opens with the death of a dog and then leads into a classic Ted Lasso speech that could serve as this season's mission statemetn. After recounting the story of how he cared for his sick neighbor's dog, Ted concludes with: "It's funny to think about the things in your life that can make you cry knowing that they existed then become the same thing that can make you cry knowing that they're now gone. Those things come into our lives to help us get from one place to a better one."
Things like…a father who you didn't have nearly enough time with? Following episode 1 (and following just about every episode this season), Bill Lawrence took to Twitter to assuage viewers' fears about a lack of central conflict this season. He had this to say about Ted's big speech.
He also had this to say about dads.
"Effin dads" and our complicated relationships with them are all over Ted Lasso season 2. In the very next episode, Sam Obisanya (Toheeb Jimoh) tells Ted "You know, my father says that every time you're on TV, he's very happy that I'm here. That I'm in safe hands with you."
Ted smiles at this bit of info but not as warmly as you might expect. Because to Ted, a dad isn't a reassuring presence but rather someone you love who will just leave when you need him the most. That's why he's been trying to be the perfect father figure this whole time. That's why he did something as extreme as leaving his family behind in Kansas while he heads off to London. If giving his wife space was the only way to preserve the family and remain a good dad, then he was going to give her a whole ocean of space.
Moreover, Ted hasn't just been trying to serve as a father figure to his son this whole time but to everyone else as well. Sam's comment to Ted reminds him that not everyone has a good dad, which encourages him to bring Jamie into the fold in the first place.
As time goes on, however, the stress of being the consummate father to everyone in his orbit begins to wear on Ted. Throughout the entirety of this season, Ted Lasso appears to be trying to be Ted Lasso just a bit too hard. His energy levels are too high. His jokes go on too long. The same life lessons that worked last year aren't working this year. AFC Richmond opens with an embarrassing streak of draws before Jamie's immense talents set things straight.
It all culminates in this season's sixth episode when Ted has his second panic attack in as many years. This time it's in public during an important game. The experience sends Ted running through the concourse of the stadium until he somehow ends up in the dark on Dr. Fieldstone's couch, instinctively, like a wounded animal.
It's certainly no coincidence that this panic attack occurs on the same day that Ted received a call from his son's school asking him to pick him up, not realizing that he's an ocean away. In that moment, Ted can't help but remember what it's like to be left behind by his own father and subconsciously wonder if he's doing the same.
Though the shallow waters of Ted Lasso season 2 may have appeared consequence free for half its run, beneath the surface was a tidal wave of conflict. Just because the conflict wasn't taking place between a happy-go-lucky football coach and a villainous owner doesn't mean it wasn't there.
Game of Thrones author George R.R. Martin is terrible at meeting deadlines but great at writing. According to him (and William Faulkner, from whom he borrows the quote), the only conflict worth writing about is that of the human heart with itself. That's something that The Empire Strikes Back understood. And it's something that Ted Lasso season 2 does as well.