Features
50 best British TV dramas on Netflix UK, BBC iPlayer, Amazon Prime, NOW TV, Britbox, All4
This list applies to UK streaming services
When I find myself in times of trouble/Streaming channels come to me/Speaking words of wisdom/ Watch TV/Watch TV-eeee/Watch TV-eeee/There will be an answer: watch TV (repeat to fade).
Go on, do it, it's good advice. All of the below are British dramas currently available on UK streaming services, some free-to-air, some subscriber-only, some short, some long, some old favourites and some new arrivals, all in pleasing alphabetical order.
We'll keep this list updated as new series are added and taken away. If you've children to entertain at home at the moment, then here's our list of the top 50 kids' shows currently available on UK streaming services, and if you're in need of a laugh, here's our collection of the 50 best British comedy TV shows. Stay strong.
A Discovery of Witches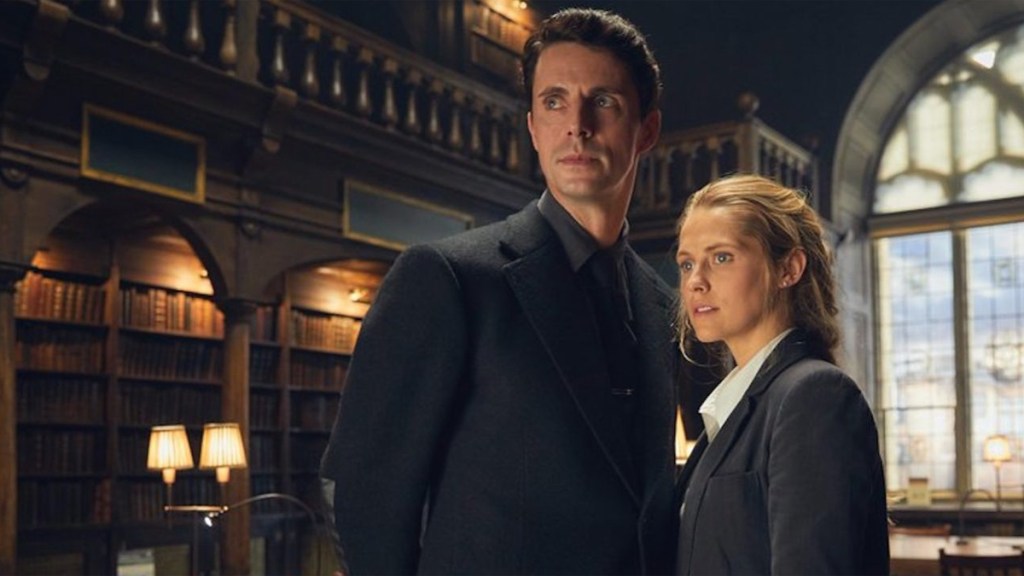 Based on Deborah Harkness' 'All Souls' trilogy about a witch (Teresa Palmer) and a vampire (Matthew Goode) thrown together against the fates, A Discovery Of Witches debuted on Sky in autumn 2018 (read our reviews here). The fantasy romance was renewed for series two and three in November 2018, and UK filming on the second run wrapped in December 2019. The new episodes are expected to arrive later in 2020.
Where to stream? NOW TV
Ashes to Ashes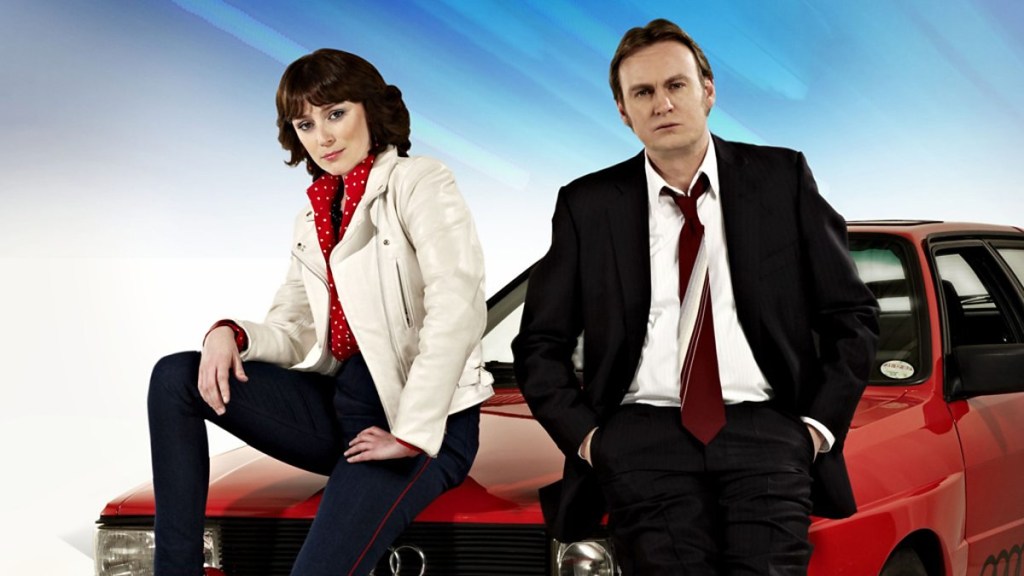 Both Life on Mars (see below) and this 80s-set sequel are currently available to stream. Ashes to Ashes sees police psychologist Alex Drake get shot in 2008 and awaken, Sam Tyler-style, in 1981. Keeley Hawes stars alongside Philip Glenister and others from the original wiggy procedural. With talk of a revival on the cards by creators Matthew Graham and Ashley Pharoah, there's no better time to revisit both series. Why not join in on one of the live watch-alongs every Wednesday at 7pm, using the hashtag #lifeonmarslive
Where to stream? BBC iPlayer
Being Human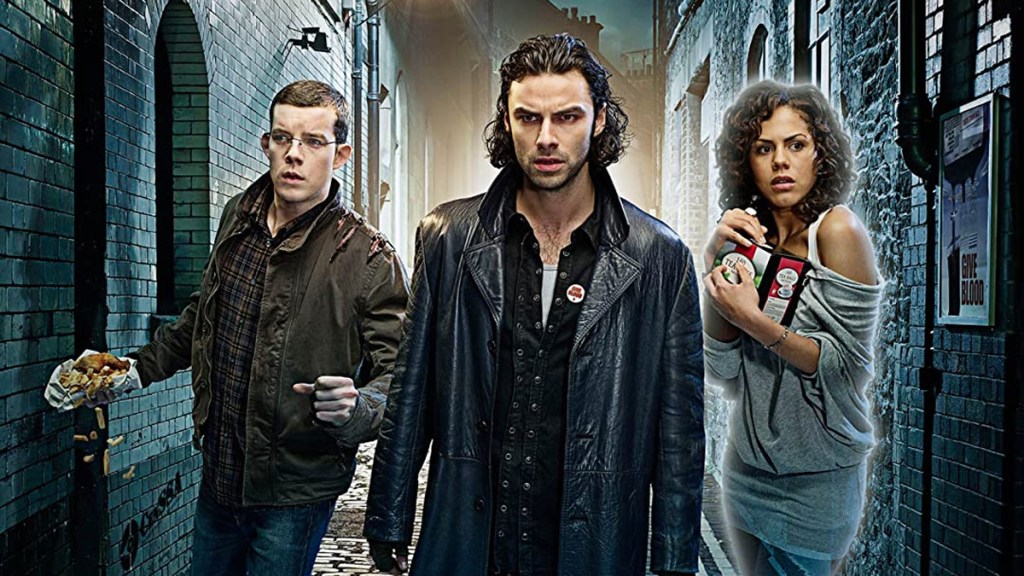 Toby Whithouse's supernatural drama puts a ghost, a vampire and a werewolf in the same Bristol flat, combining high fantasy with the banalities of day-to-day life (The Antiques Roadshow and cleaning rotas meet ancient evil and bloodthirsty monsters). Before the cast changed to feature Damien Molony, Michael Socha and Kate Bracken, it starred Poldark's Aidan Turner, alongside Russell Tovey and Lenora Crichlow (pictured above). Read why we love it here.
Black Mirror
The sci-fi anthology drama of our time, Black Mirror tells a collection of tech-paranoia stories imagining the impact of technological developments on people's lives. There's a lot of nightmares in these five series, alongside the odd sunnier and more hopeful tale. If you're brand new to it, perhaps start with 'San Junipero' and go from there.
Where to stream? Netflix UK
Bodies
Before Jed Mercurio wrote Line of Duty and Bodyguard (see below) he wrote medical dramas Cardiac Arrest and Bodies (and before he did that, he trained as a doctor, giving him the insight required to make them the shows medical professionals continue to cite as the most realistic depictions of life on a ward.) Starring Max Beesley, Patrick Baladi, Neve McIntosh and Keith Allen, Bodies is the story of a struggling obstetrics unit. It's utterly gripping, and definitely not for the weak-stomached.
Where to stream? BBC iPlayer
Bodyguard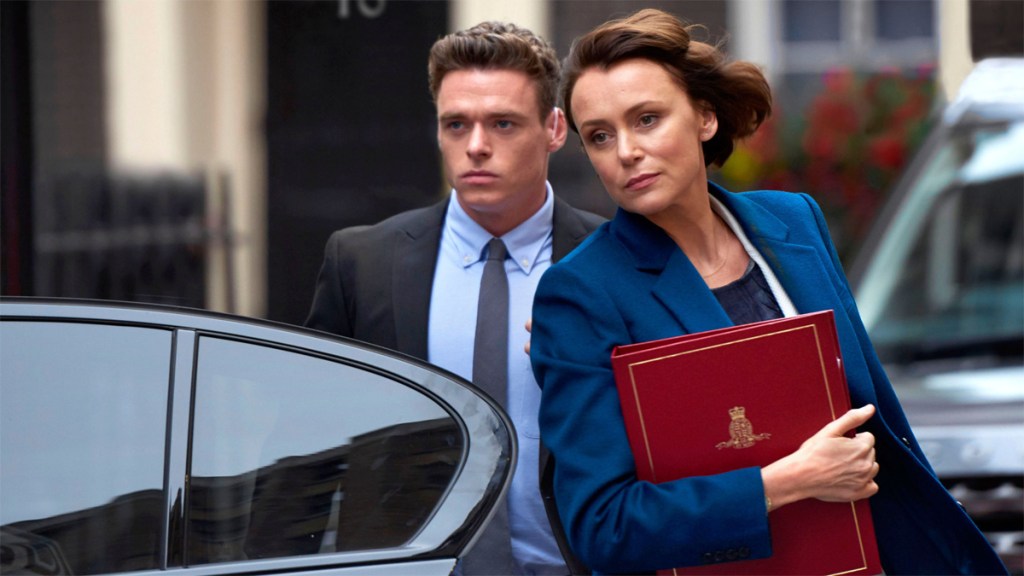 This six-part political BBC thriller was all anybody could talk about in August 2018. The story of Keeley Hawes' home secretary, her ex-army bodyguard (played by Game of Thrones' Richard Madden), terrorist attacks, moles, spies and double-agents, it was a total hoot. Gripping, intense, a bit sexy… with plenty to keep you guessing from episode to episode. Read our spoiler-filled reviews here.
Where to stream? Netflix UK
Boys from the Blackstuff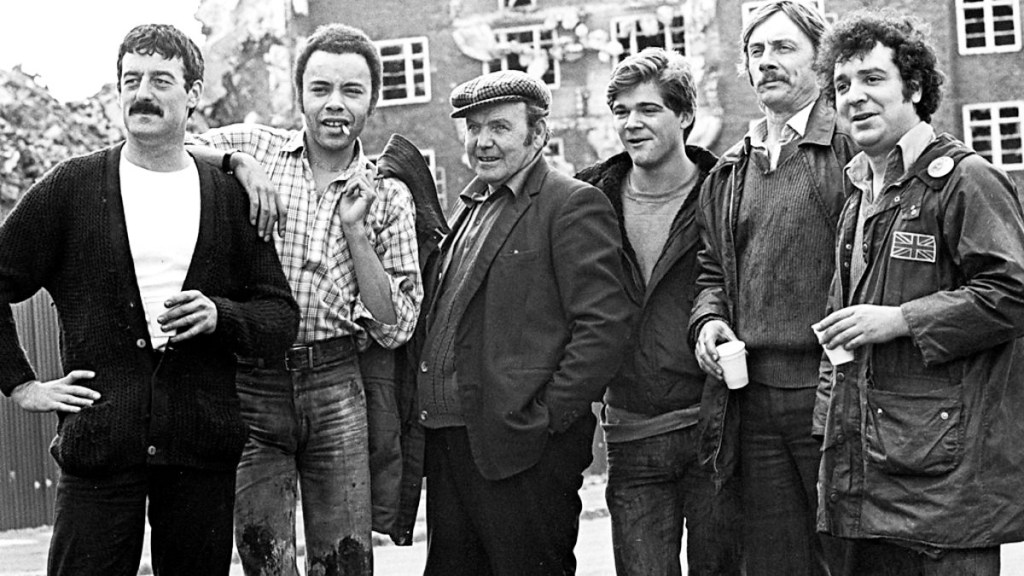 Appearing regularly in 'Best Of British Drama' lists and cited as an influence by some of the UK's finest screenwriters, Alan Bleasdale's seven-episode story of five men attempting to cope with unemployment in Liverpool following the events of Bleasdale's play The Black Stuff. It's warm, honest and affecting drama that sums up a key period of modern British history, and features an early role by Julie Walters.
Where to stream? Britbox
Broadchurch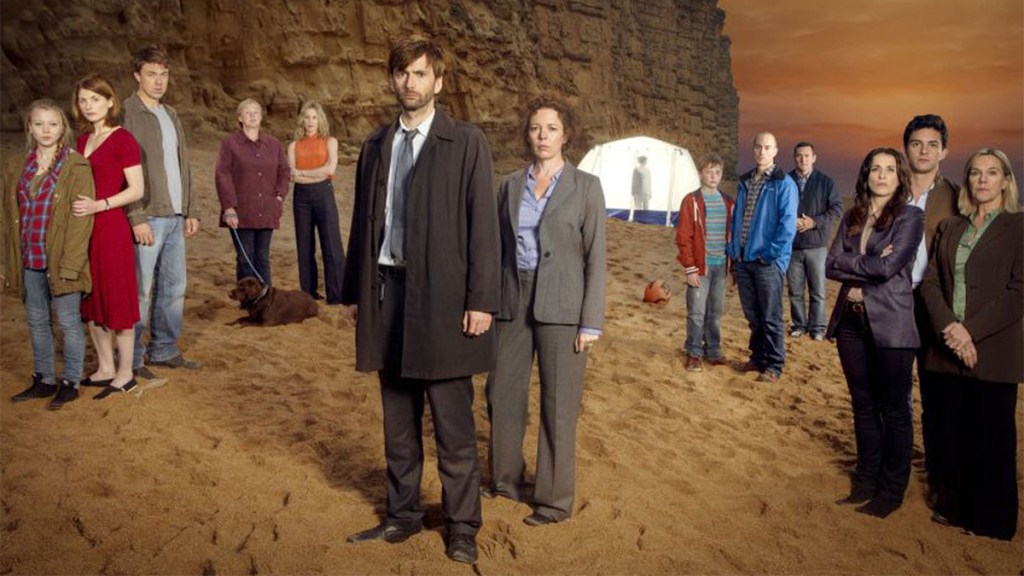 Another national obsession when it first arrived, Broadchurch was a genre-making ITV series whose legacy is the reason that all murders committed in UK crime dramas since 2013 have taken place within 100 metres of a moody clifftop and/or beach-front ice cream parlour. Created by current Doctor Who showrunner Chris Chibnall, it stars David Tennant, Olivia Colman and Jodie Whittaker in a poignant mystery about the death of a young boy. Series two and three are also available.
Where to stream? Britbox
Cracker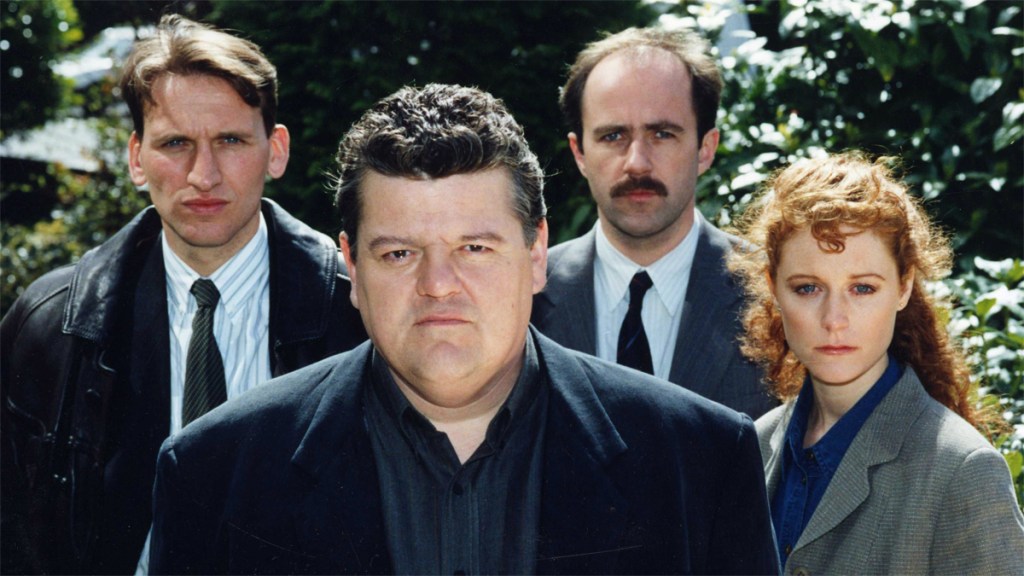 Another classic, Jimmy McGovern's Cracker is the story of a brilliant forensic psychologist played by Robbie Coltrane. It's bloody and brutal and unflinching, and filled with grippingly portrayed flawed characters, with a cast including a young Christopher Eccleston. Set in mid-1990s Manchester, it's a seminal piece of work, and one of McGovern's best. Here's why we love it.
Where to stream? Britbox
Doctor Foster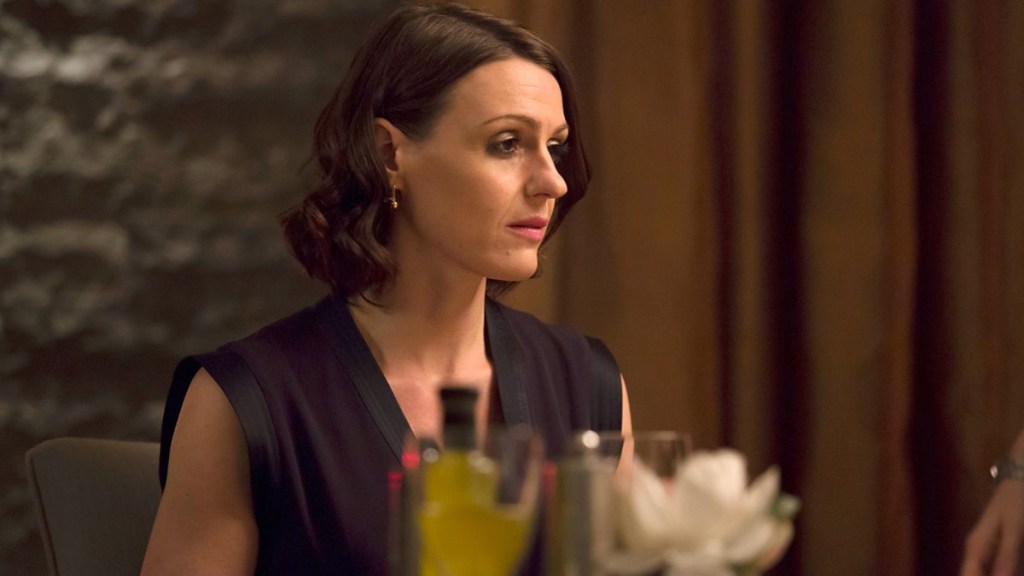 This BBC One melodrama had it all – sex, lies, scheming, more sex, characters you love to hate, all set against the backdrop of upscale homes in a charming small town. It's domestic noir led by two supreme performances by Suranne Jones as woman-scorned Gemma, and Bertie Carvel as her lying husband Simon. Series two only got madder. Read more about it here.
Where to stream? Netflix UK
Doctor Who
Heard of this one? It's about a centuries-old alien travelling through space and time with a succession of companions, saving the Earth and defeating villains and having complex survivor guilt/falling in tragic love/wearing trainers with suits (depending on the iteration). Stream all the classic episodes on Britbox, then see all the new ones since 2005 on BBC iPlayer.
Where to stream? Britbox (Classic), BBC iPlayer (2005-), Netflix UK
Endeavour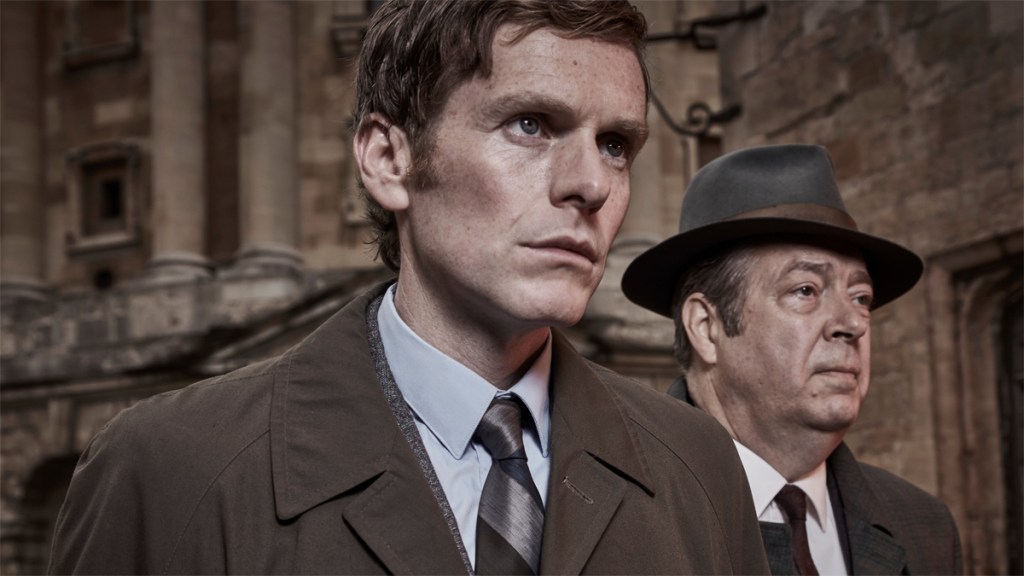 Inspector Morse (see below) is a crime drama classic, and its prequel Endeavour is similarly adored by fans of Colin Dexter's characters. Starring Shaun Evans as the young Morse, with Roger Allam as his colleague DI Fred Thursday, each short series tells a continuing crime story. Series seven concluded this spring on ITV, with series eight in development. Here's why we rate it.
Where to stream? Britbox
Fortitude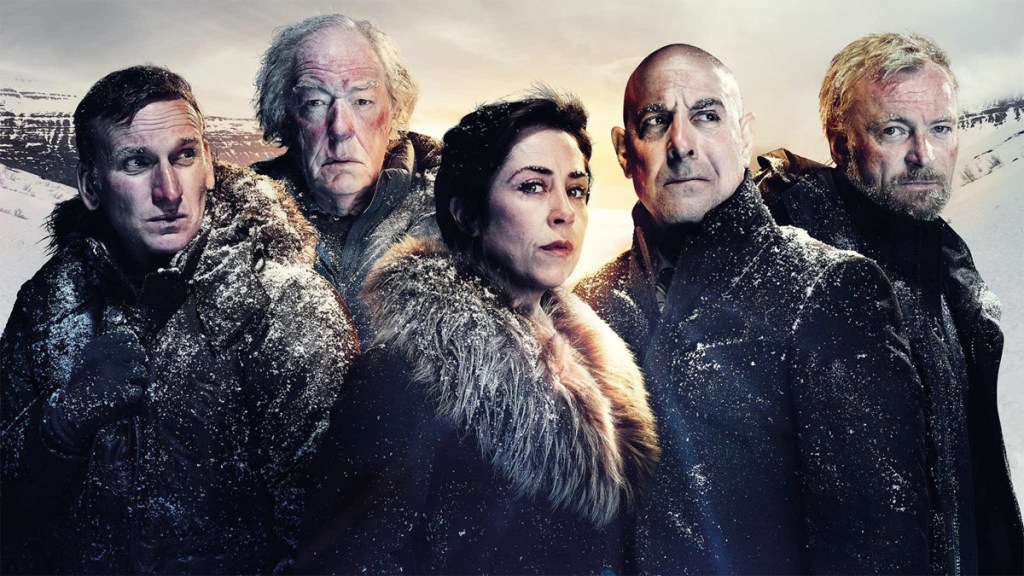 If it's cold and weird you like your thrillers, then you, friend, are in luck; Sky's Fortitude is the coldest and weirdest of them all. Set in a fictional Arctic Norwegian town where strange deaths keep happening and everybody has something to hide under their thermal coat, it has a banging international cast including The Killing's Sofie Gråbøl, Michael Gambon, Stanley Tucci and Christopher Eccleston.
Where to stream? NOW TV
Giri/Haji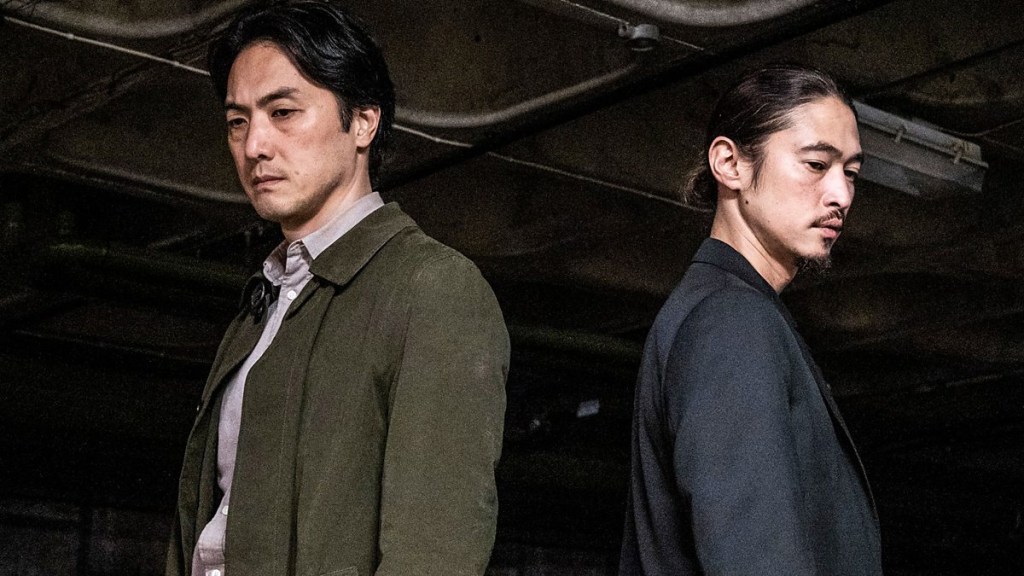 A Tokyo detective goes on the trail of his missing-presumed-dead brother in London's criminal underworld in BBC Two's Giri/Haji, which earned solid reviews and a dedicated following over its eight episodes. Takehiro Hira and Kelly Macdonald lead the cast of this Yakuza gangster thriller.
Where to stream? BBC iPlayer
Happy Valley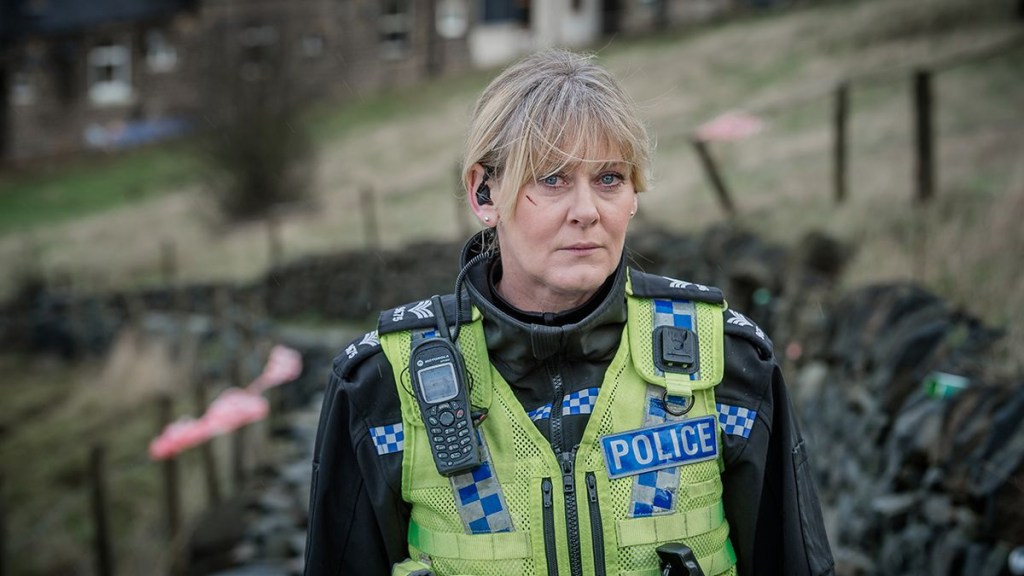 There are only two series of Sally Wainwright's Yorkshire-set BBC crime drama so far, but there's talk of a third once a second series of Wainwright's Gentleman Jack is done and dusted. Sarah Lancashire's stars as Sgt. Catherine Cawood, a no-nonsense police officer whose tragic family history leads her into conflict with James Norton's monstrous ex-con Tommy Lee Royce. A must-watch for crime drama fans.
Where to stream? Netflix UK
His Dark Materials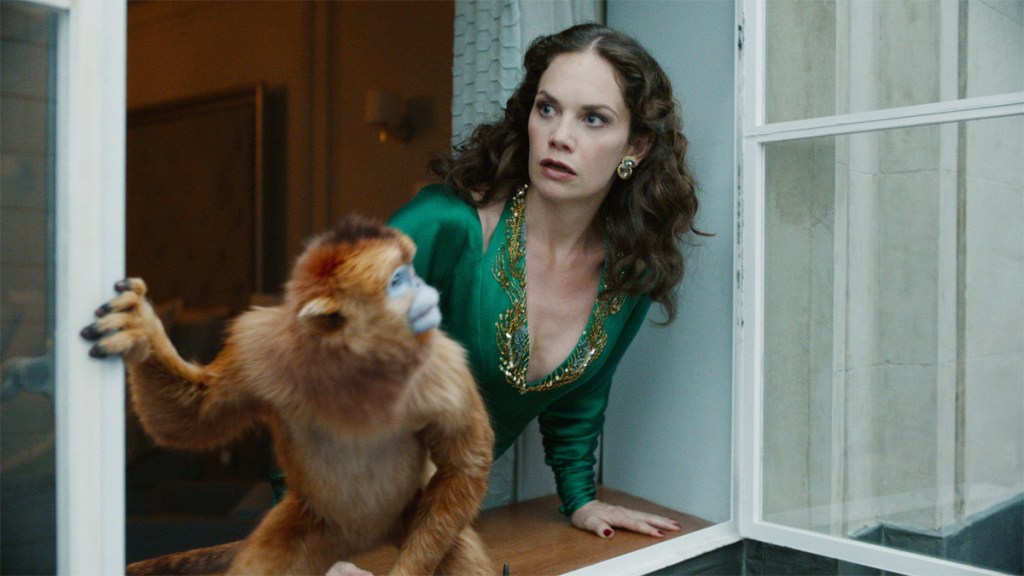 Now, more than ever, is the time for escapism, and where better to escape to than Lyra's world – a place where the human soul comes in the form of an animal companion, or 'daemon'. Meet Gyptians, armoured bears, witches and mysterious truth-telling device the alethiometer. This lush BBC/HBO adaptation of Philip Pullman's His Dark Materials trilogy is family-friendly viewing, and series two is scheduled for late 2020.
Where to stream? BBC iPlayer
House of Cards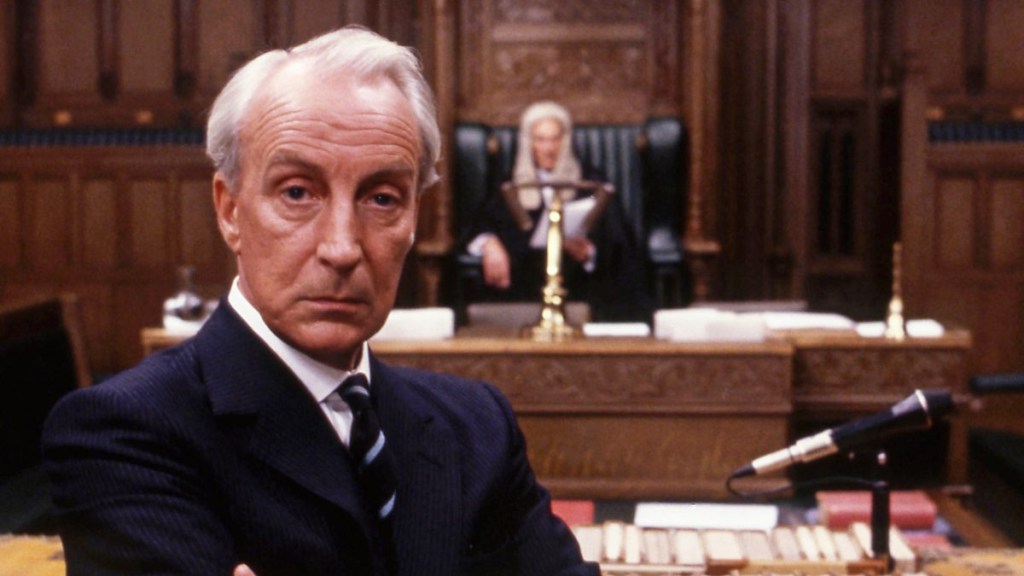 Before there was Frank Underwood, there was Francis Urquhart (Ian Richardson) in the original UK political drama on which the Kevin Spacey-starring US Netflix hit was based. This is where the Machiavellian scheming and to-camera asides all began. Read more about the BBC classic here.
Where to stream? Britbox
Humans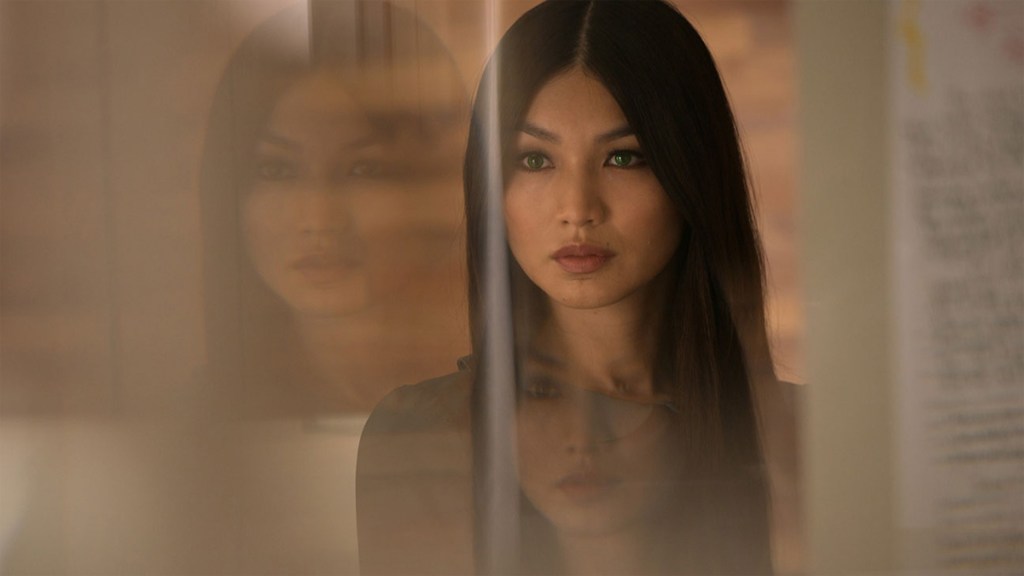 Though a fourth series of Channel 4/AMC's Humans is not happening, there's plenty in the first three runs to enjoy. Remade from the Swedish original, it's a domestic sci-fi about a parallel present where the latest must-have home appliance is a Synth, or robot servant. When the Hawkins family buy Anita (Gemma Chan) though, they get more than they bargain for.
Where to stream? All4
Inspector Morse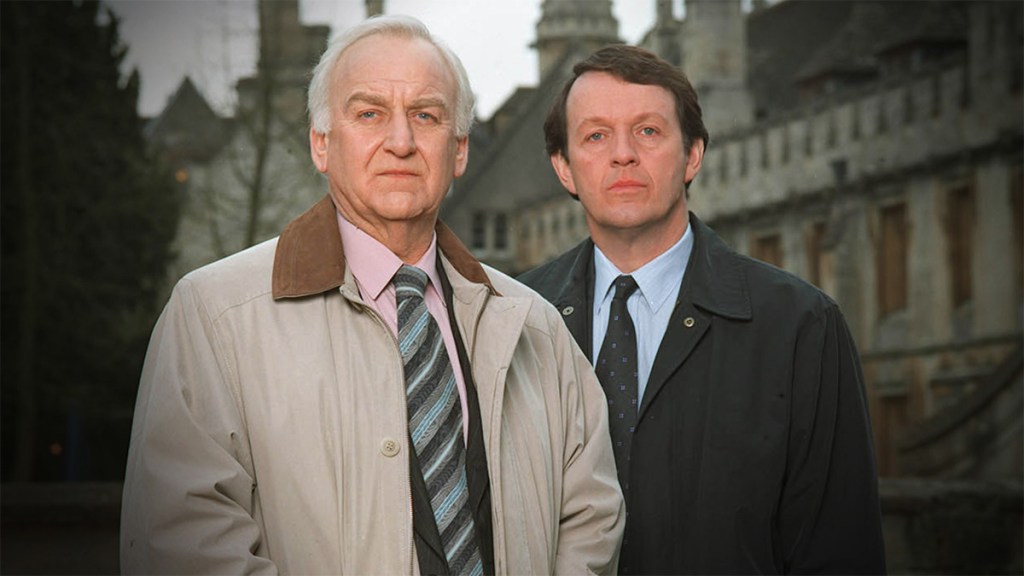 A classic of the crime drama, starring John Thaw as Colin Dexter's detective inspector (portrayed as a younger man by Shaun Evans in Endeavour – see above). Set in the city of Oxford, where complex murder cases unfurl for Morse to solve against a backdrop of dreaming spires, there are 33 feature-length episodes to sink comfortingly into. Here are the 10 best.
Where to stream? Britbox
Jonathan Creek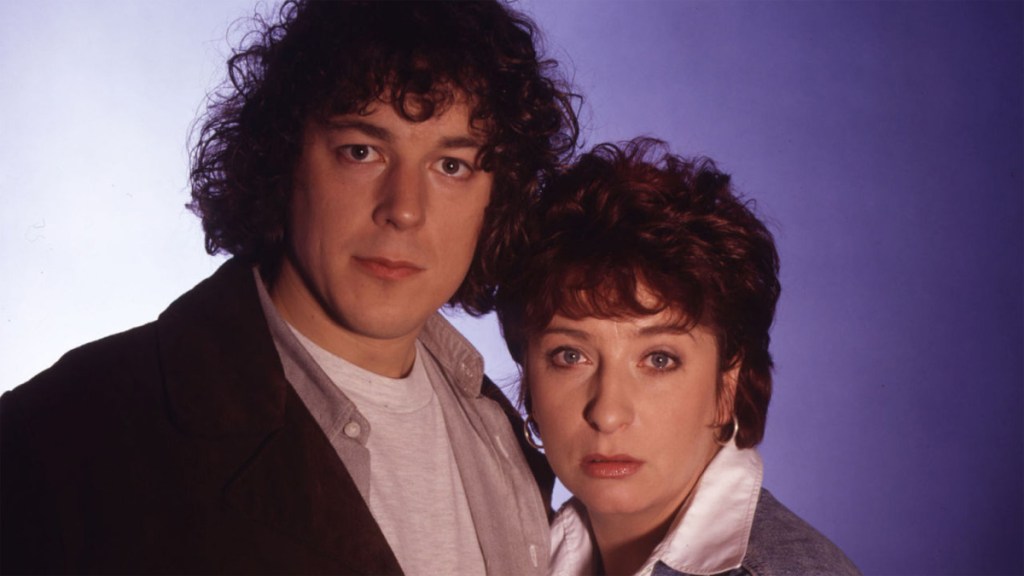 Talk about comfort viewing. The BBC recently added the complete Jonathan Creek to iPlayer, which means 32 heightened mysteries (1997-2014) for the windmill-dwelling, duffle coat-wearing detective to solve. Delightful. Read our interview with star Alan Davies here.
Where to stream? BBC iPlayer
Last Tango in Halifax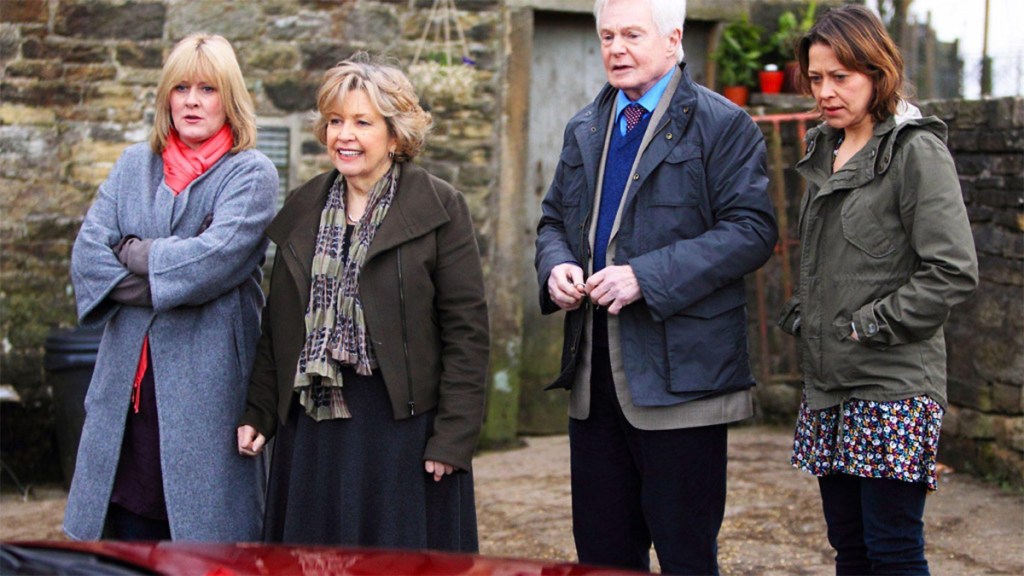 Sally Wainwright's one of our finest screenwriters, and this Yorkshire-set family story is up there with her best (see also: Happy Valley, Gentleman Jack). A short fifth series recently aired, revisiting the stories of Alan and Celia (Derek Jacobi and Anne Reid), two childhood sweethearts who reconnect in their 70s, and the families of their two daughters Caroline (Sarah Lancashire) and Gillian (Nicola Walker).
Where to stream? BBC iPlayer, Britbox
Life on Mars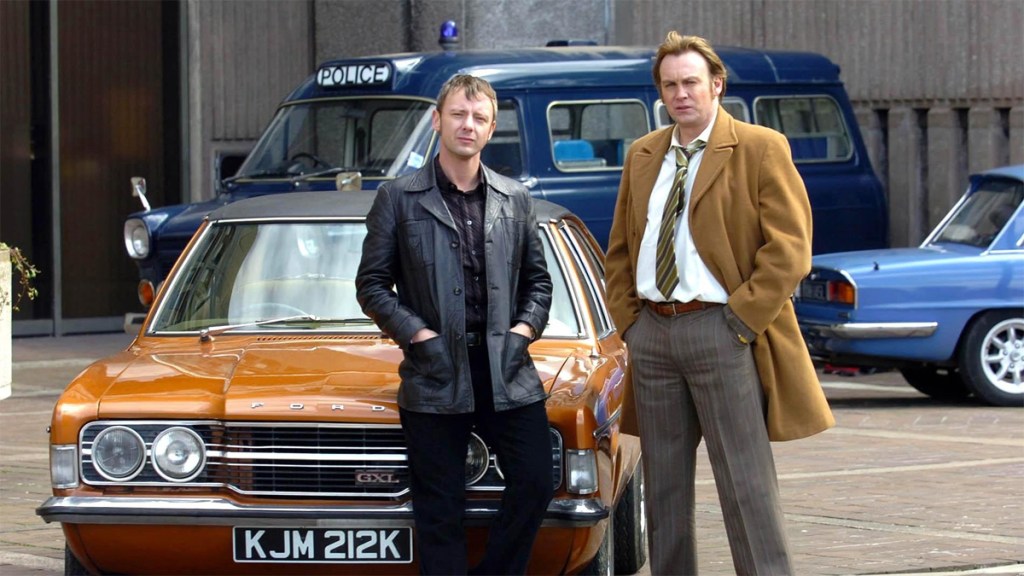 All episodes of the sci-fi/fantasy police procedural, which sees John Simm's DI Sam Tyler hit by a car in 2006 and wake up in 1973, are available to stream. As a bonus during UK lockdown, the Life on Mars and Ashes to Ashes (see above) creators are taking part in a weekly episode watch-along on Twitter every Wednesday at 7pm, using the hashtag #lifeonmarslive.
Where to stream? BBC iPlayer, Britbox
Line of Duty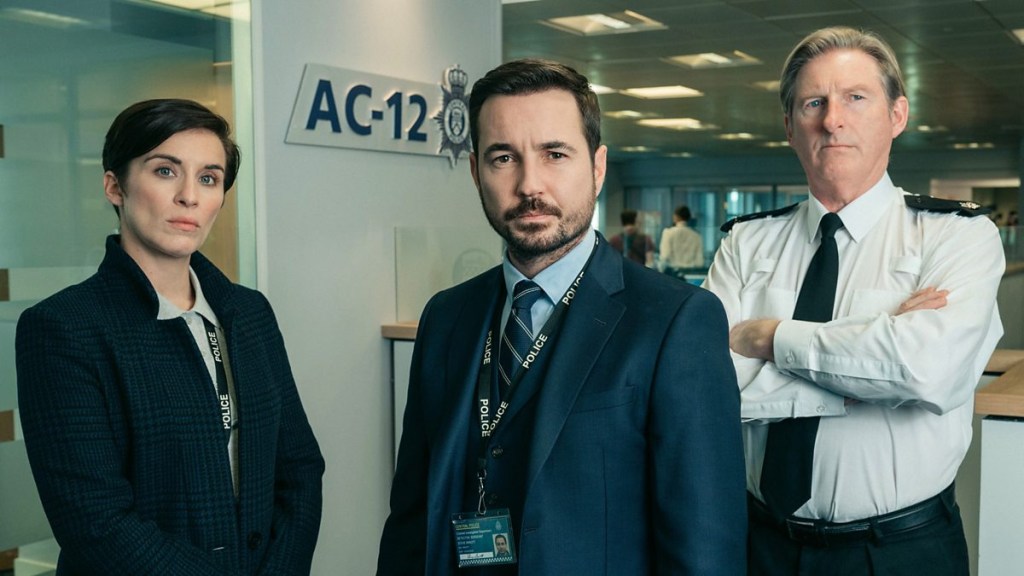 Acronyms! Bent coppers! The gaffer floating down the Lagan in a bubble! Who is H?! If all that just sounds like the confused ravings of a diseased mind to you, then you need to catch up with BBC One's finest crime drama Line of Duty and literally get with the programme. Vicky McClure, Martin Compston and Adrian Dunbar play the police in charge of sniffing out wrong'uns in the force. From Bodyguard's Jed Mercurio, it's addictive viewing.
Where to stream? BBC iPlayer
Luther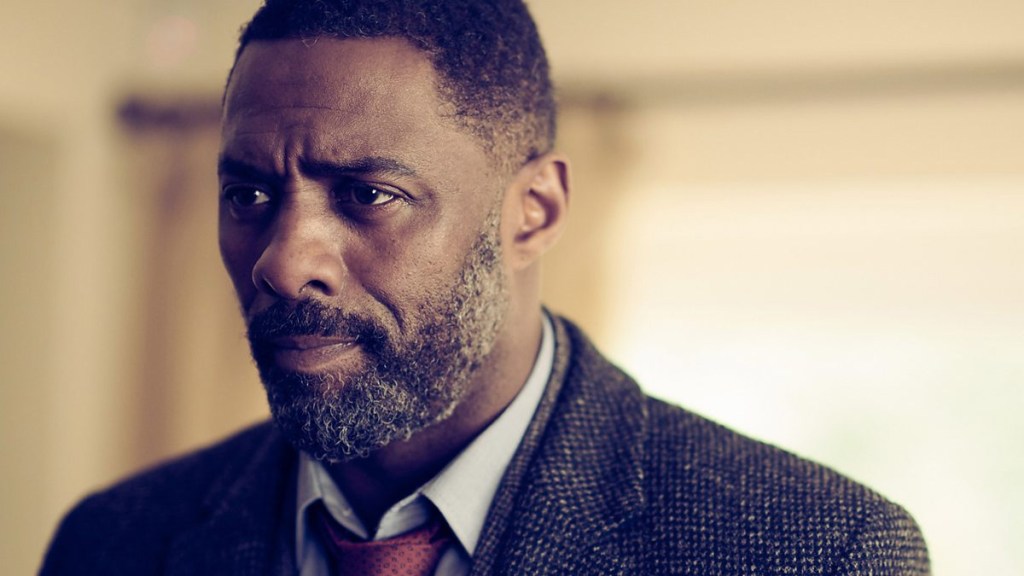 Idris Elba as a detective in a flappy coat, moodily solving (and sometimes perpetrating) twisted crimes is another perfect dose of escapist television courtesy of BBC iPlayer. All five series of Luther are available to stream, from the early Ruth Wilson episodes onwards. An unbeatable distraction.
Where to stream? BBC iPlayer
Merlin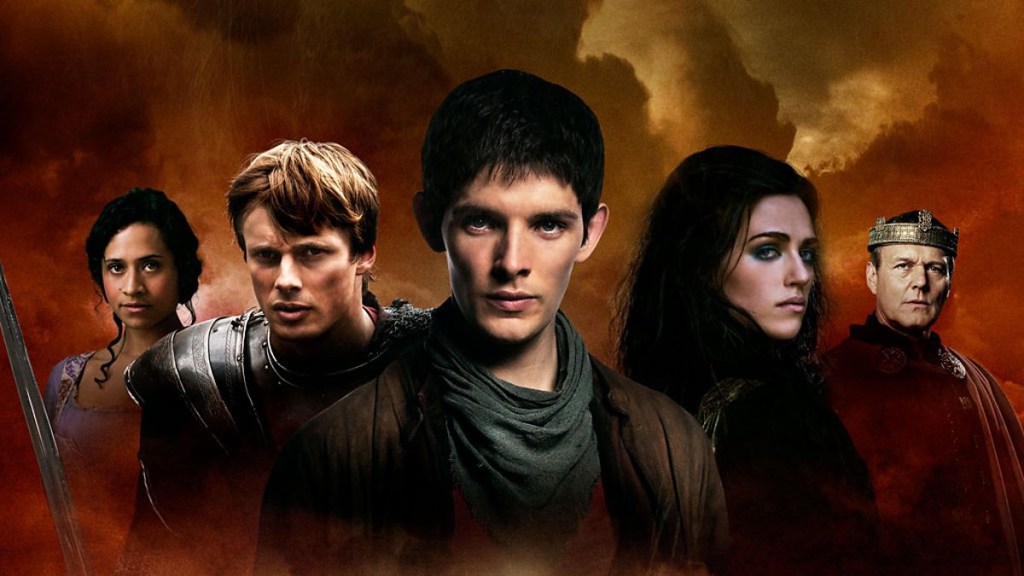 For a period on BBC One, Saturday teatimes meant family fantasy. A succession of stories about heroes and villains and magic, filmed in Wales, arrived in the time-slot, and among the best was Merlin. It boasted the young Colin Morgan, Bradley James, Katie McGrath and Angel Coulby, with Anthony Head and Richard Wilson providing the gravitas. Revisit all five series of the Arthurian fantasy on iPlayer and Britbox.
Where to stream? BBC iPlayer, Britbox
Misfits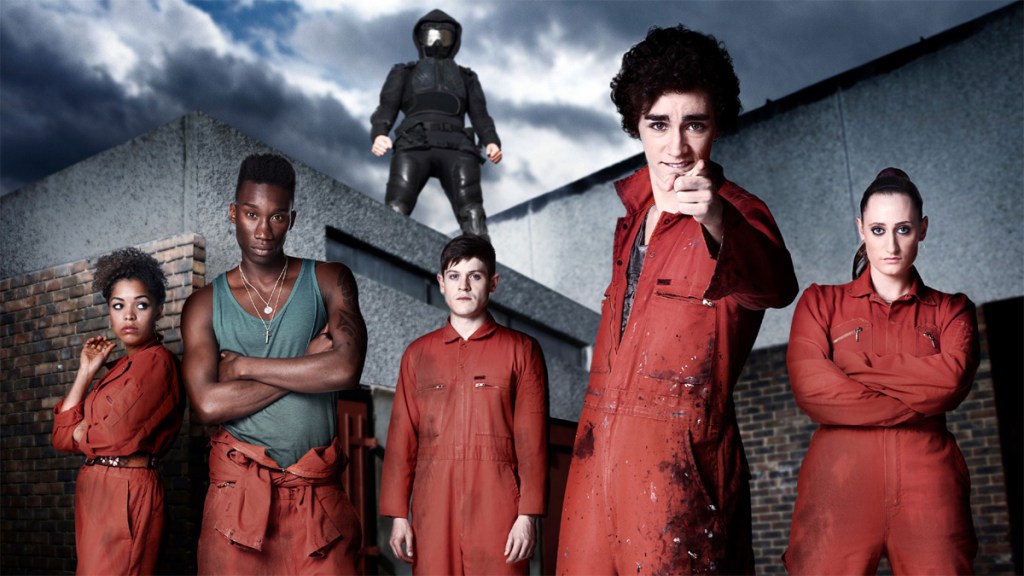 Before he was Game of Thrones baddie Ramsay Snow, Iwan Rheon was Misfits' Simon, an introvert who – along with a gang of others – developed superpowers during a mysterious storm. Invisibility, mind-reading, immortality… this group of community payback youths got them all, resulting in high jinks, death, sex and four series of engrossing adult fantasy created by Howard Overman.
Where to stream? All4, Britbox
Our Friends in the North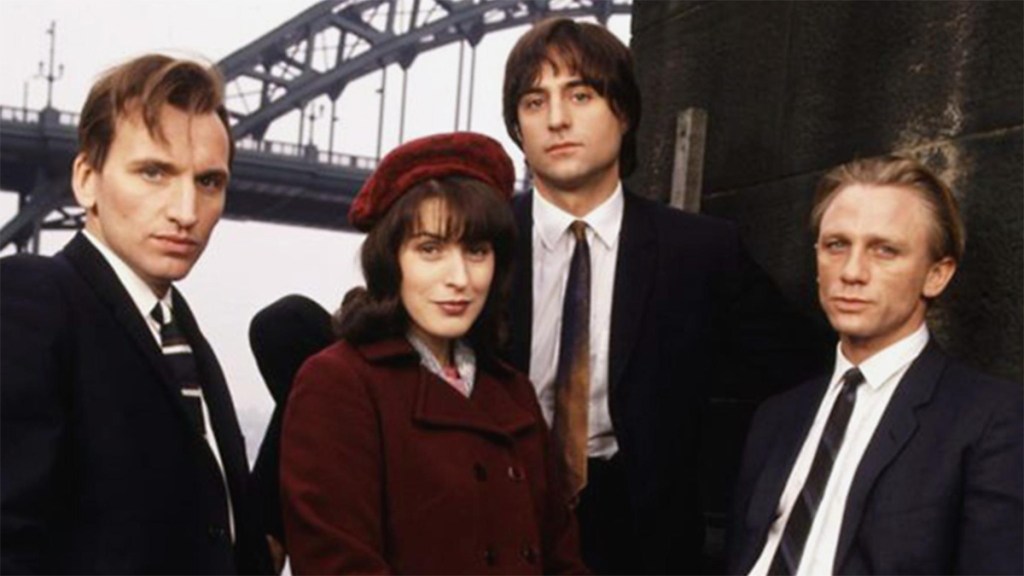 Peter Flannery's decades-spanning drama is often celebrated these days for launching the screen careers of its central quartet Daniel Craig, Christopher Eccleston, Gina McKee and Mark Strong, but that doesn't give enough credit to just how good it is in its own right. Following a group of friends from the 1960s to the 1990s, it's a state-of-the-nation drama well worth revisiting or seeking out for the first time.
Where to stream? Britbox
Peaky Blinders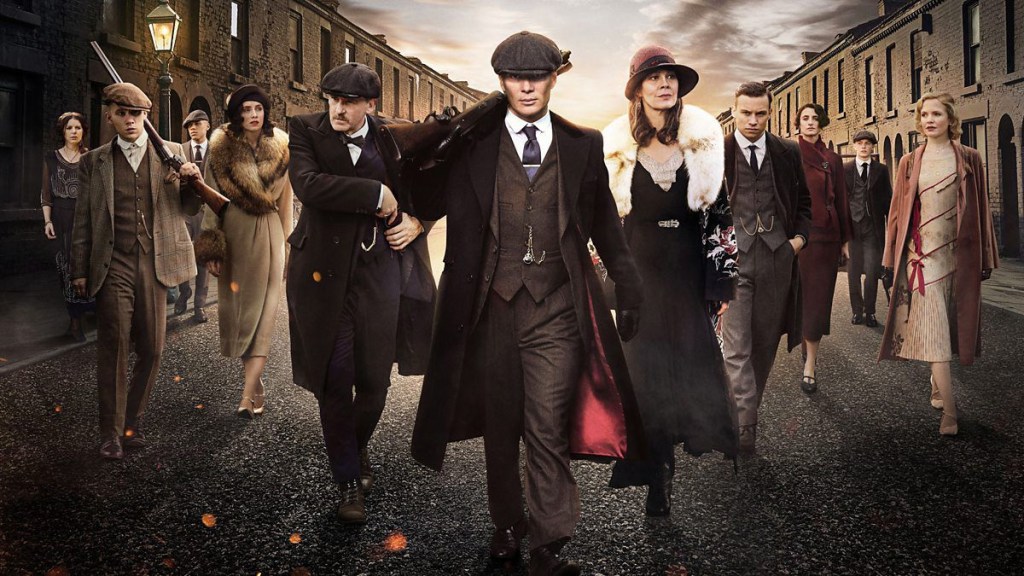 After starting life as 'that BBC Two Birmingham series with the funny name', now nearing its sixth series Peaky Blinders is more properly a phenomenon. There are celebrity fans, merchandise, tie-in bars, an actual festival… It's the story of the Shelby family, led by brilliant blue-eyed-boy Tommy (Cillian Murphy) from the slums of 1920s Small Heath to the upper echelons of British society, which turns out to be every bit as full of criminals and hoodlums.
Where to stream? Netflix UK
Poirot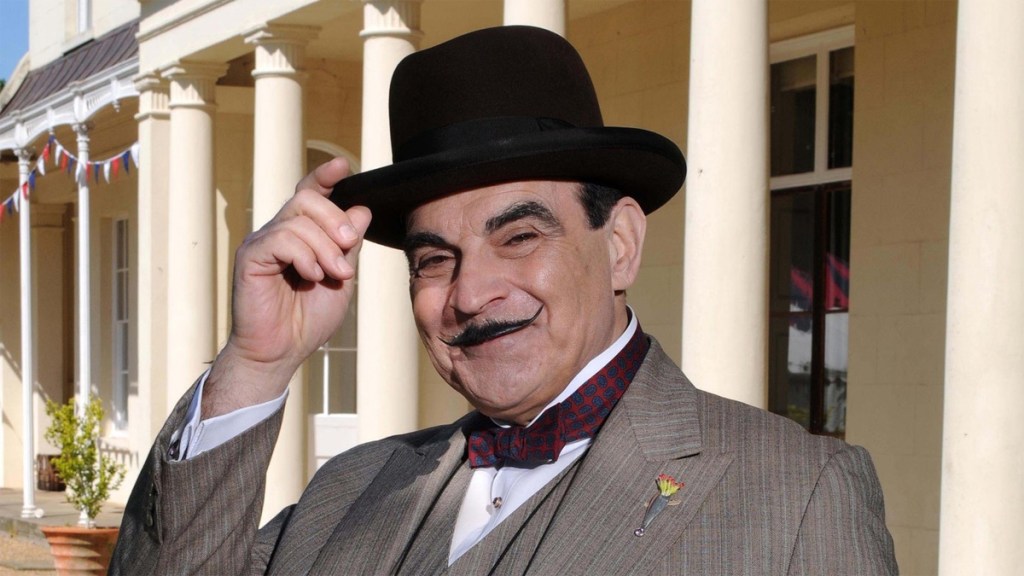 When Hercule Poirot returned to screens played by Kenneth Branagh in 2017's Murder on the Orient Express, and by John Malkovich in 2018's The ABC Murders on BBC One, it was a reminder of how much we loved Agatha Christie's Belgian detective. David Suchet's incarnation is of course, the classic. See his little grey cells are in action on Britbox.
Where to stream? Britbox
Queer as Folk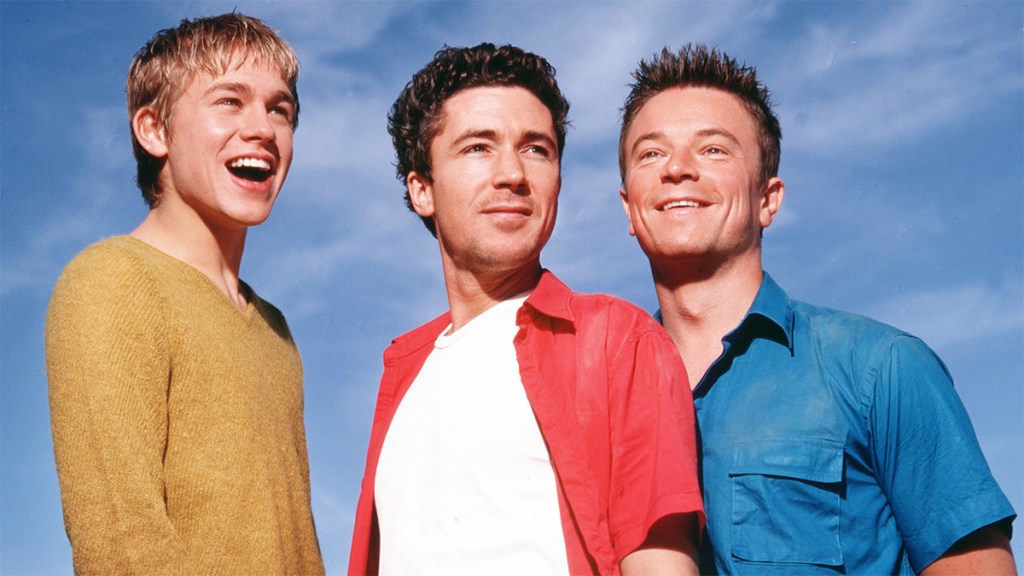 Screenwriting king Russell T. Davies' riotous drama about the lives of three gay men in Manchester was a long-overdue portrayal of life in the British LGBTQ community in 1999. It stars Aidan Gillen (who went on to play Littlefinger in Game of Thrones), Craig Kelly, and Charlie Hunnam (who later played Jax Teller on Sons of Anarchy), and all 10 episodes are available to stream. Terrific stuff.
Where to stream? All4
Red Riding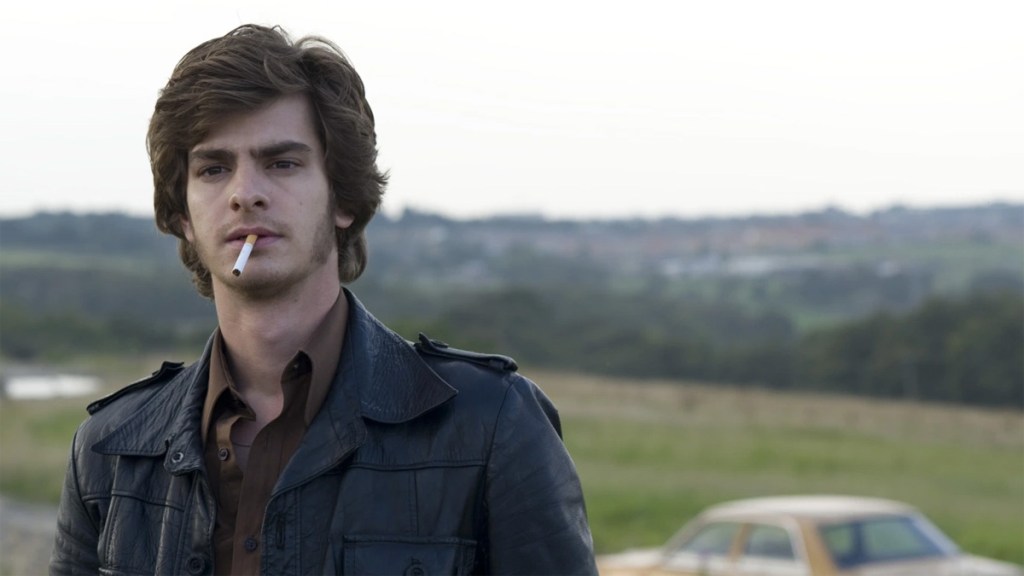 This three-part adaptation of David Peace's bleak and gritty 'Red Riding' novel quartet about a series of murders taking place in Yorkshire in the 1970s and 1980s may be the opposite of the sunny escapism many are after at the moment, but it remains gripping drama. Andrew Garfield and David Morrissey are among the casts of these three feature-length films about conspiracy, abuse and a fight for the truth.
Where to stream? All4
Ripper Street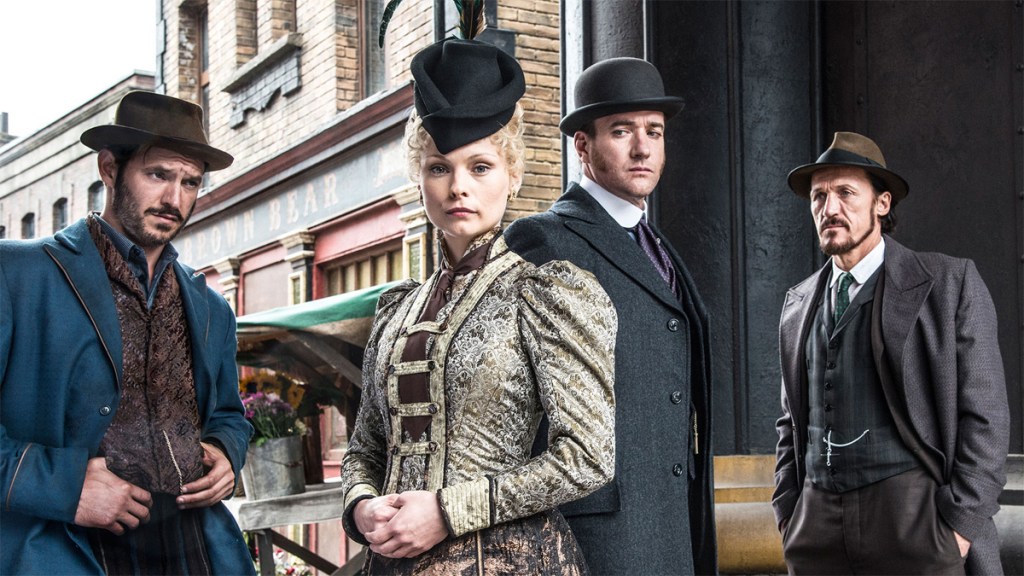 One of the first 'Lazarus' TV series killed off by a traditional channel and then resurrected by a streaming service, 19th century crime drama Ripper Street was cancelled at the end of its second series on the BBC, then revived by Amazon for a further three. This Whitechapel-set detective show has a great cast, involving serial storytelling and a proper ending. Read more about the series here.
Where to stream? Amazon Prime Video UK
Save Me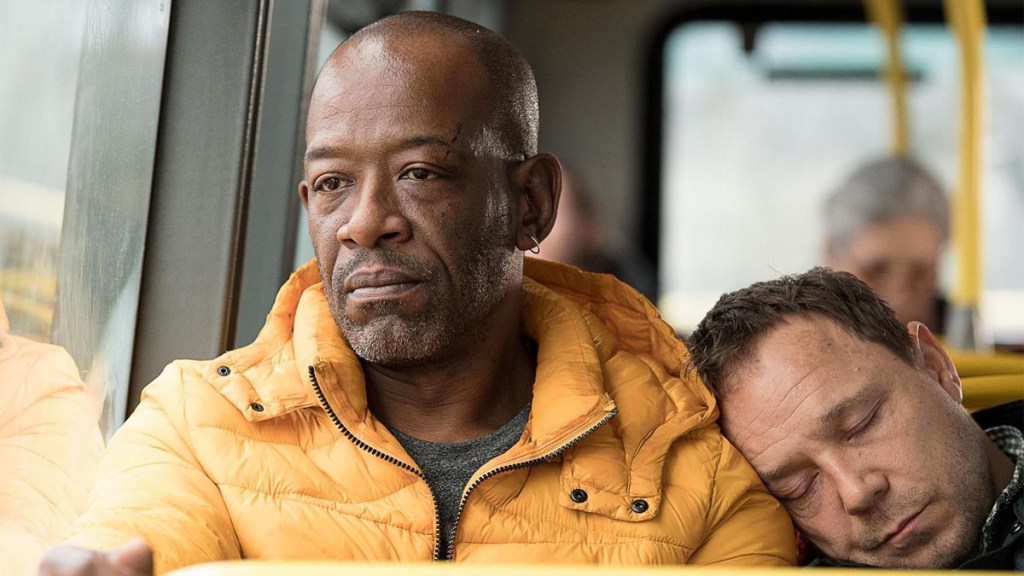 Created by and starring Lennie James, with an enviable ensemble cast including Stephen Graham and Suranne Jones, Save Me is a six-part UK thriller that went down a storm on release in 2018. (Here's why we loved it.) Set in London, it's the story of a teenage girl's disappearance and her estranged father's search for her. The second series arrived this April and is just as strong as the first.
Where to stream? NOW TV
Sherlock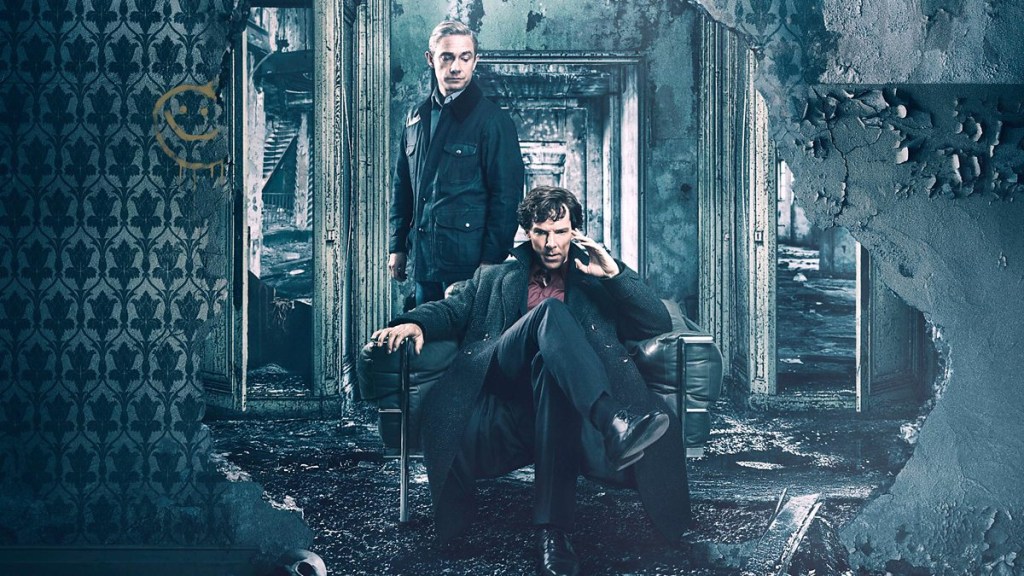 From Steven Moffat and Mark Gatiss, this modernised take on Sir Arthur Conan Doyle's Great Detective was the biggest show in the country at one point and so won't have passed anyone by. Still, it's nice to revisit Benedict Cumberbatch and Martin Freeman in 221B Baker Street occasionally to remember what all the fuss was about.
Where to stream? BBC iPlayer
Skins
This sex-and-drugs-and-BTEC-Nationals drama-comedy made a splash with its portrayal of hedonist teens when it first arrived, but it was always more than that. As well as a top cast including launchpad roles for Nicholas Hoult, Daniel Kaluuya, Jack O'Connell, Hannah Murray, Joe Dempsie and Kaya Scodelario, it had heart and romance and laughs too. Here are the top 30 moments, according to us.
Where to stream? Amazon Prime Video UK
Spooks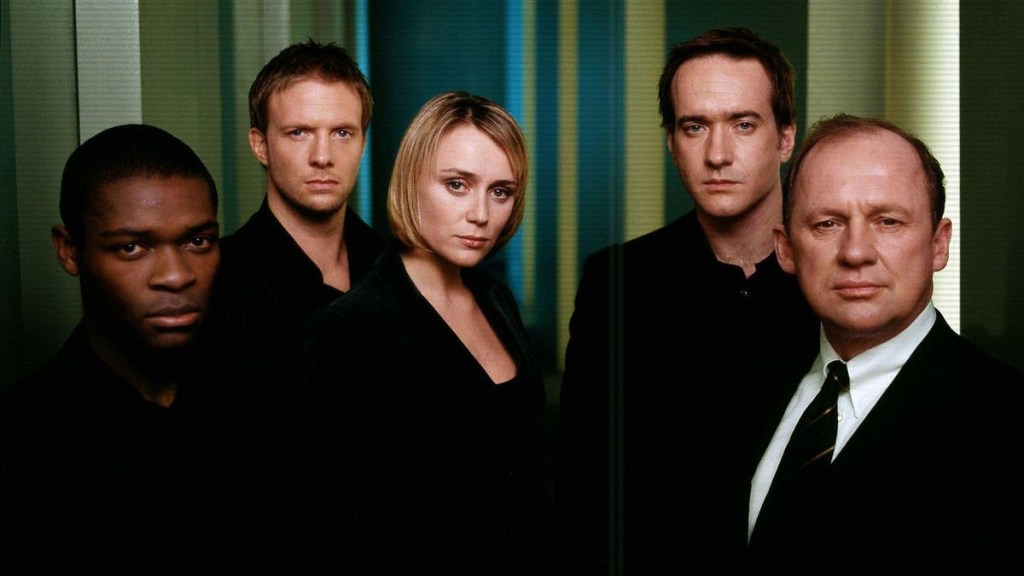 All 10 series of this British intelligence thriller about a bunch of MI5 officers getting into espionage-based mischief/being horribly injured were recently made available on iPlayer. Revisit the noughties with Keeley Hawes, Matthew Macfadyen, Nicola Walker and the gang. Here's our review of the 2015 feature film, starring Kit Harrington.
Where to stream? BBC iPlayer
Teachers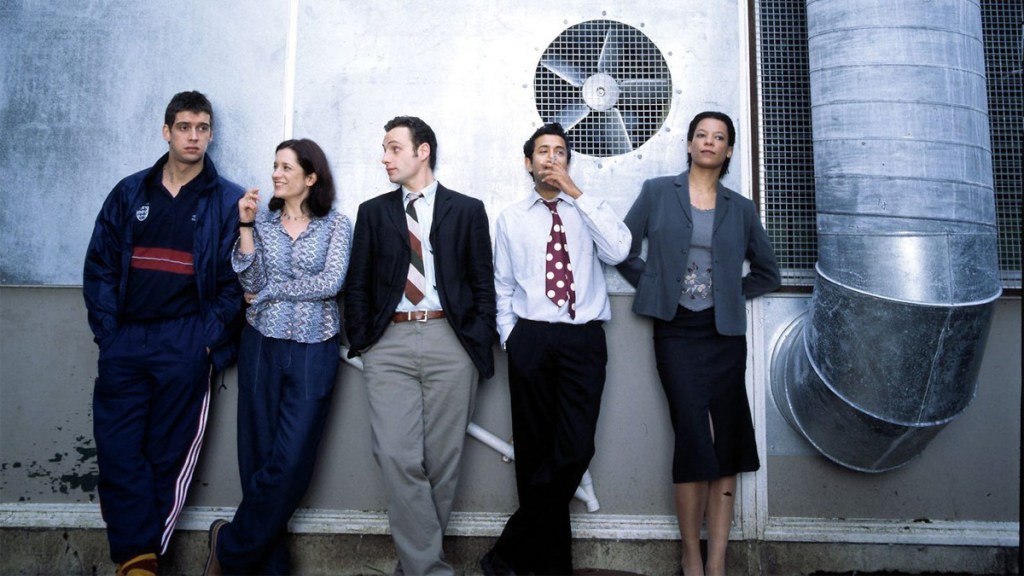 Channel 4's comedy drama Teachers starred a pre-The Walking Dead Andrew Lincoln as English teacher/man-child Simon, and a cast of characters in similarly arrested development. Set in a Bristol Secondary School, it's a funny look at staff room chaos with a down-to-earth sense of humour (in its first couple of series at least). Inspiration for home schooling perhaps?
Where to stream? Amazon Prime Video UK
The Bletchley Circle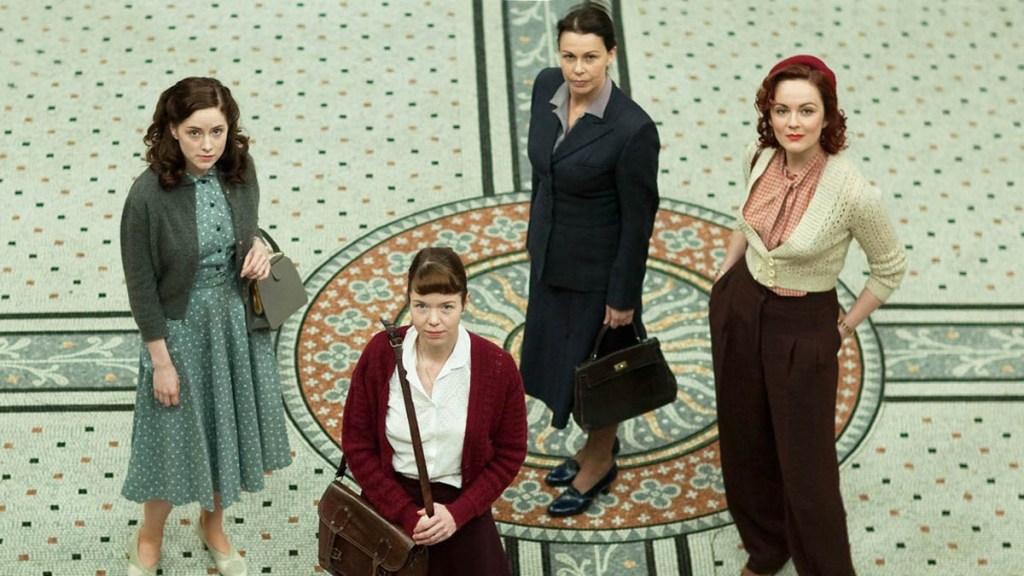 Delightful viewing, this series about four ex-Bletchley codebreakers teaming up to solve crime in the 1950s is clever and comforting, with a cast including the terrific Anna Maxwell-Martin and Sophie Rundle. The spin-off set in San Francisco is well worth a look too.
Where to stream? Netflix UK
The Crown
Queen Elizabeth II and her lot are the focus of Peter Morgan's glossy Netflix period drama following the UK's royal family from Liz's coronation all the way through the decades. With three series available and a fourth on the way, it's a look at a changing Britain and the rulers reluctantly forced to change alongside it. Exemplary casting and very fine storytelling.
Where to stream? Netflix UK
The Hour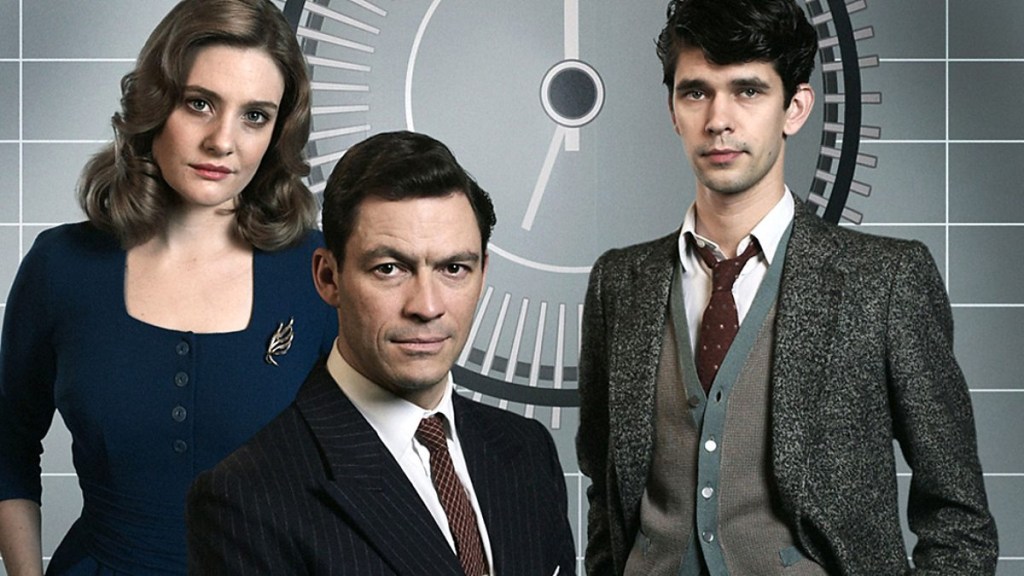 The cancellation of Abi Morgan's The Hour after series two provoked an outcry from fans of this smart period drama about the making of a current affairs television programme in 1950s London. Romola Garai, Dominic West and Ben Whishaw all star in an involving look at British history.
Where to stream? Britbox
The Last Kingdom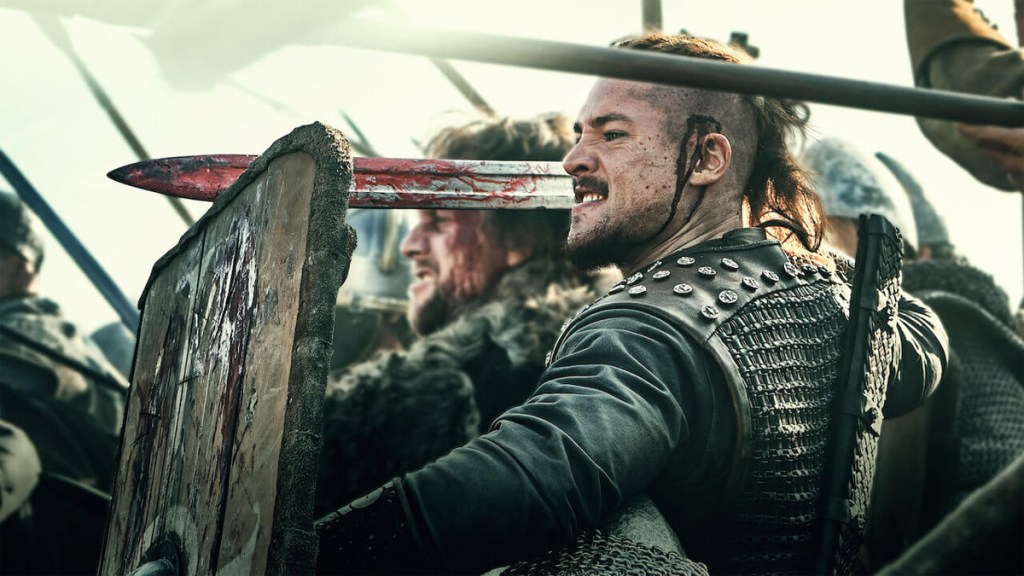 Series four of this meaty Vikings and Saxons drama arrives in April 2020, adapting books seven and eight of Bernard Cornwell's 'Saxon Stories' saga. It's the tale of Uhtred of Bebbanburg, a Saxon raised by Vikings who returns to England to reclaim the birthright his scheming uncle stole from him, but who has countless other adventures on the way. Great fights, great characters and a superlative third run with a beating political heart.
Where to stream? Netflix UK
The Missing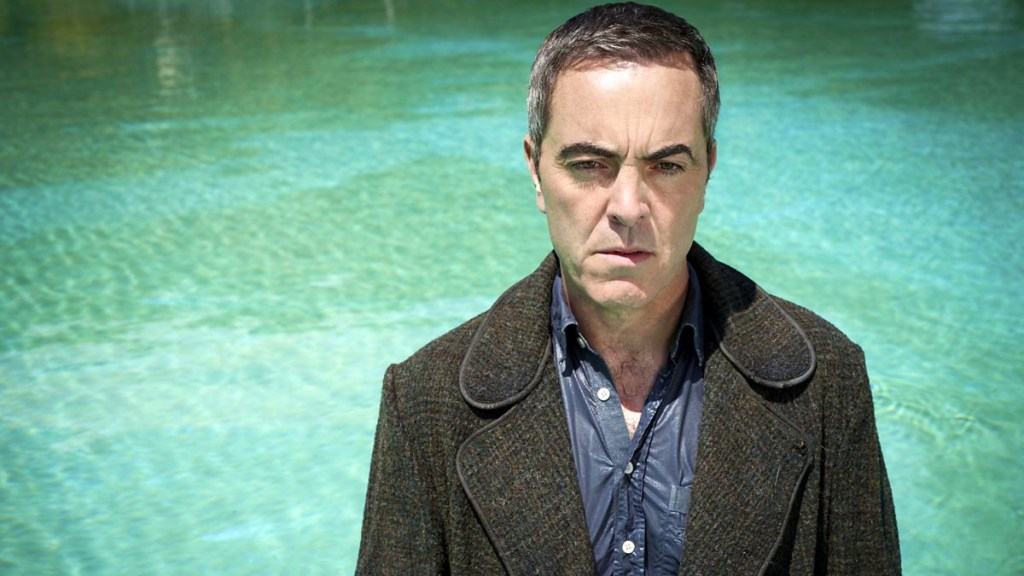 This is where it all started for Julien Baptiste, Tcheky Karyo's French detective character who's now the star of his own spin-off series. In the first series of this hit BBC thriller, Baptiste helped Tony Hughes (James Nesbitt) search for his missing son, while in the second, Baptiste investigated the case of a missing teenager who returns to her family years after being abducted. Twisty goodness.
Where to stream? Amazon Prime Video UK
The Shadow Line
Before The Honourable Woman and Black Earth Rising, Hugo Blick created The Shadow Line, a seven-part thriller about a murder investigation that threatens to topple the establishment. With an outstanding cast including Chiwetel Ejiofor, Christopher Eccleston and Stephen Rea, it's one of the UK's finest modern thrillers.
Where to stream? Britbox
This is England '86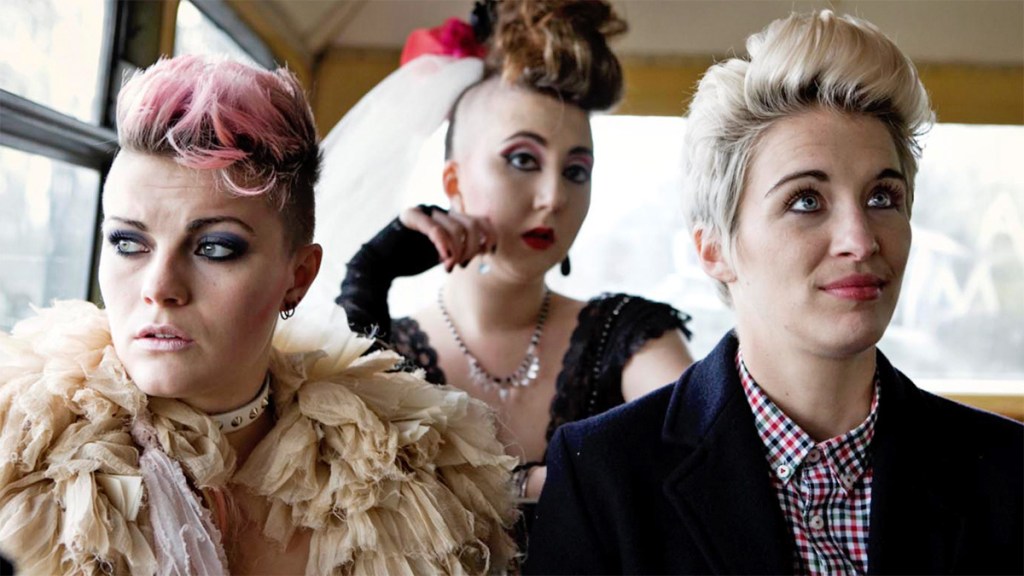 Arguably the best film spin-off TV show ever made, the three series that followed Shane Meadows and Jack Thorne's 2006 feature This is England were superlative drama. Heart-breaking but funny, hard-hitting but entertaining, they told difficult stories with honesty and warmth, with a cast of characters impossible not to love. They're all good, but Vicky McClure and Stephen Graham are the stand-outs. Here's why we love it.
Where to stream? All4
This Life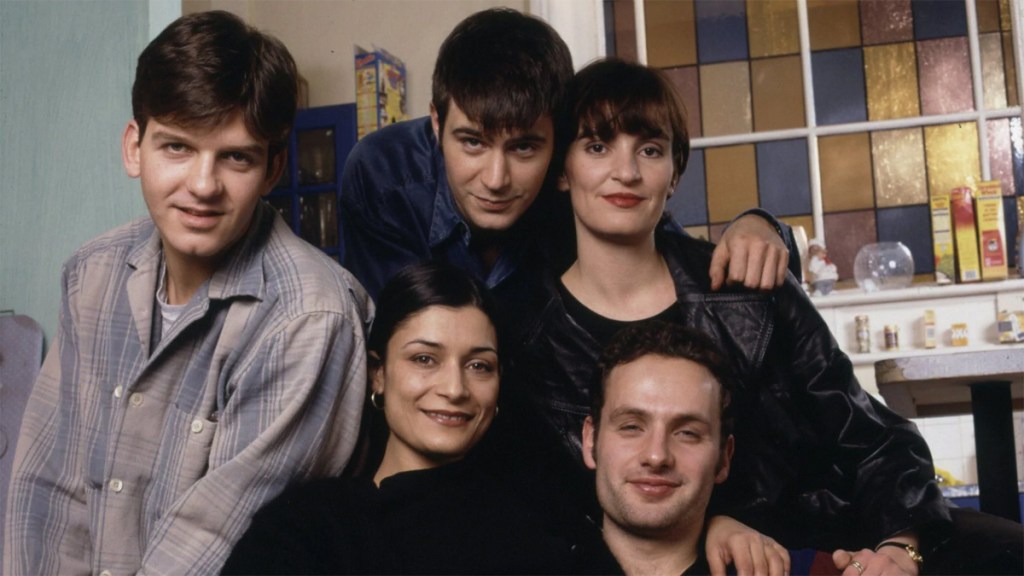 The 90s! Lawyers and flatshares and cocaine and booze and unhealthy hook-ups, This Life offers all that and a man named Egg. (Andrew Lincoln in his pre zombie-killing cowboy days). The recent BBC Four repeats sent a generation reeling back into nostalgia, and now you can do the lot on Britbox.
Where to stream? Britbox
Torchwood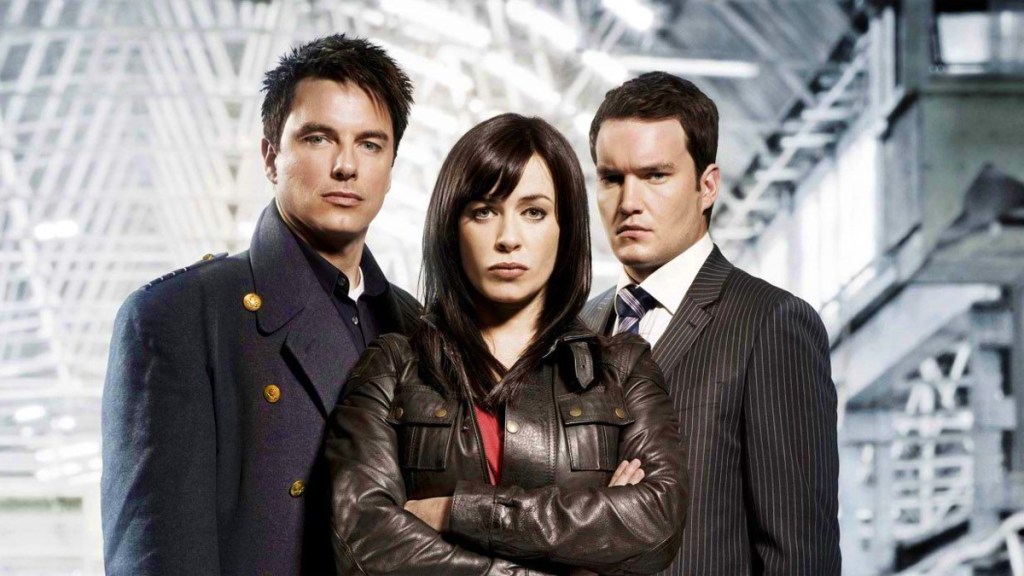 Remember back when there was a new Doctor Who spin-off for every day of the week? Torchwood was the after-dark one, a sci-fi with bloody murders and sex alongside the aliens (or fairly often, with the aliens). Chris Chibnall's first Who showrunning gig brought us the extended adventures of Captain Jack Harkness and Eve Myles' police officer Gwen Cooper. We revisited the lot here.
Where to stream? BBC iPlayer
Unforgotten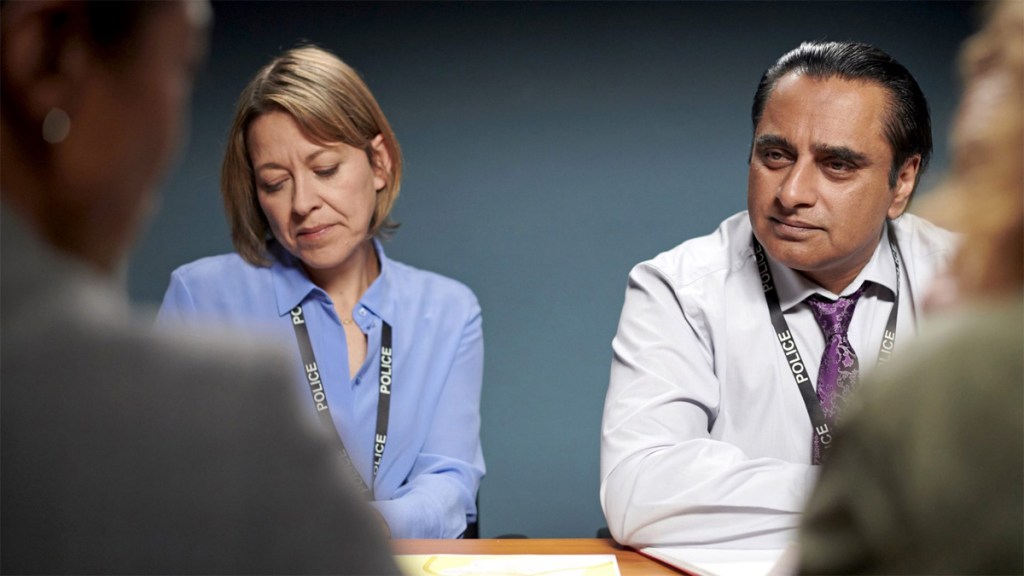 The only UK crime drama that remembers to be kind as well as gripping and filled with twists, Chris Lang's Unforgotten is cleverly plotted and built around an excellent double-act. Nicola Walker and Sanjeev Bhaskar are Cassie and Sunny, detectives working cold murder cases who attempt to bring closure to families who've lost loved ones and never known where, how, why or who to blame. Read more here.
Where to stream? Netflix UK
Wolf Hall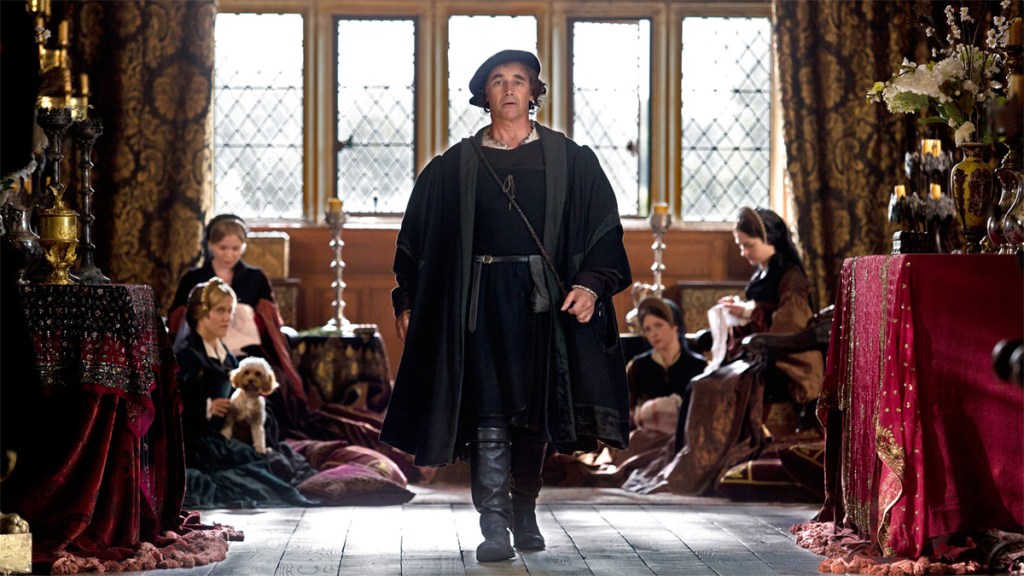 Mark Rylance did a lot by doing very little in the BBC's Wolf Hall adaptation. Playing crown advisor and treasurer Thomas Cromwell in this beautifully pitched adaptation of Hilary Mantel's Booker Prize-winning novel, Rylance's performance was all about understatement. Claire Foy and Damian Lewis are also great in this political period drama.
Where to stream? Britbox
Years and Years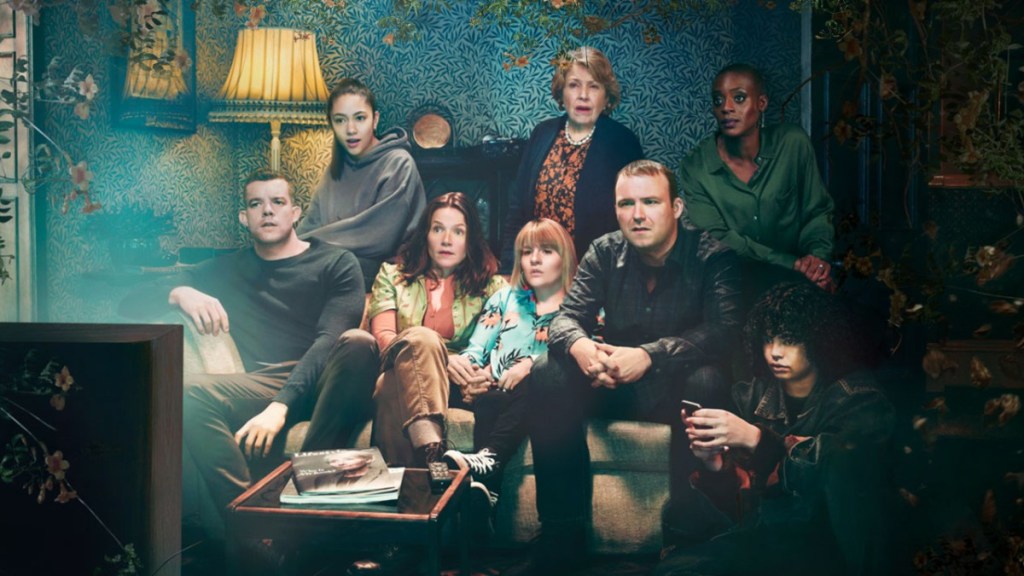 Another entry from Russell T. Davies, this six-part sci-fi series is a satirical horror show in the Black Mirror vein, showing life 15 years from now through the story of one Manchester family. See technological developments, environmental collapse and terrifying political movements take hold, all told with Davies' characteristic wit and brio. Top stuff.
Where to stream? BBC iPlayer