Reviews
Save Me Too Review (Spoiler-Free)
Emotionally gripping, unique Sky thriller Save Me is back for series two, with all episodes available to stream now…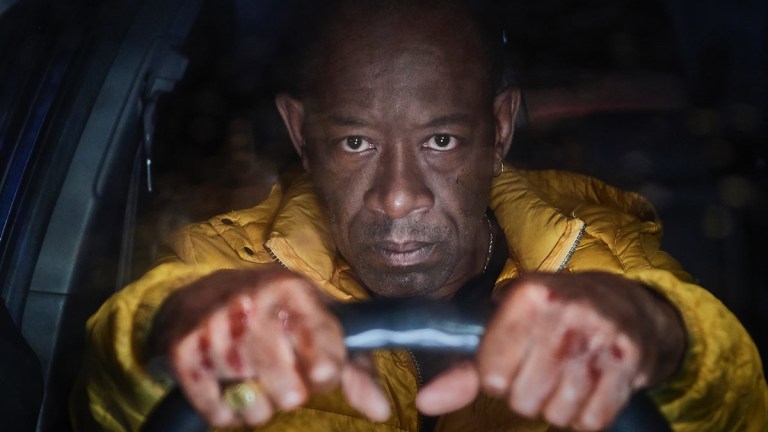 Save Me Too isn't an ordinary TV thriller. It has all the ingredients – crimes, victims, mysteries, tension, cliff-hangers – but shows them from a peculiarly human perspective. Instead of clustering the action around a police station with occasional visits to a victim or suspect's house, it inverts that ratio and plays out on the streets and inside homes. Its police are largely absent, a peripheral presence at most. We never sit in on a daily investigation briefing or glimpse an evidence board.
It can be destabilising. The deliberate avoidance of procedural elements in favour of something looser, more vital and more emotional, leaves viewers without familiar bearings. Plot points can be tricky to pin down. Questions can go unanswered. Characters pulse in and out of play, their stories not always tightly connected to the main plot. But in the end, none of that matters. What matters are the characters, the performances and that this is, by far, the most alive drama on television.
Save Me Too follows up Sky Atlantic's 2018 series Save Me, written by actor-screenwriter Lennie James (The Walking Dead, Line of Duty). The six-episode thriller directed by Nick Murphy became Sky's most rapidly binged box-set on release in 2018, and went on to win Best Drama and Best Writer at last year's Royal Television Society awards.
It was always intended as a continuing drama, says James, and after this one, series three is a possibility – welcome news because the sequel has lost none of its unique appeal.
James plays Nelly Rowe, an unreliable drifter in London's Towers Estate, and a regular in the close-knit friendship group at the estate's Palm Tree pub. Nelly's surrounded by mates played by an enviable cast including This is England's Stephen Graham, Killing Eve's Susan Lynch, and Doctor Foster's Suranne Jones as Nelly's ex Claire. Oscar nominee and long-time Mike Leigh collaborator Lesley Manville has also joined for series two in a small but crucial role written for her.
Series one followed the abduction of Claire and Nelly's 13-year-old daughter Jody (Indeyarna Donaldson-Holness). Estranged from Jody but drawn into the search when it transpired that somebody close to him was involved in her disappearance, Nelly ended up on a redemptive journey. He took responsibility for the first time in his life and, as he might put it, started to take himself seriously.
The trail he was following to Jody in the series one finale led him to the discovery of another girl – Grace (Olive Gray), who becomes the focus of series two. Gray is a terrific addition to an already strong cast. The role is complex and demanding, requiring transitions from child-like vulnerability to spitting adult rage – Gray delivers it all and is an engaging, unpredictable screen presence. James, who's rarely off-screen, is utterly convincing and compelling once again as Nelly, but properly, Gray is the second lead. Grace's is the voice we start to hear behind the new title, begging Nelly to not just redeem himself and find Jody, but also to save her too.
In many ways, Save Me Too is the story of two victims, one 'good' (Jody, tricked into abduction from an upper middle-class home, with a family desperate to find her), and one 'bad' (Grace, angry, unreliable, uncared for, manipulated into the same abuse via different methods). Placing the two cases side by side makes an already uncomfortable story even more challenging by exposing class prejudice in the justice system. Similar territory was covered by Nicole Taylor's powerful BBC drama Three Girls, which told the stories of survivors of the Rochdale child abuse ring.
It is uncomfortable viewing, as would be any story about child sexual exploitation, but the subject matter is given due weight here. Abuse victims aren't simply a backdrop to the story of a heroic male saviour (see Baptiste), they're the story itself. Grace's relationship to her abusers, and to Nelly, is shown as complex and contradictory. Her emotional experience is central and thanks to Gray, we feel every step of it. Nothing is simplified or easy, everything is messy and honest and intense.
Too much intensity could be Save Me Too's only weakness. In the early episodes, some performances seem to be competing for fraught earnestness and emphatic delivery. The eye-catching whimsy of Nick Murphy's vignettes of life around the estate in series one, while still there in places, is overtaken by an excess of powerful speeches in close quarters. With an ensemble like this though, who could blame director Jim Loach for running his cast into the material at full pelt.
The material has flair. Loach's camera may say naturalism, but James' dialogue is poetry in masquerade. Nelly's speech patterns and turns of phrase might be drawn from London's streets, but they've been drawn by a writer alive to novelty, with an ear for verse. Rarefied things come out of Nelly's mouth, things unheard on TV (just listen to his "pressie-extra" speech in episode one). What David Milch did in Deadwood's quasi-Shakespearean speech patterns for his version of the Wild West, Lennie James does here for his version of South-East London.
Combine that with the puzzle-like chronology of the early episodes, and Save Me Too might push away a few casual viewers but it would be their loss. This series builds to some stunning places, with real tension and surprises. It's a drama foremost, but one that happens to play all the right thriller notes, though not – to butcher an old joke – necessarily in the 'right' order. The result is something original and captivating.
How about that third series then?
All episodes of Save Me Too are available now on Sky and NOW TV.