Features
The Last of Us, Happy Valley: Our Best TV Show Recommendations January 2023
Wondering what to watch? Here's a quick guide to last month's best TV.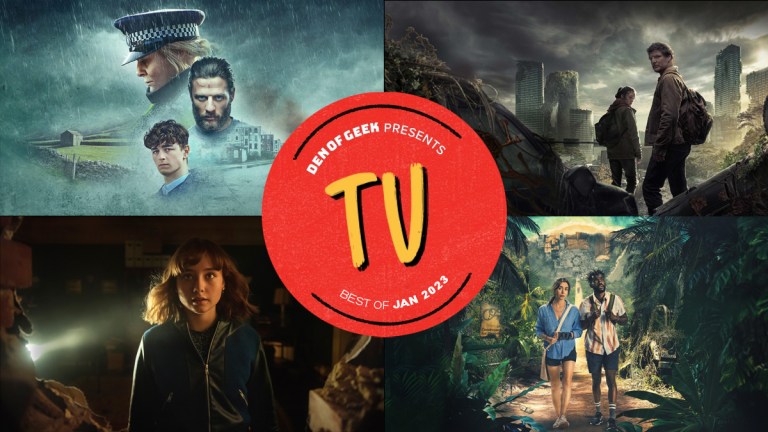 Everybody does it – sits glazed in front of the TV, wearing the remote button thin with endless scrolling. That's meant to be good, isn't it? Didn't we like that other thing he was in? With the horse. No, I'm thinking of a different guy. Oh, just put The Office on.
Every click of the remote is another second stolen from our budgeted free time, but no more. Every month, Den of Geek picks the best TV recommendations to save you time, starting with…
Best of the Best: The Last of Us
Stream on: HBO, HBO Max, Sky Atlantic, NOW (episode 1 free on YouTube in the UK).
HBO's The Last of Us is set in a post-apocalyptic world where fungal spores of the cordyceps genus have evolved to take over human bodies, swiftly leading to the end of the world as we know it. After depicting the mushroomy armageddon, the show picks up years later in a post-apocalyptic Boston where bands of human beings are threatened by both the zombie-like infected and the oppressive FEDRA government. Joel (The Mandalorian's Pedro Pascal) is an average Joe trying to keep his head down and survive on the margins between FEDRA and their freedom-fighting antagonists the Fireflies. When Joel is approached by the Fireflies to guide a young asset named Ellie (Bella Ramsey) across the country, however, The Last of Us really gets rolling and embraces its Lone Wolf and Cub potential.
The Last of Us is arguably the best TV or film adaptation of a video game since … ever? It accomplishes this not by over-adapting its source material or molding it into something it's not but by letting the game narrative breathe. The show's co-creator Craig Mazin (Chernobyl) is joined on the showrunning team by the game's creator Neil Druckmann. Together, Mazin and Druckmann don't redefine post-apocalyptic storytelling but fine tune and perfect it. Fans of the zombie or post–apocalyptic wasteland will find this all quite familiar but also compelling and well-executed.
Everyone's Talking About: Happy Valley
Stream on: BBC One, BBC iPlayer, AMC+, Fubo
You might have seen a promo image of a woman in a hi-vis police uniform for this British series and scrolled by, thinking that it looks like just another detective show. It's anything but. Happy Valley is up there with the very best TV dramas. The writing, characters and performances are all first class, and the plot is masterfully told. It's no wonder that the third and final series, currently airing in the UK and coming to the US in May 2023, is all anybody's talking about.
Its story might be familiar to fans of Mare of Easttown, whose creators cited it as 'inspiration' (read: copied). A female police sergeant in a drug-addled town is single-handedly raising her grandson after her child committed suicide, while having a difficult time with her remaining child, ex-husband and sister (her mother in the HBO rip-off). It's funny and brutal and led by a titanic performance from Sarah Lancashire. Grantchester's James Norton plays a very nasty bastard, and there are no weak links in the cast. Don't miss out.
If You Liked White Lotus, try…
Stream on: Sky Atlantic, NOW (UK), HBO and Peacock (US)
The Resort (on Peacock in the US). It's a fancy holiday murder mystery that gets seriously weird, starring Cristin Milioti, William Jackson Harper, Nick Offerman and more.
But if it's obscenely rich people being terrible you want, look no further than excruciatingly good media-empire family saga Succession, season four of which arrives in May 2023.
If it's a murder mystery about obscenely rich people you want, then Big Little Lies starring Nicole Kidman and Reese Witherspoon, or The Undoing with Nicole Kidman and Hugh Grant are the ones.
If it's more from The White Lotus creator Mike White you're after, then stream his 2011-2013 comedy-drama Enlightened starring Laura Dern as a woman whose meditation-therapy-healing journey kind of wrecks her life.
Family TV Night: Lockwood & Co.
Stream on: Netflix
If fun, spooky mystery Wednesday was your last family binge, follow it up with this British ghost adventure. Lockwood & Co. is the story of three teens running a ghost-hunting agency in a parallel London where supernaturally talented kids protect the world from nightly spectral attacks. Adapted by Attack the Block's Joe Cornish from a set of middle-grade (9-11 years) books, it's an eight-part action-filled romp with plenty going on and great young leads. Fingers crossed for series two.
One From the Vault: Invader Zim
Stream on: Prime Video (US Only)
First premiering in 2001 on Nickelodeon, animated series Invader Zim feels as though it was built in a lab to appeal to cult audiences. Its central character, Zim, is a diminutive alien from planet Irk who annoys his taller alien peers. He so annoys them, in fact, that they send him to a mystery planet that they assume is fictional but in reality is the very real Earth. Accompanied by his robot dog companion GIR, Zim tries his damnedest to take over our world while (poorly) blending in as a human child.
Invader Zim is a fun, dingy little show that revels in its gross character designs and heightening absurdity. As of Jan. 1, the entirety of the series' initial two-season run can be streamed on Prime Video in the US.