Features
What Does VOD Mean for Movie Theaters?
With more new releases heading to VOD and theaters shut around the country, we consider the longer term effects the coronavirus could have on cinema.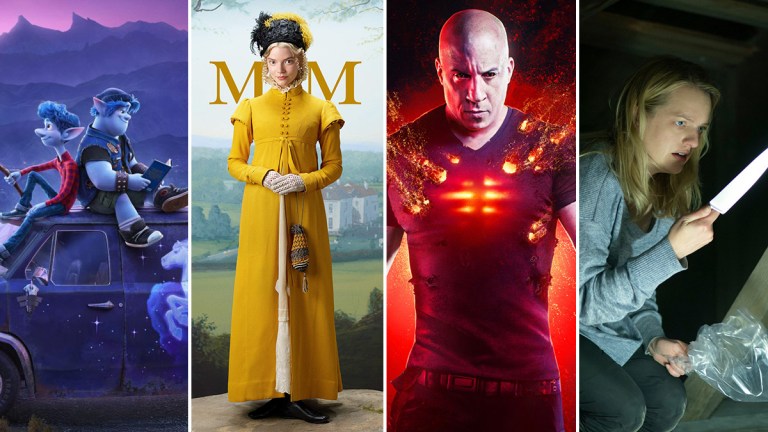 A Greek philosopher once said there is nothing permanent except change. It's a timely thought during this moment of uncertainty. Even in the limited purview of the entertainment industry and cinema, what we took for granted only three weeks ago about moviegoing, and the wall between theatrical and VOD release, is coming down.
It began with Eon Productions and MGM moving No Time to Die from its April launch to late November in light of the growing coronavirus crisis. They were the first to move, but they wouldn't be the last. Almost all studios have now pushed their major releases for the rest of March, April, and May into indefinite delay or 2021. But as major movie theater chains close in both the U.S. and UK, and the coronavirus is officially recognized as a pandemic that may take months to overcome, some studios are making even bolder moves.
Universal was the first to announce its three biggest movies in theaters—The Invisible Man, The Hunt, and Emma.—would premiere on VOD after less than a month of theatrical release, with one of them not even being out a week. Warner Bros., Disney, Sony, and Paramount quickly followed suit. These are prudent moves, but the extraordinary one is that Universal also announced Trolls: World Tour would have a day-and-date release on VOD and in theaters come April 10. With potentially all theaters in North America closed by then, this really means just a VOD debut.
All of which leaves the movie and exhibition industries in uncharted waters: Is VOD really the only option for films once intended for theatrical bows in 2020? What could that mean for seeing movies in theaters? And… is this permanent?
What Will Next Go to VOD
The truth is that video-on-demand, if not straight to streaming services, is about to become the first option for many mid-level studio and independent movies with releases scheduled in the next 10 or 12 weeks. Universal opened the floodgates when they put two low budget horror movies and one prestige speciality film on VOD, but perhaps Trolls: World Tour—a sequel to an Oscar nominated animated family film that earned $347 million in 2016—is the biggest indicator of what comes next.
While the first Trolls was a hit, it didn't achieve a Frozen level of success or come close to Universal's biggest earners like the Fast & Furious movies. It made money, but not necessarily so much that Universal considered a theatrical opening imperative. So it's illuminating that among Universal's April and May releases, Trolls is moving forward on VOD, yet Universal's former Memorial Day tentpole, F9, was moved all the way to April 2021 in hopes of getting past the current crisis in markets around the world, including in North America and Asia.
That will likely define the next several weeks as major blockbusters like F9 or the indefinitely delayed Mulan and Black Widow are reserved for a theatrical window while other projects become negotiable. For instance, Paramount similarly delayed A Quiet Place Part II to dates unknown while they moved the April-slated romantic comedy, The Lovebirds, from theatrical to Netflix.
"There's this kind of borderline hysteria where people are coming to the conclusion that, 'Okay, because a lot of movies are going to streaming quicker now that that means that's going to be the future of the industry and studios and filmmakers are just going to abandon movie theaters,'" says Phil Contrino, director of Media & Research at the National Association of Theatre Owners. "And that's just so far from what the reality of the situation is. Studios across the board are committed to theatrical, and filmmakers are committed to theatrical."
Speaking to us on the same day NATO publicly urged Congress to include theater owners, and thereby their employees, in any stimulus package, Contrino is quick to point out that exhibition associations like NATO are in touch with studios, who remain communicative about what is going to VOD. Then again, so are the filmmakers on some of the biggest delays. Citing John Krasinski's open letter to fans, where he wrote of being determined to share the next A Quiet Place theatrically, Contrino notes, "Obviously that's not a movie he wants people just watching at home by default. There are other filmmakers who are coming out who are saying that's just not how they want their movies seen, that's very important for at a time like this, and the studios definitely listen to that."
This is a reasonable response, and likely foretells that while some smaller films, particularly among indies, will wind up on streaming, others will take a wait and see approach. In such a context, one could make a safe bet Mulan and Black Widow won't go to streaming, but perhaps Disney is more open to moving some of their Fox acquired properties to VOD, like The New Mutants or Woman in the Window, which have both been delayed before.
Meanwhile indie houses who've already done day-and-date VOD rollouts in the past, such as A24, still have Saint Maud scheduled for April and The Green Knight in May. Those could feasibly switch to VOD. And as this process drags into April, a lot of movies that had May release dates may reconsider the value of VOD if it becomes apparent this is going into June. It'll be very interesting to see if the penny drops on any major summer releases that aren't looking to make a billion dollars. That excludes major international tentpoles like WB's Wonder Woman 1984, but it includes WB's Scoob!, Lionsgate's Spiral, Sony's Greyhound, and MGM and Universal's Candyman.
How Theaters Could Rebound
But, again, this does not signal the end of moviegoing. Every studio that broke the theatrical window included press statements aimed at suffering film exhibitors.  Bloodshot, for example, saw its opening weekend devastated by coronavirus anxiety beginning to take hold in the U.S. But while moving the film to VOD, Tom Rothman, chairman of Sony Pictures Entertainment's Picture Group, said, "Sony Pictures is firmly committed to theatrical exhibition and we support windowing… We are confident that—like other businesses hit by the virus—movie theaters will bounce back strongly, and we will be there to support them."
You should believe him. The entire business model that studios are relying on not only favors a theatrical window before home release, but it depends on it. Massive blockbusters like F9 or Mulan, or Sony's Spider-Man movies, only work for the time being if audiences around the world are paying per head to see the film, and to see it multiple times. VOD releases invite pirating and the ability for a large group of people to watch a film repeatedly for the price of one or two movie tickets.
But that's the studio model. In the meantime, exhibitors and theaters will suffer and, as the economy heads for almost certain recession, some will close. And yet, if the pandemic is blunted or under control relatively soon, that could make all the difference.
"When we work through this crisis and life returns to normal, there's going to be a flood of moviegoers," Contrino says. "People are going to want to get out of their houses. They're going to want to have that experience that they were missing while they were stuck at home."
That's also why NATO is so quick to stress the need for economic stimulus, which Contrino says is essential for movie theater employees at a time when theater revenue "is basically zero." It's also why many in exhibition remain hopeful that President Donald Trump's vision of this crisis abating by July or August is actually correct. 
Consider that China is holding its breath for a return to normalcy after having their first day with no new coronavirus cases on the mainland since December 2019. While scientists suggest there should be no attempts to reduce restrictions until the country goes at least two weeks without new cases, already theaters are slowly working toward returning to function in the safer provinces over the next month.
If such a scenario played out by August or September in the U.S. and UK, we imagine many people will be exceedingly stir crazy and excited to do the things they were denied for months on end. In theory, just as woeful as the coronavirus was for the box office in the spring, a nation of self-isolated individuals coming out of their homes could be a potential boon for theaters, turning fall 2020 into summer-like business.
How They Might Not
The above scenario, however, is working on the assumption that the worst of the COVID-19 crisis is over before summer is, and that government measures might stave off depression if not recession. But that is not necessarily how the crisis will play out. A secret memo within the UK's National Health Service (obtained by The Guardian) suggests that the crisis could last at least 12 months. The Centers for Disease Control has similarly warned the crisis could dissipate in the summer and return in the fall, lasting into 2021. Some scientists have even suggested this will not be under control until there's a vaccine readily available to the public, which is estimated to not happen until at least fall 2021.
In such extreme situations, the fallout for movie theaters and the economy as a whole is almost unfathomable. It's similarly difficult to fully grasp how such a prolonged crisis, and efforts to social distance, would affect society and the culture at large.
NATO and theater owners in general do not wish to comment on such speculation. But there is a possibility that on the entertainment side, audiences fall out of rhythm with the theatrical moviegoing experience. This is not to say there won't be movie theaters, but it is possible to imagine that just as streaming diminished moviegoing as a national pastime in the 2010s, after 12 to 18 months of a prolonged crisis, going to the movies becomes increasingly a cultural niche in the same way theatrical stage productions are seen by a minority of usually more affluent clientele. Already boutique movie theater experiences like the Alamo Drafthouse chain in the U.S. are cultivating an environment where moviegoing is a special event for enthusiasts willing to pay a premium, with specialty cocktails, food service, and hosted events. This might be one way the broader theatrical experience revives in the event of a longer absence.
However, it is fair to say no one really knows the full extent such a delay would have on theaters because when events really are this unprecedented, it means there is nothing to compare them to.
How VOD Could Change Movies
If the crisis really does drag past early 2021, studios holding onto their Black Widows or F9s could theoretically rethink waiting for greener pastures to emerge, especially as the economy encounters unprecedented strain.
It also could lead to very different types of movies getting made. Over the last 10 to 15 years, Hollywood studios have notoriously shrunk their output of mid-budget movies aimed at specific niches or segments of the population. Well-worn genres as old as movies themselves, like romantic comedies and detective stories, have fallen mostly by the wayside, as have most movies that aren't aimed at a "four-quadrant," all audience sensibility. In other words, we've seen a lot of franchise superhero movies and sequels targeted at the lowest common denominator.
One of the reasons Netflix thrived in the 2010s as a content producer is the streaming service is not beholden to spending a half-billion dollars on three or four tentpoles to underwrite its fiscal year. Working off a subscription business model, Netflix can produce a variety of mid-level or small budget films aimed at each niche audience, as opposed to everyone. If theaters are seriously harmed after a long crisis, it might be more financially viable to make less expensive movies that appeal to adults unimpressed by CGI fight scenes, or more than just the teenage and fanboy demographics. In such a scenario, studios might be forced to embrace a greater variety of moviemaking, or at the very least stop spending $300 million on a movie that will end up on torrent sites as soon as it drops on streaming.
The longer social distancing lasts, likely the more profound the effect will be on how movies are made and how we consume them. "The times they are a-changin,"'a 20th century American philosopher more recently sang. What remains to be seen is by how much.