News
Box Office Hits Historic Lows Over Weekend as Theaters Begin Closing
The box office had its worst weekend since 1998 as audiences largely stay away during the coronavirus crisis. And that's before New York and LA closed all theaters.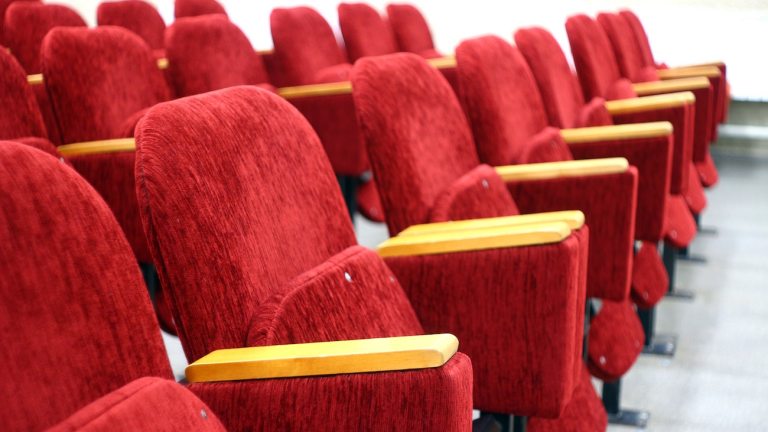 The box office suffered its worst weekend in 22 years over the last three days (and that's not taking into account inflation). Once a weekend refuge for those looking for distraction, fear of gathering with more than 50 strangers—which the Centers for Disease Control has just warned should be avoided—left North American movie theaters largely empty while anxiety over the coronavirus pandemic grows. It also spells ominous signs for the future of moviegoing.
Despite two genre-heavy openings with Vin Diesel's superhero movie, Bloodshot, and Universal Pictures' unfairly delayed The Hunt, neither film found much of an audience, each opening outside the top two spots of the weekend and with less than $10 million. Bloodshot grossed a meager $9.3 million, coming in third place, but was still ahead of fifth place finisher The Hunt, which grossed only $5.3 million over three days, plus Thursday night previews.
In fact, only family and Christian-specific fare did slightly better, with faith based I Still Believe grossing $9.5 million in second place, and Disney and Pixar's Onward remaining in first place with $10.5 million. However, for perspective, this is only Onward's second weekend, one in which it dropped a dizzying 73 percent from its $39.1 million opening.
These numbers reflect the general sense of uncertainty in American life as the numbers of confirmed cases of COVID-19, the disease caused by the novel coronavirus, continue to grow. In the U.S. alone, there have now been more than 3,700 confirmed cases of COVID-19 (although the actual number of infected is likely higher) that have resulted in at least 71 deaths.
The swift rate at which it's spread across North America, following a familiar pattern as seen in China, Italy, and other nations, has led to the cancelling and now banning of many public gatherings, including going to movie theaters. Before the weekend, landmark theaters in New York City, including the Film Center of Lincoln Center, BAM, the Metrograph, the Alamo Drafthouse Brooklyn, and more voluntarily closed their doors. Others like the AMC Theaters chain attempted to enforce social distancing with largely empty theaters. That proved unnecessary as come Sunday night, Mayor Bill De Blasio ordered all movie theaters in America's largest city to close.
On the same day, Los Angeles Mayor Eric Garcetti ordered the closure of all movie theaters in Los Angeles. This has an added surreal value considering LA is home to Hollywood and the popular global image of moviemaking. Yet both the state of California and New York have declared emergencies, notably before President Donald Trump declared a national emergency on Friday afternoon. As of press time, New York City has the most confirmed coronavirus cases in the country.
It's fair to assume the fallout facing the movie industry is only beginning. Nationwide both AMC and Regal Cinema have pledged to keep theaters at half-capacity to enforce social distancing. But even before the extraordinary measures in NYC and LA, the North American box office grossed only $55.3 million this past weekend. That's the lowest since the Oct. 30 through Nov. 1 weekend frame of 1998 when John Carpenter's Vampires led an anemic Halloween weekend to $55.2 million in total. It should be noted though that this is also without 22 years of rapid movie ticket price inflation. In other words, it's been far longer since so few people went to the movies over the weekend. This also holds true globally, with movie theaters closed nationwide in China, Italy, France, Greece, Denmark, Norway, Kuwait, India, Poland, and Lebanon.
This is perhaps why Universal Pictures has made the extraordinary step to release all current films in theaters on VOD and other digital rental services. Universal announced Monday that movies in theaters, including the studio's own top-five grossers of the weekend, The Invisible Man, and The Hunt, as well as Focus Features speciality darling, Emma., will all be made available for VOD. This comes after the studio delayed the next Fast & Furious movie, F9, from May until April 2021.
Meanwhile studios continue to abandon scheduled release dates. Already this month's A Quiet Place Part II, which was scheduled to open Friday, has been indefinitely delayed by Paramount Pictures. Disney also pulled Mulan from its March 27 bow, along with April releases The New Mutants and Antlers. MGM and Eon Productions beat all of them, however, when it first moved No Time to Die from an April launch in the UK and U.S. to November.
Given the historic box office drop-off we are seeing, and the strong likelihood that at least the next four weekends will be worse, we imagine they will not be the last movies to delay, leaving the exhibition business in a grim position.