News
The Lovebirds Gets Release Date at Netflix
The Lovebirds was one of the first films to move from a theatrical release to a Netflix streaming distribution due to the coronavirus outbreak. Now it has a release date.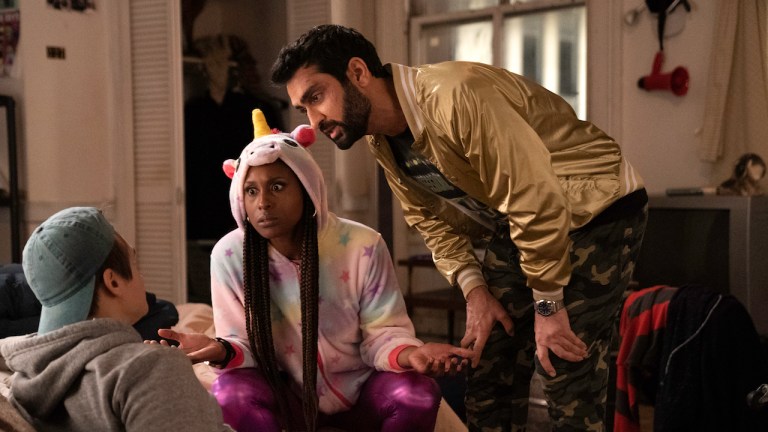 The Lovebirds, the romantic comedy-mystery hybrid starring Kumail Nanjiani and Issa Rae, will debut on Netflix in lieu of a theatrical release.
Paramount Pictures, the studio behind the film, pulled it from its original big screen opening, which was originally supposed to be April 3, as the coronavirus pandemic began to take hold of the world. The Lovebirds was one of two early major Paramount titles, the other being A Quiet Place Part II, that the studio took off its schedule as the full ramifications of COVID-19 began to be felt. According to Deadline, the deal for The Lovebirds has been in the works for a while.
Now Netflix has confirmed when The Lovebirds will be arriving on its streams in a new Netflix-ified trailer for the film.
That's right. The Lovebirds will finally take flight on May 22, 2020.
The Lovebirds stars Nanjiani (The Eternals, The Big Sick) and Rae (Insecure) as a couple who find themselves unintentionally embroiled in a murder mystery and must not just clear their names but make sure their relationship can survive the night. The film also has the nice bona fide of shooting in New Orleans during Mardi Gras.
Directed by Michael Showalter, whose previous collaboration with Nanjiani was the acclaimed 2017 comedy The Big Sick, The Lovebirds should have had its world premiere this year's SXSW Film Festival in Austin, Texas. But SXSW was one of the first major media events to be cancelled as the coronavirus outbreak turned into a pandemic, with Nanjiani also pulling out of a promotional appearance at the event even before the whole conference was entirely scrapped.
This isn't the first time Paramount has struck a deal with Netflix to handle the release of a new film. The streaming service famously staged a surprise debut of The Cloverfield Paradox after the Super Bowl in 2018, and also handled the international release of Alex Garland's outstanding 2018 sci-fi thriller, Annihilation, while Paramount unveiled it in theaters in North America.
In the wake of COVID-19, a number of current or upcoming theatrical releases are either getting early on-demand and streaming debuts or premiering online outright. The Lovebirds joins a list that already includes Trolls World Tour, Onward, The Way Back, Birds of Prey, Emma., The Hunt, Bloodshot, Sonic the Hedgehog, and The Invisible Man as titles that are finding ways to reach audiences now that all movie theaters in North America have shut down. You can find a list of where to stream all of them right here.