News
Bloodshot: Vin Diesel Superhero Movie Goes to VOD Next Week
Vin Diesel's new superhero movie, Bloodshot, has been in theaters less than a week. It will be available for streaming on March 24.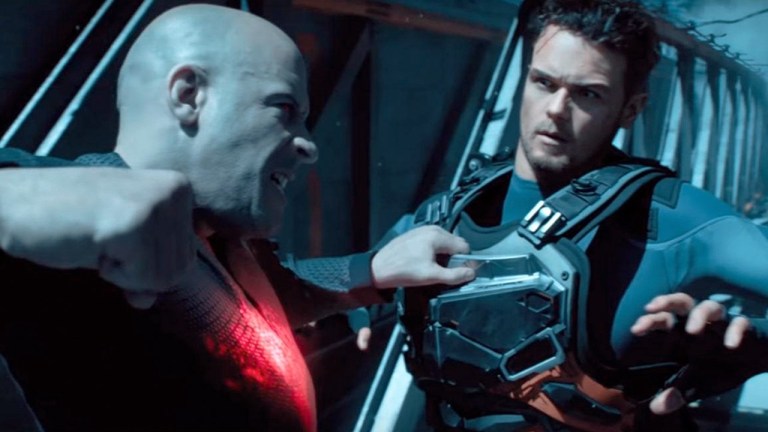 In what is becoming a familiar refrain after Universal Pictures opened the floodgates on Monday, a relatively popular new release is heading directly to video-on-demand as the coronavirus crisis worsens. This time it is Vin Diesel's superhero actioner, Bloodshot, that is breaking through the theatrical window like some kind of cybernetic super soldier.
Sony and Columbia Pictures' Bloodshot, which debuted in third place at the box office this past weekend, will make its VOD debut on March 24. This very reasonable move is being made after the film already suffered from the historically low moviegoing attendance of the past week. And that began even before movie theaters started voluntarily shutting down nationwide in both the U.S. and UK. New York and Los Angeles mayors have also legally closed all theaters in their cities.
Bloodshot competitor The Hunt was among the movies that made history, alongside The Invisible Man and Emma., when studio Universal Pictures opted to put all three of them on VOD this Friday, breaking the theatrical window. But like a lot of things that seemed impossible a few weeks ago, the at least temporary end of the theatrical window is our new reality today. Warner Bros. followed suit shortly afterward with Birds of Prey and The Gentlemen. But we suspect that Bloodshot will not be the last of the slated spring 2020 releases to make the jump to VOD as movie theaters across the world continue to go on lockdown.
"Sony Pictures is firmly committed to theatrical exhibition and we support windowing," said Tom Rothman, Chairman of Sony Pictures Entertainment's Motion Picture Group, in a statement. "This is a unique and exceedingly rare circumstance where theaters have been required to close nationwide for the greater good and Bloodshot is abruptly unavailable in any medium. Audiences will now have the chance to own Bloodshot right away and see it at home, where we are all spending more time. We are confident that—like other businesses hit hard by the virus—movie theaters will bounce back strongly, and we will be there to support them."
It's a hopeful tone that other studios may be looking at as they consider the future. Disney for one has delayed Mulan, The New Mutants, and most recently Black Widow. One imagines that with their own streaming service in Disney+, the Mouse House might be considering alternatives for their smaller projects, as well as Onward, the Pixar movie that released two weeks ago and is facing the same grim situation of closed movie theaters.
Bloodshot is Vin Diesel's comic book superhero movie adaptation, pulling from the Valiant Comics superhero, in which he plays a man who is reconstructed like RoboCop after seemingly being killed. Now he's an evolved half-man, half-man, all badass who has to fight other meta-humans played by the likes of Eiza González and Sam Heughan. The movie also stars Guy Pearce and is directed by Dave Wilson from a screenplay co-written by Jeff Wadlow (Fantasy Island) with Eric Heisserer (Arrival).
You can read more about the film right here. A quick note from our video partners at Soundstripe: All music in the Bloodshot video above is licensed from Soundstripe.com, which provides stock music for creators, with plans starting at $11.25 / month. For 10% off, use coupon code "DENOFGEEK10" at checkout.