News
Greyhound: Tom Hanks WWII Movie Gets Release Date at Apple TV+
Tom Hanks stars in World War II naval drama Greyhound, a project he personally wrote the screenplay for. The film will now be distributed online by Apple TV+ due to the coronavirus pandemic.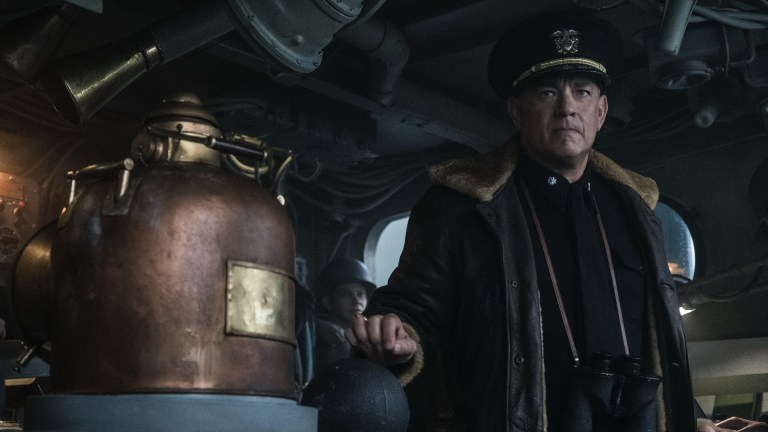 Greyhound will see Tom Hanks return to the backdrop of World War II; an arena in which he has excelled, both onscreen in 1998's Saving Private Ryan and offscreen as executive producer of HBO miniseries offerings Band of Brothers and The Pacific. Here Hanks serves as star, writer, and producer for the Sony film, tackling a different aspect of the war, the seas, with a story centered on an international convoy of Allied ships, racing across North Atlantic seas filled with Nazi U-boats.
Greyhound is an adaptation of the novel, The Good Shepherd, by C.S. Forester. It's a World War II-set drama, following a Navy officer (Hanks) who finally gets to command a destroyer, but has to get on top of his personal doubts and demons as he does so.
Aaron Schneider directed the film. He is a longtime cinematographer who's only helmed one feature in the 2009 drama, Get Low, which starred Robert Duval, Sissy Spacek, and Bill Murray. The appointment of a director with such limited directorial experience is likely indicative of the film's modestly priced production budget of $30 million. Schneider works off a script written by Hanks. This also suggests it is a passion project that Hanks has commanded.
Greyhound Release Date
Greyhound was supposed to arrive in theaters on June 12, 2020. When that date was delayed by the coronavirus outbreak, Apple TV+ swooped in to rescue the project. Now the film will premiere on Apple's servers on July 10.
Greyhound Trailer
Check out the first trailer for Greyhound, starring Tom Hanks, right here.
Greyhound Story
Here's the official synopsis for the film…
"In the early days of WWII, an international convoy of 37 Allied ships, led by captain Ernest Krause (Tom Hanks) in his first command of a U.S. destroyer, crosses the treacherous North Atlantic while hotly pursued by wolf packs of Nazi U-boats."
Greyhound Cast
Joining Tom Hanks in the Greyhound cast are Elisabeth Shue, Manuel Garcia-Rulfo, Stephen Graham, Rob Morgan, and Lee Norris.