Reviews
Firestarter Review: Remake Flames Out
The new adaptation of Stephen King's best-selling novel is all fizzle, no sizzle.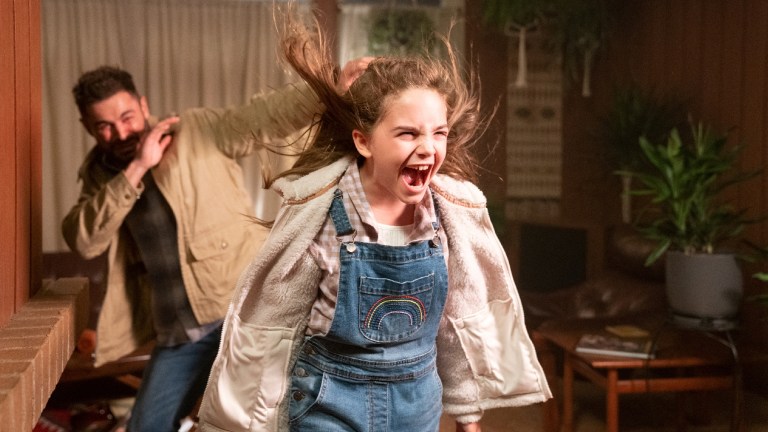 Firestarter is not often mentioned in lists of Stephen King's classic novels; although it was his sixth published novel (under his own name) and came out during his initial decade of phenomenal success, it's not exactly held up there with landmarks like The Shining or The Stand.
Of course there was still the inevitable movie, released in 1984 when it seemed like there was a new King adaptation hitting screens every month. Directed by Mark L. Lester (replacing John Carpenter early in development), with a screenplay by Stanley Mann, the '84 Firestarter is actually very faithful to the book in terms of narrative and incident.
What it lacks, however, is any kind of soul. The '84 Firestarter is an utterly mechanical effort, with the director putting the actors through their paces in workmanlike fashion and just jumping from plot point to plot point without any sense of the inner workings of the characters or the larger themes.
Then there is the casting: while little Drew Barrymore, nine years old at the time and coming off E.T.: The Extra-Terrestrial, seems perfect for the role of a little girl who can start fires with her mind, she is given no guidance at all, veering from overwrought to whiny in seconds. Most egregious of all, however, is the casting of a scenery-chewing George C. Scott as a Native American assassin named John Rainbird – casting that didn't sit well then and would never pass muster now.
We're pleased to report that in the new Blumhouse Films adaptation of Firestarter, that indefensible error has been corrected: John Rainbird is played in the new film by Michael Greyeyes, a First Nation actor who has appeared in Fear the Walking Dead and True Detective, among others.
But sadly, that is just about the only thing that this version of Firestarter, directed by Keith Thomas (The Vigil), gets right. Otherwise, this is a misfire on every level, an inert, dreary-looking, pointless exercise that wastes some good actors (Zac Efron among them) or gets terrible performances out of others.
It not only makes vast changes to King's book, but seemingly does so for no reason other than to make those changes, and it goes even further than the '84 film in stripping all the context and heart away (by the way, we mentioned John Carpenter earlier; he and his musical trio provide the unusual if not quite fitting score for this film, bringing him back to Firestarter after all these years).
The book begins in the middle of the action, with Andy McGee and his daughter Charlie on the run from a clandestine government agency known only as The Shop. It seems that Andy and his wife Vicky volunteered for some kind of drug trial while in college, unaware of the nature of the drugs that they were given. The substances give Andy and Vicky limited psychic and telekinetic powers, but turn their daughter Charlie into a literal weapon, providing her with the ability to start fires with her mind.
Vicky is already dead when King opens his novel, murdered by Shop operatives, and Andy and Charlie stay on the road under assumed names with the Shop on their tails. The new movie, however, rewinds the action, showing the McGees (Efron and Sydney Lemmon) submitting to the experiments in an opening credits montage before joining the McGees in an unnamed town – where Andy sets up a small "life coach" business while Charlie (Ryan Kiera Armstrong) attends the local school.
That's the first problem with this film: while it would be risky enough to send Charlie to a public school, it's established that any emotional outbursts on her part can trigger her pyrokinetic ability whether she wants to or not. So sure, put her in public school, where kids bully and tease anyone who seems shy or out of place, like Charlie does (Armstrong is okay, but doesn't seem sure of how to play the role).
But that's just indicative of the larger issues this movie has. Like all great King stories, Firestarter depends on the reader (or viewer) having tremendous empathy with the characters. There's none of that here. In one especially horrific scene, Charlie accidentally fries a cat with her power; her dad comes along and teaches her to control the flames by using them on the still-living cat. This is a "what the fuck?" sequence that will alienate a large swath of the audience and doesn't do the actors any favors.
Eventually, Shop head "Cap" Hollister (Gloria Reuben, wild-eyed and flat-out bad) dispatches Rainbird to capture the McGees. Rainbird himself has psychic powers – the one potentially interesting twist on his character – but otherwise he's mostly a cypher. He kills Vicky and manages to finally nab Andy in a compressed version of events from the book, while Charlie ultimately comes for the Shop with vengeance on her mind.
The movie then throws out pretty much all of the book's second half, in which a heavily drugged Andy and a reluctant Charlie are both subjected to psychological and physical manipulation by the Shop. To be fair, the complex relationship between Charlie and Rainbird in the book – mishandled in the '84 film – is difficult to translate and can come across as creepy. But this Firestarter doesn't even try; Charlie simply arrives at the rather threadbare Shop HQ and torches a handful of extras before the baffling ending.
Another issue here is that the source material, written in the 1970s, played off that decade's mistrust of the government, the aftermath of the college counterculture of the '60s and the very real possibility that the good old U.S.A. did conduct ill-advised drug experiments during that period. It also touched on the way that adults can manipulate their children and the way kids change as the approach puberty.
All that is gone here, and there's nothing to replace it. All we are left with is a shell of a movie, cheap-looking, poorly paced, half-heartedly acted and directed with all the energy of a match whose flame is slowly dwindling into ash. We never thought we'd say this, but we might like the '84 version better.
Firestarter is out now in theaters and streaming on Peacock.