Features
Oscars 2021 Predictions and Analysis of Frontrunners
We look at the state of the Oscars 2021 race the day of the nominations, and give our entirely too early predictions of who will win.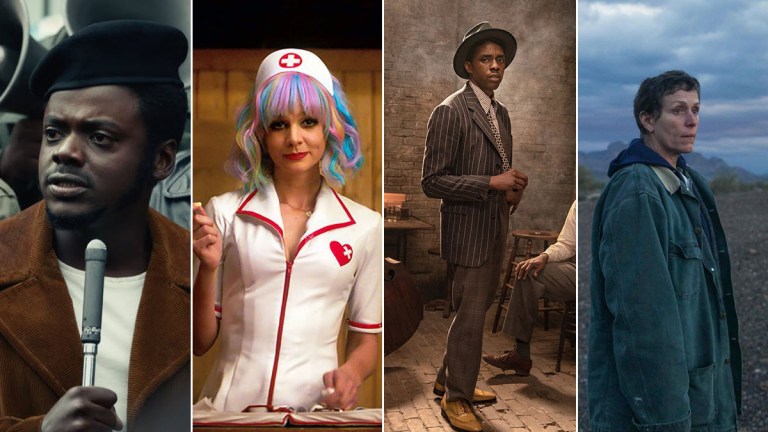 Perhaps the most surprising thing about the Oscars 2021 nominations is how unsurprising they were. There were course a handful of snubs, from One Night in Miami and Ma Rainey's Black Bottom being left out of the Best Picture category to LaKeith Stanfield surprising awards watchers with a Best Supporting Actor nod thanks to Judas and the Black Messiah (displacing Chadwick Boseman from Da 5 Bloods). But by and large? Things proceeded the way prognosticators pretty much expected.
With the Academy of Motion Picture Arts and Sciences picks in, we can see that David Fincher's Mank is the technical favorite with below the line voters, pushing the Netflix deconstruction of Golden Age Hollywood to eight nominations. These include major nods for Picture, Director and Best Actor (Gary Oldman) and Best Supporting Actress (Amanda Seyfried), but also a lot of technical recognition too in Cinematography, Production Design, Costume, and Makeup and Hairstyling.
Even so, the obvious frontrunner remains Chloé Zhao's Nomadland, a beautiful film that turns the tragedy of the Great Recession into a bittersweet celebration of American Nomad culture. The Searchlight Pictures release garnered six nominations, including Zhao in the Best Director category and another for Best Picture. Zhao's directing nod, alongside Emerald Fennell for Promising Young Woman, additionally made history with this being the first time two women were nominated in the Best Director category in the same year.
Meanwhile fans still mourning Chadwick Boseman's tragic loss, as well as celebrating his tour de force final performance in Ma Rainey's Black Bottom, can take some small comfort in the actor being the heavily favored contender in the Best Actor category.
In the end, things proceeded more or less as how the breathless awards race media class hoped it would. All of which raises an interesting question: Will there be any actual surprises then on Oscar night? Well… below is our best, and entirely too early, guess at what will win Best Picture and the other major categories. Be sure to check back here on Oscar night to remind us how wrong we were.
Just for clarity, nominees we want to win will be italicized while the ones we think will win will be bolded. When they're one in the same, one contender will be italicized and bolded.
Best Picture
The Father

Judas and the Black Messiah

Mank

Minari

Nomadland

Promising Young Woman

Sound of Metal

The Trial of the Chicago 7
I'm not sure I can think of a year with a more clear cut and inevitable frontrunner than Nomadland in 2021. There have been other years with dominant frontrunners—almost every year in fact—including several that go on to win, such as Green Book just two award seasons ago. However, there is almost always a counter-narrative that threatens the perceived frontrunner. Sometimes those whisper campaigns unseat the presumptive winner (see La La Land and 1917), and sometimes they don't. But in the case of Chloé Zhao's Nomadland there isn't even a serious challenger.
This in part because Zhao made an extraordinary film which uncannily mixed documentarian filmmaking and its study of real-life American Nomads with narrative storytelling. It's a trick Zhao has done several times before, including memorably with the Independent Spirit Award winner, The Rider. But here it is done with Oscar favorite in star Frances McDormand, and it draws attention to a whole culture of forgotten (white) Americans. Additionally, Nomadland is opening in a pandemic year where most of the more traditional awards contenders have vacated. The ones that haven't are mostly being produced by Netflix, including The Trial of the Chicago 7 and Mank. The former might be a real contender for Best Picture under different circumstances, but the Academy is notoriously recalcitrant toward awarding Best Picture to Netflix originals and other streaming efforts. Just ask Roma for more.
Nomadland braved a small theatrical debut ahead of its premiere on Hulu, supporting the theatrical experience during COVID, while Chicago 7 was snubbed a Best Director nomination, suggesting there is some skepticism toward the film among a large wing of Academy voters. Mank, meanwhile, is an acquired taste that appeals to my personal sensibility. But it's quite cold and less a love letter to the movie industry than a loving middle finger. That fact will probably hurt it in a number of categories, including Best Original Screenplay where it was snubbed today.
Best Director
Thomas Vinterberg, Another Round

David Fincher, Mank

Lee Isaac Chung, Minari

Chloé Zhao, Nomadland

Emerald Fennell, Promising Young Woman
While I would vote another way for Best Picture, I am totally onboard with seeing Zhao pick up the Best Director plaudit. Hers is an entirely unique cinematic voice that has successfully blurred the lines of how narrative filmmaking can be conveyed, and she's done so while cultivating a great sense of empathy in Nomadland. The picture that finds beauty and resilience in a story that could've been a tragedy, memorializing the Americans left behind by the Great Recession.
Her groundbreaking techniques make her stand out in her field. Plus, Academy will be acutely self-conscious this year about the disappointing fact that only one other woman, Kathryn Bigelow, has won a Best Director Oscar. So be prepared for Zhao to make that two.
Best Actress
Viola Davis, Ma Rainey's Black Bottom

Andra Day, The United States vs. Billie Holiday

Vanessa Kirby, Pieces of a Woman

Frances McDormand, Nomadland

Carey Mulligan, Promising Young Woman
Carey Mulligan is phenomenal in Emerald Fennell's Promising Young Woman. Acerbic but devastating, guarded but vulnerable, and equal parts righteous and occasionally terrifying, she provides a multifaceted turn unlike anything else we've seen from the now twice-nominated actor. Previously she was recognized for her ingénue breakout in An Education, but now as an adult thespian, she's a true revelation. That narrative will appeal to Academy voters, especially as they tend to favor younger actresses in the lead category. Frances McDormand is a famous exception to that rule, but McDormand has two Oscars already, and one is for Three Billboards Outside Ebbing, Missouri from only three years ago. Also Mulligan is much more keen on playing the awards season campaign game.
Admittedly, Andra Day won for Best Actress in a Drama at the Golden Globes … but the Globes are always going to be their own thing (ask Jodie Foster for more). And while Day is wonderful in The United States vs. Billie Holiday, that movie's more meager quality is going to be an albatross.
Best Actor
Riz Ahmed, Sound of Metal

Chadwick Boseman, Ma Rainey's Black Bottom

Anthony Hopkins, The Father

Gary Oldman, Mank

Steven Yeun, Minari
In his final performance, Chadwick Boseman is heartbreaking and utterly riveting. All strained bravado and barely masked desperation, his Levee is cool to a tragic fault in Ma Rainey's Black Bottom. The film he occupies, based on the August Wilson play of the same name, enjoys its contrasts about Black artists navigating white dominated industries. But while Viola Davis' charismatic turn is above the title, the B-side to her story as embodied by Levee is where the film's ghosts wait. And they stayed with me long after the Netflix film ended.
Boseman deserves a posthumous Oscar for his turn—which would make him only the third performer to win one after Peter Finch for Network and Heath Ledger for The Dark Knight—and he'll almost certainly get it on Oscar night.
Best Supporting Actress
Maria Bakalova, Borat

Glenn Close, Hillbilly Eleg

Olivia Colman, The Father

Amanda Seyfried, Mank

Youn, Yuh-jung, Minari
Conventional wisdom says Olivia Colman will win Best Supporting Actress for The Father. The Academy certainly likes her, having awarded her Best Actress two years ago for The Favourite, and the Academy also has a history of being more lenient on relative back-to-back Oscars in the Supporting category, unlike the historical precedents in the leading actor categories. However, I'm taken by the relative lack of consensus-building around Colman to date. Granted the Golden Globes denied Colman in favor of Jodie Foster, whose performance wasn't even recognized by the Oscars this year. But the Critics Choice Awards also overlooked Colman while providing Maria Bakalova with a surprise win for Borat: Subsequent Moviefilm.
Precedent should still make me wary of picking Bakalova to win the award. After all, it's a comedic performance which the Academy usually shies away from. However, this comedic turn was so good, it was able to expose Rudy Giuliani to be a creep with his hand down his pants in front of the world. That will appeal to Academy voters, especially after a year like 2020. Meanwhile my personal choice—Amanda Seyfried's understated but wholly authentic restoration of Marion Davies' image after Citizen Kane—may suffer from just a general apathy toward that film's demeanor, at least from above the line voters. Her snub by her peers at the SAG Awards unfortunately speaks poorly of her chances.
Best Supporting Actor
Sacha Baron Cohen, The Trial of the Chicago 7

Daniel Kaluuya, Judas and the Black Messiah

Leslie Odom Jr., One Night in Miami

Paul Raci, Sound of Metal

LaKeith Stanfield, Judas and the Black Messiah
Daniel Kaluuya's performance in Judas and the Black Messiah is a sweltering achievement. With limited screen time—despite being the ostensible messiah of the film's title—Kaluuya is searing as the Black Panther Party Chairman who created the Rainbow Coalition and was hounded to his death by the FBI through illegal means. I'm also partial to Sacha Baron Cohen's turn in The Trial of the Chicago 7 where he showed a more sardonic range as a counterculture activist in the Windy City. But even I'll concede his performance isn't the one folks will probably be quoting for years to come.
Best Original Screenplay
Judas and the Black Messia

Minari

Promising Young Woman

Sound of Metal

The Trial of the Chicago 7
Traditionally the Screenplay categories are where Academy voters tend to recognize the more challenging outside-the-mainstream Best Picture nominees they don't want to give the top prize to. Ergo, it's a great place for Emerald Fennell to pick up an award for Promising Young Woman. The movie is too candy colored bleak and light hearted in its tragedies to garner enough Academy support in Best Picture, but its originality will be awarded here.
Best Adapted Screenplay
Borat 2

The Father

Nomadland

One Night in Miami

The White Tiger
I suspect the love for Nomadland will continue in the Adapted Screenplay category with Zhao picking up another Oscar. While the screenplay is quite brilliant, I personally feel the movie's greater achievement is in its visual storytelling and melding of real stories with a broader fictional narrative. Whereas Kemp Powers' adaptation of his own play is magnificent. There is a fair criticism to be made that Powers couldn't fully escape the stageniess of his original conceit about spending a night in a motel room with Malcolm X, Muhammad Ali, Sam Cooke, and Jim Brown. But the acute intelligence of his dialogue, and the way it cuts to the tensions of Black responsibility juxtaposed with soft American power, is as potent as it is finally exciting.
Best Cinematography
Judas and the Black Messiah

Mank

News of the World

Nomadland

The Trial of the Chicago 7
I suppose I'm predicting a sweep for Nomadland, which in some ways will be earned. In others it may not, such as if Sean Bobbitt's cinematography in Judas and the Black Messiah is ignored.
Best Film Editing
The Father

Nomadland

Promising Young Woman

Sound of Metal

The Trial of the Chicago 7
Film editing should be the one category Aaron Sorkin's The Trial of the Chicago 7 has locked up. With a breathless pace executed in nervy style by Alan Baumgarten, The Trial of the Chicago 7 makes dialogue exchanges out to be as exciting as any special effects-heavy set piece.
Best Costume Design
Emma.

Mank

Ma Rainey's Black Bottom

Mulan

Pinocchio
I suspect Costumes will be one area where Ma Rainey's Black Bottom receives some technical applause by the Academy. However, I think the pastel and historically accurate designs in Autumn de Wilde's meticulously designed Emma. shouldn't go overlooked.
Best Production Design
The Father

Ma Rainey's Black Bottom

Mank

News of the World

Tenet
The amount of painstaking research and effort that went into so minutely recreating 1930s Hollywood in David Fincher's Mank is undeniable. While I am expecting largely a shutout for my favorite film of last year, this will be one place where Mank will not go ignored.
Best Makeup and Hairstyling
Emma

Hillbilly Elegy

Ma Rainey's Black Bottom

Mank

Pinocchio
Ma Rainey's Black Bottom can win for Viola Davis' immersive transformation into the Mother of the Blues alone.
Best Original Score
Da 5 Bloods

Mank

Minari

News of the World

Soul
It stands to reason that Trent Reznor and Atticus Ross will pick up another Oscar for the score of Soul, which will also mark the first one for co-writer Jon Batiste. This would be a happy outcome, but if I'm honest the Emile Mosseri score of Minari touched me more.
Best Animated Feature Film
Onward

Over the Moon

A Shaun the Sheep Movie: Farmageddon

Soul

Wolfwalkers
It's another open and shut year for Pixar thanks to Soul. There's of course a case to be made for Wolfwalkers, which was a beautiful work of art that's actually hand drawn. But it's an open secret that most Academy voters (sadly) do not watch all the animated nominees, and pick solely from the Pixar/Disney catalog. And Soul really is one of the best Pixar films in quite a while so…
Best Visual Effects
Love and Monsters

The Midnight Sky

Mulan

The One and Only Ivan

Tenet
There is precedent for the Academy to award less than deserving films in this category simply because the winner is associated with a more popular movie in above the line categories. However, none of the above the line darlings were visual effects heavy this year, and for whatever you might think about Christopher Nolan's Tenet, there is no denying its visual wizardry is astounding, from the stunt work that sees men bungie jumping upwards to having in-camera effects happening simultaneously in different time streams. So the movie that wanted to "save cinema" may not be entirely overlooked by the industry on Oscar night.