Features
How Chadwick Boseman Created His Final Performance in Ma Rainey's Black Bottom
The cast and director of Ma Rainey's Black Bottom discuss working with the late Chadwick Boseman in his last film.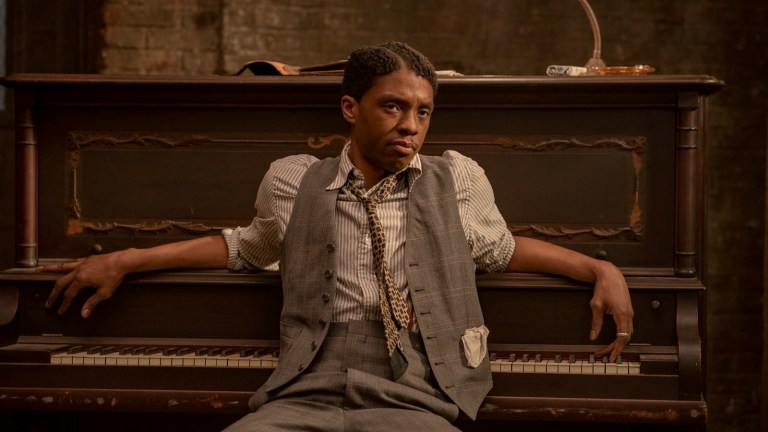 Last August, the world lost Chadwick Boseman, an incredibly talented actor whose relatively short filmography already included a number of great films. His indelible work as T'Challa in the groundbreaking Black Panther and other films in the Marvel Cinematic Universe — along with his transformation into a bona fide movie star — was a major step forward for the expansion of Black filmmaking and cultural recognition, both inherent aspects of Boseman's career aspirations.
Despite his struggle with colon cancer, which finally claimed him at the age of 43, Boseman made one last film before his death. Ma Rainey's Black Bottom, based on the Tony-winning play by legendary playwright August Wilson, premieres on Netflix this week and marks the final screen appearance of the actor. Boseman plays Levee, a fictional trumpeter in the band of Ma Rainey, a pioneering artist in the 1920s who was among the first African-American blues singers to record and sell her songs.
While the play and movie are a fictionalized account of a recording session by Ma (Viola Davis) and her band, the story swirls around the tensions roiling all involved. Levee, a younger musician who dreams of starting his own group and not allowing White music label owners to exploit him, is at odds not just with Ma but with the rest of the group. His anger is fueled by his own life experiences as a young Black man, and his rage and grief explode in two stunning, searing monologues that are the heart of Wilson's text.
Actor Colman Domingo, who plays trombonist and band leader Cutler, was asked during a discussion with reporters about working with Boseman on the film. "The beautiful thing is that our first scenes had to have a sense of play with one another," he recalls. "But you always wanted to know that there was something brimming underneath. And then at some point, everyone's kettle will blow its top a little."
Domingo continues, "You have these characters that have very different ways of living in the world and how they make their peace in the world. You have someone like Levee's character who was absolutely being a disruptor to that, and asking and demanding for his music to be seen on its own merit. He's the driving force. He's the part that is meant to change the dynamic of the room."
Adding that he, Boseman and the other actors playing the band members — Glynn Turman (pianist Toledo) and Michael Potts (bassist Slow Drag) — had some "incredible scene work" together, Domingo points in particular to a sequence near the end in which their very different views about God and whether he exists collide head-on. "Cutler's laying out the tale about what happened to Pastor Gates," explains Domingo, "And Levee, because of his experience, because he has the receipts, he recognizes for himself that he questions that God doesn't exist."
The scene was shot during the fourth week of filming, which Domingo says was essential to hitting the right emotional notes. "It is an argument of faith, because I think everyone's right and everyone's wrong," he elaborates. "It's just coming to a head. That was a very emotional scene to do for all of us, but also for Chadwick."
He suggests that Boseman was tapping into his own personal feelings as he spoke Levee's lines: "There's a lion's roar in that speech and it's painful. Sometimes I think text is painful to speak, especially if it may bring up something in our own spirit. That's what we're required to do as actors. We need to bring a little bit of ourselves into the work, and let the work take you over, and also let some of you take over the work. So I think that those scenes were the most emotional. We'd been working together and playing like a band by then for six weeks, so we have that trust in the room to go to those deep places because the play required it."
The film's director, George C. Wolfe, also spoke about watching Boseman get into character during rehearsals prior to filming. "We had a two-week rehearsal period prior to filming anything, which was really incredibly valuable for the entire cast and valuable for me because it afforded us a chance to ask questions, to dig into the material," he says. "It also created this dynamic whereby the cast could get to know each other and build a sense of ensemble and trust."
Wolfe says that working with Boseman during this time "was very interesting because I saw him, in terms of that rehearsal period, just sort of begin to peel away — which I think is very true of actors and very true of brilliant actors — whatever layers that existed between him and the role until, by the time we were filming, he had completely located Levee inside of himself and was able to make himself completely and totally available and vulnerable to the character."
As for Boseman's two soliloquies during the piece — the aforementioned one about God and a harrowing account of something that happened to his family when Levee was young — Wolfe says it wasn't difficult for the actor to keep up the kind of intensity that might build uninterrupted on the stage, but could play out differently when being filmed.
"I don't think monologues are difficult if you have smart, wonderful actors," says Wolfe. "With these pieces, they're so raw and they're coming from this incredibly intense wounded place inside of Levee. If you can locate — and Chadwick did astonishingly brilliant work in this area — how pure the emotional state that the character is in at that point, and also what he's speaking to so much, which is the trauma that he experienced as a young boy…when that much is on the line, as strong as it may make you feel, it also makes you feel very vulnerable."
Wolfe adds that shooting these scenes — and adapting Ma Rainey's Black Bottom to the screen in general — was about finding "truth" without giving much thought to whether it was in front of cameras or an audience. And if Chadwick Boseman excelled at one thing as an actor, it was about getting straight to the heart of the characters he played and how their experiences shaped them. Following unforgettable turns as Jackie Robinson, James Brown, Thurgood Marshall and, of course, T'Challa, we now have Levee as one final example of Chadwick Boseman's shining search for that truth.
Ma Rainey's Black Bottom premieres this Friday (December 18) on Netflix.