Features
Promising Young Woman: Director Emerald Fennell Breaks Down the Ending
Director Emerald Fennell delves into her ferocious debut Promising Young Woman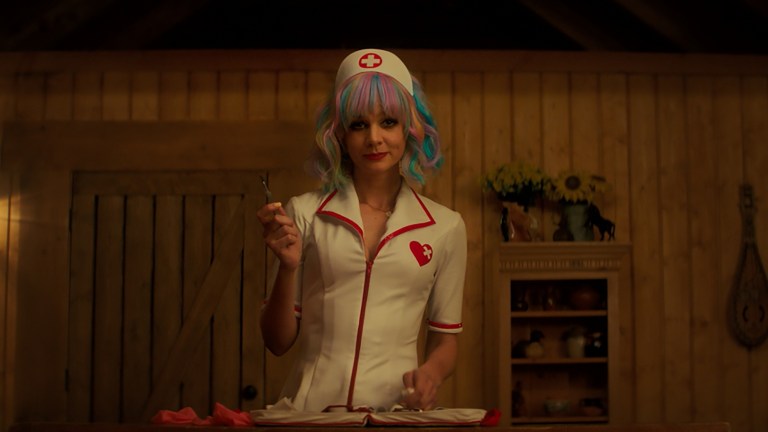 Contains spoilers for Promising Young Woman
"Where does the pleasure stop and the truth begin?" poses Emerald Fennell, director of Promising Young Woman, a highly distinctive rape-revenge thriller starring Carey Mulligan which feels like a total subversion of the subgenre. Fennell's debut is an incredibly contemporary, candy-colored fable about a former medical student, Cassie, who has dropped out of college and instead pursues a secret second life as an avenging angel, feigning extreme drunkenness until inevitably a "good guy" picks her up and takes her back to his home. 
It's dark subject matter painted in bright, engaging strokes, and an undeniably entertaining film that talks about big things. It's an approach that was always important to Fennell.
"I think we're so used to seeing very serious things discussed in a very serious way, very gray, very drab," she says, speaking to Den of Geek on Zoom from London, in front of a Promising Young Woman poster featuring Cassie wearing a multicolored wig and carrying a surgical kit. "But that's not how I discuss things. It's not how I communicate with people. It's not how me and my friends talk about stuff. We use humor mostly to protect ourselves and to communicate the things that we find really difficult. So it felt to me like the only way I would feel comfortable talking about this stuff would be if it was accessible and if it felt conversational, almost in a funny way. That it felt like a safe place to be. A beautiful, warm, cozy place to be, until it wasn't anymore, but it was too late."
That's a pretty good description of the film, which blends humor and romance in with its brutal realities, with Mulligan giving a captivating performance as a woman who is, on the face of it, holding her life together, but behind the scenes is walking a very dangerous path.
When a key figure from the past resurfaces, Cassie's mission takes on a new focus – she is out to punish the people responsible for a horrific act committed against her best friend Nina, hunting down those that were complicit in their inactivity, as well as those directly guilty.
"The specific 'Nina quest' is actually quite separate to what she's been doing. She has been deliberately not looking at that," says Fennell. No longer just humiliating the random men who try to take advantage of what they think is a drunk woman, Cassie's actions become focused and specific, targeting the University Dean (Connie Britton) who didn't take Nina's claims seriously, the female friend (Alison Brie) who victim-blamed Nina, and the lawyer (Alfred Molina) who made her case disappear. This mission eventually leads to a confrontation with the man who assaulted her friend and changed the course of Cassie and Nina's lives forever.
The ending is bleak and is likely to have audiences debating long after the credits roll.
To recap (or for anyone who actively wants to have the end spoiled), with the help of Alison Brie's Madison, Cassie gets hold of a video of the night Nina was raped. In it she discovers that her boyfriend, and her hope for redemption, Ryan (Bo Burnham) was a witness and did nothing. She confronts him and forces him to tell her the location of a bachelor party being held for Nina's attacker Al (GLOW's Chris Lowell). 
Nina dresses in a nurse's uniform fetish gear and brightly colored wig and pretends to be a stripper, drugging his friends and taking Al upstairs into a private room and cuffing him to the bed. Here, we understand, she plans to carve Nina's name into his chest.
It's the first time she has used violence to carry out her revenge and it ends badly. Al overpowers Cassie and suffocates her to death. It's not the glorious retribution we want for Cassie and Nina. But it's probably what would happen.
"I think the thing is, I was writing something that felt very real and honest to me," says Fennell. "And what felt very real and honest to me was that women very rarely resort to violence. And there's a reason that they don't, and the reason is that it's not safe."
"So no matter how much we crave and need catharsis, no matter how much we need to draw a line under all of this stuff, we also need to be honest," she continues. "I think about what statistically happens. And it felt like the only honest outcome and also the only one that wouldn't let any of us off the hook. I tried so hard deliberately the whole way through the movie, not to lean into the easy route, which is what we all want desperately – the pleasure zone."
Though Cassie's story ends in tragedy she does at least get one hard jab back from the grave. Using the video of Nina's assault, via repentant lawyer Jordan she's able to exact some revenge by scheduling a series of text messages in advance to the guests at Al's wedding and telling Jordan that if she goes missing, to alert police as to where she was going on the night of the bachelor party. Cassie's burned body is found, Al's wedding guests all see the video of Nina's rape and Al is arrested for Cassie's murder.
Not cathartic as such but a final way for Cassie to fight back. Though she's made a back up plan, Fennell says she doesn't think Cassie is expressly on a suicide mission.
"I didn't want the ending to feel like it was fixed when it's not fixed. It's profoundly not fixed," she says. "I think that once I was in the room, writing it, really there was no other outcome. But she's also a very wise character who obviously had a sense that there was a chance that things might go wrong and made a contingency plan for if it did. Cassie's clever and she's meticulous, but she's also at the end of her tether."
Promising Young Woman explores different kinds of complicity, privilege, and abuse and so the guilty parties in the movie are not painted as monsters. "This is a movie about 'nice people'," says Fennell, who cast highly likeable actors in key roles very deliberately.
"These people think that they're good, everyone who I grew up with thought that they were good," she says. "So what happens when somebody shows you that you're not good? How do you feel about that? It's important that we as an audience also identify with them too, and are sympathetic to them. That's where it gets so sticky because this stuff is very, very rarely clear cut. It's very rare that they're monsters. When it's difficult is when it's somebody you like and respect or somebody you fancy that does something like this."
Burnham's character is the epitome of this, a guy who is sensitive and sweet, who tries to understand Cassie and gives her space when she's struggling. He's good looking, he's a doctor who cares for his patients. But he doesn't actually care enough to do something or say something during Nina's attack. He is also crucially unrepentant and still attends Al's wedding even after being confronted by Cassie. Whether he'll face any kind of criminal charge for his complicity is unclear but the circulation of the video means that at least his involvement has been exposed.
It's an ending which might prove divisive but Fennell is keen that her movie should provoke conversation as well as being entertaining.
"The best experiences for me have always been when there's been a bit of an argument afterwards," she says. "Because the films that I've seen recently that I really remember and think about all the time, things like Midsommar, Get Out, and Force Majeure, they're so fascinating because everyone feels different. I saw Midsommar with somebody who's like, 'I don't think the ex-boyfriend's that bad.' And I was like, well, 'You're climbing in a bear suit. Get in the fire…'"
A whole host of Promising Young Woman's characters deserve a similar punishment and if Fennell's ending doesn't give us the satisfying closure we might have expected it all just adds to the debate.
Promising Young Woman is available to stream in the US on January 15. In the UK it will be released on February 12.