Goldfinger Bond Woman Honor Blackman Passes at 94
Honor Blackman, star of the original Avengers and 007 classic Goldfinger, has died.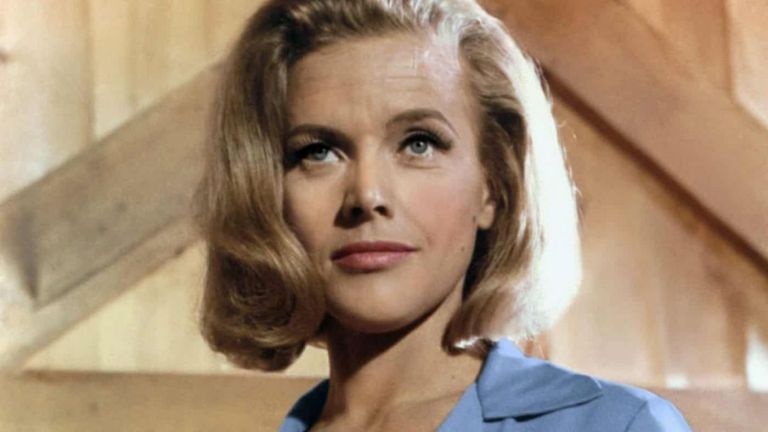 Honor Blackman, the British actress who rose to prominence as the original star of the TV series The Avengers and became a pop culture icon with her role in Goldfinger, has passed away at 94.
According to Deadline, Blackman's family issued a statement saying that Blackman died of natural causes unrelated to the current COVID-19 pandemic at her home in Sussex, England. She is survived by a children Barnaby and Lottie, as well as four grandchildren. Her second husband, Maurice Kaufman, died in 1975.
Blackman, born on August 22, 1925, began acting lessons at 15 and made her film debut in 1947. She kept up a steady run of acting appearances in notable films such as the Titanic docudrama A Night To Remember (1958) and the Ray Harryhausen stop-motion animation classic Jason and the Argonauts (1963) in which she played the goddess Hera.
In 1962, she landed the role of Cathy Gale, a leather-wearing anthropologist and judo expert who became the first of several powerful female partners to espionage agent John Steed (Patrick Macnee) in the cult British series The Avengers. The show's treatment of their partnership — professional, non-romantic and as equals — was groundbreaking for its time and paved the way for Steed's later partners, one of whom was played by future James Bond and Game of Thrones actress Diana Rigg.
Blackman left the series in 1964 to star in the third Bond adventure, Goldfinger, in which she portrayed the memorably named Pussy Galore, commander of an all-female aviation team that worked for the title villain.
At 38, she was one of the oldest actresses to play a Bond woman and was five years older than star Sean Connery at the time. Although the character was perhaps the most assertive and independent of the women who had played opposite Connery in the series up to that point, the film is still dated for its implication that Pussy is a lesbian who is "turned" by Bond after the latter forces himself on her.
And of course, there was that name, which is first uttered in Blackman's classic introduction. Bond is drugged and wakes up aboard an airplane to find Pussy leaning over him. "Who are you?" he asks. "I'm Pussy Galore," she replies. "I must be dreaming," Bond retorts, a woozy half-smirk on his face.
Blackman stayed active on the big screen, TV and in the theatre until 2015. She appeared in the Doctor Who episode "Terror of the Vervoids" in 1986 and the Renee Zellweger comedy Bridget Jones' Diary (2001), among many others.
Blackman's family said in a statement, "As well as being a much-adored mother and grandmother, Honor was an actor of hugely prolific creative talent; with an extraordinary combination of beauty, brains and physical prowess, along with her unique voice and a dedicated work ethic, she achieved an unparalleled iconic status in the world of film and entertainment and with absolute commitment to her craft and total professionalism in all her endeavors she contributed to some of the great films and theatre productions of our times."