Features
James Bond Songs Ranked from Worst to Best
Our staff and readers count down the definitive ranking of the iconic, and sometimes infamous, James Bond songs.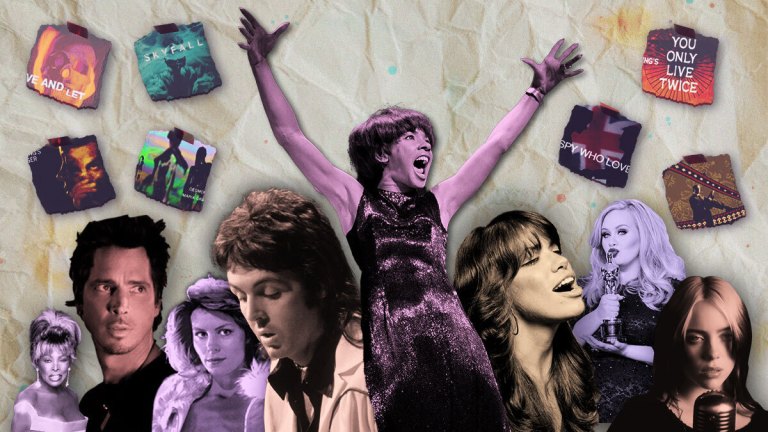 Near the beginning of what many consider to be the definitive James Bond movie, 1964's Goldfinger, Sean Connery's 007 reveals himself to be simultaneously roguish and antiquated. The moment occurs when his latest conquest affronts his snobbish tastes—dismissing something to do with champagne and refrigerators. He thus believes it's his duty to explain, "My dear girl, there are some things that just aren't done, such as drinking Dom Pérignon '53 above the temperature of 38 degrees Fahrenheit. That's as bad as listening to the Beatles without earmuffs."
Bond might've been the coolest fictional character around at the time of that movie's release, but his musical tastes were clearly not. Fortunately for the superspy, his producers at Eon Productions were rarely so old-fashioned.
Over the past 60 years and 25 James Bond pictures, the Bond franchise has become synonymous in its better years with evolving with the times. Ever since John Barry introduced an instrumental version of Matt Monro's throwback to big band standards, "From Russia with Love" in 1963, each Bond movie has begun with a song—and often with the actual vocalist's radio-ready stylings thanks to the precedent set by the following year's Goldfinger and Shirley Bassey's unforgettable bombast.
It took three films to perfect that formula, but afterward Eon never forgot it. In fact, it was less than 10 years later when one of the Fab Four, Paul McCartney, appeared unfazed by 007's sneer. After all, McCartney would write and perform one of the most rockin' Bond tunes of all time: "Live and Let Die."
Hence there's quite a legacy left by Mr. Bond's filmography, and one that's worth exploring in full. We've therefore put our heads together and polled the entire Den of Geek staff and readers to compile the below list. Enjoy.
26. The Man with the Golden Gun
Performed by Lulu
Look, we all make mistakes. But when it came time to create the theme song for The Man with the Golden Gun (1974), composer John Barry made a big one by co-writing with Don Black this insipid wreck that did singer Lulu no favors. With desperate grasps toward jazz and long faded '60s swing, "The Man with the Golden Gun" sounds closer to a parody of Bond songs that might appear in a Mel Brooks movie. Then again, Brooks knows how to write better music. Still, this one holds the distinction of being the only Bond song to never chart in the U.S. or UK. And that was the same year as "The Way We Were." – David Crow
25. Moonraker
Performed by Shirley Bassey
Shirley Bassey has the distinction of being the only artist to sing a James Bond theme song more than once. She did it three times, in fact (no one else has even done two), but her third and final effort, "Moonraker," is the least effective of the trio. Unlike her bold and epic "Goldfinger" or the sensual, snaky "Diamonds are Forever," the title song from 007's 1979 space-based adventure doesn't feature a memorable hook or turn of phrase, with John Barry trading his usual brassy arrangement for a lush but forgettable string background. It also has the misfortune—like a number of Bond songs—of following a stone cold classic, in this case "Nobody Does It Better" from The Spy Who Loved Me. – Don Kaye
24. Another Way to Die
Performed by Jack White and Alicia Keys
Jack White was originally never supposed to write a song for Daniel Craig's second outing as 007, Quantum of Solace (2008). The Bond producers initially wanted Amy Winehouse, but when her efforts didn't work out, White and eventually Alicia Keys were called in at the eleventh hour to write a Bond song double-quick. Looking back on the process, White later recalled loving the rushed atmosphere because he figured, "I'm gonna' get away with murder."
That's an apt description of this uneven and unfinished hodgepodge of musical ideas. The aggressive guitars that begin "Another Way to Die" certainly grab your attention, but much like the production process, they're in a hurry to get nowhere fast, eventually leaving Keys the unenviable task of shouting "Shoot 'em up, Bang, Bang" over and over before her vocals are wasted further by bellowing into the mic during the end of the song, chasing (and missing) the tune's careening drums. Your mileage may vary on this mess, but rest assured, it is a mess. – DC
23. Under the Mango Tree
Performed by Diana Coupland
There is room to debate whether "Under the Mango Tree" should be included on this ranking. After all, the song was written by composer Monty Norman (with perhaps some heavy influence by the Jamaican calypso band Byron Lee and the Dragonaires) before the concept of a "James Bond song" was even a thing. The tune was not included over Dr. No's opening titles in 1962, nor were singer Diana Coupland's vocals credited at the time.
Nevertheless, "Under the Mango Tree" became the unofficial anthem for the movie, and a sweet one that succeeds in having a vaguely folk, calypso quality that is used within the actual narrative. Sean Connery even sings a few bars of it when first leering like a wolf at Urusla Andress during her famous seaside entrance to the story. And frankly, it's more pleasant than quite a few tunes that wound up higher on this list. – DC
22. Writing's on the Wall
Performed by Sam Smith
We'll never quite understand why Eon Productions passed on a Radiohead song in favor of this Sam Smith schmaltz for 2015's Spectre, Daniel Craig's divisive fourth outing as Bond. But pass they did, and instead of something from the legendary British futurists we got this, a drippy, dull, would-be tearjerker complete with Smith whining near the very top of his register.
The orchestrations are decent enough, but the song has no energy and the chorus is abysmal. It's easily one of the worst of the 007 catalog—and it came on the heels of Adele's powerhouse "Skyfall," to make matters worse. – DK
21. Thunderball
Performed by Tom Jones
Following up Shirley Bassey's iconic "Goldfinger" was going to be no easy feat, so for the fourth Bond film, Thunderball, the producers simply hired Bassey again to sing a tune called "Mr. Kiss Kiss Bang Bang." When Bassey became unavailable for a second session, Dionne Warwick cut a fresh version of the track—but then United Artists decided it wanted a theme song with the movie title actually in it.
Written quickly by composer John Barry and lyricist Don Black, "Thunderball" was performed by one of the biggest voices in the business: Welsh sex symbol Tom Jones, who reportedly fainted in the studio as he held the song's final high note. Jones, indeed, gives his all (that last note is a humdinger), and the song continues the big, brassy sound that Barry perfected with "Goldfinger." It may land a notch or two below the truly great 007 themes, but I'd argue that "Thunderball" still captures the right flavor and vibe. – DK
20. Die Another Day
Performed by Madonna
"I'm gonna avoid the cliché," Madonna sings on "Die Another Day," the Bond theme for the 2002 offering, and she sidestepped the franchise's entire formula. Gone was the traditional bombastic opening and dramatic delivery, replaced by short staccato bursts of strings forming a minimalistic rhythm to the dance pop diva's moaning croon. "Sigmund Freud," she auto-tunefully demands, "analyze this." In 2002, Madonna was the biggest star to bond with Bond since Paul McCartney. She was also a performance artist, an actor who put herself into the role for the song she was singing. So judging by the electronic synthesized vocoder effects, perhaps that character is the villainous henchman Jaws, played by Richard Kiel with a set of stainless-steel teeth in The Spy Who Loved Me (1977) and its sequel Moonraker (1979).
Most Bond fans (and our staff) vote the song down to the pits of the list—and you have me to thank for it staying out of the bottom five!—but "Die Another Day" had the highest debut on the Billboard Hot 100 that year, and was the highest charting Bond theme in America since Duran Duran's "A View to Kill," spending 11 weeks at No. 1. Pierce Brosnan played James Bond in the over-the-top solar-powered battle for supremacy. Madonna grounded the film in deceptively underplayed rhythms, inverting instrumental designations and keeping it danceable. – Tony Sokol
19. From Russia with Love
Performed by Matt Monro
The second James Bond film found the franchise still setting certain signature elements in place, including the opening theme song. In this case, composer Lionel Bart wrote the title track, but the now-traditional vocal performance —by obscure British crooner Matt Monro here—was relegated to an in-film radio broadcast and the end credits. An instrumental version, part of a medley with John Barry's "James Bond is Back" intro and the Monty Norman 007 theme, was used to open the film.
Befitting the romantic nature of the movie, in which Bond must help a beautiful Soviet defector as SPECTRE agents close in around him, "From Russia with Love" is a slow, sensual ballad powered by soaring strings and, in the vocal version, Monro's smooth, rich voice. While not an A-lister, the way the song is used in the film has probably kept it from higher placement in the 007 song pantheon. – DK
18. On Her Majesty's Secret Service
Written by John Barry
After several movies featuring vocal-driven title songs, the 007 series returned, for the last time, to the kind of instrumental theme that had been used for the first two films in the series. While the film itself features George Lazenby's only appearance as Bond, it's one of the very best in the series, and the excellent theme song follows suit.
Starting with an explosion of brass, John Barry's theme quickly turns into a propulsive, bass-driven rocker with more ominous horns playing off each other and some psychedelic keyboards as the whole thing builds to a tension-filled crescendo. Lyrics and vocals are not even necessary for this catchy, dramatic tune, although the movie also featured a second theme, "All the Time in the World," performed by the incomparable Louis Armstrong. – DK
17. License to Kill
Performed by Gladys Knight
"License to Kill" may include the theme of Goldfinger in its melodic motif, but Gladys Knight is a singular presence as a Bond theme voice. She's a pip, whose soulful delivery lifts the song beyond its limits. The concept of title's premise goes back to the first James Bond novel, 1953's Casino Royale, where we learn the double-0 designation comes with lethal privileges, and Knight kills it on this song, in spite of all the dangers. The 1989 film was the last with Timothy Dalton, the fourth Bond actor, and its theme is one of the longest, at five minutes. Produced by Michael Kamen, renowned for his work with Pink Floyd, Queen, and Tim Curry, "License to Kill" suffers from the era's soundtrack expectations, even as the overproduction gives more power to the crescendos. Knight comes on strong straight through the horns, pulls back to a suspicious purr, and then lets loose with the threat of dangerous love and a dependable friend. – TS
16. Tomorrow Never Dies
Performed by Sheryl Crow
We all have those we think are among the more underrated James Bond ballads. This is mine. Sheryl Crow's "Tomorrow Never Dies" is a moody and intoxicated banger that should be much higher on this list. Taking the rare step to write one of these tunes from the point-of-view of an actual woman in 007's lonely life, "Tomorrow never Dies" is the antithesis of "Nobody Does It Better." Here is a cynical but unapologetic lament of what it's like to have a one-night stand with an MI6 agent and be left the morning after with memories of "martinis, girls, and guns." She's unsentimental about the experience and knows how to rock the high note. – DC
15. All Time High
Performed by Rita Coolidge
Written by composer John Barry and lyricist Tim Rice, "All Time High" hit an all-time low for James Bond themes. At least on the UK pop charts, where it was the lowest charting Bond song to place up to that time. But Bond audiences from 1983, coming off the punk era, might have been waiting for the controversial promise of a song called "Octopussy." Alas, it was the second Bond theme on a title sequence which also didn't use the corresponding movie as its song title. Clearly it was attempting to imitate "Nobody Does It Better" from The Spy Who Loved Me, with both songs being moving love ballads, sensitively performed.
Singer Rita Coolidge always considered "All Time High" an unfinished song, but her voice, which producers Phil Ramone and Stephen Short tried to squeeze into processed soundtrack cheese, brings a quality unheard in other Bond themes. It is vulnerable, and a sweet distraction from the lush build. Far softer than most Bond singers, Coolidge savors the melody, transforming her unease into mystery and coy invitation. – TS
14. GoldenEye
Performed by Tina Turner
The first Bond theme of the Pierce Brosnan era feels like it's ticking boxes. "GoldenEye" evokes Monty Norman's original theme by way of Eric Serra's '90s update, and Tina Turner is more than a passable stand-in for Shirley Bassey. However, songwriters Bono and The Edge of U2 seem like they're phoning in the sexual overtures in the lyrics and the general James Bond devotionals. Still, twinkling keys add the right amount of texture and intrigue to Turner's bassy vocals in the song's chorus, which wisely drops down to kick drums and finger snaps before building back up. It's by no means a bad Bond theme, but it does feel a bit by the numbers. – Nick Harley
13. For Your Eyes Only
Performed by Sheena Easton
Bill Conti only ever worked on one Bond movie, 1981's For Your Eyes Only. This is a shame because the legendary composer of Rocky and The Right Stuff had the perfect sensibility for Roger Moore's romantic and flamboyant interpretation of the character. He also brings that element to the unabashedly swooning ballad, "For Your Eyes Only."
As performed by Sheena Easton, the song marked the first time the singer of a Bond tune was included as one of the famed silhouettes in Maurice Binder's title sequences. Looking directly into the camera, Easton strikes the right tone of wistful nostalgia for a character who was already starting to feel his age—particularly with a then 54-year-old Moore still in the role. The ballad is a tender throwback to Bond songs of old written by the next generation, and in between it finds a strange sincerity that works. – DC
12. Diamonds Are Forever
Performed by Shirley Bassey
Shirley Bassey is the queen of the Bond intro. The powerhouse Welsh vocalist contributed three times to Bond films, and my favorite is "Diamonds are Forever," her second go-round. While most early Bond themes are filled with double entendres in tribute to 007's prowess with the ladies, "Diamonds" flips the script with an ode to a girl's best friend. Bassey prefers the luster of a good diamond over the fleeting nature of one of Bond's trysts, but even though she's not lusting after the superspy, she still gives perhaps the most sultry Bond theme vocal to date.
Composed by John Barry, an electric organ twinkles behind Bassey's leading vocal before the horns stab in. While the middle eight section that begins "I don't need love" shifts away from the icy cool composure of the intro, when Bassey returns to "Diamonds are forever," the drums go into a skittering shuffle that gives the song a whole new groove. Kayne West famously used "Diamonds are Forever" as the basis of the Late Registration track "Diamonds of Sierra Leone," which only reaffirmed how lush and grandiose this song is for a new generation. – NH
11. The Living Daylights
Performed by A-ha
Like everything about Timothy Dalton's two James Bond efforts, "The Living Daylights" is often overlooked in the Bond song pantheon. Nevertheless, this one by Norwegian synth-poppers A-ha deserves another look. Obvious Bond-ian flourishes aside, "The Living Daylights" is very much a product of its era, but it's got an irresistible hook, and plays like the perfect companion piece to Duran Duran's earlier (and superior) "A View to a Kill." – Mike Cecchini
10. You Only Live Twice
Performed by Nancy Sinatra
"You Only Live Twice" has one of the most striking openings of any James Bond song. Utilizing violin strings, being plucked at the higher end of their octaves, and harmonious French horns, composer John Barry gently evokes a Western idea of traditional Japanese music that never stereotypes or exoticizes; it just admires. Perhaps this reflects a bit of cultural sensitivity that was rare for the 1960s, or just the fact that Barry wanted to still write a radio hit. Either way, the effect is sweeping and lush, even before Nancy Sinatra's vocals kick in.
Ironically, Bond producers Cubby Broccoli and Harry Saltzman wanted their pal Frank to sing the title track, but Old Blue Eyes did them a favor by recommending his daughter whose croon—which was also in the higher octave range—gives a dreamlike quality to the melody. It subsequently became one of her biggest hits. – DC
9. We Have All the Time in the World
Performed by Louis Armstrong
"We Have All The Time in the World" features the dual distinction of not only being featured prominently (and with heartbreaking context) in two separate Bond flicks a generation apart, but also the only one performed by one of the most important figures in all of American music history: the incomparable Louis Armstrong. While "We Have All The Time in the World" has story significance for both On Her Majesty's Secret Service and No Time to Die, and is actually a spoken word of dialogue in each film, it's also a beautiful, haunting song when removed completely from its Bond context, delivered by Armstrong with a sorrowful smile that the listener can practically see. – MC
8. The World Is Not Enough
Performed by Garbage
The late 1990s were a peak time for alternative rock, which is how something as serendipitous as a Garbage James Bond song came into existence. Buoyed by the witchy vocals of Scottish singer Shirley Manson, who was fresh off turning Garbage's "Only Happy When It Rains" into a minor generational anthem, "The World Is Not Enough" combined purring violin strings with a heavy dose of late '90s electronica. The result is a hypnotic blur in which Manson's voice takes on the perspective of the film's villainous Bond Girl, Elektra King, and invites the listener to wallow in megalomania. It's wicked, enticing, and more than a bit ear-wormy. – DC
7. No Time to Die
Performed by Billie Eilish
The polar opposite of Adele and Shirley Bassey, Billie Eilish's wispy alto vibrato sends a chill down your spine, singing about betrayal and lost love like a ghost on the haunt. Eilish's brother Finneas composes here alongside Hans Zimmer, slowly building the epic track, yet not going full-tilt with the orchestra, retaining a bit of the minimalist style that's prevalent in Eilish's typical output. The Craig-era Bond films eschewed the winking, sex-centered lyrics for words more appropriately somber and searching, and Eilish sells the vibe with aplomb; she told journalists after the track's release that she and Finneas had been composing Bond theme tracks for fun most of their lives. I guess practice really does make perfect. – NH
6. A View to a Kill
Performed by Duran Duran
Major props to Duran Duran for taking this awkwardly phrased title and making a catchy chorus out of it. Duran Duran's slinky, sexy, cool demeanor made them an easy fit for Bond in the '80s, with past hits like "Union of the Snake" and "Hungry Like the Wolf" sounding like '80s Bond film soundtrack warm-ups. However, they weren't a top choice for the studio. Apparently, at a party, Duran Duran's drunken bassist asked Bond producer Cubby Broccoli, "If I give you a fiver, can I write a theme tune, please?"
With a long-in-the-tooth Roger Moore still clinging to playing Bond about 10 years after his sell by date, A View to a Kill needed a fresh kick in the teeth, and Duran Duran's synthetic jam definitely brought some youthful energy of the moment, with a thumping baseline and disco guitar scratches behind Simon Le Bon's confident vocal. It sounds extremely of its era, for better or worse, with blocky drums and an over-busy synth. But the "Dance into the fire" chorus is an undeniable earworm, even if the lyrics are sort of nonsense, and it helped drive "A View to a Kill" to become the only Bond theme to date to reach the top of the Billboard Hot 100. – NH
5. Skyfall
Performed by Adele
The minute that Adele became a household name, it seemed inevitable that we'd hear her singing a Bond theme. Her soulful, powerful mezzo-soprano voice is suited to most anything, but she's particularly adept at portraying vulnerability in her vocals, something that seemed perfectly suited to the Daniel Craig era of Bond.
"Skyfall" feels like a conscious effort to return to the Shirley Bassey-type themes of the early films, even working in the Monty Norman "James Bond Theme" leitmotif for added effect. Adele is absolutely majestic while backed by the 77-piece orchestra conducted by J. A. C. Redford, sounding like the most powerful instrument in the mix. The whole thing is dark and moody before that triumphant chorus reaches for the rafters and seems to laugh in the face of danger. Now, who does that sound like? – NH
4. Nobody Does It Better
Performed by Carly Simon
"Nobody Does It Better" was a departure for the Bond series when it was released in 1977. Here was the first Bond song ever used in one of the film's' title sequences that was not named after its movie; it also was only the second Bond song to be written in a style divorced from the '60s ideal of a power ballad (the other being "Live and Let Die"); and finally it was the first one ever written as a point-of-view song for a character in its film, in this case Barbara Bach's Maj. Anya Amasova. All of these things might've ruffled a few traditionalists' feathers at the time, but the song's embrace of a new kind of power ballad from the singers and songwriters of the '70s achieved near universal acclaim everywhere else thanks to Carly Simon's quixotic vocal stylings, which take the romance of the song to an almost mythical place, and can even snugly wrap around lyrics as unwieldy as "Like heaven above me / the spy who loved me."
The tune was written by Marvin Hamlisch and Carole Bayer Sager as the one-off song for The Spy Who Loved Me, but it's gone on to become an unofficial secondary anthem for 007; an easy-listening blast of pop that's wistful piano intro is as recognizable as Monty Norman's "James Bond Theme." It might finish fourth on this list, but there are those of us who know this is the best Bond song. – DC
3. You Know My Name
Performed by Chris Cornell
A seemingly atypical choice for a Bond song, this song nonetheless became the perfect melding of vintage 007 class and modern edge, much like the film it was written for. "You Know My Name" was fairly well received upon its 2006 release, but its stature as a Bond classic has grown considerably in recent years, thanks in no small part to the fact that it has retained a more timeless flavor than many other of the franchise's openings that tried for a more modern edge. Chris Cornell delivers one of his trademark leonine vocal performances, showcasing both the elasticity of his range and the soulful grit that made him one of the greatest rock n' roll artists of a generation. There's no better way to welcome in the grittier, more sullen Daniel Craig years than with this tune, perhaps the ultimate Bond song that needs to be played at maximum volume for the full effect.
Fun fact: Ken Andrews of (should've been bigger) '90s space rock band Failure worked as an engineer on this track. Why does this matter? Failure's brilliant "Stuck on You" featured a video that would have been right at home as the opening credits of a Moore-era Bond flick, and the tune itself could have fit the bill, too! – MC
2. Goldfinger
Performed by Shirley Bassey
Just as Goldfinger, the third film in the James Bond series, became the template for all future 007 films to come, this title sequence track—the first to feature a full vocal performance—also remains the gold standard for the "classic" Bond theme, even if later, rock-infused tracks like "Live and Let Die" have vaulted over it in terms of popularity.
Beginning, like most Bond songs of this era, with a bold two-note horn phrase, the song is given an epic performance by Shirley Bassey, who (also like Tom Jones on "Thunderball") reportedly nearly passed out while holding the final note. Bassey's vocals are sexy and confrontational at the same time, hinting at both the temptation and damnation of being caught in Goldfinger's "web of sin." Former Bond producer Harry Saltzman allegedly hated the song, which probably explains why partner Albert "Cubby" Broccoli ended up buying him out of the franchise years later. – DK
1. Live and Let Die
Performed by Paul McCartney and Wings
READERS' CHOICE
There is a reason "Live and Let Die" is the most popular of the James Bond songs, and it is so obvious it doesn't take a supervillain to explain it: the song is exciting. It twists and turns through musical cadence, forever teetering on the edge of chaotic and ironic glee, and explodes in a rock-steady symphonic conclusion more satisfying than most movies. It was nominated for an Oscar. Paul McCartney still closes shows with it, adding pyrotechnics as if the piece needs anything on top.
The song was co-written by McCartney and his wife Linda, who proved she could give the other fellas "hell" by writing the blistering reggae break. Recorded during the making of Wings' second album, Red Rose Speedway, the initial assignment was for the former Beatle to write a tune for someone else to sing, but McCartney kept his current band on the run.
Live and Let Die was the first Bond movie to star Roger Moore, and "Live and Let Die" was the first Bond Theme which was not orchestrated by John Barry. The song was produced by George Martin, who also arranged the orchestra, and he sets up a cinematic experience for the ear. The instrumental passages are broken into mini-movements, adventurous and daring, riding thematic waves like he's surfing alligators. We almost don't have to watch the movie. From the moment McCartney's voice trades in the idealism of youth for the cynicism of espionage, it's a race to the finish, and you can sing along. – TS