Features
The Mandalorian: Will Din Djarin Die in the Season 3 Finale?
Things are looking grim for Din Djarin as he heads into The Mandalorian season 3 finale. Is it time to say goodbye to the popular Star Wars character?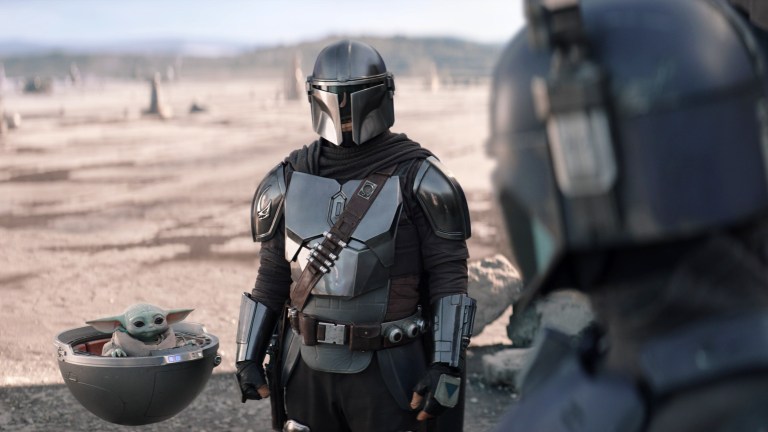 This Star Wars: The Mandalorian article contains spoilers.
Before The Mandalorian season 3, few Star Wars fans would have ever even considered a potentially tragic end to Din Djarin's story on the show. Or an end at all. After all, Pedro Pascal's stoic bounty hunter with a heart of gold has quickly become one of the most beloved and popular characters in a franchise that doesn't often kill off its valuable IP. Yet, for some viewers, season 3 may have set the stage for just that: Din's exit from The Mandalorian as the show, and the Mandoverse as a whole, moves on to a new stage.
The penultimate episode of season 3, "The Spies," ends with Din stuck in a dire situation. Captured by Moff Gideon's commandos and dragged deeper into the top-secret Imperial installation on Mandalore, we don't know what plans the villain has for Din but we do know his goal is to eradicate what's left of the Mandalorians and replace them with his own super soldiers. For a second, it even seemed like Gideon was going to execute our hero right then and there, as Din is forced to his knees by the Moff, while Bo-Katan and the others watch helplessly from the other side of a blast door.
Of course, this is Star Wars! The good guys usually win in the end. There's every possibility Din will find a way out of the Empire's clutches, making it back in time to help Bo-Katan defeat Gideon once and for all. That's probably what will happen, right?
Well, the reason fans are nervous to begin with has to do with the direction of Din's story this season — or the lack thereof. One of the main complaints some fans have lodged at The Mandalorian season 3 is that Din has been pushed to the background of his own show. Since he completed the ritual in the Living Waters of Mandalore and rejoined his clan in "The Convert," Din hasn't really had much to do, at times relegated to secondary character status while the season's larger-scale storylines play out.
Meanwhile, it's been Katee Sackhoff's very formidable Bo-Katan Kryze who's stepped into the foreground, as the show follows her quest to regain the Darksaber and take back Mandalore. While Bo-Katan's arc (and the Mandalorian lore it's unlocked) has been the season's greatest strength in this writer's opinion, it has also all happened at the expense of the show's once-central hero. Was Din handing over the Darksaber in "Guns for Hire" a passing of the torch before the inevitable end of his time on the show? You can't really blame folks for asking.
There has been plenty of gossip regarding Pedro Pascal's status on the show that we're not going to rehash here, but the rumors making the rounds on the internet have certainly added to the panicky theories that Din's on his way out, with Bo-Katan officially taking over as the new protagonist, starting with season 4, which showrunner Jon Favreau has already written. Executive producer and director Rick Famuyiwa's own comments to IGN during Star Wars Celebration 2023 didn't help reassure fans that Din would be back next season, either.
"I think that's been interesting as we've been on the journey of the show, and now that we're at this point, is that, what does that title mean?" Famuyiwa told the outlet. "I think now with Bo possessing the Darksaber, I know that there was a lot of expectations that might have shifted both in terms of what it meant for Din Djarin, but also for Bo and what does it mean? Who is the Mandalorian at this point? And so I think it could be anyone. And I think that's what they're trying to define in many ways, is what does that mean to be Mandalorian?"
Many outlets and fans have tried decipher what Famuyiwa is saying here. Is he setting the stage for a permanent shift in protagonist ("it could be anyone") or is he just explaining season 3's looser approach to who the main character is from one week to the next? What does seem clear is that, at least in the minds of the creative team, the show's title no longer refers to just Din Djarin.
Then there's Brendan Wayne's very cryptic Instagram Story post that sent alarms blaring last Wednesday after the premiere of "The Spies." Replying to a fan who said they couldn't wait for the finale, Wayne wrote, "This next episode is gonna make you wish you hadn't asked for more…it might hurt too much."
Wayne, along with Lateef Crowder, is one of the actors who actually wears the beskar armor for most of Din's scenes on the show, while Pascal primarily performs the character's voice. So it's easy to see why Wayne's comment would send Reddit forums and Twitter threads into a frenzy. If Din is meant to die in the finale, Wayne would certainly know…But would he really risk spoiling the show's biggest surprise ever by speaking up at all?
Executive producer Dave Filoni, who is now also set to direct a Mandoverse movie for Lucasfilm, teased that the season 3 finale will elicit strong reactions.
"[Fans] have a lot to take in, and I think with any good ending there's the moment you're in it when you're cheering and you feel satisfied, but then there's a little bit after that where you think back at all the things that happened. Maybe you start to put them together in a different way and you realize it's an ending, but there are other things happening out there in the galaxy that now you know more about," Filoni said to Collider ahead of the finale.
Whatever is going to happen in the finale, at least the wait is almost over. The Mandalorian season 3 comes to a close tomorrow on Disney+.