Features
Star Wars Movies and TV Series Affected by the Writers Strike
The WGA strike is affecting many productions, including The Mandalorian season 4 and Andor season 2. Here are the Star Wars projects that are or could be affected by the strike.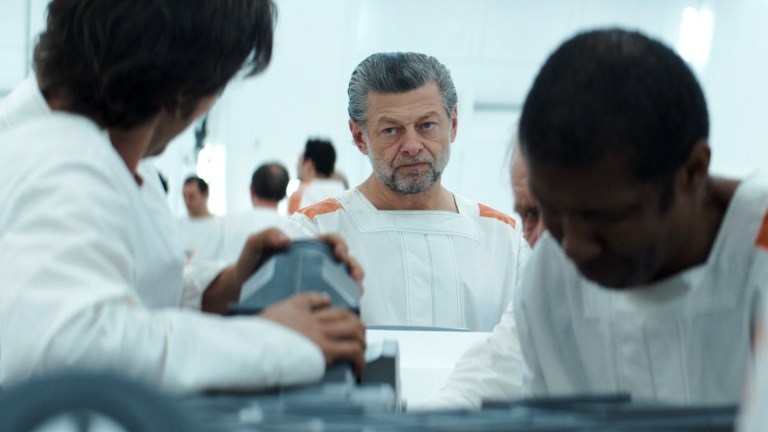 The Writer's Guild of America (WGA) went on strike on May 2 after the Alliance of Motion Picture and Television Producers (AMPTP) failed to meet the union's reasonable terms. With the AMPTP refusing to negotiate further, the strike could last for a while and put a number of projects on hold, including the many Star Wars movies and TV shows that are currently in production.
Ahsoka is out in August, while Skeleton Crew is presumably safe from delay given how far along it is in the production process — filming wrapped in January — barring any necessary reshoots, of course. But others, like the second season of Andor, will have a more difficult time during the strike.
Here are the upcoming Star Wars projects that have been or could be affected by the strike, depending on how long it lasts. And remember, if you're disappointed by these potential delays don't blame them on the writers asking for a living wage, blame the billion dollar studios…
TV Series
The Mandalorian Season 4
According to showrunner Jon Favreau, all The Mandalorian season 4 scripts had been completed by February of this year, with rumors pointing to a production start date in September. But THR is now reporting that production is expected to be delayed away from that start date.
Even though the scripts for the season were completed before the start of the strike, no writers can be present on set and the WGA's strike guidelines prohibit any on-set changes to scripts. This means that Favreau and other series directors and producers couldn't make any changes to what is already on the page while filming. Actors couldn't improv lines and dialogue couldn't be reworked if needed to make scenes better.
Sure the scripts could be just fine as-is, but with the strike in place, the rest of the cast and crew wouldn't have the creative freedom they usually do on set. And again, if down the line reshoots are needed, that would be a big issue, too.
Andor Season 2
It's a little surprising that a show so well known for its stance on labor uprisings wasn't automatically paused by the strike. That said, Andor showrunner Tony Gilroy has officially stopped all work on the second season of the show. In a statement to The Hollywood Reporter, Gilroy confirmed, "I discontinued all writing and writing-related work on Andor prior to midnight, May 1. After being briefed on the Saturday showrunner meeting, I informed Chris Keyser at the WGA on Sunday morning that I would also be ceasing all non-writing producing functions."
There's no official word yet on whether production has fully halted since Gilroy stepped down from his producing duties. Scripts for the season were completed well in advance of the strike, but any scenes filmed after May 1 will now have to follow the scripts exactly, leaving virtually no room for any changes to be made on the fly.
The Acolyte
There's no official word yet on if The Acolyte finished filming before the strike started nor if it will be affected. Filming began last fall, and according to actor Lee Jung Jae, it was set to last through March or April of this year. That said, in early April, Gizmodo reported that the show would be in production for another few weeks."
But even if filming was completed before the strike began, The Acolyte could still see some delays. As a member of the WGA, series creator and director Leslye Headland is what the WGA considers a "hyphenate," which basically means that what she can and can't do during the strike is even harder to define. It's part of why Gilroy has had to fully stop working on Andor instead of continuing to work in a strictly "producer" role. Working in multiple roles on a show means that it's easier for duties to be blurred. If Headland is asked to consult on edits for The Acolyte during the strike, as directors and showrunners usually are, it's not like she can just shut the showrunner part of her brain off and offer feedback solely as the director.
The strike also bars WGA members from entering studio-owned property, as that crosses the picket-line, meaning that Headland can't attend any meetings on Disney property, including any meetings to go over edits, without risking her WGA status. Editors and the VFX department will likely be able to work through any completed footage during the strike, but it's unlikely that final cuts can be determined at this time.
The Bad Batch Season 3
It's even harder to determine The Bad Batch season 3's status during the strike due to the fact that animated writers are usually covered under the Animation Guild rather than the WGA, and aren't allowed to strike in solidarity. Some animated series are under WGA contracts, but that's not information that is readily available to the public. The Bad Batch creators Jennifer Corbett and Dave Filoni are WGA members though, even if the series itself doesn't employ WGA writers, so this is where things get kind of dicey. Their WGA status could mean that, even if they aren't under a WGA contract with the show, they are still bound by the rules of the strike. The strike guidelines don't go into much detail regarding animation, and writers are encouraged to check in with WGA leadership on a case-by-case basis.
If Corbett and Filoni are bound by the strike rules, they wouldn't be allowed to offer any notes on scripts or produce any writing for the series themselves. They also couldn't attend meetings or be available for input during recording sessions with voice actors if either took place on Disney-owned property. Scripts could likely still be penned by animation guild-covered writers, but final versions couldn't be approved by Corbett or Filoni.
The strike may also affect recording lines by voice actors, as they would likely have to read lines as written and wouldn't be allowed to ad-lib or change dialogue at all. The final season of The Bad Batch was just announced in April during Star Wars Celebration London, and a teaser was shown, but there hasn't been an official statement on where the series is at in the production process, nor has there been word from Corbett or Filoni on whether the third season will be affected by the strike.
Lando
It seems like the Lando series has been stuck in development for so long that it's hard to say how much the strike will even impact it. Since this series is still so early in the production process, the strike will mostly just put a pause on any script writing or planning that may have occurred during this time, but without any official word, we may not know if any further delays in this series are solely due to the strike or because the series is doomed to never see the light of day.
A Droid Story
Like The Bad Batch, A Droid Story is hard to determine how and if the strike will affect this animated film. If there's no WGA connection whatsoever with any of the writers, then it's likely that the TV movie won't be affected. Given that we know so little about A Droid Story at its current stage, it's hard to say for sure one way or another.
Movies
Untitled Rey Skywalker Movie
While there may be a version of Damon Lindelof and Justin Britt-Gibson's script available to work with, Lucasfilm recently decided to go in a different direction for the upcoming Rey Skywalker movie, tapping Peaky Blinders creator Steven Knight to do a rewrite. According to Lucasfilm president Kathleen Kennedy in early April, Knight's script was still about "a month and a half" away from being completed. It's unclear just how the strike has affected this work, as Knight is an English writer and may not actually be a member of the WGA.
Untitled James Mangold Movie
There's no official word on where James Mangold was in the writing process before the strike, but given that this movie was just recently announced, the odds are low that he's anywhere near a finished draft. As a WGA member, he is presumably participating in the strike and not working on this at all right now. With no release date set for this movie, we likely weren't going to see it anytime soon anyway.
Untitled Taika Waititi Movie
Taika Waititi has been writing his Star Wars movie for years, but he is a WGA member, which means he's prohibited from working on the script further at the moment. But since the film was still a few years out anyway, we weren't expecting this one anytime soon anyway.
Untitled Mandoverse/New Republic Movie
It's still early days for the Mandoverse event movie, but as a WGA member, Dave Filoni is likely restricted from participating in the further development of this movie during the strike. Theoretically, the movie could be delayed because of this, but given that this movie is set to be the conclusion of the Mandoverse, this movie is likely years away regardless of the strike. For the moment, you should be more worried how this strike delays a potential Ahsoka season 2…
Untitled Shawn Levy Movie
This project was still in early development stages at the end of last year, so it may not even be at the script writing stage yet. Nothing will likely move forward on this movie until the strike is over, but that won't necessarily delay its release significantly.
We'll update this post as we learn more.