News
Rey Star Wars Movie Confirms First Plot Details
The Rey Skywalker movie starring Daisy Ridley will answer some big questions about the future of Star Wars.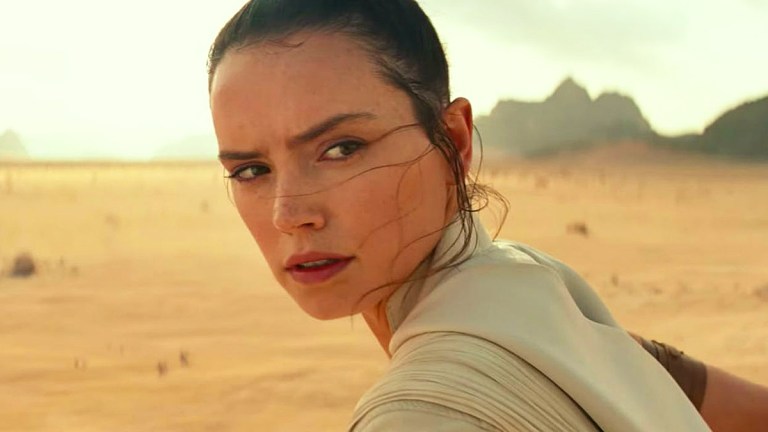 Lucasfilm seems to finally be full steam ahead with its slate of Star Wars films. At Star Wars Celebration in April, studio president Kathleen Kennedy confirmed three new pictures set in the galaxy far, far away, including a Mandoverse event film to be directed by Dave Filoni and a Jedi origin movie from James Mangold. Then there's perhaps the most surprising installment of the trio: a new Rey movie directed by Sharmeen Obaid-Chinoy that will see Daisy Ridley reprise her role just a few years after the release of The Rise of Skywalker.
Ridley's return to her most famous role so soon after the end of her trilogy is unprecedented in Star Wars history, to say the least. There was a 32-year gap between Return of the Jedi and Mark Hamill's return as Luke Skywalker in The Force Awakens, and it took 17 years to get Ewan McGregor back on screen as Obi-Wan Kenobi. If rumors that the new Rey movie could hit theaters as soon as Holiday 2025 are true, this would mean Ridley would be back just 6 years after her last installment.
And this isn't the only way that the Rey movie is breaking from what's come before. According to the first plot hints shared by Kennedy out of Celebration 2023, the Rey movie is also looking further ahead in the Star Wars timeline than ever before on the big screen.
"What we're exploring is the evolution of the Jedi," Kennedy told Empire. "We're moving 15 years after The Rise of Skywalker. The First Order has fallen, the Jedi are in chaos – there's even a question of how many exist anymore – and Rey's building the New Jedi Order, based on the text that she was given and that Luke imparted on her."
Kennedy also described some of the big questions the movie would look to answer in an interview with IGN in April: "There's a lot of discussion around, 'Who are the Jedi? What are they doing? What's the state of the galaxy?"
Fifteen years after The Rise of Skywalker would mean the movie takes place in 50 ABY (50 years after A New Hope), further into the future of Star Wars than even the final Luke, Han, and Leia adventure in the old Legends continuity, which closed the book on the original trio in 45 ABY. Rey's new adventure will kick off the suitably named "New Jedi Order" era of the canon Star Wars timeline.
But how much longer will audiences actually have to wait to watch the future of Star Wars unfold on the big screen? Kennedy signaled that Lucasfilm was moving away from the rapid-fire, a Star Wars movie a year release schedule ambitions of the 2010s in favor of treating each new installment like a cinematic event.
"I've often brought up Bond," Kennedy told Empire. "That's every three or four years and there wasn't this pressure to feel like you had to have a movie every year. I feel that was very important to Star Wars. We have to eventize this."
"It's much better to tell the truth," she continued, "that we're going to make these movies when they're ready to be made, and release them when they're ready to be released."
The Rey movie seems to be further along in development than Mangold and Filoni's projects, although it was originally being written by Damon Lindelof and Justin Britt-Gibson (The Strain), who left the project ahead of the Celebration announcement. Peaky Blinders creator Steven Knight is now penning the script for Obaid-Chinoy.
"We've been working on that [film] for a few years and all of that feeds into our overall storytelling," Kennedy told Yahoo at Celebration. "So we've just got to a point now where we've got a wonderful writer in Steven Knight, he's come on board and we're going to see a script probably in the next month and a half that we've been working on for quite a while. So we're getting close."
In the meantime, check out the complete schedule of upcoming Star Wars movies and TV series here.