Features
Luther Recap: What Happened Before The Fallen Sun Movie?
With Netflix movie The Fallen Sun picking up where the TV show left off, here's a refresher on Luther's journey so far.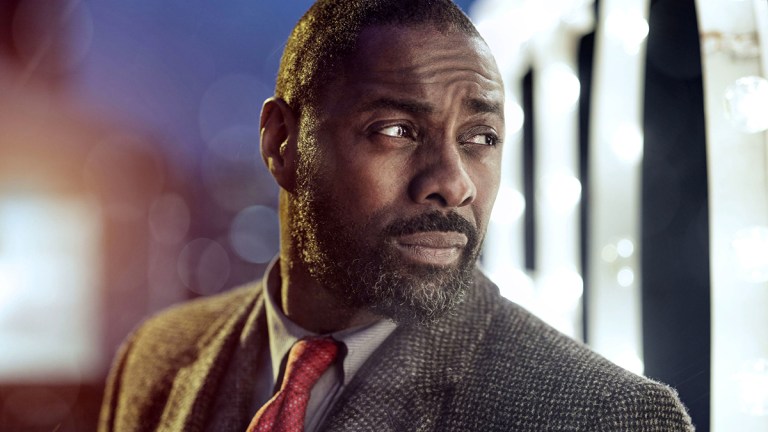 Luther: The Fallen Sun, the first movie adventure for Idris Elba's morally (and fashionably) grey detective, follows up five series' worth of shenanigans in the successful BBC TV thriller. That's a lot of murder, character development and shocking moments. The Fallen Sun has been designed to work as a standalone story as well as a continuation of the show, but with a world this complex, context is everything.
So, if you want to refresh your memory so you're ready to catch all of The Fallen Sun's cheeky references, or even if you're new to the world of Luther and want to find out how we got to this point, here's a handy primer on the story so far…
Alice Enters the (Crime) Scene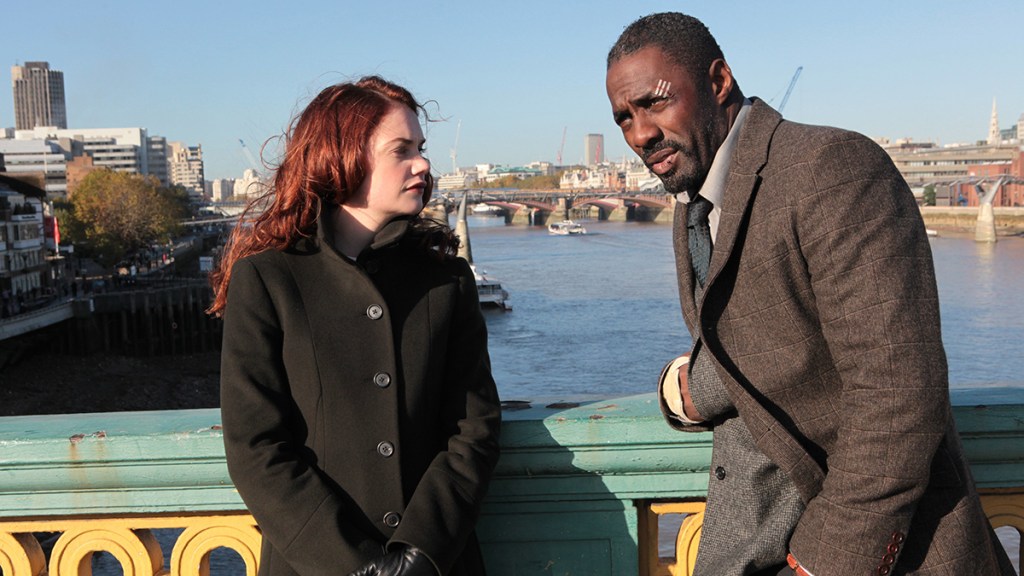 After an inquiry into his arrest of serial killer Henry Madsen, who's been left comatose with serious injuries, DCI John Luther (Elba) is allowed back to work – albeit on the leash of his boss, DSU Rose Teller (Saskia Reeves). Now working alongside a new partner, rookie detective Justin Ripley (Warren Brown), Luther's first case back is that of the Morgans, an older couple who've been murdered in their own home.
The crime is called in by their distraught only daughter, Alice (Ruth Wilson), a brilliant physicist. During an interview, a subtle tell that suggests a lack of empathy convinces Luther that Alice is the killer, but with no motive or evidence, he can't prove it and is forced to let her go. So begins a game of cat-and-mouse between the two – Alice has covered her tracks so well that Luther can't make an arrest, but in the process of trying he has made a dangerous new "friend"…
The Early Cases
With Luther now back in the saddle at the Met's Serious Crimes Unit, he uses his unique detective skills – namely, an ability to tap into the darkness within – to hunt down and catch a trio of serial killers: a disgruntled ex-serviceman who's targeting coppers; a sinister occultist who drinks the blood of his victims; and a man posing as a London cabbie to pick up and murder young women.
That's not all he has to deal with, though. His estranged wife, Zoe (Indira Varma) – the love of his life – wants to make their separation permanent and is moving on with human rights lawyer, Mark (Paul McGann). And his off-the-book policing methods are being carefully scrutinised by formidable complaints inspector Martin Schenk (Dermot Crowley), who tells him there's "no place in the service for dirty coppers, no matter how well-intentioned".
On top of all that, he has to try to stop an increasingly obsessed Alice from meddling in his personal life (trying to fix his broken relationship by having Mark beaten up; smothering a reawoken Madsen when he threatens to expose Luther), while at the same time utilising her killer instincts to help him catch his prey.
The Betrayal of Ian Reed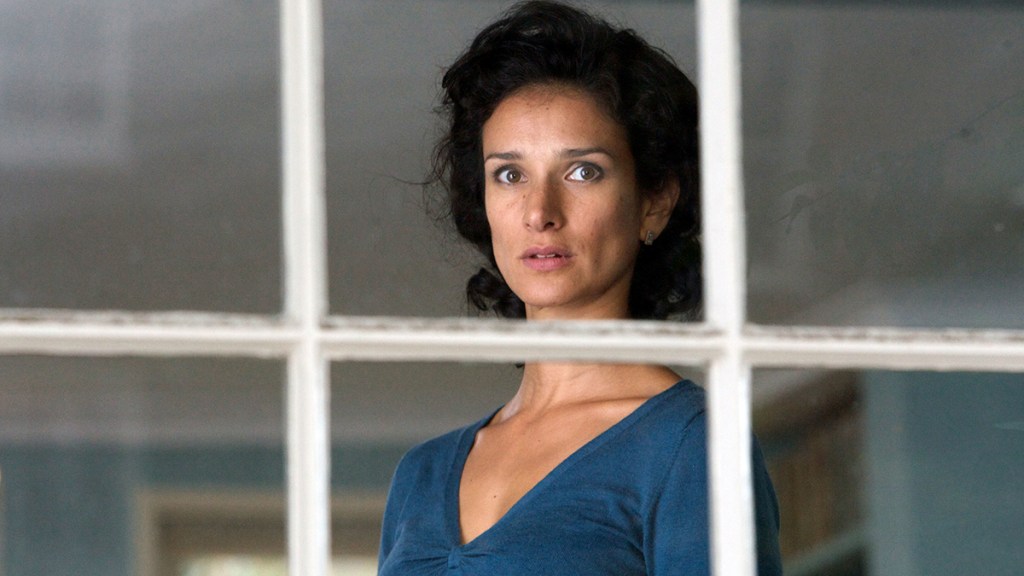 Luther investigates the case of a diamond heist gone badly wrong, resulting in a woman being taken hostage by a ruthless American gangster. But little does he know that his best mate and fellow copper, DCI Ian Reed (Steven Mackintosh), is in it up to his neck, facilitating the crime in order to make "a few easy quid". As the plan unravels, so too does Reed's mind, as he tries to hide his involvement from his SCU colleagues – killing several witnesses along the way.
Luther discovers his friend's involvement and offers to help, but an increasingly paranoid Reed rejects him. He threatens and accidentally kills Zoe, framing Luther in the process. Teller buys Reed's lies, though Schenk and Ripley suspect Luther is innocent. A vengeful, on-the-run Luther hunts down Reed with the help of Alice and Mark. Luther wants to arrest him, but Alice doesn't give him a chance, killing Reed with his own shotgun.
Moving On: the Formation of Serious & Serial
With Alice in a secure facility and Teller taking the fall for the Ian Reed debacle, the Met disbands the SCU and replaces it with the new Serious & Serial Unit, led by Schenk – who immediately recruits Ripley and a grieving Luther to join him, as well as the SCU's tech guru Benny (Michael Smiley). Rounding out the team is newbie DS Erin Gray (Nikki Amuka-Bird), who's immediately suspicious of Luther's methods thanks to his maverick reputation.
Back in action, Luther takes on two tricky cases: a creepy, puppet-masked serial killer styling himself after infamous London bogeyman Spring-Heeled Jack, and a pair of twin psychos playing a deadly role-playing game on the city's streets. He ultimately catches both, but the by-the-book Gray isn't impressed with his methods…
Luther Becomes a Father Figure
Luther is approached by Caroline (Kierston Wareing), the ex-wife of a killer that Luther sent down. She's worried about her teenage daughter Jenny (Aimee-Ffion Edwards), who's fallen in with some wrong 'uns in the murky underground porn scene, and blames Luther for Jenny going off the rails. Luther rescues Jenny but has fallen into a trap, winding up in the debt of fearsome London gangster Baba (Pam Ferris).
She, along with psychotic grandson Toby (David Dawson), attempts to use Jenny as leverage to turn Luther into their "man on the inside" but, with the help of Benny, Mark and Alice (who he's helped to escape prison), Luther turns the tables – forever freeing Jenny from the gangster's grip. His fatherly relationship with the troubled youngster helps him to finally come to terms with the loss of Zoe, while Alice goes off to travel the world.
The Hunter Becomes the Hunted
Luther and Ripley investigate the case of a copycat psycho who's carrying on the work of infamous '80s killer the "Shoreditch Creeper". But Schenk is forced to take them off that complex hunt and instead assign them to the fairly open-and-shut case of the murder of an online troll. The reason? Luther is being entrapped by "unretired" DSU George Stark (David O'Hara) and his newly promoted protégé, DCI Erin Gray, who have been tasked with finally nailing Luther for his misdeeds.
The two lean on a wavering Ripley to give up his mentor, but the young detective ultimately covers for Luther, who manages to tie up both cases without giving Stark any excuse to bring him in. He busts Stark's secret operation wide open, promising him: "If you take me down, I'll take you down even faster and even harder."
Vigilante Justice and Ripley's Last Stand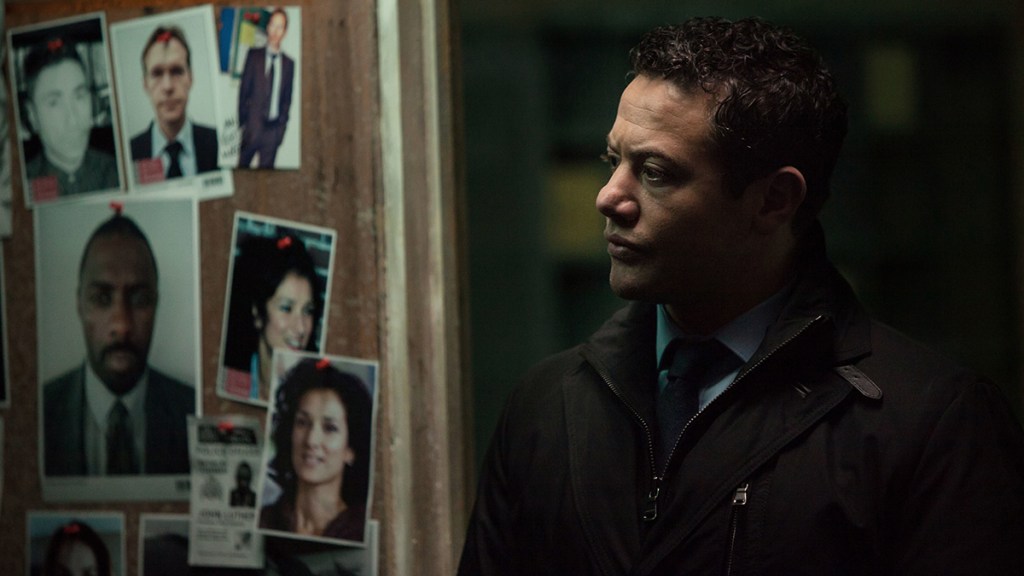 With Stark and Gray still on his tail, Luther takes on the case of violent vigilante Tom Marwood (Elliot Cowan), a man whose wife was murdered. Taking the law into his own hands, Marwood has turned himself into a highly trained killer and tasked himself with dispensing justice where the police can't. Though Luther sympathises with Marwood's cause, he's compelled to stop him – and his pursuit ultimately leads to the cornered perp shooting and killing Ripley.
Stark and Gray, believing that Luther is working with Marwood, arrest him for Ripley's murder, but he's broken out of their custody by a returning Alice, who's back from her hols to help out her old pal. Luther vows vengeance, and calls on Alice to help him take Marwood down and prove his own innocence. In the ensuing mayhem, Marwood kills Stark before being arrested, and Luther and Alice disappear together.
The George Cornelius Saga: Part 1
Luther's happy ever after with nemesis-turned-lover Alice has been cut short, and he's now living in a remote coastal cottage on his own. Schenk manages to tempt him back to the Big Smoke to help catch a cannibalistic serial killer who's chomping his way around the city, but really Luther is going back to search for answers surrounding Alice's apparent death in Belgium, where her body has been found in the river Scheldt.
Luther follows the breadcrumbs to old-school East End kingpin George Cornelius (Patrick Malahide) and kidnaps him to get answers. Cornelius admits he double-crossed Alice over a diamond deal, but says that she escaped his henchmen. While Luther is on the hunt for the cannibal killer, Cornelius breaks free and puts an open hit out on Luther, dubbing him a "dead man walking". Luther manages to evade the attempts on his life long enough to recover the missing diamonds, which he gives to George as a peace offering, but he's still none the wiser on Alice's whereabouts.
Luther Takes on the Lakes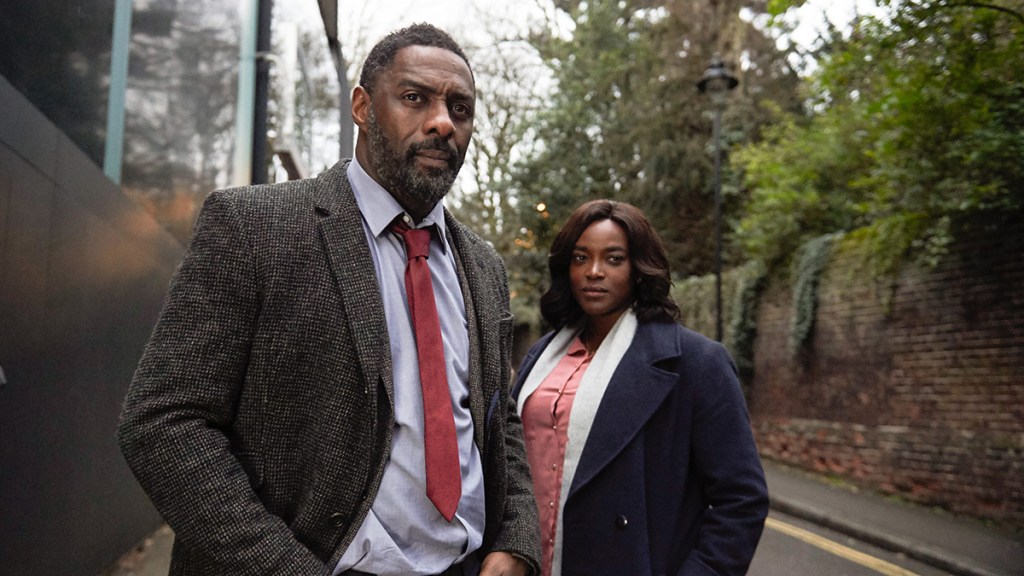 With Luther now back on duty full time, Schenk sends him and new partner DS Catherine Halliday (Wunmi Mosaku) to investigate a spate of freaky murders around London, being carried out by a doll-masked stalker. That weirdo is Jeremy Lake (Enzo Cilenti), a renowned surgeon who moonlights as a fetishistic serial killer. His crimes are covered up by his dominating wife, Dr Vivian Lake (Hermione Norris), who supports his hobby but is concerned his impulses are threatening to give the game away.
Jeremy's increasingly out-of-control urges do just that, leading Luther and Halliday to catch Vivian in the act of trying to clean up his mess by getting rid of a captive victim. They persuade her to give her husband up, and she tells them of his ultimate fantasy – playing "happy families" with a bunch of murdered strangers. The pair track him down to a house of horrors, where Luther manages to subdue Jeremy – and Halliday only just escapes with her life.
The George Cornelius Saga: Part 2
Alongside trying to solve the Lake case, Luther is drawn back into the criminal underworld when a very much alive Alice (who'd faked her own death in Belgium) kidnaps George Cornelius's son, demanding recompense for her stolen diamonds. Luther tries to diffuse the escalating tension between Alice and Cornelius, but the situation worsens when the cockney gangster's thugs take Benny hostage and a furious Alice kills Cornelius Jr.
Luther and Alice stage a rescue of Benny and take him to Mark's house to recover but, while Luther leaves to resume his investigation, a Cornelius-hired assassin tracks them down. He shoots Benny in the head to draw Luther out and takes Mark and Alice hostage. Cornelius, realising the hitman has gone rogue, helps Luther to track him down and take him out, snapping a photo of Luther standing over the killer's body as an "insurance policy".
Luther tells Alice that Cornelius is dead but when she finds out she's been lied to, she makes a beeline for the gangster's mansion and starts shooting up the house. Cornelius is saved when Schenk and an armed police unit show up after finding evidence of his involvement in Benny's death. Schenk arrests Cornelius, but the gangster shows him the photo of Luther and tells him: "Your boy's a wrong 'un."
The Wrath of Alice
Apoplectic with rage after finding out Luther has lied to her, Alice catches up with him at the scene of Lake's arrest, shooting Halliday dead and injuring Luther. With sirens blaring in the background, Luther chases her to an under-construction apartment block, where the two engage in a tense stand-off. Before she can deliver the killing shot, Luther pushes her off a ledge – he tries to grab hold of her but she cuts his hand, falling to her death below.
Schenk and a response unit arrive at the scene, arresting Luther and taking him off in handcuffs. With his secrets exposed and his past misdeeds, no matter how well-intentioned, coming back to haunt him, our boy Luther is headed for the slammer…
Luther: The Fallen Sun is out now on Netflix.