Features
Luther's Most Shocking Moments
With new movie The Fallen Sun looking to up the shock factor, we look back at the most jaw-dropping scenes from Luther's first five series. Spoilers.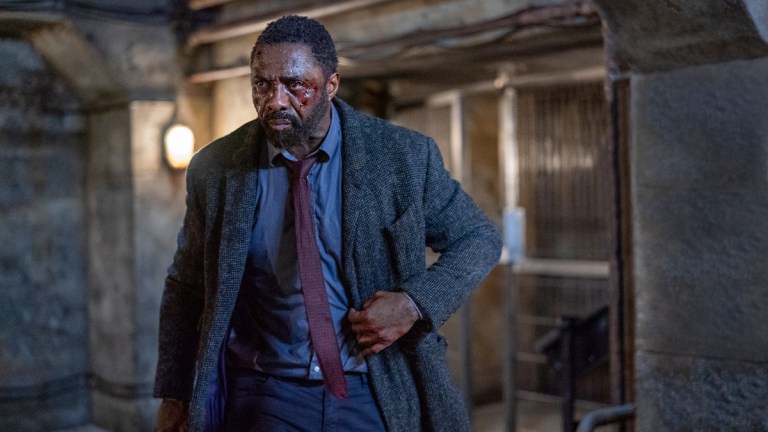 Warning: contains major spoilers for Luther Series 1-5
Much like its grizzled, rule-breaking protagonist, Luther has never been one to play it safe. Over its five series so far, the Idris Elba-fronted crime drama has had more than its fair share of shocking moments – be they unexpected plot twists, spine-chilling set-pieces or major character deaths.
So, ahead of new movie Luther: The Fallen Sun – which will no doubt boast a few shocks of its own – we take a look back at the iconic, WTF moments that had Luther fans yelling at their tellies or hiding behind their sofas. 
Obviously, spoilers abound, so if you're yet to delve into Luther's grimy underworld, best to come back here when you're done. Two pieces of advice, though: don't watch it right before you go to bed, and don't grow too attached to anyone…
Ian Shows his True Colours
In Luther's first series, DCI Ian Reed (Steven Mackintosh) is introduced not only as DCI John Luther's long-serving teammate in the Met's Serious Crimes Unit, but also as his best and most loyal friend. So it's even more of a gut punch when, in the fifth episode, Reed is revealed to be dirtier than we ever imagined he might be. 
When an art dealer who's being held to ransom over some dodgy diamonds bursts into the SCU office demanding to see Reed, we get the sense that something's not quite right. But it's not until later in the episode – when Reed goes to visit his gangland contact, Bill – that we find out the true extent of his involvement: facilitating the robbery "to make a few easy quid". As the situation spirals out of control, so does Ian – and villainy beckons…
Zoe Bites the Bullet
When a desperate Ian pays a visit to Zoe (Indira Varma) – aka Luther's estranged wife and the love of his life – it's obvious that things aren't going to end well. But despite the shock of Ian's betrayal, what happens next is the show's first truly WTF moment. 
Ian, his mask slowly slipping, asks Zoe to call John over to the house to talk; initially, she's pleased to see him, but his erratic behaviour soon raises her suspicions. The tension escalates until Reed pulls a gun on Zoe, threatening her to make the call. But when she panics and asks John for help, Ian pulls the trigger – and Luther can only listen as his beloved Zoe is murdered by his former best friend.
Murder by Live Stream
Live streaming might be standard practice now, but when season two of Luther premiered in June 2011, the format was in its infancy. Nevertheless, the show mined the concept for a particularly shocking scene, which saw Cameron Pell (Lee Ingleby) – a killer inspired by infamous London bogeyman Spring-Heeled Jack – taunting Luther and co via a live feed. 
Pell sets his camera up on an undisclosed street somewhere in the capital, then starts randomly knocking on doors to see who'll answer. As he tries the first few, the Serious & Serial team frantically race to find his location. They have no chance, though – Cameron tries another door, and as a man answers, he beats him to the ground. The cocky killer, wearing his signature Punch mask, walks to the camera and holds up a knife, before going back to the man and slicing his throat. The coppers – and us – can only watch in horror.
Bad Day at the Office
One of the brilliant things about Luther is that much of its horror plays out in everyday settings and otherwise "safe" spaces, ramping up the shock factor. One of the most terrifying examples of this comes in the latter half of series two, which sees our hero hunting down a pair of twin psychos who are playing a deadly, real-life RPG on the streets of London. 
The twins' quest for XP points sees them trying to one-up each other's body count, leading to a horrific set-piece that's guaranteed to give any 9 to 5er nightmares. One of the gamers brazenly walks into an inner-city office block, takes out a hammer and a water pistol full of acid, and proceeds to terrorise the unsuspecting workers. Chilling chaos ensues.
The Monster Under the Bed
Luther's third series opens with one of the most terrifying pre-credits scenes ever to grace British TV. A prelude to Luther's hunt for a copycat killer styling himself after the fictional "Shoreditch Creeper", the scene sees a woman come home alone to an empty house. She sits on her bed, contemplating things as her feet dangle over the side, before taking off her heels, getting ready and cosying in for the night. 
Once she's asleep under the covers, though, a creepy man dressed in black silently slithers out from under the bed. He stands over her, holding a wig. Her eyes open, then… cut to credits. The scene, which reportedly drew complaints from some traumatised viewers, sent out the message early on that series three did not come to play. It also provided a compelling argument for why you should always opt for a divan bed base.
Ripley Meets his Maker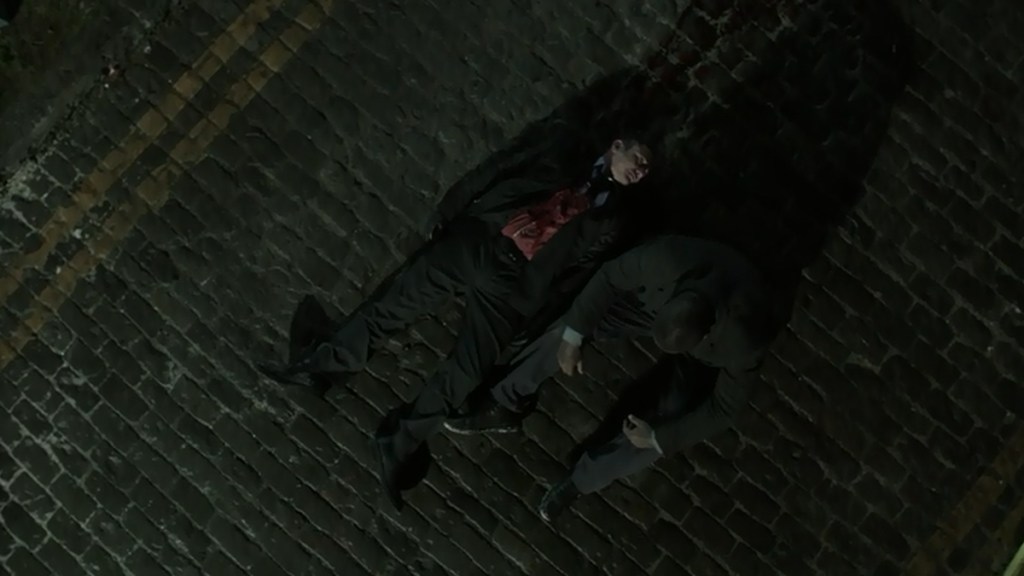 Series 3 sees the relationship between Luther and his partner DS Justin Ripley (Warren Brown) strained when our hero's shaky moral past threatens to come back to haunt him. But by the latter half of the season, Justin has proven his loyalty to his mentor, and things are starting to look up. That is, until, the rookie detective goes in pursuit of violent vigilante Tom Marwood (Elliot Cowan) on his own. 
Having cornered his perp, Ripley tries to reason with Marwood, but he's slipped too far into the dark side. "I don't think you're going to shoot me," Ripley says gently, before Marwood unloads his shotgun into the young DS's chest, sending him flying backwards. By the time Luther arrives on the scene, Marwood has scarpered, leaving him with nothing to do but cradle his fallen friend.
Nuking the Fridge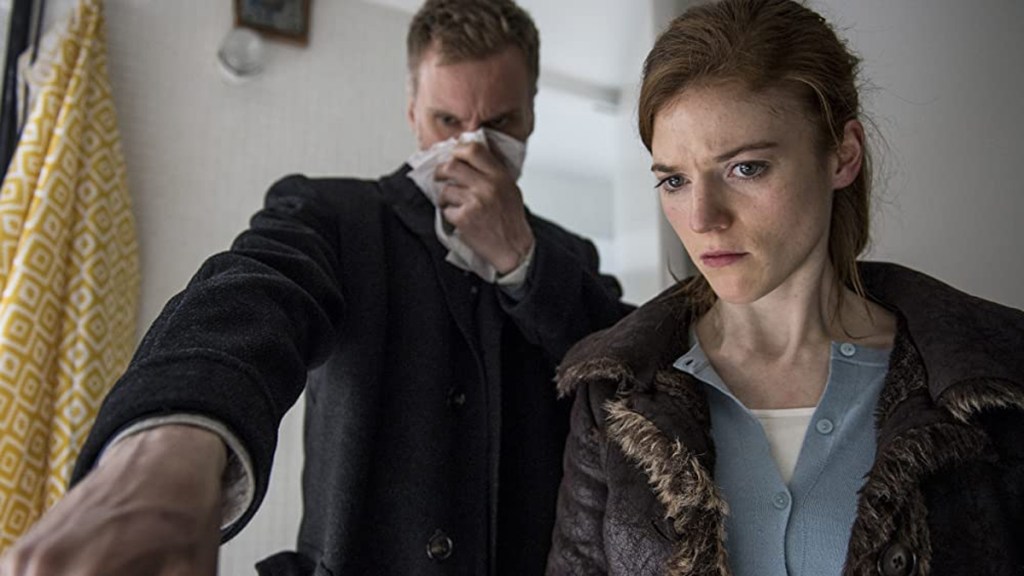 With Luther on a leave of absence at the start of the fourth series, it was left to newly introduced duo DCI Theo Bloom (Darren Boyd) and DS Emma Lane (Rose Leslie) to investigate the case of a cannibalistic serial killer who's terrorising the Big Smoke. 
As the pair check out the home of a suspected victim, they find a body dissolving in a lye-filled bathtub, the head and hands removed. But why? Theo is having a hard time working that out, so rings his old pal Luther for a consultation. He then sees a trail of blood leading to a fridge, and walks slowly down the long, sparse corridor towards it as John stays on the line. He gingerly grabs the handle to open the fridge door and… Boom! Farewell DCI Bloom, we hardly knew ye.
The Commute from Hell
Not content with making something as mundane as going to bed scary, the opening episode of series five saw Luther creator Neil Cross bringing us another memorable shocker – this time ruining public transport for us. 
Set on board an iconic London double-decker, this chilling sequence follows an unsuspecting  woman whose journey home is brutally interrupted by Jeremy Lake (Enzo Cilenti) – an impulsive killer kitted out in a freaky doll mask and an LED-hemmed hoodie.  The image of Lake slithering down the aisle towards his victim made it difficult to look at a night bus in the same way again – we've broken this scene down in more detail here.
Bye Bye Benny
We're not saying it's a curse, but being mates with Luther should really come with a warning. And so it is we come to the Serious & Serial unit's loveable tech guru, Benny Silver (Michael Smiley), who's willingness to indulge Luther's off-the-record antics sees him fall foul of East-end gangster George Cornelius (Patrick Malahide) in series five. 
After escaping the clutches of Cornelius' henchmen, a battered and bruised Benny holes up with fellow Luther associates Alice (Ruth Wilson) and Mark (Paul McGann) – but ruthless assassin Palmer (Anthony Howell) catches up with them. The hitman tells John – via speaker phone, naturally – that he'll spare his friends if he hands himself over. Benny, however, realises that at least one of them isn't getting out alive, and grabs his hero moment. "Boss, I need you to kill this prick for me," he says defiantly, before Palmer blows his brains out. Cue a helpless Luther being forced to listen to another of his pals cark it.
Halliday's Shock Exit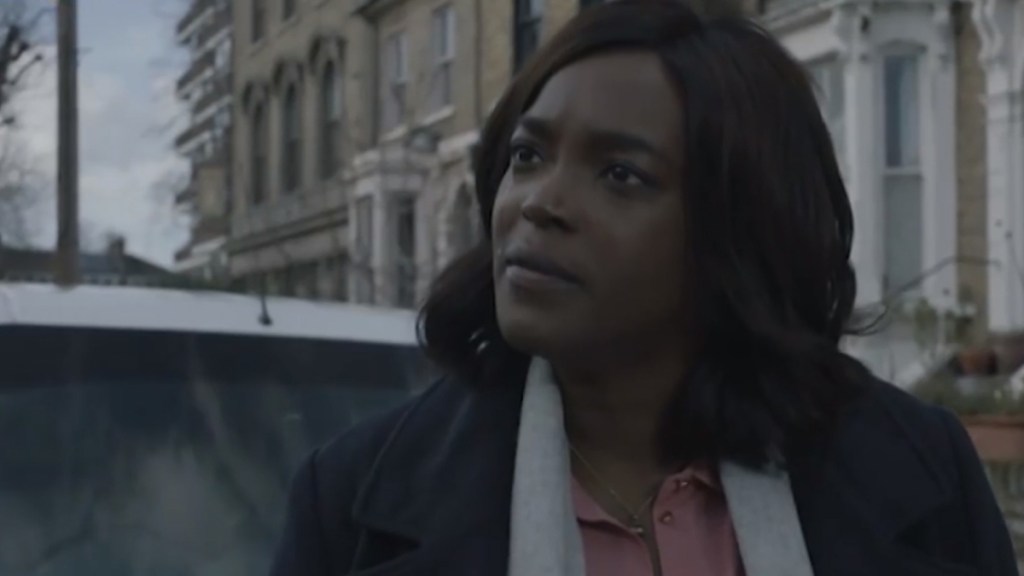 One of Luther's all-time biggest shocks comes at the end of series five. Having finally caught and apprehended Jeremy Lane in a house of horrors, Luther and his newest partner, DS Catherine Halliday (Wunmi Mosaku) – a likeable teammate with a strong moral compass – are taking a breather outside. Still in shock at her near-death encounter with Lane moments before, she accuses Luther of using her as bait to stop the psycho killer. "That's not what happened," he protests. But before he can explain, a rageful Alice appears from nowhere and shoots Halliday in the head. 
Poor Halliday's death is such a shock not only because she's so innocent (she hasn't even met Alice), but also because it's a jolting reminder to Luther – and us – of exactly how dangerous Alice can be. We've grown complacent, and this is almost Cross' way of showing us that, despite her charm and anti-heroic tendencies, Alice is still a cold-blooded killer at heart – and we underestimate her at our peril.
Alice Goes Over the Edge
Series five's climactic showdown between Luther and Alice ends in an almighty cliffhanger. After a deadly game of cat and mouse in an under-construction building, she gets the upper hand, with a bloodied Luther (who's been shot multiple times) on his knees. 
"Guess what, there's one bullet left," she says. "I just needed us to be really close." She aims the gun at his head, but before she can bring herself to pull the trigger, he musters his remaining strength and lunges at her, pushing her off the side of a ledge. Luther grabs Alice by the hand, but she cuts him with a razor to free herself, falling onto the hard concrete below. So, with Luther arrested at the scene and Alice apparently dead for real this time, what next? We'll have to wait for The Fallen Sun to find out.
Luther: The Fallen Sun comes to select cinemas on February 24th and to Netflix on March 10th.