Features
Peaky Blinders: Esme Shelby-Lee, Gypsy Curses and the Black Madonna
Why does Tommy phone Esme at the end of episode two? To lift the Shelby family curse.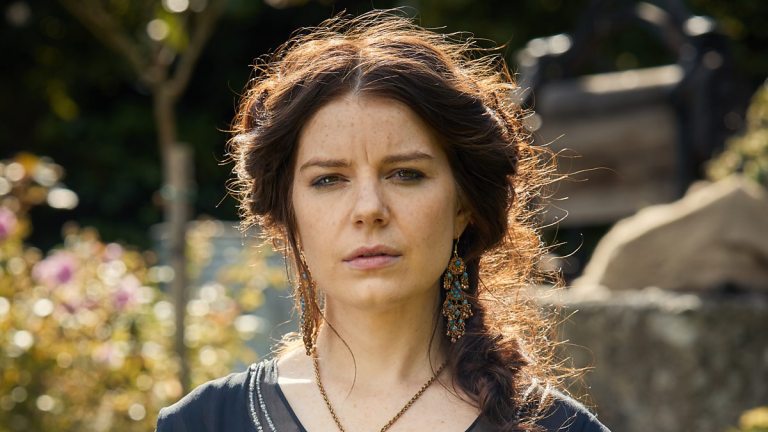 Warning: contains spoilers for Peaky Blinders season six, episode two 'Black Shirt'
In the world of Peaky Blinders, it's been ten years since we last saw Esme Shelby Lee, the gypsy widow of John Shelby. Played by Aimee-Ffion Edwards (War of the Worlds, Detectorists, Skins), Esme left Birmingham in a fury after John was shot dead by the New York mafia in the gang's war with the Changrettas. In season six, she's coming back.
"Put me through to the number I gave you for Esme Shelby-Lee"
It was a war that first brought Esme into the Shelby family. The Peaky Blinders' season one feud with the Lee family of Romany gypsies culminated in an eleven-year-old Finn almost getting blown up by a stick of dynamite meant for Tommy, who decided enough was enough. Tommy wanted peace with the Lees, and needed their soldiers in his Billy Kimber racetrack strategy, so he went to the Lee matriarch with a proposition. His younger brother John was a father-of-four and a widower; a Lee girl had "gone a bit wild" and needed marrying off. The wedding – which was sprung like a surprise party on John, who didn't meet his wife-to-be before the ceremony – would signify a truce.
(The arrangement also suited Tommy because John had come to him with intentions of marrying Lizzie Stark, a sex worker John had fallen for, whose services were also regularly used by Tommy since his return from France. Tommy put Lizzie through a cruel test, offering her £8 – the modern equivalent of over £400 – for one last time together, and then when she agreed, using it to warn John off her. Tommy continued to pay Lizzie for sex, eventually making her Shelby Company Secretary, and then married her at the end of season four, when they had daughter Ruby together.)
"We're the family now"
Luckily for John and Esme, they clicked and soon, they had their own blended and growing family. Esme moved from her gypsy wagon to Watery Lane, where she worked at the Peaky Blinders' betting shop. Life inside four walls though, never suited her, and she used whisky and cocaine as a way to escape – skimming from the company vault to support her addiction. She was against the gang's expansion into London's clubs, describing the city as just "smoke and trouble." She once tried to persuade Tommy to pack up his life in Small Heath and run away in a wagon to France and visit the holy Black Madonna statue in the South, because his "gypsy half is stronger", but Tommy had work to do.
Tommy's work caused a rift between him and Esme that would never heal. In season three, he made a deal that led to the imprisonment of John, Arthur, Polly and Michael, all of whom ended up with nooses around their necks before a last-minute reprieve. It was all part of Tommy's strategy, which Esme found unforgivable. She cut Tommy off and hissed at Ada, and Michael for continuing to deal with him, calling them his puppets. "We're the family now," Esme told John, "we can look after ourselves."
"No peace for either of you"
When Lizzie tried to build bridges, she pressed Tommy to go to John and Esme's New Year party where she said the family's younger generation would calm things down. "Babies stop everything. Can't pull a razor with a baby there, not even Esme."
John didn't make it to New Year. He was gunned down on Christmas Day outside his country house. Esme was last seen screaming and scratching at Tommy over John's corpse at the mortuary. She blamed him for her husband's death, told him that the Shelby family were cursed, and then she cursed him again, declaring "No peace" for either Tommy or Arthur.
Esme told John's corpse that she was taking their seven children (four by John's first wife, three between them) on the road "to be with decent people." They would never know the cursed side of their family, she vowed.
It's fair to say that neither Tommy or Arthur has had a moment's peace since Esme laid her curse on them. Gypsy curses – like the one Tommy was told was held by the blue sapphire Grace was wearing when she was shot dead – are real in the world of Peaky Blinders. That's why Tommy was terrified enough to rush home from Boston when he heard the Romany words his daughter Ruby was speaking in her fever: Tickna mora o beng. Tommy told Lizzie to keep Ruby away from horses and water, and for Johnny Dogs' eldest wife Esmeralda to put a Black Madonna pendant around the child's neck.
To begin with, it seemed to work. Ruby recovered and the doctors gave her the all-clear. By the end of season six episode two though, the fever was back and Ruby was hearing voices, coughing blood, and haunted by a Grey Man she said was coming for her and Tommy. That, plus his own seizures and Grey Man hallucinations, was enough to make Tommy place that call to Esme. Next episode, will spitting wildcat Esme lift the curse and save Ruby?
Peaky Blinders season six continues on Sunday the 13th of March.