Features
The Teleprompter Interview: Michael Smiley 'I Still Get Recognised Most for Tyres in Spaced'
To mark the arrival of period drama Dead Still, actor and comedian Michael Smiley revisits his early inspirations, TV obsessions and playground impersonations for Den of Geek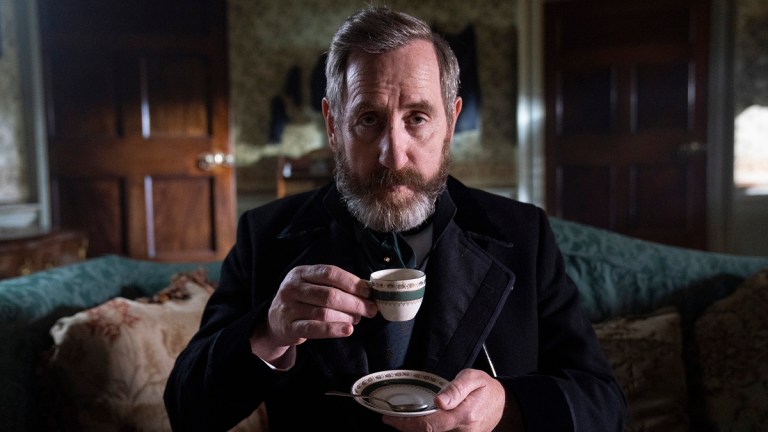 'When somebody decides to call a character Brock Blennerhassett,' says Michael Smiley, 'you think, well, that hasn't just come off the top of your head, there must be something going on there!' What's going on with Blennerhassett, his lead role in new darkly comic Victorian drama Dead Still, is strange, timely and layered, says Smiley.
Dead Still, available in the UK now to stream on Acorn TV, is 'a dark, funny, proper period drama set in Dublin in Victorian times' Smiley explains. His character Blennerhassett is part of the Anglo-Irish landed gentry who's broken away to work in the experimental field of memorial photography, taking pictures of posed corpses for bereaved families. 'That was a big thing in Victorian times because of the British Empire being in mourning after Prince Albert died.'
The series blends a murder mystery with gallows humour and colonial Irish politics. 'All of those slightly dark times have been cast in with the Empire,' says Smiley, who's hoping for a second series. 'The whole concept has legs.'
A frequent collaborator with writer-director Ben Wheatley, a comedian and star of indie cinema, with mainstream roles in Luther, Rogue One: A Star Wars Story, Black Mirror, Doctor Who and Spaced, Michael Smiley talks Den of Geek through his TV memories.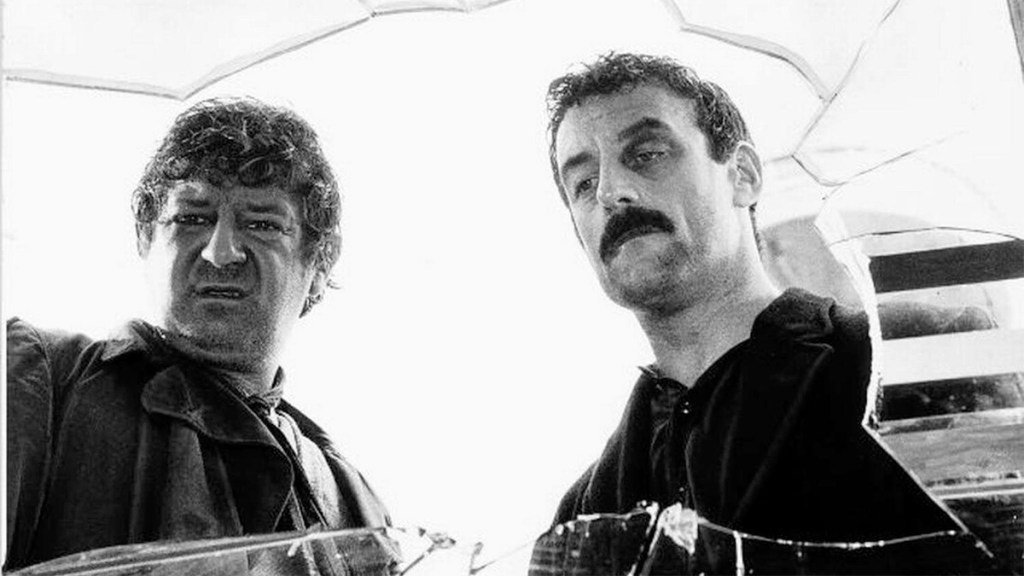 Which TV show inspired you to start acting?
I wasn't inspired to start acting. I wasn't one of those people. Anybody on television or in the cinema were from another planet, it wasn't for the likes of me. I was a working class kid from a housing estate on the outskirts of Belfast, it wasn't like my parents said [English accent] 'You should go on the stage young man!' That wasn't my life. It was a beautiful mistake that I ended up with the career that I've got.
But I grew up on Play for Today. I was allowed to stay up and watch it with my dad when I was a kid. It was the first time that I came across Alan Bleasdale's work. He was a major influence, that was the first time I'd really seen the working class being represented in the best way, warts and all. Then I went backwards and watched A Taste of Honey and Saturday Night and Sunday Morning, I became obsessed with kitchen sink drama. The closest we had to it in Northern Ireland was the Billy plays, the Billy trilogy [by Graham Reed] which was Kenneth Branagh's debut with James Ellis, about a working class family in Belfast.
And how about as a comedian? Did you watch stand-ups on television growing up?
Again, there wasn't much stand-up on TV apart from The Comedians, just fat blokes talking about Pakistanis and Irish, 'stupid Irishmen' and stuff like that, I didn't enjoy that.
I enjoyed collecting jokes and being able to tell a joke, having a repertoire. I would collect jokes and tell them in the playground and we'd swap jokes then we'd go home and tell them to our parents.
As far as stand-up on the TV, the first time I really saw any would have been Billy Connolly Bites Yer Bum and the first Richard Pryor one, Live in Concert, where he's wearing the red silk shirt and Robin Williams Live at the Met, they were the three big ones.
When you were telling those jokes in the playground, did you ever pretend to be TV characters?
Yeah, I used to do Rigsby, I used to do [Rising Damp's] Leonard Rossiter. [Does a very passable Rigsby impression] I had a very limited repertoire, so I would pretty much do Rigsby over and over.
And I was called Monty Python, that was another big thing. I got The Life of Brian on audiotape, so then I knew all the jokes in that, then when I saw it I was really disappointed in the film [laughs] because I loved the cassette.
Have any TV shows given you nightmares?
I was allowed to stay up and watch the old Hammer Horror when I was a kid, the ones with Christopher Lee and Peter Cushing and I got a few nightmares off that. Nothing else to be honest. The news in Northern Ireland when I was a kid was enough of a nightmare.
And when did you last cry watching television?
I'm always crying to be honest. In all seriousness, the last time I cried was the documentary on Grenfell, and everything about George Floyd. Without taking it too deep and too dark for this interview, that made me cry with exasperation and frustration.
But also I love The Repair Shop. I watched it when it was on BBC Two late afternoon, it was sort of like an out-of-work actor's little secret thing. I really love that. I normally shed a tear at a woman bringing in a present that her father made her who's just died, those things always make me cry.
When did you last laugh out loud watching television?
When I was a kid, we were a big one for cartoons. Droopy was a big family favourite and Foghorn Leghorn. I would laugh out loud watching my da laugh out loud, things like Monty Python's Flying Circus and Spike Milligan and stuff like that was the laugh out loud stuff in our house.
Also, recently, we've become a big family of Friday Night Dinner fans, that's a family favourite. We'll sit down and watch episode after episode after episode. My nine-year-old daughter has become obsessed with Jim, played by Mark Heap, he's a hero of hers. She does her version. She gets up and does her little impressions of Jim, which just reminds me of me being a kid doing my impressions of Rigsby [laughs].
What was the last TV show you recommended to a friend?
Things like The Wire would always be something that I'd recommend. Friday Night Dinner is something I've recommended.
I like these stupid programmes, real life programmes as opposed to getting involved in box-sets or watching lots on Netflix. I'll watch The Dog Rescuers with Alan Davies over and over again.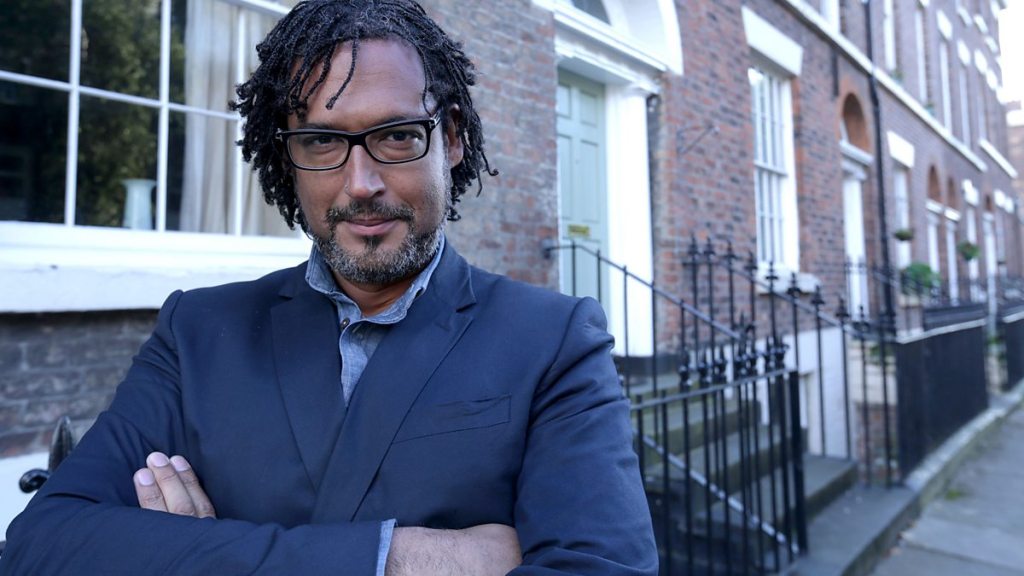 A thing I really love is A House Through Time, with David Olusoga. He's a great presenter, I love how he presents himself on screen. He's got a real keenness about him and you can tell he's quietly obsessed with the subject. He's great on camera and I love the concept of tracing the history of the families and the stories that went through a building. I'm always banging on about that.
Also, anything with [chef and writer] Anthony Bourdain, God rest his soul. I really love his stuff. On Netflix recently there's his last series before he died so I'd recommend that too.
Which TV show would you bring back from the dead?
Boys from the Blackstuff. It's Bleasdale at his best. I saw it when it was 'The Black Stuff', which was a Play for Today, and then they made a series out of it. It's about Liverpool in the 70s and 80s when it was really poor and it was being strangled by the government and getting no funding and everybody was on the dole and it was about how these people kept living and how they tried to find work. It was the first time you'd see people like Julie Walters, for example, Bernard Hill and Michael Angelis, who died recently, just really great actors. I'd like to see a reprisal of that. I would like to see how they've done over the years.
Does that answer the next question of which TV show do you wish more people would watch?
I'd say so, yeah.
How about something from your own back catalogue that you feel deserves more attention than it got at the time?
Free Fire. I don't think enough people saw Free Fire. There's a little short that I've done ages ago, called Believe (watch it here), which is by Paul Wright and Kate Dickie and Paul Hickey are in it. I play a guy whose wife dies and she makes him all these tapes to help him with her passing and he believes he's going to see her again. I wish more people had seen that because it was the start of Paul Wright's career as a director.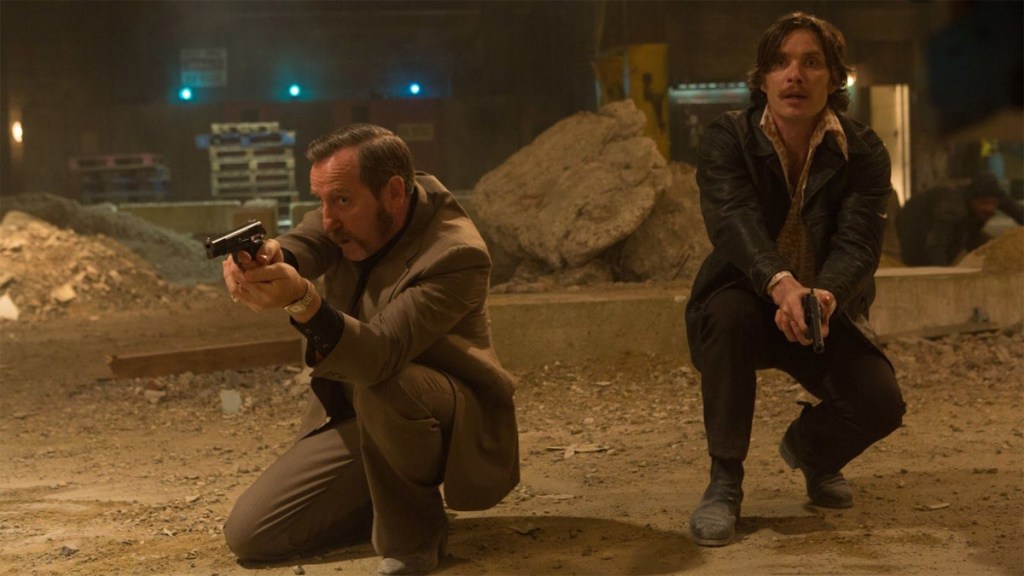 I also loved Bleak House [2005] and I would have loved a second series of Murder Prevention, which is a cop drama I did on Channel 5 that only got one series but it got loads of good reviews.
And I'd like Sean Lock to do another series of 15 Storeys High.
That's a good call. Speaking of old shows, we had the 20th anniversary of Spaced last year. What did the part of Tyres mean to you?
Tyres was, of all my characters, probably my most iconic. Tyres is the one, 20 years later, that I still get recognised for the most. It's a generational thing.
That's what kicked it off for me. I was really blessed that my TV debut was written for me and it was pretty much written about me – I was an acid house DJ who was also a cycle courier. Me and Simon [Pegg] and Nick [Frost] lived together, so our characters were organic, in the sense of using aspects of our real lives and putting them on the characters on screen. It was a blessing, not many people get that sort of a break.
We knew it was good, but it came out at the same time as a lot of other quality comedy. It's had such a loyal following, the Spaced fans are all over, they come from everywhere, they're like Doctor Who fans. It's really great.
It was fun because it was new. It was new for everybody that was on it. Edgar [Wright, director] was just a wee lad and Nick had never acted before, Simon had done stand-up but didn't exactly have a massive career at that time, he was only starting out. There was a real exuberance and excitement and it felt like 'God, we're having a great time. This is brilliant.' It had a lovely energy of being young and everything being new, that's what I remember about it.
Have you ever done fancy dress as a TV character?
The short answer is no. I hate fancy dress. People who turn up to parties in fancy dress… just fucking get a conversation going, let's just talk, stop fucking standing like some dickhead projecting 'Tonight I'm the Pirates of the Caribbean!' No you're not, you're Nigel from IT. Let's talk about IT, Nigel. It drives me insane.
You've just reminded me of those dickheads who run alongside the riders in the Tour de France, I want to kill them. It's all become wrapped up in stag dos and blokes being blokey and having blokey times, you know, rugby blokey blokes all dressed up like women, wearing makeup and wearing those green all-in-one unitards, oh just go away man, honestly!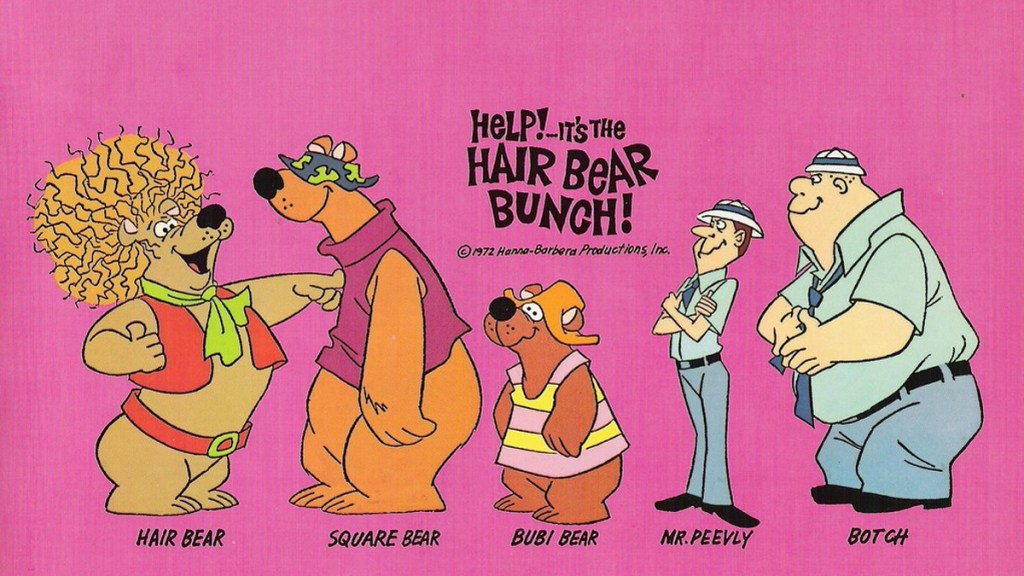 Is there a TV theme song that you know all the words to?
There's a couple! They're all of my generation – The Hair Bear Bunch, Top Cat and The Pink Panther. [Sings] 'In the wonderland zoo we're the certain bears who stay at home every night, never quarrel or fight, and we don't even bite! Help help here come the bears! Help help here come the bears! It's The Hair Bear Bunch!'
You don't remember them?
A little bit before my time.
[Sings louder] 'Top Cat! The indisputable leader of the gang. He's a boss, he's a VIP he's a championship, he's the most tip top beedleyboop Top Cat!'
Have you watched those with your own kids?
Yeah we love it. They don't love The Hair Bear Bunch because I think you had to be there. They love The Pink Panther and they love Top Cat. We watch all my old ones with them whether they like it or not.
Given the power, which TV show would you commission? Maybe another series of Dead Still?
Dead Still series two, there you go!
What was the most fun you've had making television?
Dead Still was fantastic. As dark as the subject matter was, the humour was there all the time. Weirdly, Kill List was one of the funniest films I've ever worked on.
Dead Still was hard work but we laughed and danced every day. I always love to go back to work in Northern Ireland. The banter's blistering. We take no prisoners over there. Everyone works hard, they're just dedicated and love to laugh as well. That's a really important ingredient if you're going to tell stories, it should be with a joy. We're privileged to do this job so let's be kind to each other and crack on.
Dead Still is streaming now on Acorn TV (UK)