Features
Luther's Alice is British TV's Answer to Hannibal Lecter
No, Alice doesn't eat people, but Ruth Wilson's magnetic murderer uses killer inspiration to become Luther's MVP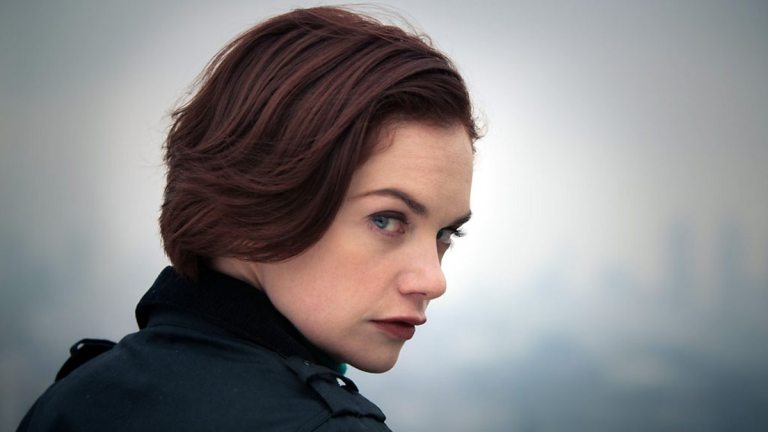 Warning: contains spoilers for Luther Series 1 – 5
If Andy Serkis is to be believed, his antagonist in the upcoming Luther: The Fallen Sun is to be the grizzled London detective's fiercest adversary yet ("I don't think I've come across anything quite as dark for a long time," the actor told Total Film). But he'll have to go some way to out-baddie Ruth Wilson's Alice Morgan – the cunning killer who plagued/romanced Idris Elba's morally grey copper in Luther's first five series.
Alice first crosses paths with Luther at the start of series one, as the Met's Serious Crimes Unit investigates the murder of her parents. Luther knows she committed the crime, but her genius track-covering means he can't prove it. Their initial game of cat-and-mouse turns into a twisted and brilliant courtship – one that would go on to define the show's success.
A fiercely intelligent killer that matches our hero at every turn, Alice shares more than a few qualities with one of pop culture's most popular bogeymen – and it's these qualities that have led to her becoming not only a fan favourite, but also one of the best villains (or even, at a stretch, antiheroes) on British TV.
Author Thomas Harris introduced the world to Dr Hannibal Lecter in 1981's Red Dragon as an incarcerated cannibal-turned-consultant helping his captor, FBI agent Will Graham, to hunt an enigmatic serial killer. Four bestselling novels, five movies and a much-loved TV series later, Lecter became a bona fide horror icon, thanks largely to his charming eccentricities, complex relationships with his protagonists, and a corrupted moral code that audiences could sometimes, *sometimes*, get on board with. Sound familiar?
No, Alice doesn't eat people, nor does she quite stoop to Lecter's levels of depravity, but the guile, charisma and wit that made Lecter such a hit with audiences over the past 30-plus years are all there in abundance. She's not a copycat, then; more inspired by the Lecter archetype – a villain who inspires as much of a love/hate relationship with viewers as they do with the heroes they're pitted against. Here's why it works…
A Worthy Opponent
After a period of suspension, DCI John Luther is welcomed back to work with a "weird one" – a case involving the murders of a suburban couple in their home. It's the perfect crime: no forensics, no witnesses. Luther pins it on their only daughter, Alice, thanks to a subtle tell – an unreciprocated yawn that suggests a lack of empathy. 
Their ensuing battle of wits in the interview room – two razor-sharp intellects engaging in rapid-fire verbal sparring – is not only one of the show's standout moments, but it also pitches them as equals from the off. Alice challenges Luther to prove her guilt despite no motive or evidence, and tells him with a wry smile: "I enjoyed our chat – very interesting." Luther concedes defeat and is forced to let her go, acknowledging that he's become Alice's "new project". Much like Lecter and Graham (or later, Clarice Starling), their fates are intertwined from this point – and the show is all the better for it.
Dangerous Minds
Just as forensic psychologist Dr Lecter uses his superior intelligence to carry out his crimes and help Graham/Starling to catch their prey, so too does Alice – a physics researcher and former child prodigy who went to Oxford aged 13 and had a PhD by 18 – use her brain as her most potent weapon. 
A master manipulator who's at her best operating outside the law (much like Luther himself), she even uses her killer insight to consult on some of the detective's trickiest cases, guiding him towards answers when he's hitting a mental roadblock – and often encouraging him to bend the rules. For example, when Luther is struggling to outmanoeuvre devil-worshipping psycho Lucien Burgess, Alice dismisses him as a "naughty child who's showing off" and advises her friend to change the state of play. "I tried that with you and it failed," Luther retorts. "Only just," she smirks.
In fact, to date on the show, Alice remains the only case assigned to Luther that he hasn't managed to close. When he tells her that she's too clever for him, she dismisses it as a "frivolous" flattery tactic, but you get the sense he's being serious – at the very least, he accepts that he's finally met his match.
Righteous Anger and Wicked Wit
One thing that Alice shares with Dr Lecter is a unique charm that almost makes those that they like – and the audience – forget their horrific transgressions. Often, this comes into play when they're channelling their killer instincts into taking out evildoers who are, in the moment, even more of a threat to our heroes than themselves.
Hannibal, as played by Anthony Hopkins in The Silence Of The Lambs, famously said he finds discourtesy "unspeakably ugly" – hence he takes a shine to Graham and Starling and often helps to protect them from those he deems "rude". Alice may be a monster, but she's a civilised one who retains some kind of moral compass, even if it's decidedly broken, and most of her violence is fuelled by a skewed sense of friendship. Even Luther's one-time love rival turned friend Mark North (Paul McGann), a genuinely good guy, can see she's not all bad. "God knows you are what you are but you're not a psychopath, you're not without conscience," he reasons.
The aforementioned charm is compounded by a jet-black sense of humour. Alice's lack of emotion makes for some brilliantly acerbic one-liners, stealing some of the show's best lines. "Some girls grow up wanting a pony," she confides to Luther in one touching heart-to-heart. "I wanted to be a widow."
Absence Makes the Heart Grow Fonder
Hopkins was famously awarded a Best Actor Oscar for just 16 minutes of screen time as Lecter in The Silence Of The Lambs – turning a bit-part into the movie's most memorable character. It was proof that an iconic performance doesn't necessarily hinge on the number of lines in the script, and followed the old adage, "Always leave them wanting more." 
Perhaps Alice's (and Wilson's) biggest strength is that you really miss her when she's not there. When Alice reemerges after a season-and-a-half break in the last episode of series three, she brings a palpable energy to proceedings – making for a much more thrilling climax and perking up the story after the downer of DS Ripley's (Warren Brown) death just the episode before.
Similarly, the Alice-free fourth series, which saw Luther investigating the mystery surrounding her apparent "death" and is widely considered to be the show's least successful outing, only served to frustratingly remind us of her absence and make us long for her return.
They Shouldn't Be Underestimated
As much as the charm of these characters can lull the audience into a false sense of security, we – and the heroes – underestimate them at our peril. They may be likeable at times, but they're still capable of despicable acts – giving them an edge that makes them all the more interesting.
Case in point? Alice's cold-blooded murder of Luther's innocent and affable partner, DS Catherine Halliday (Wunmi Mosaku), comes out of nowhere, at the end of a fifth series in which we've just gotten to know – and like – her all over again. This changes the game: Halliday's unnecessary death is arguably the most shocking of Alice's misdemeanours, fuelled by blind rage, and it reminds us – and Luther – that despite all her better intentions, she's still a ruthless killer at heart.
Tainted Love
Of all the battles in Luther's early episodes, the biggest – and most significant – is John's fight to prove to Alice that love does exist in the world. He might not be able to arrest her, but he does succeed in this challenge – kicking off a twisted, complicated and, at times, weirdly tender relationship between the two. At the end of season one, Alice tells Luther: "Of all the people in the world, I would never betray you."
But all good things must come to an end, and just like the bust-up between Mads Mikkelsen's Lecter and Hugh Dancy's Graham in Hannibal, it's a perceived betrayal that ultimately tears them apart. When Alice discovers that Luther has lied to her about killing her arch-nemesis, old-school Cockney gangster George Cornelius (Patrick Malahide), she goes after him with full force, with a tense end-of-season standoff resulting in a badly injured Luther being arrested and Alice falling to her apparent death. We see the body, but is she really dead? We flippin' hope not… maybe The Fallen Sun can offer some answers.
Luther: The Fallen Sun comes to Netflix on March 10