Features
Doctor Who 60th Anniversary Viewing Guide: Every UK Special Episode, Documentary & Show
A list of the official Doctor Who-themed anniversary celebrations airing in the UK, from Bargain Hunt to The Daleks in Colour and more
Presumably, you've got your 60th anniversary outfit sorted (just go for something simple like a full Cyberman suit accessorised with a Fez, lapel celery, the McCoy umbrella and a pair of Converse) and you've snacks to hand (Jelly Babies, fish fingers and custard, the combination of which you'd probably be wise to follow up with a Rennies).
You've invited any guests you might want around, you've wrapped up the Doctor Who Top Trumps in the centre of your pass-the-parcel, and cleared your calendar from the 60th anniversary itself on Thursday November 23rd through to Saturday December 9th when the final special airs, so there'll be no interruptions. You're ready, basically, to celebrate Doctor Who's birthday. You'll watch the three anniversary episodes, of course, but what else?
Take a look below at what's on offer in the UK. We'll update this guide when more information arrives.
ALREADY AIRED & AVAILABLE TO STREAM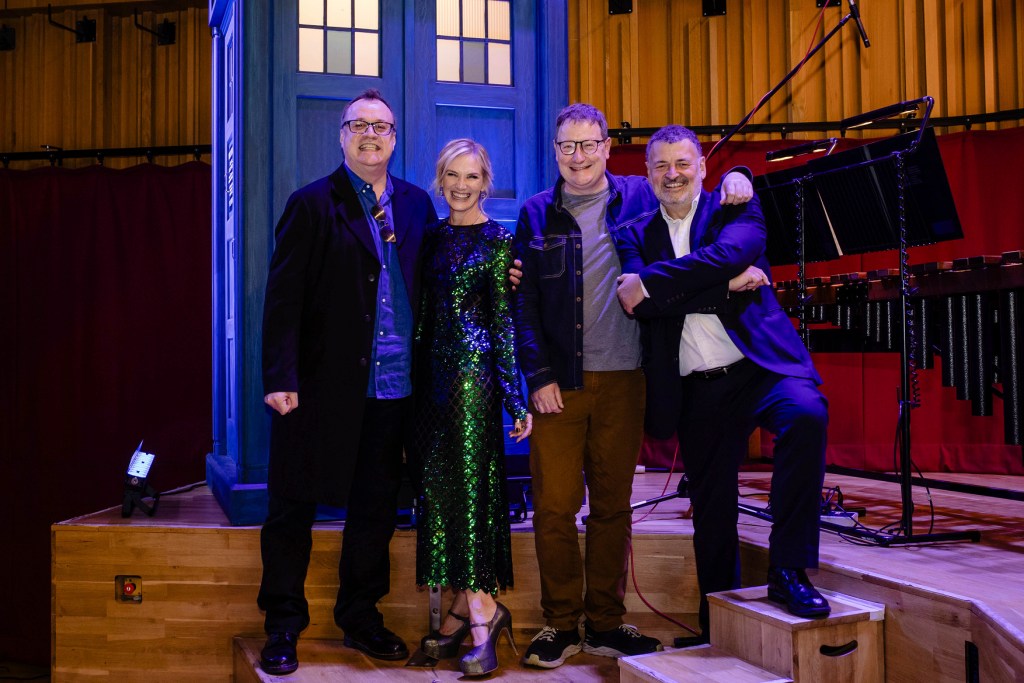 Doctor Who @ 60: A Musical Celebration
Recorded on September 28 at the Wales Millennium Centre in Cardiff, this special BBC Radio 2 concert hosted by Jo Whiley was where the Fifteenth Doctor's theme music made its world debut. The 88-minute concert includes interviews with Russell T Davies, Steven Moffat and Chris Chibnall, as well as composers Segun Akinola and Murray Gold. It was made available to listen to on BBC Sounds on October 15, aired on BBC Four on November 1, and is now streaming on BBC iPlayer.
Tales of the TARDIS – Wednesday November 1, BBC iPlayer
This six-episode series reunites Classic era companions in a "remembered TARDIS", where they performed specially written scenes in character to wrap around omnibus editions of six Doctor Who stories: Earthshock (1982), The Mind Robber (1968), Vengeance on Varos (1985), The Three Doctors (1972-3), The Time Meddler (1965) and The Curse of Fenric (1989). The set is packed with Easter Eggs too, so see what you can spot.
Talking Doctor Who – Wednesday November 1, BBC Four
This one-hour archive-based doc fronted by David Tennant is a real treat. It combines talking head footage of Tennant describing his experiences as a Doctor Who fan and actor, with behind-the-scenes footage of previous actors in the role. See Bill Hartnell applying his make-up backstage, Peter Davison and Patrick Troughton cosying up on the BBC Breakfast Time sofa, and all kinds of clips from the show. It originally aired on BBC Four and is available to stream on BBC iPlayer.
Children in Need Scene – Friday November 17, BBC One
An hour after Thirteen's surprise regeneration into Fourteen, this comedic clip sees David Tennant's Doctor crash-land the TARDIS into a pivotal moment for the universe, and leave his unique stamp on events. Written by Russell T Davies and starring Mawaan Rizwan alongside a delightful surprise of a returning cast-member, it was fun, playful and a bit of a palate cleansing lead up to the anniversary specials proper.
Doctor Who Unleashed – Friday November 17, BBC One (and after every new ep)
Back to the glory days of Doctor Who Confidential! Steffan Powell presents new behind-the-scenes companion show Doctor Who Unleashed, for which this little Children in Need scene tie-in is a little taster. Each of the three anniversary specials will be accompanied by a half-hour look at how it was made, featuring on-set interviews with the cast and creators.
Tennant and RTD on The One Show – Monday November 20, BBC One
A six-minute chat with Russell T Davies and David Tennant here, on BBC week-nightly magazine programme The One Show. They tease the three anniversary specials, ramp up excitement for Tennant and Catherine Tate's return to the show, and describe Neil Patrick Harris' performance as The Toymaker as wild and astonishing.
All the Classic Seasons and NuWho Series – Streaming
Over 800 episodes covering six decades, Fourteen+ Doctors, 26 seasons, 13 series, multiple specials, the TV movie, possibly including the TARDIS' kitchen sink, all available to stream on BBC iPlayer in the UK.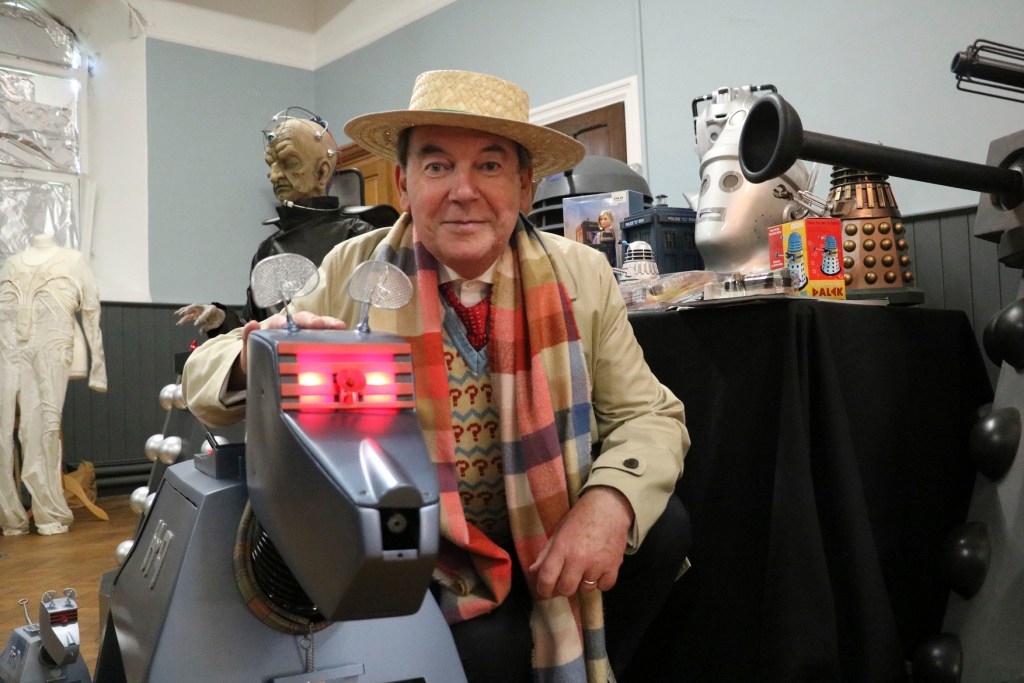 Bargain Hunt: Doctor Who Special –Thursday November 23, 12.15pm, BBC One
This is the anniversary content we've been waiting for – a slightly awkward tie-in where presenters read words like "Gallifrey" and "Sontaran" off the autocue without knowing what on earth they're saying. Here, two teams of Doctor Who fans compete to buy the biggest bargain at an antique fair and then to auction it off for the biggest mark-up, plus a big memorabilia collection.
Doctor Who: The Daleks in Colour – Thursday November 23, 7.30pm, BBC Four
This one hour 15 minute adventure is Doctor Who's very first Dalek story, colourised from black and white for the first time, and bundled together into one omnibus instalment. It originally aired in December 1963, and sees the First Doctor and his companions venture into the Metal City where they encounter their inaugural Daleks. The seven-part serial was re-edited with a fresh musical score and is now available on BBC iPlayer.
An Adventure in Space and Time – Thursday November 23, 8.45pm, BBC Four
If you were a sentient Doctor Who fan for the 50th anniversary celebrations, you'll remember this Mark Gatiss-written docudrama telling the story of Doctor Who's early days, and starring Jessica Raine as producer Verity Lambert and Sacha Dhawan as director Waris Hussein. Coming in at one hour 20 minutes, the feature-length special was originally broadcast in 2013 and – with a special added treat – is now available to stream on BBC iPlayer.
The Fourteenth Doctor Reads a CBeebies Bedtime Story – Friday November 24, 6.50pm, CBBC
David Tennant, in costume as the Fourteenth Doctor, read the CBeebies Bedtime story the day before the first anniversary special aired. He read The Way Back Home by Oliver Jeffers in this cosy, 10-minute instalment. It's the story of a boy who discovers an airplane in his cupboard and flies it into space, where he makes an unusual friend.
Doctor Who: The Star Beast – Saturday November 25, 6.30pm, BBC One
The first of three special episodes airing to celebrate the 60th, starring David Tennant and Catherine Tate, who are joined by new and familiar faces, and one very familiar voice in that of Miriam Margolyes, who plays the voice of adorable alien Beep the Meep. Rachel Talalay directs.
The Official Doctor Who Podcast – Saturday November 25, 7.30pm
Join @ChristelDee, @TheoriesByT and Juno Dawson for an aftershow analysis of #DoctorWho!

'The Official Doctor Who Podcast' debuts on Saturday November 25th, right after 'The Star Beast' ❤️❤️➕🎙️ pic.twitter.com/1YY0Nf1PbL

— Doctor Who (@bbcdoctorwho) November 23, 2023
Hosted by Christel Dee, Juno Dawson and Tyrell Charles, The Official Doctor Who Podcast (#odwp) is exactly that – a podcast about Doctor Who that's, you know, official. There'll be a new episode released weekly after each instalment, featuring interviews with Russell T Davies, behind-the-scenes info and post-match analysis. Listen wherever you get your podcasts and on the official Doctor Who YouTube channel.
Doctor Who: 60 Years of Secrets and Scandals – Saturday November 25, 8.30pm, Channel 5
Trust Channel 5 to dig the Doctor Who dirt. This one hour show promises the scoop on "the huge fan backlash after the BBC attempted to cancel the show", stunts that went wrong, "the scandalous treatment and behaviour of the show's main stars", and "the surprising link between a teenage Peter Capaldi and the series, a long time before he stepped into the main role" – very little of which will be news to any fan who's been awake in the last 20 years. Still, worth a look if only to get annoyed about their pronunciation of Metebelis III.
Doctor Who: Wild Blue Yonder – Saturday December 2, 6.30pm, BBC One
The second 60th anniversary special played its cards very close to its chest, which meant speculation abounded. What was delivered was scary, weird and very Doctor Who..
UPCOMING
Doctor Who: The Giggle – Saturday December 9, 6.30pm, BBC One
Neil Patrick Harris returns in the final of the three hour-long Diamond Anniversary specials, which looks wild and bombastic and all the adjectives Davies has been using for months now.
The Graham Norton Show – Friday December 15, 10.40pm, BBC One
Ncuti Gatwa will be joining Graham Norton on the sofa a week or so before the Christmas special airs. He'll be joined by Imelda Staunton, who's there to promote The Crown's final episodes, Jamie Dornan, who'll be chatting about The Tourist series two, and Jack Lowden, who's promoting the excellent spy drama Slow Horses. But really, it's all about the Doctor.
imagine… Russell T Davies: The Doctor and Me, Monday December 18, 10.40pm, BBC One
The air date for this one hasn't yet been confirmed, but it's definitely on the way. Alan Yentob's career-retrospective BBC doc series will go behind the scenes at Bad Wolf Studios in Cardiff during the filming of the Fifteenth Doctor's first adventures, and will feature interviews with David Tennant, Helena Bonham Carter, Olly Alexander, Sally Wainwright and Caitlin Moran.
Doctor Who: The Church on Ruby Road, Monday December 25, timeslot tbc, BBC One
Seeing 2023 out will be Ncuti Gatwa's debut as the Fifteenth Doctor in the first Christmas Special to air on December 25 in five years. It'll star Millie Gibson as new companion Ruby Sunday, it's been written by Russell T Davies and was directed by Mark Tonderai.
Michael McIntyre's The Wheel, release date TBC
Back in September, comedian and presenter Michael McIntyre announced that Russell T Davies had filmed an appearance on BBC game show The Wheel, as – what else – that show's Doctor Who expert (if you've yet to watch, contestants are asked questions on themed topics each of which has an accompanying celebrity 'expert' from whom they can glean answers).
ON BBC RADIO & SOUNDS
If you're looking for Who-themed listening with which to celebrate the 60th, then BBC Sounds has a huge selection. BBC Radio Two not only has the concert listed above, but also a series of "My Life in a Mixtape" with Doctor Who cast and creators. There are multiple audio drama episodes, including Audio Adventures and Doctor Who: Redacted, plus audio versions of classic lost serials "Marco Polo", "The Wheel in Space" and "The Daleks' Masterplan", repeats of BBC Radio Four's Desert Island Disc episodes featuring Russell T Davies, David Tennant and Billie Piper, as well as Surviving Doctor Who – an A-Z mini-episodes about life as a Who fan,presented by Toby Hadoke, and much more.
ELSEWHERE IN THE BBC IPLAYER WHONIVERSE
Also available to stream on BBC iPlayer are all the official Doctor Who BBC tie-ins and spin-off shows, including Doctor Who Confidential, the 1981 K9 & Company: A Girl's Best Friend TV movie staring Elisabeth Sladen, 2007 and 2009 animated miniseries Doctor Who: The Infinite Quest and Doctor Who: Dreamland, all five series of The Sarah Jane Adventures, all four series of Torchwood, and all one series of Class.
In addition to that are a few gems in 2013 reunion special The Five(ish) Doctors, 90-minute 2020 film Delia Derbyshire: The Myths and the Legendary Tapes, all three Doctor Who at the Proms televised events from 2008, 2010 and 2013, and a 51-minute doc Whose Doctor Who which was first broadcast in 1977. There's also 2013 special The Science of Doctor Who, presented by Professor Brian Cox.
NOT IN THE WHONIVERSE (BUT AVAILABLE ELSEWHERE)
2007 saw a special edition of The Weakest Link presented by Anne Robinson, which featured nine Doctor Who adjacent celebrities including John Barrowman, Noel Clarke, Tracy-Ann Oberman, David Tennant, Andrew Hayden-Smith, Camille Coduri, Nick Briggs, Claire Rushbrook, and K9 himself. It's available to watch in full here.
There was also 2013 special edition of Pointless to mark Doctor Who's 50th year, which featured teams made up of Louise Jameson and Frazer Hines, Sylvester McCoy and Sophie Aldred, Nicola Bryant and Andrew Hayden-Smith, as well as Jacqueline King and the much-missed Bernard Cribbins, who play Donna Noble's mother and grandfather respectively, and will appear in the 2023 anniversary specials. You can watch that episode in full here.
Doctor Who returns on November 25 with The Star Beast.