News
Doctor Who Anniversary Air Dates Confirmed!
60th specials The Star Beast, Wild Blue Yonder and The Giggle will arrive weekly from November on BBC One and Disney+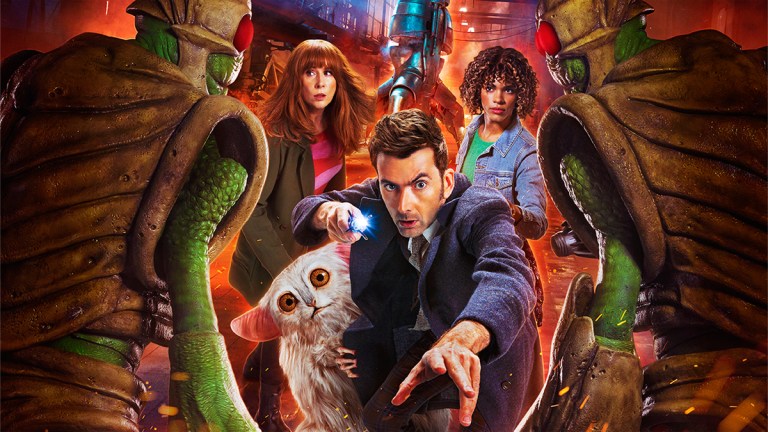 Praise Russell T Davies and his list of demands – Doctor Who is coming back to Saturday nights!
There's no more guesswork required as to when the three 60th anniversary specials will air; the BBC has confirmed that we'll get one a week starting from Saturday November 25, two days after the show's official birthday on Thursday 23, and continuing on Saturday December 2 and Saturday December 9.
The exact BBC One time slots have yet to be announced, but common sense says that we're looking at the pre-Strictly Come Dancing six to seven pm hour in the UK. If Disney+ is synchronising the streaming release worldwide, that would make it somewhere around lunchtime in the US. We'll update as soon as the time slots are confirmed.
Each new extended special was written by Russell T Davies, with music by returning composer Murray Gold, and will be an hour long.
First up on Saturday November 25 is "The Star Beast", directed by Peter Capaldi-era finale director Rachel Talalay. In it, the Doctor has to solve the mystery of why he finds himself with one of his old faces back, and how Donna – whose memory of her time in the TARDIS had to be wiped to save her life – can remember him.
Next, on Saturday December 2 is "Wild Blue Yonder", directed by Ghosts and Stath Lets Flats' Tom Kingsley.
And on Saturday December 9 is "The Giggle", directed by World on Fire director Chanya Button.
The first episode of companion show Doctor Who Unleashed, a new 30-minute behind-the-scenes documentary series presented by host Steffan Powell, will air on BBC Three and iPlayer right after each special starting with "The Star Beast".
The trio of episodes welcome a new and returning cast alongside leads David Tennant and Catherine Tate as the Doctor and companion Donna. Jemma Redgrave is returning as UNIT boss Kate Stewart and Bonnie Langford will be back as former companion Melanie Bush. Karl Collins returns to play Donna's partner Shaun Temple, with Jacqueline King back playing her mother Sylvie, and the much-loved Bernard Cribbins making his final appearance in the role of Donna's beloved grandfather Wilfred Mott.
New cast members include Heartstopper's Yasmin Finney as Donna and Shaun's daughter Rose Temple-Noble. Joining them will be Ruth Madeley as Shirley Anne Bingham, and Miriam Margolyes as the voice of alien The Meep. Neil Patrick Harris appears in the third and final special as "The Toymaker", and according to IMDb, he'll be joined by series 14's Indira Varma as "The Duchess" and Ncuti Gatwa as – who else – the Doctor.
If November 25 feels like too long to wait to start celebrating, a global watchalong is being launched for fans on Saturday the 4th of November, starting at 9:45am UK time. Using the hashtag #DoctorDonnathon, fans will be able to join together and stream 14 hours of Tennant/Tate goodness (toilet and snack breaks scheduled in, obvs) on BBC iPlayer and elsewhere around the world.
Mark your diaries now.
Doctor Who returns to BBC One and iPlayer in the UK, and to Disney+ around the world on November 25