Features
Daisy Jones & The Six: All the Songs on Aurora Reviewed
Fictional band Daisy Jones & The Six now has a very real album. Here is every song on their debut Aurora rated by angst.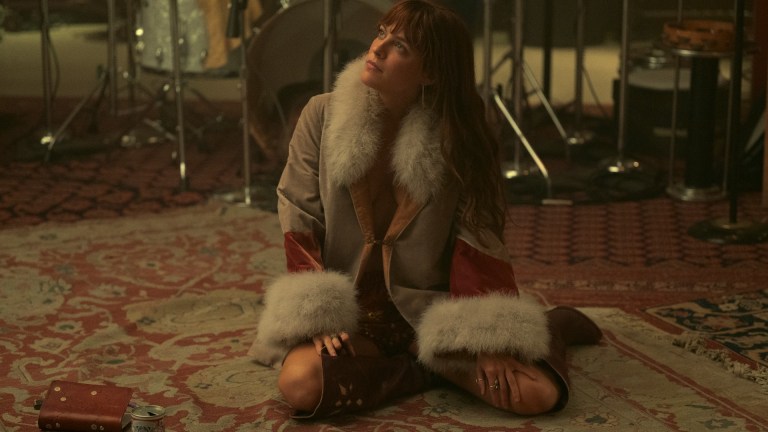 This article contains light spoilers for the first three episodes of Daisy Jones & The Six.
Daisy Jones & The Six has become one of the most anticipated series of the year, and as it finally drops on Prime Video, the team have been kind enough to drop the entire Aurora album at the same time.
Produced by Blake Mills – who's previously collaborated with Lana Del Ray, Dixie Chicks and John Legend – songwriters including Phoebe Bridgers, Marcus Mumford, Jackson Browne and Marcus Cunningham were brought on board to tune up the lyrics from Taylor Jenkins Reid's book, and bring them to life in 70s technicolour.
And yes, the actors really are singing and performing of the album (you can thank the pandemic for allowing them time to tune up and become the Daisy Jones & The Six that now appears on your screen).
Aurora is the seminal classic that both made and broke the band. Based loosely on Fleetwood Mac's iconic Rumours, Aurora offers characters Billy and Daisy (Sam Claflin and Riley Keough) an outlet for their bottled up rage and sexual tension. Naturally, this was always going to explode. We're told from the outset of the series the band breaks up after a massive gig at Soldier Field in Chicago in 1977 – question is why.
As we wait for that shoe to drop on the show, Aurora is there to provide everything by reading between the lines (whether you've read the book or not). To be honest, for an album based on a TV show, Aurora has no right to be this dang good – full of earworm tracks that will remain in your head for ages. But which ones will tap into your pent-up rage and sexual angst best? Here's a full breakdown, including the songs that inspired the tracks, and how we rate them.
Aurora
Title track "Aurora" is in full love song mode, boasting that "you're my morning sun." Billy and Daisy are in full tease mode.
Starting off in a similar vein to "Go Your Own Way" by Fleetwood Mac, the pair are soon sharing a back and forth about a relationship being be-all-and-end-all pure, while also a little down and dirty in the verses, and when things go wrong, you still wanting to return to them. It's catchy, and would go down a storm as an opening number at a stadium show that's about to collapse a whole band.
Pent Up Rage: 0
Sexual Angst: 6
Let Me Down Easy
While "Aurora" focuses on the height of love, "Let Me Down Easy" focuses more on the difficult side of keeping a relationship afloat. This is angsty and desperate, with both sides becoming frustrated with how the romance stands, both waiting for the other to mess up.
It's a love song with a twist – the care and attention is there, but if this were a break-up album (which Aurora proves to be), this is the first stage in their grief at the split. Flat out denial and bargaining. The repetitive chorus will stay with you for a while, even if the verses kind of blend away quite quickly.
Pent Up Rage: 6
Sexual Angst: 4
Kill You To Try
"Kill You To Try" is a completely different vibe to the first two tracks, taking on a more prominent strut sound rather than the smooth summer vibes of "Aurora" or "Let Me Down Easy."
While the female vocals are crying out for their counterpart to make more effort, the man is making promises that it seems he can't cash. It's angsty, sure, but also feels like one of the more hollow songs on the album so far and doesn't quite capture the magic of the previous album.
Pent Up Rage: 6
Sexual Angst: 3
Two Against Three
"Two Against Three" is just straight-up "Songbird" by Fleetwood Mac. Stripping back the full band for an acoustic guitar and only Daisy singing, the romantic and heartbreaking track depicts someone singing about a love she's not convinced she's ever going to get.
Tender and sweet, the lyrics talk about how she's fallen for someone with a choice to make, and how she's basically at their mercy to make a decision. Riley Keough's vocals absolutely kill it on this track, feeling the upsetting and tragic realisation of Daisy's consistent struggle with how she feels for Billy. There's no metaphors in this – it's just a flat-out love song, aimed at one man, for him to take as he wills.
Pent Up Rage: 7
Sexual Angst: 4
Look At Us Now (Honeycomb)
In Daisy Jones & The Six, this is the song that starts it all, with Teddy bringing Daisy to punch the track up as a guest spot on The Six's track. Technically, this is on The Six's first album, SevenEightNine, but let's not be too pedantic here. The song details a man relying on a relationship and who he wants to be, as opposed to who he actually is. It results in a couple reflecting on who they were, and how their relationship has informed who they've become.
The lyrics question this romantic couple's intentions with each other, if they're right for each other, or if they're tearing each other down. With a killer middle eight as the music rises, "Look At Us Now" is a couple resigned rather than a couple fighting for each other. No angst, just an undertone of sadness for what once was love.
Pent Up Rage: 9
Sexual Angst: 9
Regret Me
Now this is what we're talking about. While "Look At Us Now" was a track Billy wrote about his wife Camila, punched up and twisted into something new by Daisy, "Regret Me" is every outstanding bit of rage and sexual angst Billy and Daisy have at each other. Taking shots at each other's drinking and personal attitudes, "Regret Me" is about one-upmanship more than it is about romance – though the tension is clearly present in every lyric they spit at each other.
"Regret Me" is the leading song in Daisy Jones & The Six, and it's easy to see why. Not only is it one of the strongest on the album, but the lyrics perfectly encapsulate this bitter/sweet, love/hate volatile connection Daisy and Billy have. When allowed to express it, they go full electric, and it results in pure sparks and one striking catchy hit. No wonder in this world it became a smash.
Pent Up Rage: 10
Sexual Angst: 10
You Were Gone
Things are toned back down with "You Were Gone." The mood is slower, and focused more on Billy rather than Daisy. If "Regret Me" is the anger stage of grief at the end of the relationship, "You Were Gone" is the acceptance of it, acknowledging neither was there for the other they way they needed, and they need to walk away from each other.
The song is another tonal shift from its more fiery counterpart. It's still a great addition to the album, but where songs like "Let Me Down Easy" and "Regret Me" are the killer, "You Were Gone" is the filler, and perhaps would've worked better as the final song of the album as a footnote to "Aurora," which starts out the album on such a positive and hopeful note.
Pent Up Rage: 5
Sexual Angst: 2
More Fun To Miss
"More Fun To Miss" is a song created FOR Daisy rather than BY Daisy, and comes with a strutting sound more akin to punky groups like The Runaways than the other, smoother rock bands they otherwise try to emulate on the album. It makes it a standout for sure, and comes with a sultry venom that's as addictive as the drugs floating around the band.
"More fun to miss, than to be with," is the recurring belt of the chorus, told through spite and hate as the band provide backing vocals as if in support of the statement. This song is just pure rage, even as it comes out of the mouth of the person the song is actually about, which somehow makes it all the worse as it makes it toxic and coercive. This is the only time we'd say that in a positive way, creating something that's catchy as hell.
Pent Up Rage: 10
Sexual Angst: 8
Please
In comparison to "More Fun To Miss," which is Daisy Jones & The Six's version of a messed up diss track, "Please" becomes all about Billy and his resistance to temptation in all its forms as the band continue to gain popularity. In the first three episodes, we see Billy struggling with alcohol and drug eviction, eventually landing himself in rehab. This is something that never quite goes away from him and the idea that while he loves Camila, he's craving something more.
Seemingly taking more inspiration from later-stage The Beatles than the ongoing theme of Fleetwood Mac B-sides this album has so far been made of, Billy is flat out begging for the object of his desires to go away, telling them he has a family like he has a gun to his head and is trying to save his life. Telling the other party to say no as he can't. Sexual tension? No. But angst? It's in beast mode. Though sadly, not the strongest track on the album, with a pounding piano delivering the biggest accompaniment to Billy's rant.
Pent Up Rage: 10
Sexual Angst: 0
The River
There's very little to say about "The River." Sound wise it's a mash of a number of artists, with the lyrics not really delivering much of anything in terms of the storytelling and lacks punch the other tracks on the album do. For the actors on the show, this remains a highlight for them. Josh Whitehouse (who plays Eddie), Camila Morrone (Camila) and Nabiyah Be (Simone) all credit this song as one their personal highlights on the album. Suki Waterhouse (Karen) and Sebastian Chacon also told Decider it deserved an honorable mention too.
But the metaphors are mixed between shadows, rivers and roads, creating a muddle it never quites get out of. While the vocals from Daisy in particular are powerful, and it would probably serve really well live on stage, on an album it's just all a bit meh.
Pent Up Rage: 0
Sexual Angst: 0
No Words
Ending the album on a soft and somber note, Billy and Daisy feel resigned, running out of things to say to each other after an album's worth of fury and fire.
"Two Against Three" does this a little better, but as this is a duet, it's the first time they come together on a ballad like this, acknowledging they've exhausted their efforts in knowing to do what's right. "No Words" is the pair letting go of all of it, ending on a series of mystical tones as the music fades out into the ether, leaving nothing but an acoustic guitar.
Pent Up Rage: 0
Sexual Angst: 0
The first three episodes of Daisy Jones & The Six are available to stream now on Prime Video, with new episodes dropping weekly through to March 24th.