Features
Why Moonage Daydream Is More Than a David Bowie Documentary
Director Brett Morgen tells us about the intimacy of capturing David Bowie's artistic process in the stunning Moonage Daydream.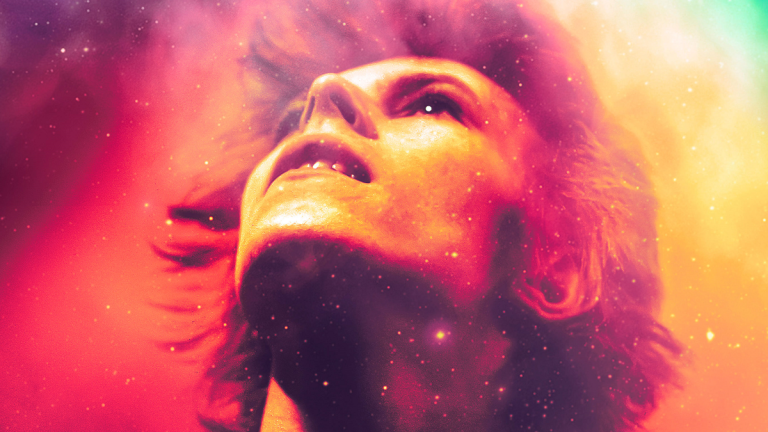 Brett Morgen's Moonage Daydream is a more intimate dive into David Bowie than a traditional documentary or concert film can achieve. As an IMAX experience, it is immersive to an almost intrusive degree. It is a shame it will only be available in such a form for so short a time.
Between 1967 and 2016, David Bowie released 27 studio albums, 150 singles, shot music videos, and personal experimental films. He toured the world, and recorded in studios in London, New York, Philadelphia, Los Angeles, Berlin, and Montreux. Bowie's estate granted Morgen full access to Bowie's archives: long-buried performance footage, previously unheard recordings, rough 35mm and 16mm film stock, experimental video art, paintings, home movie clips, photographs, and journals.
The director of such diverse cinematic biographies as The Kid Stays in the Picture and Kurt Cobain: Montage of Heck spent the first two years of the project just watching, taking it all in. He took his subject's advice, traveling the rails in constant motion until the presentational concept fell into place.
In 2007, Morgen pitched a film where Bowie would play himself locked in his Ziggy phase playing to four people in a Berlin dive bar. Moonage Daydream is its inverse. The full spectrum of the artist's characters and identities are broken into fragments and projected as a unified vision.
Morgen may have made the film just to hear it. He spoke with Den of Geek about the artistry and cinematic possibilities which Moonage Daydream opens, but his main thoughts are of seeing it again while it is still on the biggest of screens, with the best amplification.
Den of Geek: What was the sequence of musical pieces to events in your life that made you realize Bowie spoke to you like no other artist did?
Brett Morgen: The first time I got a record player, my parents gave me John Denver's Spirit, the soundtrack to The Sound of Music, and I can't remember what the third album was. That kind of sums up my musical vocabulary coming into Bowie. My father was a P.E. teacher. My parents weren't interested in the arts, so I didn't have a lot of exposure to culture.
When I was 12 or 13, I had a good friend, Andy Goldman, who actually did the titling for the film, who was super hip. I think everyone has one of those kids. Someone's got to introduce someone to something, if it's not your parents it's usually in a teenage bedroom. Andy showed me Scary Monsters for the first time, and that really resonated. That opened the doors to dive into Bowie, which then opened the door to take a deep dive into all culture.
Moonage Daydream is going to be an introduction to Bowie to a large portion of the audience. How do you imagine it from their standpoint coming as an invitation to more?
It was designed for several audiences very purposely. For those who know everything, who've read every single book, there is no new information. Hopefully they are seeing a kind of impression or a journey in a new cinema form can provide some new insights, if one is open and receptive to it.
But beyond that, the opportunity to see and hear David Bowie mixed by the greatest mixer in the history of cinema, and projected on the greatest film screens in the world, I don't know what else there is. That should be the end all. There's no other discussion right there. That is a gift. I, myself, now am trying to sit through nearly every IMAX screening I can, because I know it's only for a week and it's just not going to look and sound like that again.
So just as a fan, that is an amazing experience. As we migrate away from IMAX into Dolby and standard cinema we're still in that scenario where you're not going to see Bowie three stories high at home. This film has been so well embraced, very few people have complained about it. One or two people, claiming to be hardcore Bowie fans, complained that I'm not mentioning Lou Reed. I'm like, I'm so sorry. Did you miss the opportunities? Do you have a giant IMAX screen at home where you get to listen to this? The response has really been overwhelming, with people almost needing this kind of experience. It's quite satisfying right now.
Have you seen Bowie perform live?
I would like to think I've seen him play more than anyone, given the fact that I just watched every piece of film of him playing. But yes, I saw him playing the 1983 Serious Moonlight tour. Most of my time screening was watching him play.
I personally think that I see more watching a tape performance than sitting in the back of a theater in 1983. I don't think I've really experienced the Serious Moonlight tour. I saw it performed, but I can speak to it much more by virtue of what I've seen in the tape performances.
You express certain periods, like the drug-fueled loss of control, as media subtext. What made you present the feeling of it rather than explain it?
The whole movie is designed to be feeling rather than explaining. You can have someone say they were on drugs, or you can create this sense of disorientation that comes from being around someone on drugs. I choose, because I'm working in the filmic space, to present information in a more impressionistic way. Saying it overtly never even occurred to me. That just seems like information and it seems so blatant. Not only blatant, he basically says everything but.
It's certainly not an omission of any sort, or any sort of sanctification. The idea we wouldn't put that in to try to sanctify things, but I don't think there's anything clean about the sequence going into Cracked Actor. It feels tawdry. In fact, there's no nudity and no profanity in the film, but in most countries, you have to be 18 to see it and I think it's basically because of what's implied. I think if I had just had him say "I was really messed up," it might have been a different thing.
I was horrified to read that you had a heart attack and flatlined, did you infuse that into the sequences the same way?
Yes, of course. The whole movie, I can't separate the decisions I made and the material that spoke to me at a very heightened moment in my life from the events in my life. It was clearly a reflection. I would argue that if you were doing a Bowie film and you were starting now and had three years to work on it: It's going to reflect, consciously or unconsciously, a lot of what you're experiencing right now in your life.
How are you going to further push cinematic storytelling?
My mom asked me yesterday what I'm doing next, because her friends are asking her, and I got really perturbed. With this just happening now, I really want to be in the moment. I don't want to say too much on the subject because I have a lot of mixed feelings and opinions, very much, at the moment. Coming out of the Bowie film I do feel the need to go in different directions, and to try to continue to push myself.
I think that, up to this film, I haven't challenged myself, and it's quite rewarding to push further and then, ultimately, have what looks like it's going to be my most successful movie. So that's just a means to carry on and keep doing it. But I don't know what that is. I don't think it's going to be in the music space. I think I need to step away for a little bit.
Another of my favorite sequences is Bowie's list of how to deconstruct music and redefine instruments. How were you translating through your own use of the clips?
I don't think one can necessarily articulate how one interprets an oblique strategy. You're not necessarily aware of the impact, that's the design of them. They are designed to go into your subconscious. I had the oblique strategy cards right here next to my terminal. The filmic translation of that, the most overt, was my ability to accept that my mistakes weren't mistakes or happy accidents and to embrace them. That there was this way that I would often arrive at a spontaneous feel simply by not cleaning things up, putting things out there that might not have been by design and then embracing them. Whereas, in a different world I would have been cleaning them up.
So much of Bowie's work is live, even his acting. Have you ever thought about a way of translating your art into live performance?
Yes. That has a lot of interest to me. That's probably the next place I'm going, so yeah, it's funny you touch on it. My next adventures are definitely going to be in creating live interactive experiences. I've been developing some work in that space. I hope to have an announcement in the not-too-distant future.
Moonage Daydream can be seen in theaters and IMAX globally.