Features
The Best Jeff Beck Side Project Tracks and Deep Cuts
Jeff Beck was so well known for being at the forefront of groundbreaking guitar virtuosity, we forget he was also a great support player.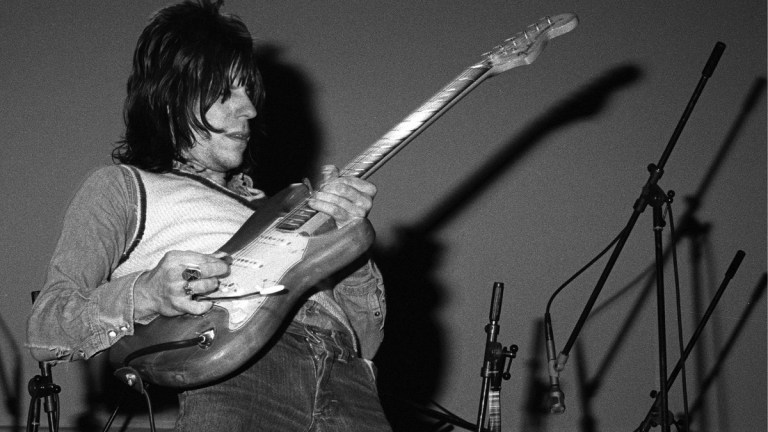 Jeff Beck played his first gigs on a guitar he built himself, plugging in with local bands in the London suburbs from age 13, before honing his craft at Wimbledon School of Art, studying the artistry of rock and roll and rhythm and blues. Beck mixed the virtuosity and speed Les Paul displayed on radio broadcasts, and the heaviness of even the most melodic Gene Vincent records into his own sound. Beck transformed The Yardbirds from blues purists to proto psychedelia pioneers before inventing hard rock on The Jeff Beck Group's 1968 Truth album. A new Jeff Beck Group came out with Rough and Ready, infusing fluid jazz phrasings onto R&B ensemble rhythms.
It's been said Pink Floyd considered asking Beck to join after Syd Barrett left. Beck turned down an invitation to replace Brian Jones in the Rolling Stones for a project with Vanilla Fudge bassist and vocalist Tim Bogert, and drummer and vocalist Carmine Appice. Sidelined by a 1969 car accident and a surprise 1972 hit album from a reunited Jeff Beck Group, power trio Beck, Bogert & Appice's 1973 album, Beck, Bogert & Appice, was a smash. The arrangement for the single, a cover of "Superstition," was custom-written by songwriter Stevie Wonder for Beck to perform.
Beck's back-to-back platinum-selling all-instrumental albums, Blow by Blow (1975) – produced by the Beatles' sonic wizard George Martin – and Wired (1976), plugged into jazz-rock fusion. He showcased his fingerstyle versatility on Guitar Shop (1989). As much a perfectionist as a musically restless soul, none of Jeff Beck's groups ever seemed to last more than 2 years or 2 albums. He was already interested in something new, and different players to mix with.
Beck, who died from bacterial meningitis on Jan. 10 at the age of 78, recently completed a tour supporting 18, his album with Johnny Depp. Beck is featured on two tracks from Ozzy Osbourne's Patient Number 9, which was released on June 24, 2022, making Beck's final official release as a guest instrumentalist.
In his early years, Beck was a studio session player, like Jimmy Page and Elton John, who gigged at Abbey Road Studios, or Glen Campbell and Leon Russell, who were part of the Wrecking Crew in America. Here are some of Beck's best guest sessions.
Screaming Lord Sutch and the Savages – "Dracula's Daughter"/"Come Back Baby" 
The very first session Beck played on was Screaming Lord Sutch and the Savages' single "Dracula's Daughter," backed with "Come Back Baby," for Oriole Records. Before Arthur Brown and Alice Cooper staked claims to shock rock, there was Screaming Lord Sutch, 3rd Earl of Harrow. Of course, before him was Screamin' Jay Hawkins, who originated the look and inspired the stage name. Dressing like Jack the Ripper, emerging on stage from a black coffin, Sutch released horror-themed pop tunes for the "Monster Mash" crowd. Lord Sutch and the Savages' first recordings were done with Jimmy Page on guitar, and Ritchie Blackmore also lent finger work.
On "Dracula's Daughter," Beck's guitar shrieks in the quick opening duet with the screams and other scary special effects before he settles into the sliding menace of his distorted accents. Beck's solo on the hard rocking "Baby Come Back" is electrifying Mod melodics, reminiscent of the Kinks' Dave Davies, but his crunching guitar response lines are well aimed stabs in the dark.
"Smile Suite" – Jeff Beck & Brian Wilson Live at The Paramount Theater Oakland 2013
Beck and Beach Boys founder Brian Wilson rode an interesting wave. A 2013 album collaboration announcement has not yet yielded sides, but Beck accompanied Wilson on an 18-date fall tour that year. While Beck had fun cruising around with the surf guitar leads of Beach Boys' hits, he added majesty to the already majestic "Smile Suite." The choral arrangement, and backing band are impeccable, and Beck's lines are elegant. The entire production, art design, and even the curtains seem to suit him.
"Up to the Mountain"-  Kelly Clarkson
Beck's versatility is as surprising as where he might show up. In 2007, the British guitar god threw Kelly Clarkson a full loaf of street cred while donating his legacy to the "Idol Gives Back" episode of American Idol. Beck's evocative pick work carves a path through the cover of Patty Griffin's "Up to the Mountain" Clarkson can climb unobstructed while admiring the view. The duet is emotionally balanced, Clarkson is in great voice, and it is energized by Beck's blues-infused gospel responses. Recorded live, the performance was immediately monetized.
Stanley Clarke- "Rock 'n Roll Jelly"
While "Hello Jeff" off Stanley Clarke's 1975 Journey to Love album might seem the go-to piece for the two frequent collaborators, name dropping the guest guitarist in the title, "Rock and Roll Jelly" is the more fun listen. Clarke is a brilliant electric and acoustic jazz fusion bassist, best known for teaming with Chick Corea in Return To Forever. On Modern Man's "Rock 'n Roll Jelly," he and drummer Jeff Porcaro teasingly lean in to Beck's sonic territory with a deceptively steady heavy rock bottom. "Jamaican Boy" from Clarke's 1979 album I Wanna Play For You, is also an unexpected treasure, hearing Clarke and Beck explore reggae on a record with George Duke, Stan Getz, and Freddie Hubbard.
Mick Jagger – "Lucky in Love"
Beck played on both Mick Jagger's first solo albums. For She's the Boss, recorded after The Rolling Stones' 1983 album Undercover, he shared guitar duties with Pete Townshend and Carlos Alomar. Beck plays lead guitar on "Lonely at the Top," "Running Out of Luck," "Hard Woman," "She's the Boss," and acoustic guitar on "Just Another Night," the hit of the album. But the best guitar work is on "Lucky in Love." Beck squeezes Keith Richards, Mick Taylor, and even Ron Woods' stringular essence into each line. Looking for more uniformity in his second solo album, Primitive Cool, Jagger hired Beck as the regular session guitarist.
Tina Turner – "Private Dancer"
"Private Dancer" is one of legendary vocalist Tina Turner's most recognizable of signature hits. So instantly iconic, the album was named after it. But the clipped strokes of Beck's palmed funk licks is the subtle seduction which keeps it warm under the covers. The solo comes directly after Turner defiantly rasps her upper range on a climactic bridge, and the entire band hushes to a piano crawl before Beck's subtly sustained blue notes ring down. Beck's tonality does a balletic spin to the upper reaches of the fretboard before pirouetting into a perfect finish, sadly crowded out by the symphonic resolution chord.
Mark Knopfler of the band Dire Straits, who wrote "Private Dancer," is on record as saying he is not a fan of the solo. He should listen to Beck rip through the lead on "Steel Claw" from the same album. It is the other side of the spectrum, sounding like Vernon Reid before Living Colour broke through.
Rod Stewart – "Infatuation"
The Beck/Stewart repertoire runs deep with classics, but all those great pairings like "I Ain't Superstitious" and their cover of Curtis Mayfield's "People Get Ready" were Jeff Beck projects. Written by Stewart with Duane Hitchings and Rowland Robinson of The New Cactus Band, "Infatuation" was the first time Beck ever appeared on one of Rod's solo albums. It was the first time they'd worked together since The Jeff Beck Group broke up 15 years earlier. The aggressive and sneering solo, not even the song itself, may be the best moment on Stewart's Camouflage album. By all accounts, he wasn't very interested in the project, he just dropped a bunch of tapes in a producer's lap, and popped off to play soccer.
Kate Bush – "You're The One"
Kate Bush's 1993 album The Red Shoes was her most commercially accessible, and she didn't care who knew. The more the merrier. Each track featured a celebrated cameo player. Guest guitarists included Eric Clapton and Pink Floyd's David Gilmour. Prince rearranged the ballad "Why Should I Love You" into an up-tempo dance track, adding keyboards, guitar solos, and bass. The album closes on "You're The One," with Beck's extended solo tensely nudging Bush to cathartic release, while Procol Harum's Gary Brooker slips a light fandango into the Hans Christian Andersen musical adaptation using just a Hammond organ.
David Bowie – "The Jean Genie"/"Twist and Shout" and "Round & Round"
One more reason to love Director Brett Morgen's Moonage Daydream is because it unleashed the July 1973 performance at London's Hammersmith Odeon with Beck on guitar. The footage was removed from the 1983 documentary Ziggy Stardust & The Spiders From Mars at Beck's request, and has only been seen on low-grade bootlegs. Morgen and his sound production team clean up the mix. Beck joined David Bowie onstage to perform "The Jean Genie"/"Love Me Do" and "Around and Around," and he drives those songs with the pure locomotion of aural devotion.
John McLaughlin – "Django" 
"Django," written by John Lewis, off John McLaughlin's 1995 Verve Records release The Promise, is the most aspirationally elevating duet caught on tape. McLaughlin, best known for founding the Mahavishnu Orchestra, is a pioneer of jazz fusion, Indian and Western classical music, and blues. He backed Miles Davis when he went electric on the jazz fusion albums In a Silent Way, Bitches Brew, Jack Johnson, and On the Corner. Blanketed by lush jazz dramatic of loose bass and drums, alternating with tight blues with odd measures, the guitar runs are flawless, frighteningly fast as they careen through modalities like skipping rope. The way the two masters weave through each other's strings feels like watching two expert athletes having fun on a soccer field.
Roger Waters – Amused to Death
Amused to Death, the third studio record by Pink Floyd's Roger Waters, is a concept album inspired by Neil Postman's 1985 book Amusing Ourselves to Death. To say it's a scream is like saying Edvard Munch's 1893 still life of unstable living is a moment of quiet desperation, the English way, on a bridge. Waters had had quite enough of that, thanks for the cigar. Beck's stellar guitar is a highlight of an overall brilliant work of enthusiastic cynicism. Waters lets Beck take center stage from the opening track "The Ballad of Bill Hubbard," as the guitarist squeezes into the keyboards, orchestral synths, and atmospheric effects.
Beck's solo on "What God Wants, Part III" is as heartbreaking as his lead in "Part I" is infuriating. Jeff plays to the emotional character of the songs. He accompanies himself on sustained harmonics, pumping melodies through the whammy bar. The solo in "Three Wishes" is flawless. "It's A Miracle" reveals the divine will of pain with every callous-piercing bend of a string.
The Yardbirds – "Heart Full of Soul"
While this may seem like an overt ploy to slip the Yardbirds on the playlist, "Heart Full of Soul" recorded in April 1965, was Beck's first recording session with the group, and it could very well have been just a session. When Eric Clapton dropped out of the Yardbirds to play with the Bluesbreakers, he suggested Jimmy Page fill in. The future Led Zeppelin founder recommended Beck, who played his first gig with the group two days after Clapton left. Beck defines the song, and the group dynamic, from the introductory vibrato on the buzzing strings. Controlling the reverb, feedback, sustain, and distortion, Beck's fuzzed-out guitar riff flirts with Indian music-semitones while keeping the rock just this side of the blues.
We have the full playlist (well, of all the ones available on Spotify) here.