News
Cobra Kai Season 4: Can Daniel and Johnny Make Amends?
Will the 37-year feud between Daniel LaRusso and Johnny Lawrence finally be resolved by their common enemy in Cobra Kai season 4?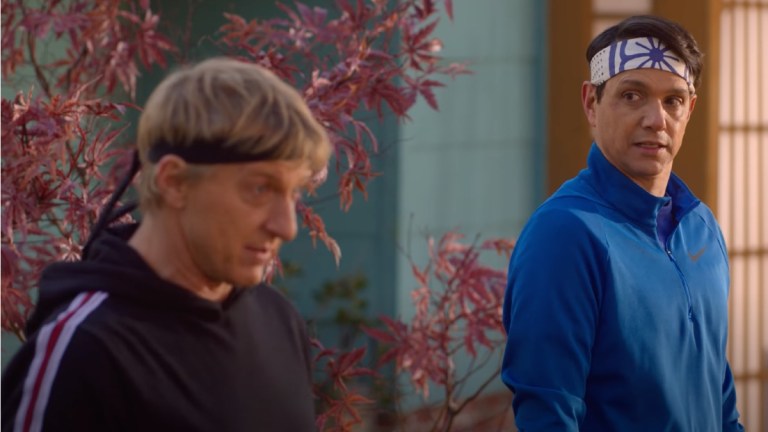 Aristotle said, "A common danger unites even the bitterest enemies." In the upcoming season 4 of Cobra Kai, Daniel LaRusso (Ralph Macchio) and Johnny Lawrence (William Zabka) may finally bury the hatchet, or the axe kick, in their battle to save the valley from Cobra Kai's villainous Sensei Kreese (Martin Kove). During Netflix's global fan event, TUDUM, the latest sneak peek at Cobra Kai revealed a few clues about where season 4 might go. The next season of the breakout reboot hit premieres on December 31 so fans can nurse their New Year's Eve hangovers with a Karate Kid binge.  
"Many of us used to be enemies, but rivalries don't last forever," claims Daniel-san at the start of the new teaser. We knew at the end of season 3 that the Miyagi-Do Dojo was going to unite with the Eagle Fang Dojo in hopes that their combined forces will be enough to defeat Cobra Kai. Daniel delivered his questionably legal crane kick to Johnny's face at the 1984 All Valley Karate Tournament in the original film The Karate Kid. Cobra Kai has been masterfully tucking its Easter eggs in plain sight throughout the series and for season 4 has set this as the arena for the next clash between the Valley's rival Dojos.
Throughout season 3, Daniel and Johnny tested a truce, first in episode 2 when they fight side-by-side in search of Robby (Tanner Buchanan) and again towards the end when they have dinner together with Ali (Elizabeth Shue) at the Encino Oaks Country Club. From those interactions, Daniel and Johnny established that they can be frenemies, setting up the ultimate 'buddy film' chemistry for the upcoming season. Already in the teaser, the inevitable conflict between Miyagi-Do and Eagle Fang tactics are playing out on comic proportions.
The new teaser also reiterates the return of Terry Silver (Thomas Ian Griffith), the original owner of the Cobra Kai Dojo and sponsor of the 1985 All Valley Tournament. This was foreshadowed in season 3 with a well-played red herring in the Kreese Vietnam flashback arc with Ponytail (Seth Kemp). Just like Steven Seagal, Silver is known for his ponytail, but in 'Nam flashback, young Silver (Nick Marini) had yet to adopt the hairstyle affectation. Now we know it is in honor of his fallen comrade. Last May, in the wake of season 3, Netflix released the teaser "Terry Silver Returns", which also focused on that signature ponytail. 
Silver levels up Cobra Kai even more. He taught Daniel in Karate Kid Part III as a ruse, setting him up to fall at the All Valley Karate Tournament against 'Karate's Bad Boy' Mike Barnes (Sean Kanan). Unlike most of the original Karate Kid cinematic cast, Griffith and Kanan were genuine martial arts masters prior to joining the franchise. The real question here is whether Barnes reappears in season 4.
The other tantalizing clue in the new teaser is Kreese annoying Amanda (Courtney Henggeler). She has been the voice of reason throughout Cobra Kai, a strangely sober counterpoint to her husband Daniel despite all the wine she drinks. However, Kreese has managed to get under her skin in season 3. As a master manipulator, he has learned how to push Amanda's buttons, triggering her mama bear instincts when it comes to protecting Sam (Mary Mouser) and making her do something rash and regrettable.
Whatever may come in season 4, we know it's not the end. Cobra Kai season 5 is starting production in Atlanta this fall. 
Cobra Kai season 4 comes to Netflix on December 31, 2021.