News
Cobra Kai Showrunners Surprised the Emmys Consider the Show a Comedy
Netflix's Cobra Kai recently earned an Emmy nomination for Outstanding Comedy, but is the series really a comedy?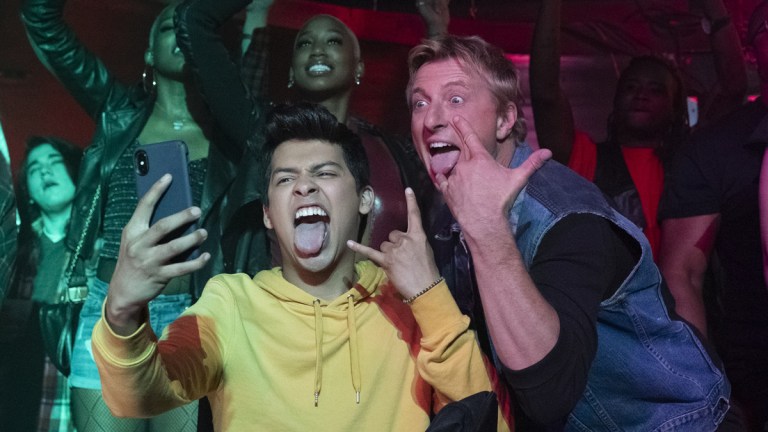 Cobra Kai was already no stranger to the Television Academy's Emmy Awards, having been nominated in previous years for its karate-centric stunts. However, the recently announced list of nominees for the 73rd annual Emmy Awards yielded the richest prospective accolade yet, a nomination for Outstanding Comedy Series. While the nod is clear mainstream validation for the unlikely Netflix-migrated franchise revival series, it does seem like an odd designation to the creative team of Josh Heald, Jon Hurwitz and Hayden Schlossberg, who don't even consider the series a comedy.
The question of whether or not Cobra Kai is accurately categorized as a comedy is subjective, especially since the series operates as a drama—albeit bountifully buoyed by moments of comic relief and quixotic absurdity in certain characters. Yet, those comedic elements were necessary, since being a sequel to The Karate Kid movies—dramas, but a collective embodiment of the over-the-top 1980s—initially suggested an ingrained, drama-detracting campiness that needed to be confronted. However, as Heald explains to THR, the comedy label is nevertheless surprising, considering the action and pathos packed into the series, and it might minimize the achievements of the actual comedies nominated.
"We went into Emmy-nomination morning without expectations that we would get nominated for best comedy series," says Heald. "First of all, our show is a mix of so many genres. We are up for consideration as a comedy by virtue of our half-hour-ish running time. And there's plenty of comedy in the show, but it's not a standard comedy, so it's hard for us to look at the landscape of other comedies and come in with expectations of 'We should be exalted because this is the funniest thing in the world.' We are three comedy writers who are doing something that is the least joke-driven writing experience yet for us."
The surprise category nod for Outstanding Comedy Series saw Netflix's Cobra Kai joined by Black-ish (ABC), Emily in Paris (Netflix), Hacks (HBO Max), The Flight Attendant (HBO Max), The Kominsky Method (Netflix), Pen15 (Hulu), and Ted Lasso (Apple TV+). Indeed, with half-hour dramas remaining a rarity in the television landscape, the comedy categorization likely boils down to, as Heald implies, the Television Academy's desire for apples-to-apples competition between shows with a similar runtime. Yet, one could argue that it could also be attributed to today's altered state of television comedies, in which the age-old concept of the weekly network sitcom is floundering in the face of bingeable streaming offerings, which often take advantage of being outside the censorship grasp of the FCC to showcase more mature themes and adult-aimed content. Indeed, notwithstanding Black-ish (the only proper sitcom in the group,) or the sanguine Ted Lasso, there are substantial arguments to make for all of the nominees to be considered dramas, at least in their own unique ways.
"We really were watching the nominations hoping that there were some breakthrough nominations in other categories," recalls Heald. "We're thrilled our sound department got a couple of big ones because, man, do they do a lot of work. And our stunt team. We were thrilled every year that they got recognized because they go through quite a bit to put what they put on the screen, and working with the actors, and getting into a place where it looks pretty seamless and pretty impressive given time constraints, budget, production schedule and everything else."
This year's Emmy announcement saw the three-season-deep Cobra Kai's big Outstanding Comedy Series acknowledgement complemented by breakthrough nods for the esoteric categories of "Outstanding Sound Editing for a Comedy or Drama Series (Half-Hour) and Animation" and "Outstanding Sound Mixing for a Comedy or Drama Series (Half-Hour) and Animation," and one for stunts in a category that now bears the name, "Outstanding Stunt Performance." Interestingly, the show's nomination in the latter category actually showcases a potentially-indicative erasure of the comedy label, with which the show has long been affixed by the Academy. Indeed, its 2018 and 2019 stunt nominations—for Seasons 1 and 2, respectively—were each for the broad category of "Outstanding Stunt Coordination for a Comedy Series or a Variety Program." However, the curious comedy designation obviously remains for the other nods. Of course, that is not to say that Heald is ungrateful.
"[W]e've never had a chip on our shoulders of like, 'They're never going to nominate us, and we're the best show in the world,'" explains Heald. "We went into that morning with eyes wide open and always hoping that you get someone giving you a pat on the back and saying, 'Hey, well done.' It's all meaningful to us that the show is connecting and landing with people."
Regardless, the buzz-worthy Cobra Kai is riding an unprecedented wave of momentum as it heads towards its fourth season, which will be the second frame of the former YouTube Premium series to premiere exclusively on its new home of Netflix. The series recently enticed fans with the hyped return of The Karate Kid Part III villain Terry Silver, and a brief teaser trailer, which revealed a release window set for this December.