News
Cobra Kai Season 4 Trailer Teases Tournament Showdown for December
Cobra Kai Season 4 sets a December premiere in an action-packed new teaser highlighting a climactic tournament tussle.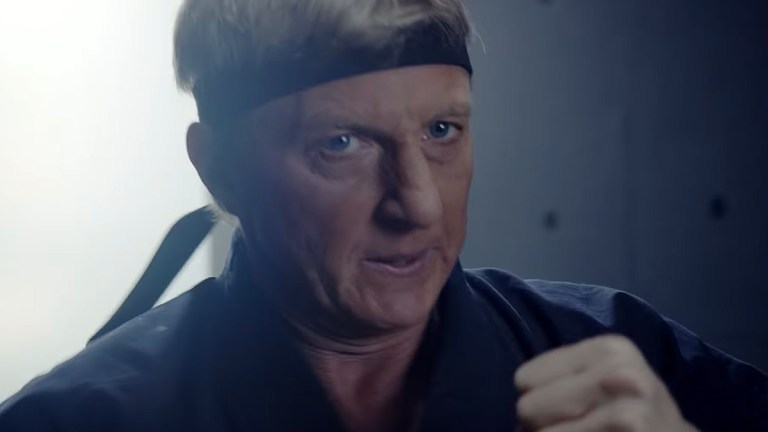 A sneak preview of Cobra Kai's upcoming fourth season has arrived in the form of a teaser trailer and the reveal of an imminently clarified December release date. The series has certainly come a long way from its initial launch on a streaming platform no one watched to its current chart-topping heights on Netflix, as exemplified by its recent Emmy nomination for Outstanding Comedy Series. However, contrary to the Television Academy's designation, there's nothing funny about the new teaser, which may be brief, but is packed with intense revelations.
While the teaser trailer for the December-set Cobra Kai Season 4 kicks off with high-impact hero shots of our main characters—notably Johnny's son and Daniel's former protégé, Robby Keene (Tanner Buchanan), in his new Cobra Kai duds—the clip quickly flashes to a montage of blink-and-you-miss-it scenes. They, of course, shed light on the cliffhanger moments of Season 3, in which the proverbial gauntlet was thrown for a loser-leaves-town contest set for the next All Valley Under 18 Karate Tournament between John Kreese's Cobra Kai against the newly-merged alliance of Daniel LaRusso's Miyagi-Do and Johnny Lawrence's Eagle Fang. Indeed, the teaser's imagery showcases some tough training by the respective dojos.
Netflix's official fourth season synopsis for Cobra Kai teases tumult in the lead-up to the climactic proving ground, stating that, "Samantha and Miguel try to maintain the dojo alliance and Robby goes all in at Cobra Kai, the fate of the Valley has never been more precarious. What tricks does Kreese have up his sleeve? Can Daniel and Johnny bury their decades-long hatchet to defeat Kreese? Or will Cobra Kai become the face of karate in the valley?"
With that set, let's break down what the trailer reveals!
The All Valley Karate Tournament Returns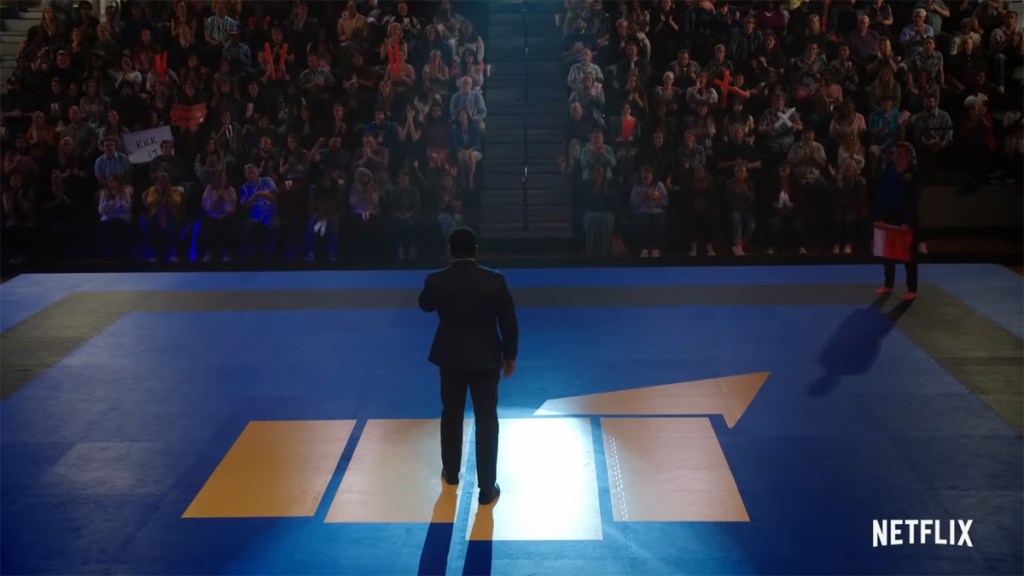 There's no mistaking the familiar fist of the All Valley Under 18 Karate Tournament, as displayed in iconic fashion in 1984's The Karate Kid (and 1989's The Karate Kid Part III) and revived on Cobra Kai's 2018 inaugural season. Tellingly, an announcer standing in the middle of said fist stands before what appears to be a packed crowd, seemingly indicating that interest in this particular tournament—probably as word of the dojo challenge reached the public—will be at a fever pitch.
Daniel Teaches Miguel Miyagi's Kata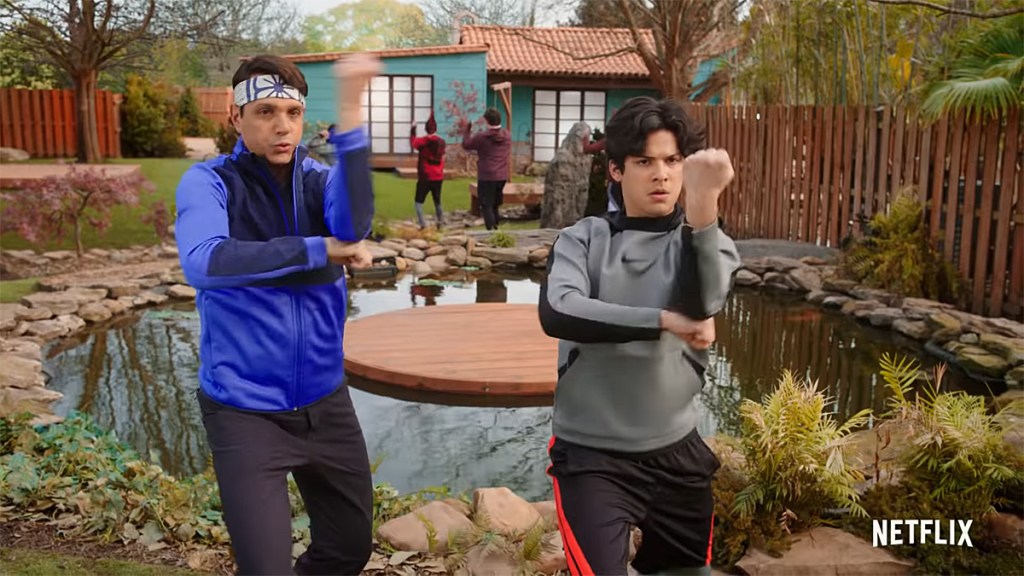 We see Daniel working one-on-one with Johnny's student, Miguel Diaz (Xolo Maridueña), performing a kata. One of the primary methods of the late Mr. Miyagi's teaching style—at least, once you move past waxing cars and painting houses—kata (the Japanese word for "form,") has the practitioner execute a choreographed set of moves. As the kata acts out an imaginary battle, it also teaches muscle memory, provides mental clarity and even the art of unity when simultaneously performed by an entire class.
Pertinently, Daniel's kata warm-up—showcased previously on the show—was criticized (after an initial compliment) in The Karate Kid Part III by villain Terry Silver, who makes his heralded return to the franchise this season. Yet, said kata ended up being the psychologically-vexing method with which Daniel dispatched Silver's paid ringer opponent, Mike Barnes (Sean Kanan), in that film's tournament. With Kanan long-rumored for a Cobra Kai return, could the kata lesson foreshadow the arrival of Barnes?
A Fateful Fist Bump?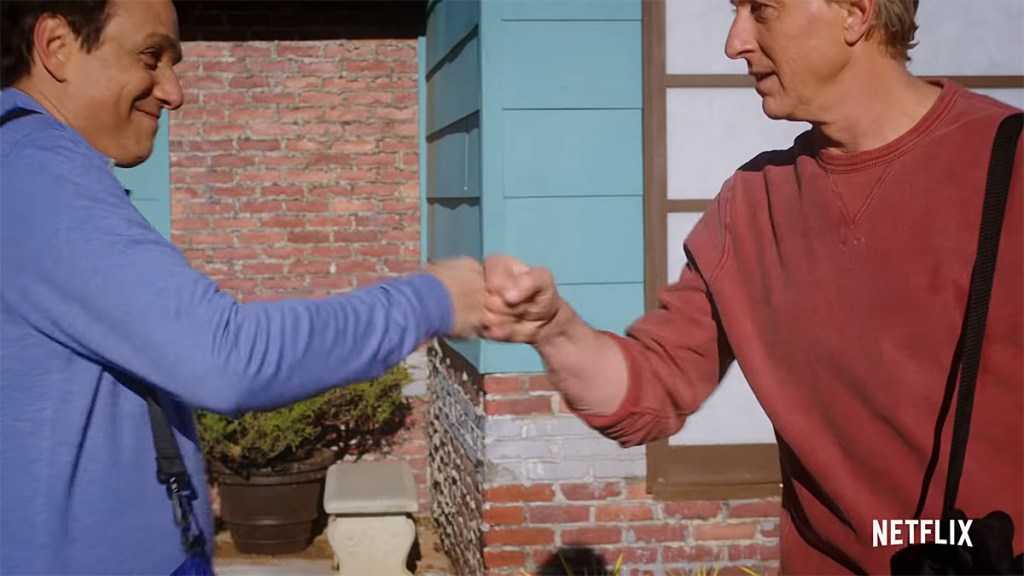 Of course, we already witnessed decades of enmity from the first Karate Kid finally put aside between Daniel and Johnny in their climactic Season 3 act of combining their dojos for the tournament challenge. Yet, this image of the former enemies engaging in a reluctant-but-solid fist bump is an auspicious sign for their effort.
Tough Love at the Cobra Kai Dojo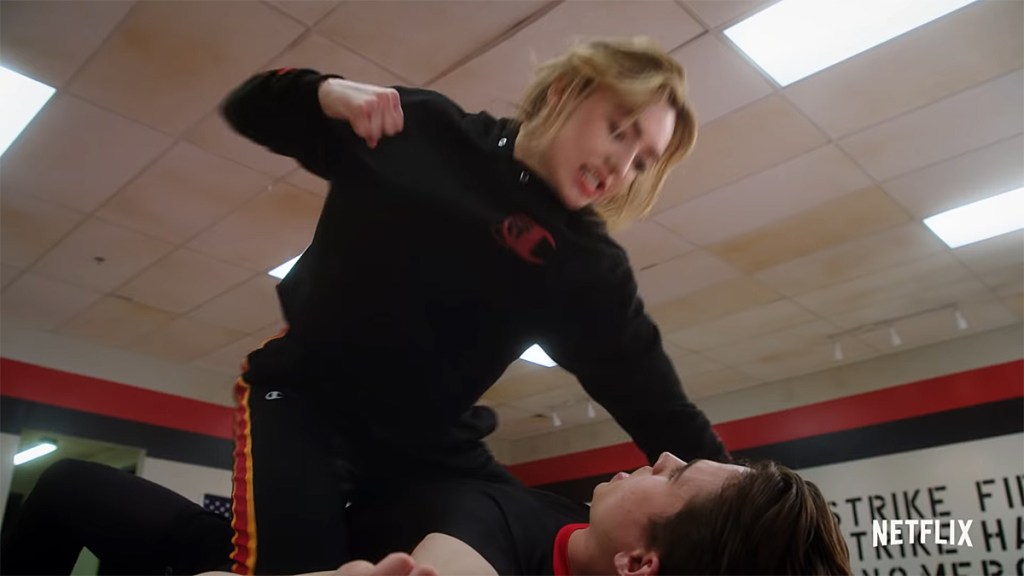 Robby's consequential climactic Season 3 choice to side with Kreese—even against his own father—in the hyped Tournament Challenge has set up a scrambled series dynamic. However, it will also further facilitate his romantic chemistry with fellow Cobra Kai devotee Tory Nichols (Peyton List), whose unmitigated anger was explained by a rough situation at home in which the high-schooler has been forced to become her family's primary breadwinner. Indeed, the sexual tension is rife in the training session shown in this image, in which Tory has mounted Robby, ready to rain down punches.
Samantha Practices a Bit of Parkour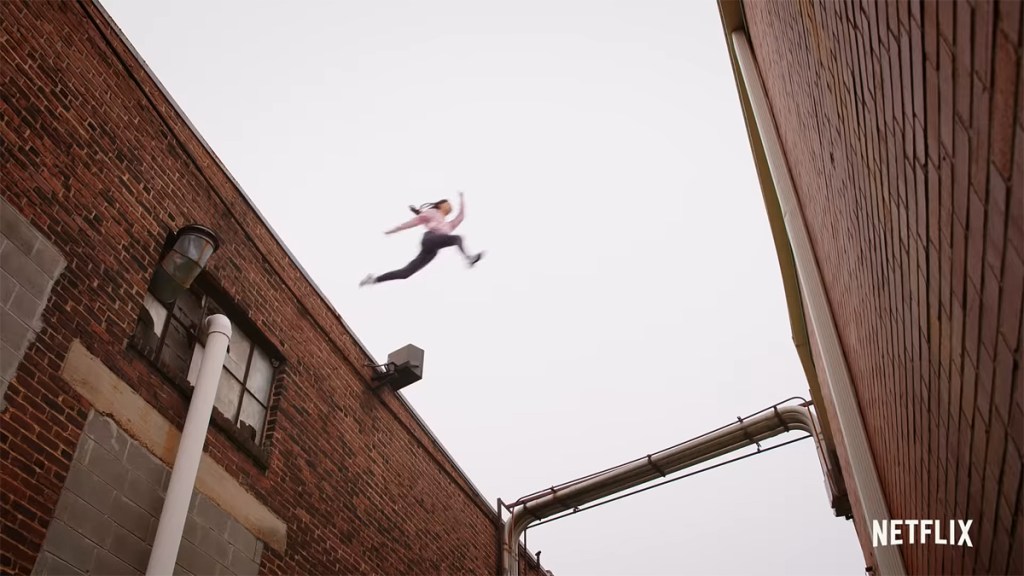 Daniel's daughter, and the show's love-triangle fulcrum, Samantha LaRusso (Mary Mouser) is shown jumping off a rooftop. Barring the possibility of this being an abruptly bleak endpoint for her arc, one must assume she's attempting a dauntingly dangerous hop over to the next building. It will certainly be interesting to learn the context behind this scene.
Johnny Breaks Blocks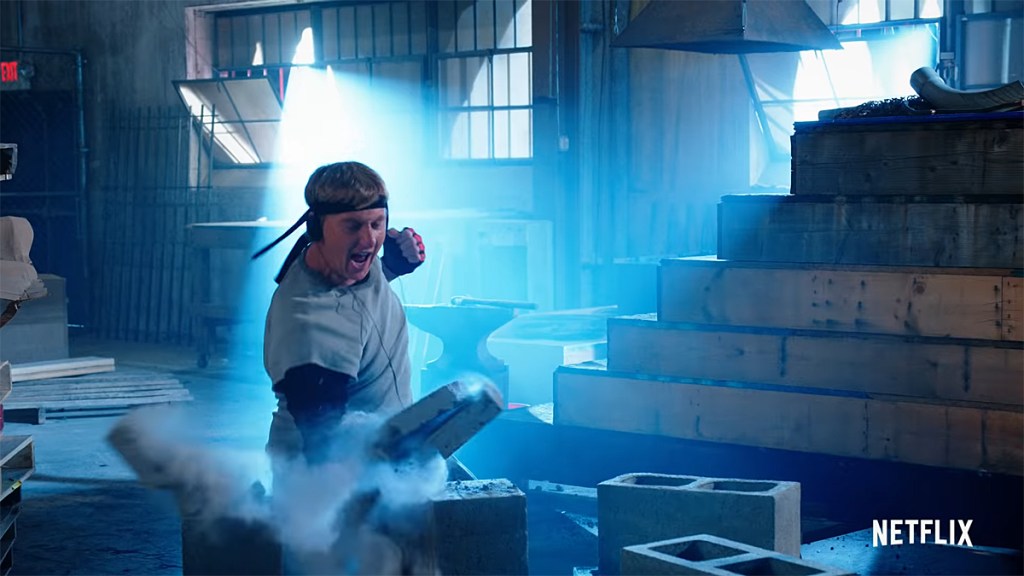 Johnny has apparently taken up the hobby of letting off steam in an empty warehouse, in which he can be seen smashing a cinder block. Along with his signature black headband, he seems to be sporting headphones connected via wire to an obscured device that, knowing Johnny, is likely to be a cassette Walkman.
Terry Silver's Ponytail is Prepared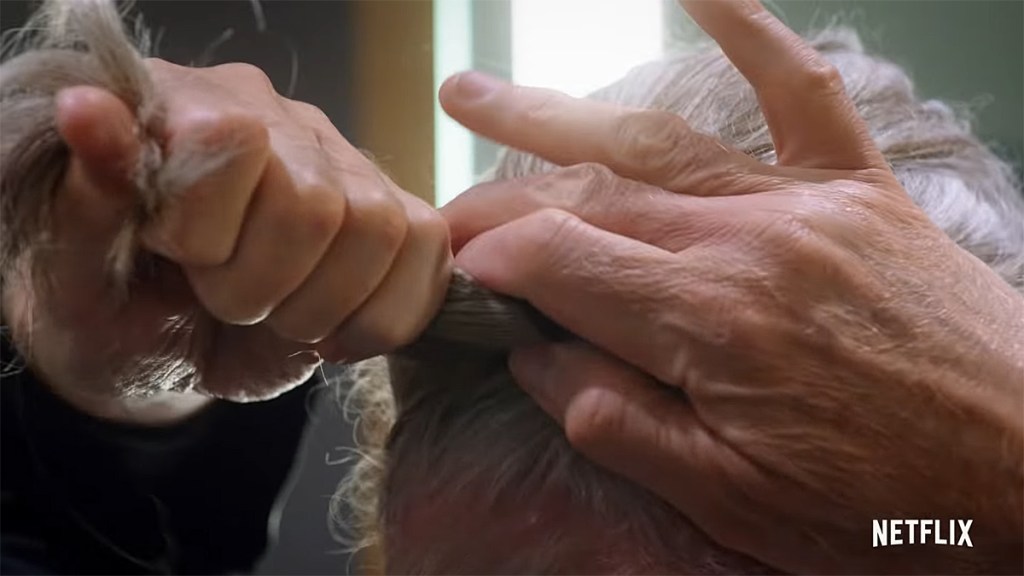 Finally, we have another glimpse at the show's ominous newcomer. Of course, Cobra Kai Season 4 fired its first shot across the bow this past May by teasing the imminent arrival of The Karate Kid Part III's master manipulator himself, Terry Silver (Thomas Ian Griffith). While not represented substantially in the new teaser, the wealthy industrialist, creator of the dubious "Quicksilver" method of karate and John Kreese's old army buddy—seen in Season 3's Vietnam War flashbacks as Twig (Nick Marini)—did manage to sneak into the fray. Indeed, the revelatory montage has an emphatic punctuation with the tying of an identifiable ponytail that, while turned from black to gray, remains Silver's signature attribute. As the Season 3 flashbacks implied, it's a style that Silver adapted as a tribute to a fallen comrade.
Cobra Kai Season 4 is scheduled to hit Netflix this December on a date to be revealed.