Features
25 Best Sports TV Shows: Cobra Kai, Ted Lasso, and More
With the arrival of Ted Lasso season 2, it's time to honor the best sports shows that TV has to offer.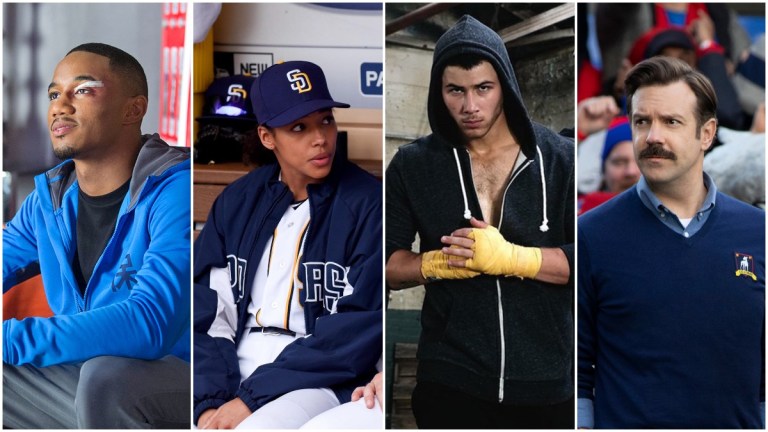 Sports stories have traditionally belonged to the movies. Something about the rhythms of competition, in which an athlete or team trains, plays, and then either wins or loses, is a natural fit for the film world's three act structure.
Television, with its multiple episodes and seasons, is often more discursive and therefore less viable for truly great sports stories. Thankfully, that all seems poised to change. While some sports TV shows have found success in the past, now the medium has really kicked things up a notch. Sports stories like Brockmire, Ted Lasso, Cobra Kai, and more are not only welcome on television, but an essential part of the cable and streaming landscape.
With that in mind, it's high time we pay homage to TV's great sports programs. What follows is a list of 25 of the best sports TV shows of all time, hand selected by Den of Geek (i.e. me: the arms-crossed weirdo in the picture at the bottom of this article).
It's important to keep in mind that these are the best scripted sports TV shows. Television is, of course, no stranger to live sports and the various programs that surround them. Consider these unscripted American sports shows as honorable mentions: Hard Knocks, Last Chance U, Ken Burns' Baseball, The Last Dance (and most other 30-for-30s), Cheer, Inside the NBA.
Enough of the undercard, now onto the main event.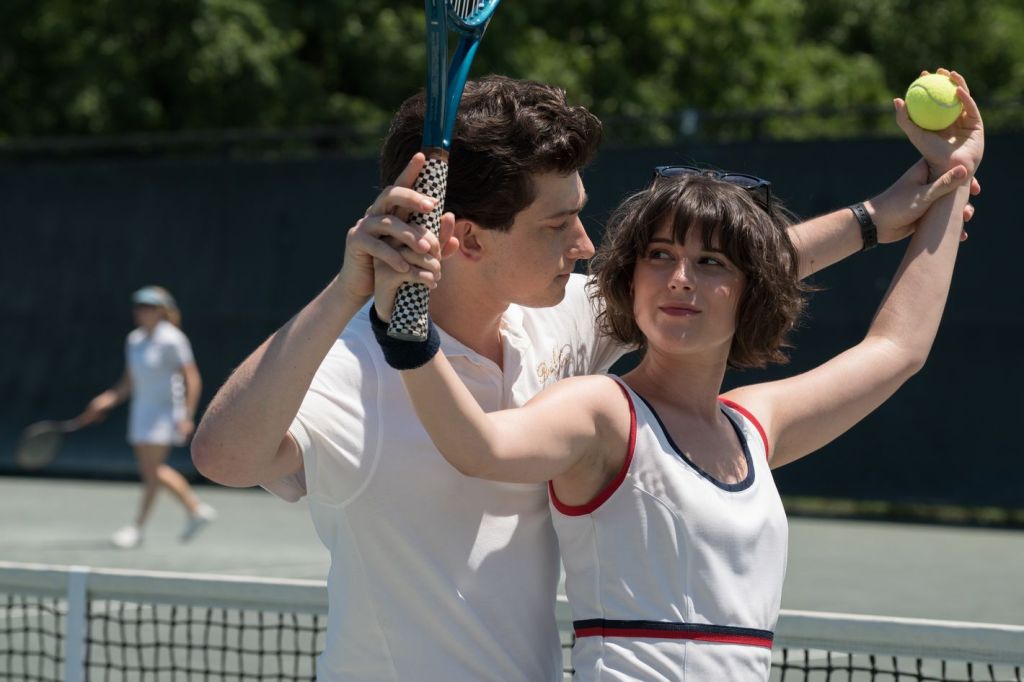 25. Red Oaks
Amazon Prime's Red Oaks examines the bougie tennis lifestyle of the 1980s. It all comes through the lens of David Myers (Craig Roberts), a college student looking to pick up some cash by taking a summer job at an upscale Jewish country club in New Jersey. Sports stories and coming-of-age stories fit particularly well because the end goal of each one is usually growth. It's hard to say whether David grows during his time at Red Oaks, but he certainly changes over the series' three seasons.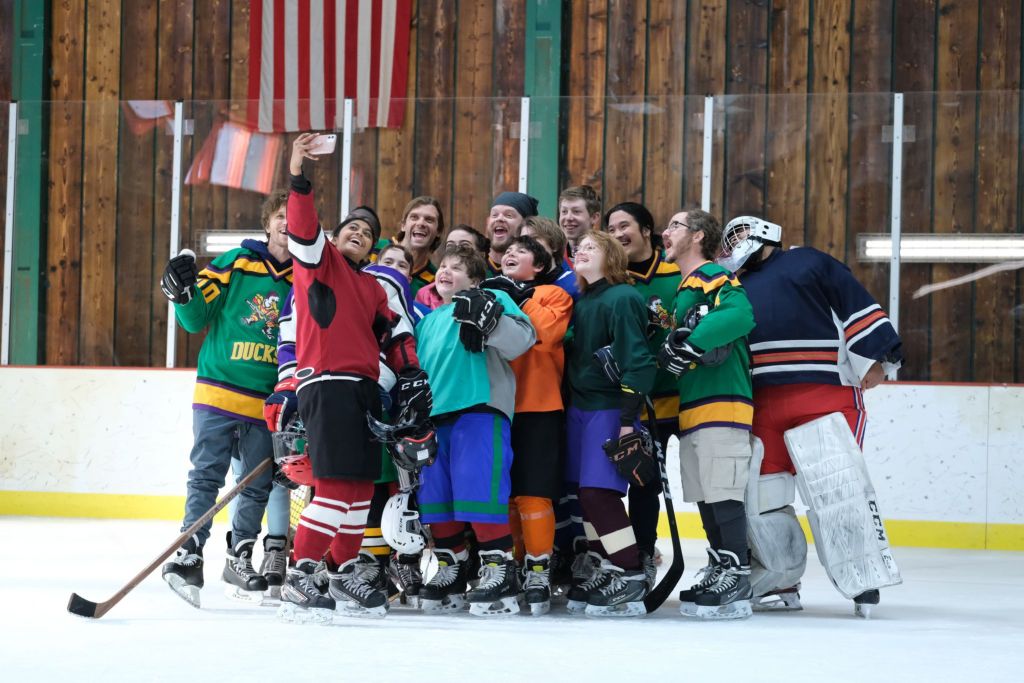 24. The Mighty Ducks: Game Changers
A TV show based on Disney sports movie behemoth franchise The Mighty Ducks was all but an inevitability, particularly when the major conglomerate secured its own streamer in Disney+. We're all lucky then that The Mighty Ducks: Game Changers turned out to be quite good rather than completely perfunctory. The show is bold enough to recast its Ducks' franchise as the villains and to rally around the radical idea that youth sports should be fun.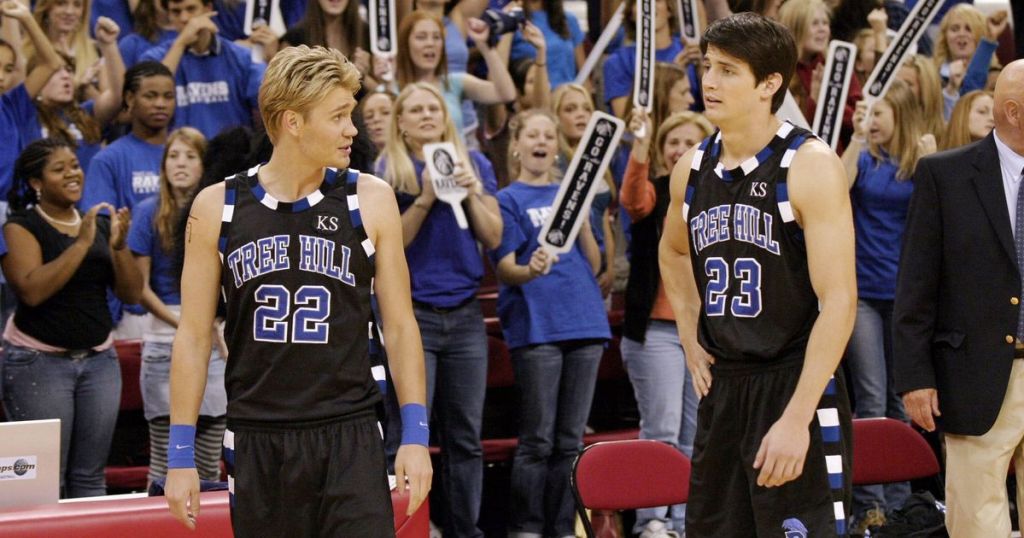 23. One Tree Hill
At first glance, One Tree Hill doesn't seem too different from the other teen shows of its era on The CW (though The CW was still "The WB" for One Tree Hill's first two seasons). It's about high schoolers in a small town, doing high school things. Where One Tree Hill excels (at least in its early, still high school seasons) is the introduction of basketball as a storytelling crutch. Half brothers Lucas (Chad Michael Murray) and Nathan Scott (James Lafferty) have a turbulent enough relationship to begin with. What better way to contextualize that relationship than through the high stakes lens of high school basketball?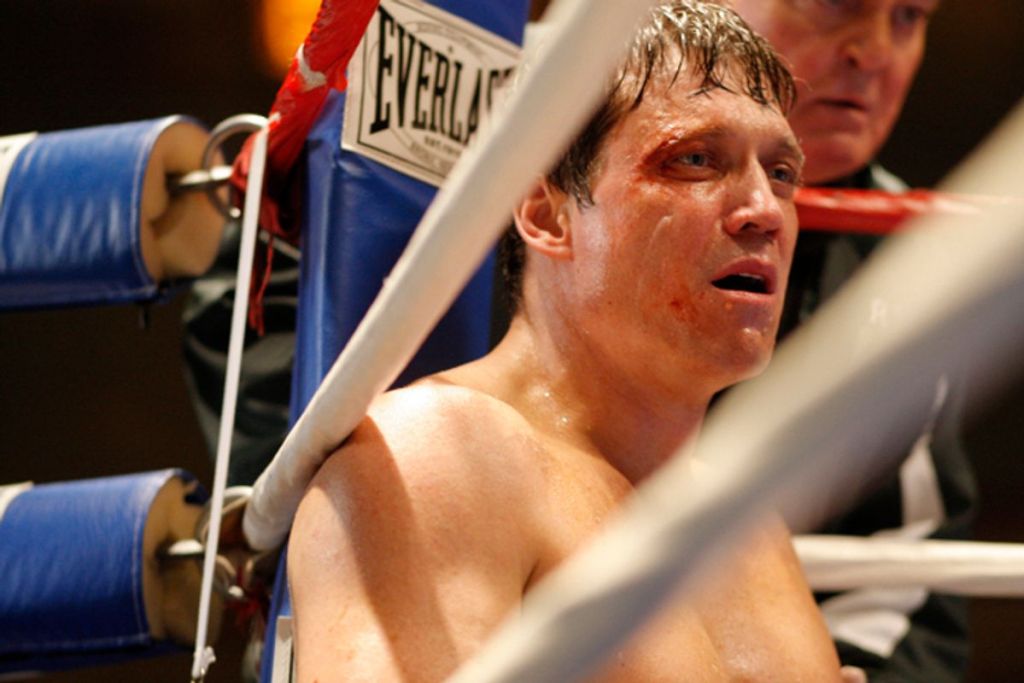 22. Lights Out
Not to be confused with the 2016 horror film of the same name, Lights Out is a boxing series from FX that ran for one excellent season in 2011. Holt McCallany (best known now as Agent Bill Tench on Mindhunter) stars as retired heavyweight champion Patrick "Lights" Leary. Despite displaying signs of neurological trauma from his career, Lights can't help but want to return to the ring for one more shot of glory (and to pay off his family's many debts). Lights Out is a sad, elegiac little story about how one man who sees a sport that broke his brain as the only realistic option for success.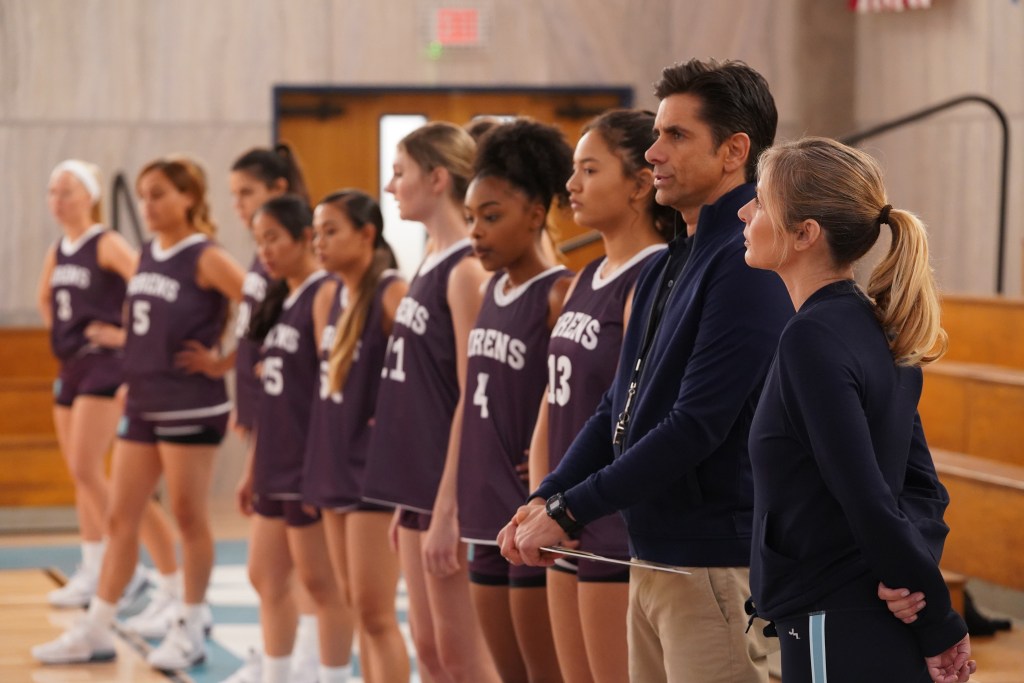 21. Big Shot
Big Shot premiered shortly after its bigger-named Disney+ cousin The Mighty Ducks: Game Changers. And while Game Changers made a slightly bigger splash, Big Shot might be the better sports show. The story follows Marvyn Korn (John Stamos), a tempermental basketball coach who ends up at an elite all-girls prep school to shepherd its basketball program. Big Shot runs through all the tried and true tropes and beats of sports stories and does so with aplomb. Consider it Hardball meets Hoosiers with plenty of Stamos charm.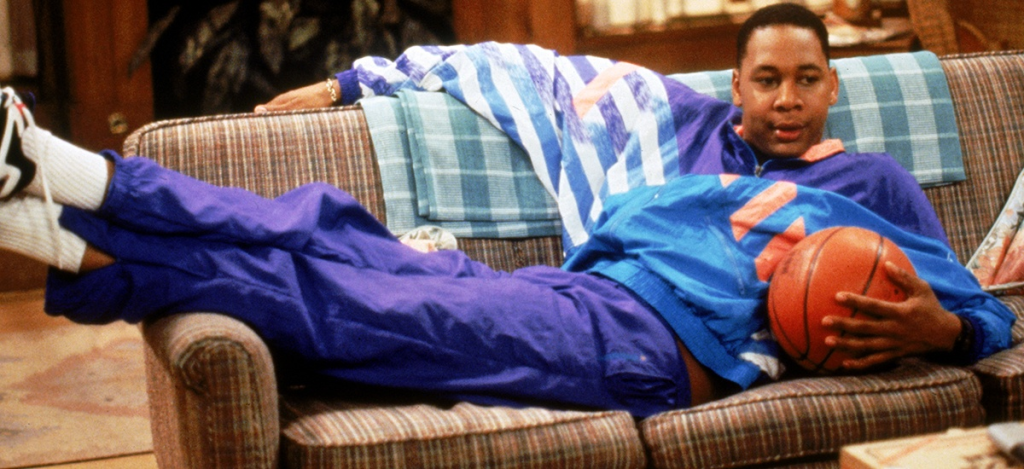 20. Hangin' with Mr. Cooper
Sports are somewhat incidental to Hangin' with Mr. Cooper's mission. Sure, lead character Mr. Cooper (Mark Curry) is a former Golden State Warriors basketball player turned PE teacher. But like its TGIF programming block peers, this show is a charming hangout comedy with few lasting conflicts to speak of. Still, you don't spend that much time in a gym without some three-pointers and lay-ups.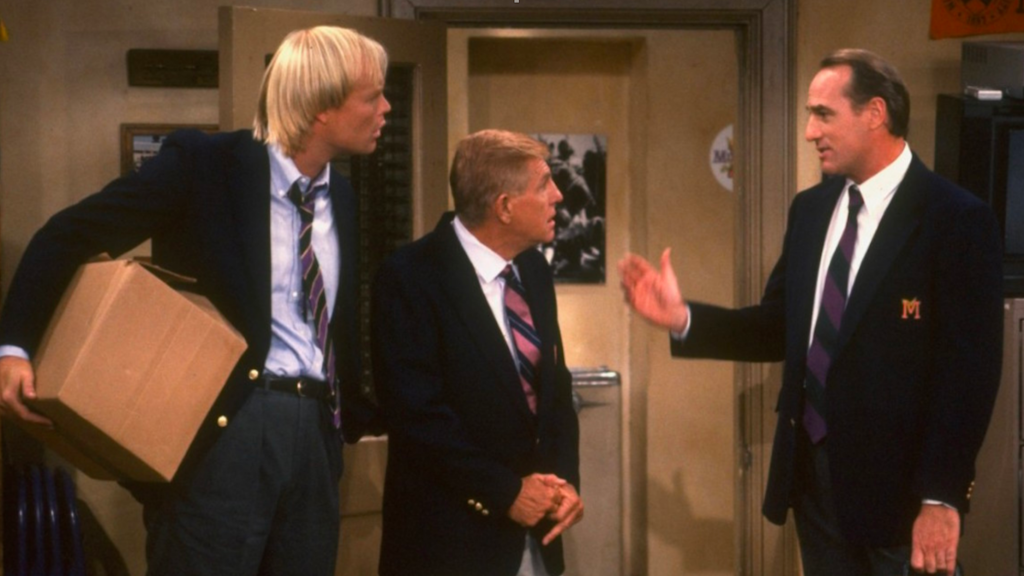 19. Coach
Before Craig T. Nelson was Mr. Incredible (or made this truly amazing televised statement), he was best known for portraying the title role in '90s ABC sitcom Coach. In fact, many of our archetypical perceptions of what makes a football coach likely come from Nelson's portrayal of Coach Hayden Fox (who first coached for a fictional NCAA football team and later an NFL one). This is a man whose skill at molding young athletes belies his lack of skill at…well, everything else. Ultimately, Coach is a worthwhile multiseason experience in which a grown man grows up.
18. Kingdom
Kingdom is probably the best sports TV show that you've never heard of. Don't worry, it's not your fault. That's just the kind of thing that happens when a show is damned to languish on AT&T's ludicrous "Audience Network". Kingdom is set in an MMA gym and captures all the drama provided in the heightened world of mixed martial arts combat. The show is blessed with some great characters and an even better cast. Frank Grillo (Captain America's most annoying foe, Brock Rumlow), Kiele Sanchez (Lost), Matt Lauria (Friday Night Lights), Jonathan Tucker, (Justified) and Nick Jonas (yes, that Nick Jonas) all make their mark on the series.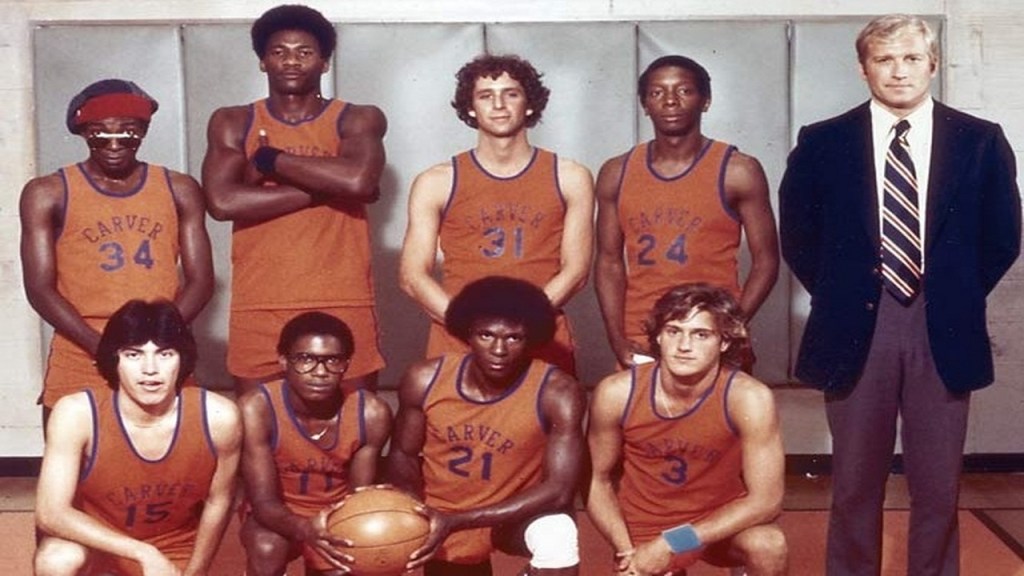 17. The White Shadow
Premiering in 1978, CBS's The White Shadow was uncommonly progressive for its time. The series follows Ken Reeves (Ken Howard), a white NBA player who retires after a knee injury and elects to take up coaching at Carver High School in South Central Los Angeles. Coach Reeves's team is made up primarily of Black and Hispanic players and the show deals with the social ills of life in the inner city. It's also quite funny and charming and features a commitment to realistic basketball scenes.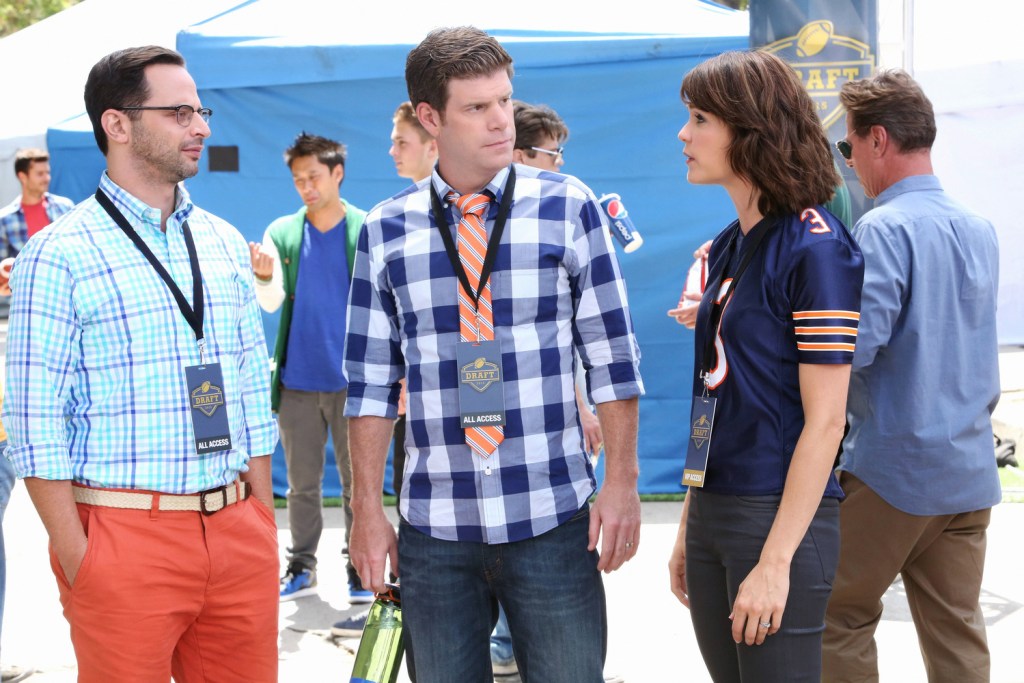 16. The League
FX comedy The League works as a sports show (and as a TV show in general) because it has a deep understanding of sports from a fan's perspective. Sure, fans watch collegiate and professional sports to marvel at the athleticism, training, and skill on display. But more importantly, they watch sports to have something to talk about with their friends. Though the participants in the titular fantasy football league at the center of The League grew up as friends, who's to say they would have stayed friends so long without this league keeping them together? Ruxin (Nick Kroll) is an asshole. Andre (Paul Scheer) is annoying. And Taco (Jon Lajoie) is, well…Taco.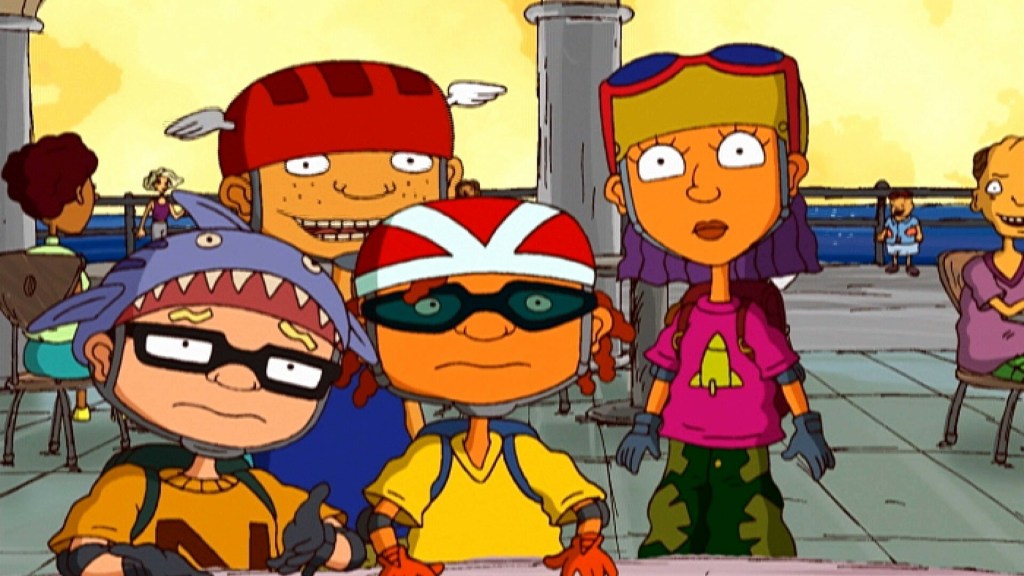 15. Rocket Power
If the '90s taught us anything it's that extreme sports are sports too, man! Rocket Power is a lovely little slice of life Nick Toon that follows four kids in a fictional California surfing community. Otto Rocket, Reggie Rocket, Maurice "Twister" Rodriguez, and Sam "Squid" Dullard spend their days skateboarding, surfing, playing street hockey, and occasionally snowboarding. It's a wonderful ode to childhood and all the athletic activities that make the day (and years) go by far too quickly.
14. Luck
If things shook out differently, perhaps Luck could have been considered one of the five or so best sports shows of all time. All of the pieces were in place. This 2012 HBO series had the right creative team (created and run by Deadwood's David Milch and starring Dustin Hoffman with a pilot directed by Michael Mann) to go along with an intriguing premise (complicated characters' lives intersecting at a horse track). But alas…the dead horses. Oh so many dead horses. Despite stringent safety measures put in place, Luck lost three hoof bois during filming of its first season and was canceled shortly thereafter. May they all rest in peace.
13. All American
High school is a turbulent time in all our lives. And when the high stakes world of competitive football is added in, things can only get more intense. The CW's All American opts to take the world of high school football and opts to add in a welcome dose of sociopolitical commentary. This series is loosely based on the life of former New York Giants linebacker Spencer Paysinger and follows his character "Spencer James" as he is recruited from South L.A. to play for the affluent Beverly Hills High. The show wisely understands that sports (particularly when they involve Black teenagers) are a marvelous portal to explore American society.
12. Pitch
Cruelly cut short after just one season of 10 episodes, Pitch is the kind of sports show that will inspire sports stories for years to come. This baseball series for Fox comes from Dan Fogelman (This Is Us) and Rick Singer. It follows the saga of Ginny Baker (Kylie Bunbury), who becomes the first woman to play in Major League Baseball when she's called up to pitch by the San Diego Padres. Pitch was blessed with an excellent cast including Bunbury and Mark-Paul Gosselaar as a veteran catcher nearing the end of his Hall of Fame career. More interestingly, it was blessed with an actual MLB licensing deal. There are no silly fictional teams in this show like the Tuscaloosa Barn-Burners or the Helena Hellcats. It's all real MLB team names and logos, adding to the realism of a cool premise.
11. Ballers
Of course, Elizabeth Warren's favorite show has to be on this list. Ballers has a bit of an unearned reputation for being cringe thanks to its ridiculous name and Dwayne "The Rock" Johnson's delightful cornball energy. In reality, this is an exceedingly watchable TV show and one that examines the corporate side of professional sports quite well. It's also noticeable for being most viewers' introduction to eventual Tenet star John David Washington.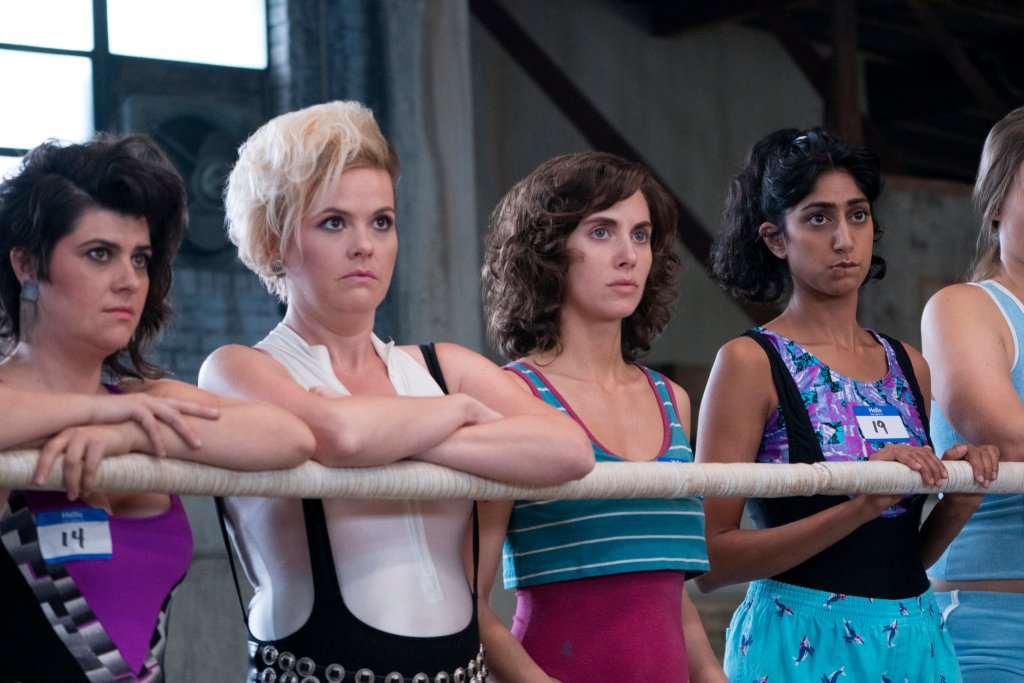 10. GLOW
Is professional wrestling a sport? Vince McMahon would argue that it's "sports entertainment." I would argue that that's more than good enough to get the excellent GLOW on this list. GLOW tragically fell victim to Netflix's whimsical cancellation procedures. Why the almighty algorithm decided a show needed to be canceled after it was already renewed is beyond me. But don't let that sour three seasons of superb sportsy storytelling. GLOW follows the fictionalized rise of the very real "Gorgeous Ladies of Wrestling" and it centers it on the conflict between two former best friends, Ruther Wilder (Alison Brie) and Debbie Eagen (Betty Gilpin). GLOW differs a bit from the usual sports fare in that the "sport" at its center wasn't necessarily plan A for the athletes. But the experience of watching the ladies train, grow, and succeed is pure and sublime sports story stuff.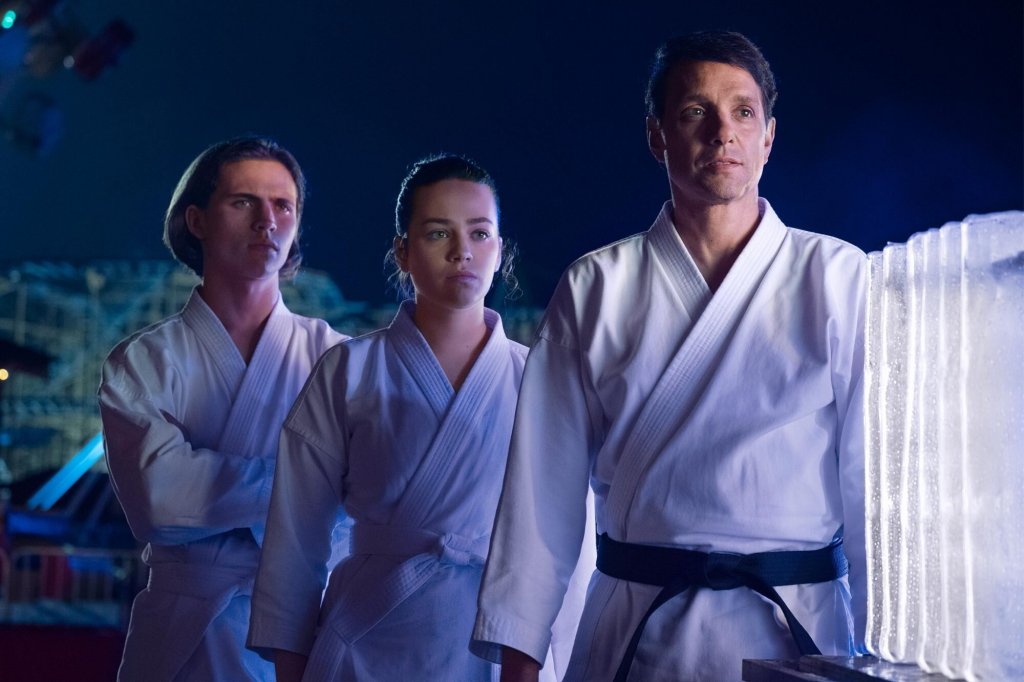 9. Cobra Kai
Cobra Kai absolutely could have been phoned in. The streaming world runs on nostalgia and there's nothing more sweetly nostalgic than The Karate Kid franchise. Instead, this Netflix series changes the original franchise's perspective by focusing on the "villainous" Cobra Kai dojo and re-examines things from Johnny's point of view. Ralph Macchio and William Zabka deserve credit for embodying realistically adult, yet flawed versions of their original characters. Equally deserving of credit though is a whole host of young actors bringing the martial arts to a whole new generation.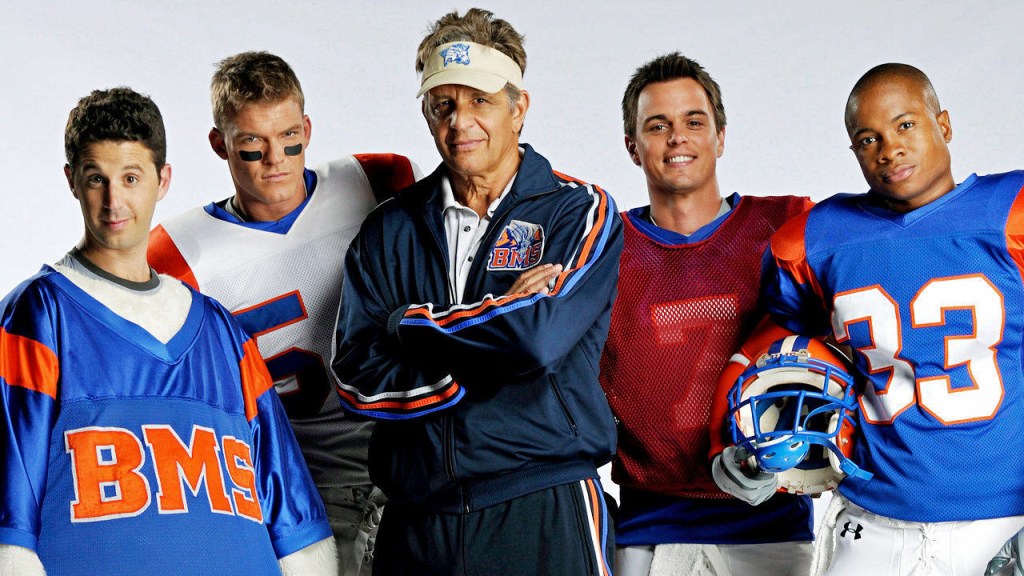 8. Blue Mountain State
A lot of the shows on this list are, let's say, reverential to the sports, teams, and athletes they cover. Spike comedy Blue Mountain State is decidedly…not. This series, following the Mountain Goats football team for the fictional college Blue Mountain State, understands that not all depictions of athletes have to be saints. Sometimes college football player can just be the big dumb animals you want them to be. Through three seasons, this show developed a cult following that would follow it over for a lifetime of reruns on Netflix. Blue Mountain State is crass, dangerous, and entertaining, not entirely unlike football.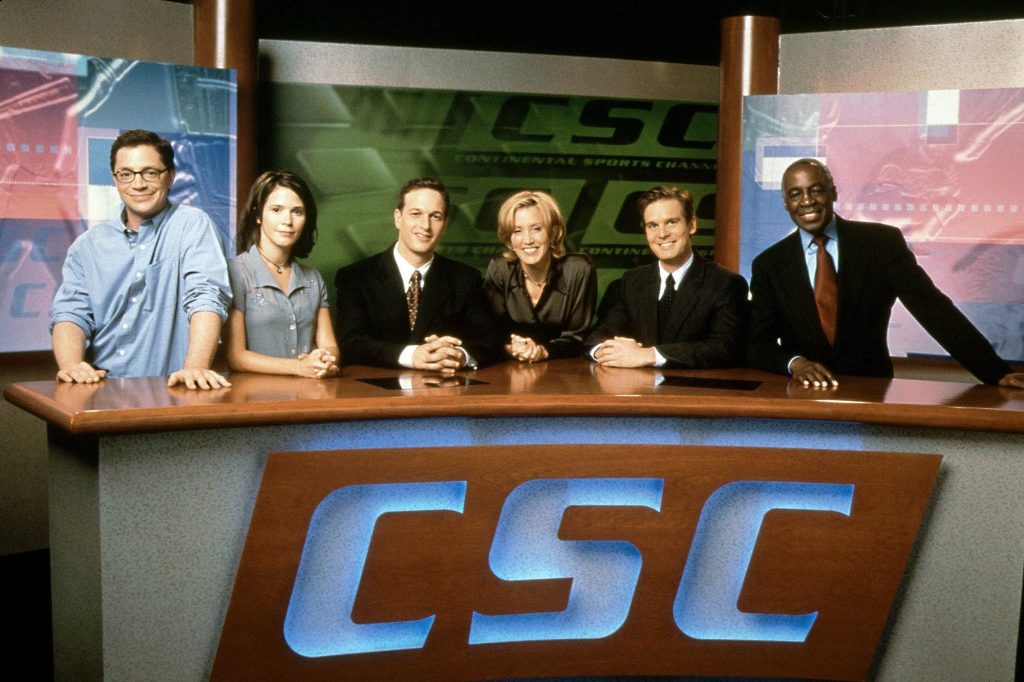 7. Sports Night
Speaking of being reverential to sports…like all Aaron Sorkin-created TV series, Sports Night can be a bit full of itself sometimes. That only works when the topic at hand, like the federal branch of the U.S. government, is consequential. Thankfully, sports can be pretty important sometimes too! This late '90s show follows the goings-on at a Sportscenter-esque news program hosted by Dan Rydell (Josh Charles) and Casey McCall (Peter Krause). It has all the witty dialogue you'd come to expect from a Sorkin venture. And if you can make your way through the inexplicable laugh track of the early episodes, you will find a mature, entertaining show that properly understands and contextualizes professional sports' role in American society.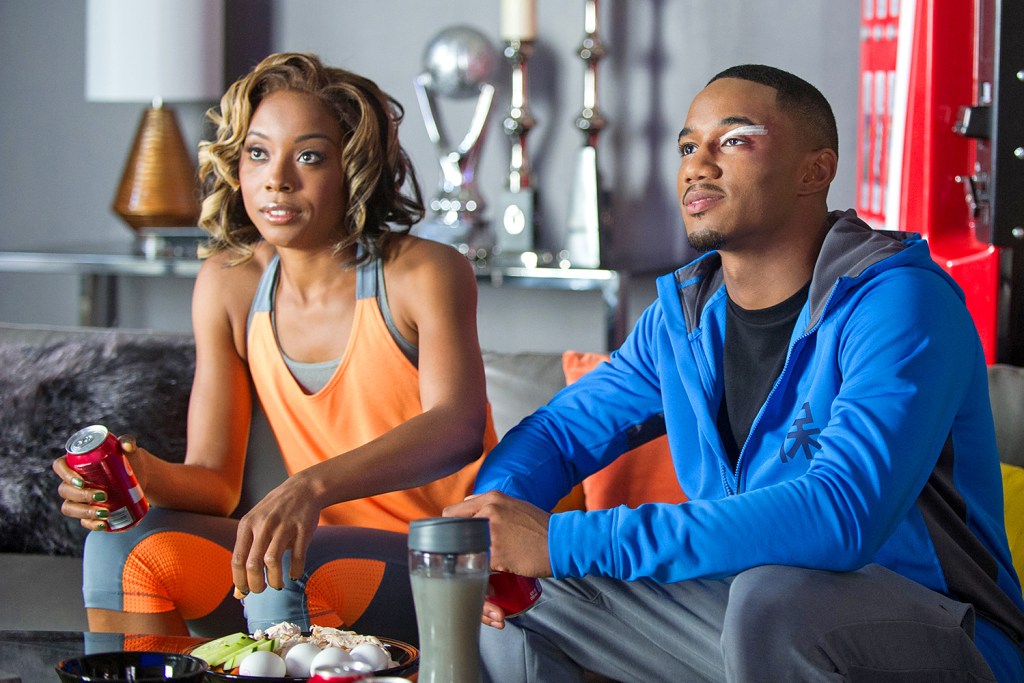 6. Survivor's Remorse
Survivor's Remorse came into the world with two strikes against it. One is a bizarrely overwrought name, and the other is that its home network, Starz, isn't a given on many cable packages. Still, this LeBron James-produced comedy is shockingly one of the best sports TV shows ever (and perhaps still the best creative venture James has been involved in yet). This story follows NBA athlete Cam Calloway (Jessie T. Usher) as he tries to balance the business and basketball aspects of his life. At first the show focuses on Cam's guilt for having got out of his impoverished neighborhood when so many couldn't (hence, the show's title), but ultimately it evolves into a family comedy drama featuring some truly remarkable characters and performances like Cam's cousin and manager Reggie Vaughn (RonReaco Lee) and his baller half-sister "M-Chuck" (Erica Ash). Even Monica Rambeau herself, Teyonah Parris, is a part of the proceedings.
5. Playmakers
Sometimes I can't even believe that Playmakers is real. Surely, this ESPN series about a fictional football team in a fictional league that is clearly the NFL was just a post-9/11 fever dream we all endured together. Alas, Playmakers was real and it was awesome. This series follows the players on the Cougars as they navigate a football landscape filled with ripped-from-the-headlines strife including Performance enhancing drugs, good old-fashioned drugs, domestic abuse, concussions, and more. The series even introduces the outing of a gay player more than a decade before Michael Sam and Carl Nassib revealed their sexual orientations. Naturally, Playmakers was canceled when the NFL intimated to its broadcast partner ESPN that it wasn't too pleased with the content of its show. And enraging the National Football League alone is enough to make this an all-time classic.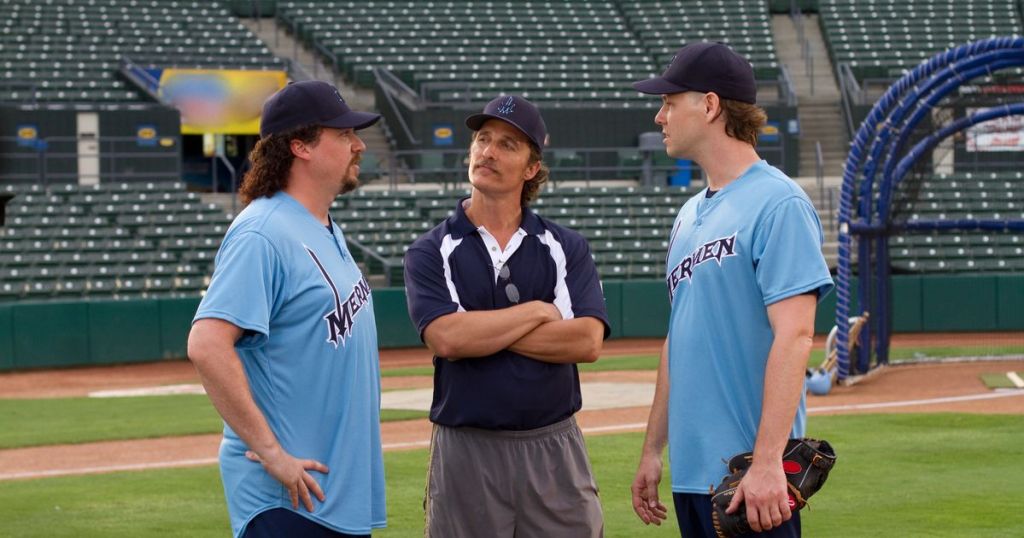 4. Eastbound & Down
Eastbound & Down creator and star Danny McBride isn't necessarily a huge fan of baseball. But he is, thankfully, a huge fan of weirdos and creeps. When McBride discovered just how bizarre and poorly behaved certain flamethrowing relief pitchers could be, Kenny Powers and the show around him was born. The baseball "action" in Eastbound isn't much to write home about. The show isn't too concerned with the results of any given baseball game and McBride always looks like he's throwing a javelin and not a baseball. It's still a phenomenal saga about athletes that dives into Paul Bunyan-esque tales of legendary misbehavior that fame encourages. It's no coincidence that in the follow ups to Kenny Powers, McBride has delved into megalomaniacal vice principals and bejeweled, sweaty televangelists – all different aspects of the white American male id.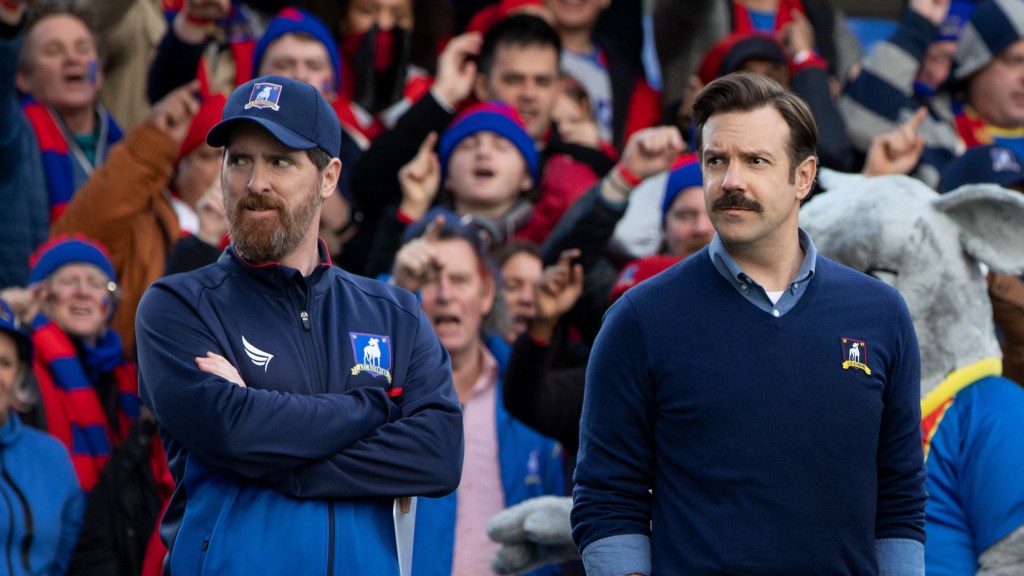 3. Ted Lasso
Of all the sports shows in the TV canon, none feels more like a traditional sports movie than Ted Lasso. This Apple TV+ series plucks an American football coach-fish and gently places him out of water in the English Premier League. The affable Lasso (Sudeikis) is charged with reversing the fortunes of EPL side AFC Richmond. Little does he know, however, that spiteful owner Rebecca Welton (Hannah Waddington) is counting on him to fail, Major League style. Ted Lasso isn't interested in reinventing the wheel. Instead it perfects it. This is a tale of relentless optimism and unconditional positive regard. Ted breaks the mold for what we expect from coaches, which is probably why so many actual coaches are fond of the show. Simply put: sports stories can't be done much better than this one.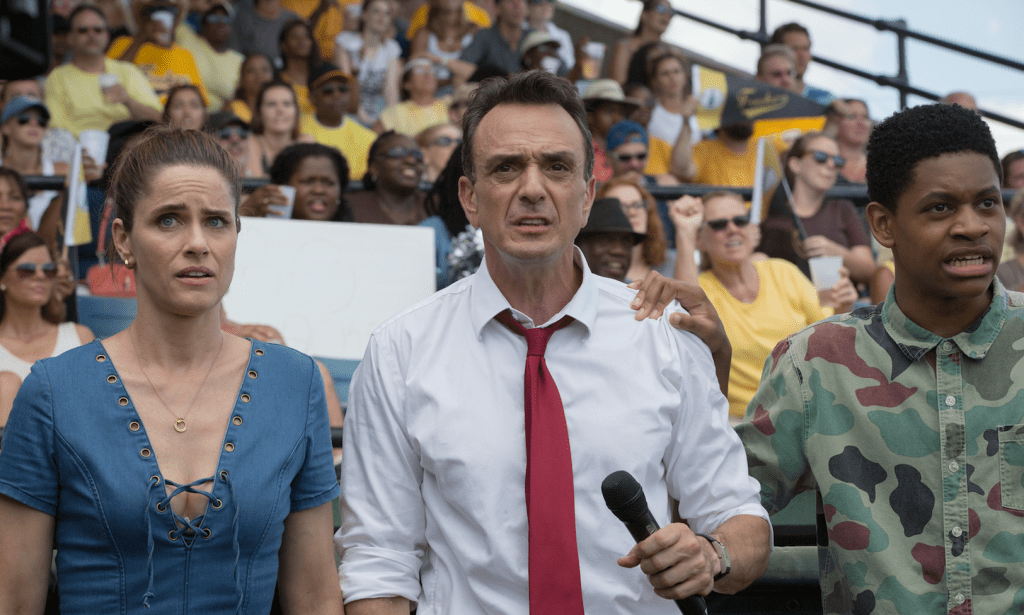 2. Brockmire
Sometimes commentators like to bemoan the modern state of baseball. What was once American's pastime has now supposedly fallen behind things like football and videogames in the pop cultural pecking order. Then along comes something like Brockmire to teach us that baseball as a continuous, seemingly eternal American presence is just as vital as ever. In a career-defining role, Hank Azaria plays disgraced baseball broadcaster Jim Brockmire. Once at the top of his game, an on-air drunken meltdown loses him his job and his sanity. In season 1 of this superb IFC show, Brockmire returns to the booth, this time for an independent league team in Morristown, Pennsylvania. The four seasons that follow are one big love letter to not only baseball, but the messy human experience itself. It's rare that you get something this funny and this affecting. The fact that it's wrapped in a stylish diamond-shaped bow is just icing on the cake.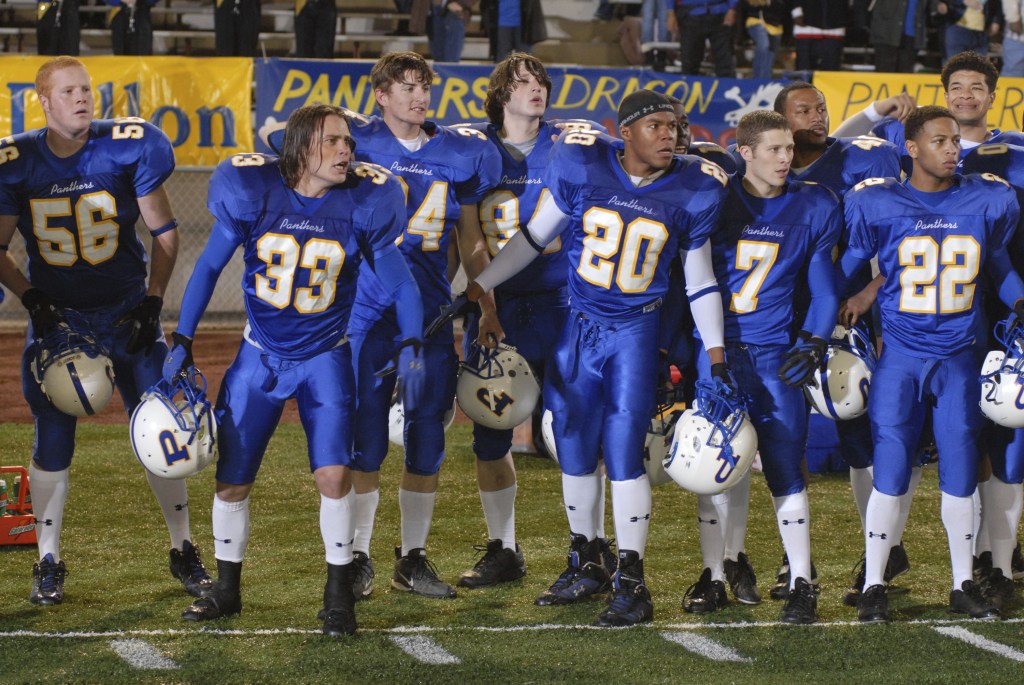 1. Friday Night Lights
Not only is Friday Night Lights the best sports TV show of all time, it's hard to imagine it ever being supplanted from its throne. Simply put, Friday Night Lights is a sports television masterpiece. Each of Friday Night Lights' five seasons (save for the writer's strike-shortened second) fully capture the ecstasy and agony of high school football in a small Texas town where high school football is the only thing that matters. Friday Night Lights doesn't shy away from the unsavory institution that is big time high school athletics.
The series opens with a life-changing injury before following it up with tales of corrupt boosters and garden variety West Texas racism. And yet, the show never looks down on its characters. If winning state is important to Coach Taylor (Kyle Chandler), Matt Saracen (Zach Gilford), Tim Riggins (Taylor Kitsch), Smash Williams (Gaius Charles), and Vince Howard (Michael B. Jordan), then it's important to us too. In fact, when Friday Night Lights is really rolling and the W.G. Snuffy Walden's Explosions in the Sky-style soundtrack is swirling, you might not recall anything ever mattering to you as much as the Dillon Panthers or the East Dillon Lions winning a football game. Clear eyes, full hearts, absolutely cannot lose.