News
Terry Silver's Return Brings A Manipulative Villain to Cobra Kai Season 4
Thomas Ian Griffith will return as The Karate Kid Part III villain Terry Silver in Cobra Kai Season 4, bringing a manipulative force to the show's young students.
Cobra Kai has spent three increasingly successful seasons of television reintroducing The Karate Kid film franchise's cast of characters. Unsurprisingly, that effort is now confirmed to continue, thanks to a surprise teaser for the show's fourth season, which has whetted appetites for the return of a major movie villain, Terry Silver. Indeed, the return of the character, the sinister schemer of 1989's The Karate Kid Part III, could provide a game-changing sinister force for the show's escalating war of rival karate dojos.
Thomas Ian Griffith is returning as Terry Silver, the villain he played in an entertainingly over-the-top manner in the 1989 threequel, as Netflix and the actor himself confirmed upon the release of the Cobra Kai Season 4 teaser trailer. Yet, like the show's past movie character reunions, Silver's return is, paradoxically, an expected surprise, since it's the culmination of series-spanning hints such as a crucial name-drop back in Season 1, and was quite obviously set up in a cliffhanger scene at the end of Season 3. Indeed, the buildup towards Silver's return is appropriate, since he's poised to bring next-level manipulation to aid Kreese's Cobra Kai dojo in the loser-leaves-town tournament challenge now set against the combined forces of Daniel's Miyagi-Do and Johnny's Eagle Fang.
The teaser's featuring of Silver's quotes from Part III such as "A man can't stand, he can't fight. A man can't breathe, he can't fight. A man can't see, he can't fight," and "Now, the real pain begins," have certainly stoked excitement for fans of the character, especially since they are subsequently repeated in a new performance by a familiar-but-older-sounding Griffith. Yet, the apparent paradoxical nature of Silver's return is not just restricted to Cobra Kai's plot, since the significance touted in the teaser seems to be lost on a good portion of the acclaimed show's flourishing fandom. It's an understandable phenomenon, since any excitement over the revealed return requires an understanding of The Karate Kid Part III, which is widely regarded as the worst of the numerical main trilogy, and certainly the least-watched.
Besides the divisive nature of the film's plot, it happened to be snake-bit from the day it hit theaters, on June 30, 1989, since it looked shamefully small against giant franchise blockbuster competitors. Indeed, Part III would be smothered at the box office by heavy hitters in the freshly-debuted Batman (#1) and second week of Honey, I Shrunk the Kids (#2). Thusly, it only eked out a debut at #3, barely ahead of the month-old releases of Ghostbusters II and Indiana Jones and the Last Crusade, whose respective close performances at #4 and #5 siphoned business away. The result was a paltry $38.9 million final gross for Part III in its domestic-only release; a whimper of a conclusion to the crowd-pleasing franchise that had previously grossed $91.1 million and $115.1 million, respectively. Moreover, the threequel left the franchise in such a sorry state that the Hilary Swank-starring 1994 spinoff, The Next Karate Kid, went on to gross a scary-small $15.8 million for its worldwide release.
Interestingly, the inside-baseball reason for the antagonistic choice of Silver was an accidental one, since Kreese was meant to reclaim his spot from the 1984 original film as the threequel's main villain. However, actor Martin Kove had committed to a short-lived sci-fi-leaning television comedy series for CBS, and was only able to appear in the film part-time. "Terry Silver was an invention because I couldn't do Karate Kid III," explained Kove at the Niagara Falls Comic Con 2019 Cobra Kai panel. "I'd gotten a TV series called Hard Time on Planet Earth. So, all of Terry Silver—everything he did in III—was originally written for John Kreese." Nevertheless, The Karate Kid Part III has its segments of cult fandom, primarily centered on Griffith's maniacal performance as Terry Silver.
For an accidental character, Silver racked up quite the amount of screen time in Part III, introduced as a supremely wealthy waste disposal industrialist who happens to be an old army buddy of John Kreese, who has been left bankrupt and without students following Cobra Kai's Crane-Kick-dealt defeat at the previous year's All Valley Karate Tournament (and, not for nothing, a post-tournament parking lot assault on his students). However, the hyper, cackling ponytail-enthusiast, Silver, eagerly offers Kreese a lifeline with his colossal coffers, first sending him away to recover in Tahiti (thereby allowing Kove to shoot his series,) while he concocts an elaborate revenge scheme against Daniel and Mr. Miyagi on his behalf, thus making Silver the film's de facto main villain.
Silver's objective was to set Daniel—and, by proxy, Miyagi—for a humiliating fall from grace at the site of his greatest achievement, the All Valley Tournament. His machinations saw him disingenuously befriend Daniel, breaking the ice with the lie that Kreese had tragically passed away before an attempt to make amends with them. However, the scheme plays out by Silver's secret hiring of an elite-level karate champion, Mike Barnes (Sean Kanan), to bully Daniel into a fight at this year's tournament, notably against the wishes of Miyagi, who sees returning as a vainglorious endeavor unbecoming of a true karate practitioner. The applied duress of Barnes and Silver's thugs becomes too much for Daniel, who capitulates to signing up for the tournament. Consequently, Silver's machinations create a major rift in the franchise's central relationship, since Miyagi refuses to train Daniel for the tournament, leading him into the clutches of Silver, who continues the charade by offering up his own black-belt-level skills to train Daniel at the imminently re-opening Cobra Kai dojo, now under his ownership.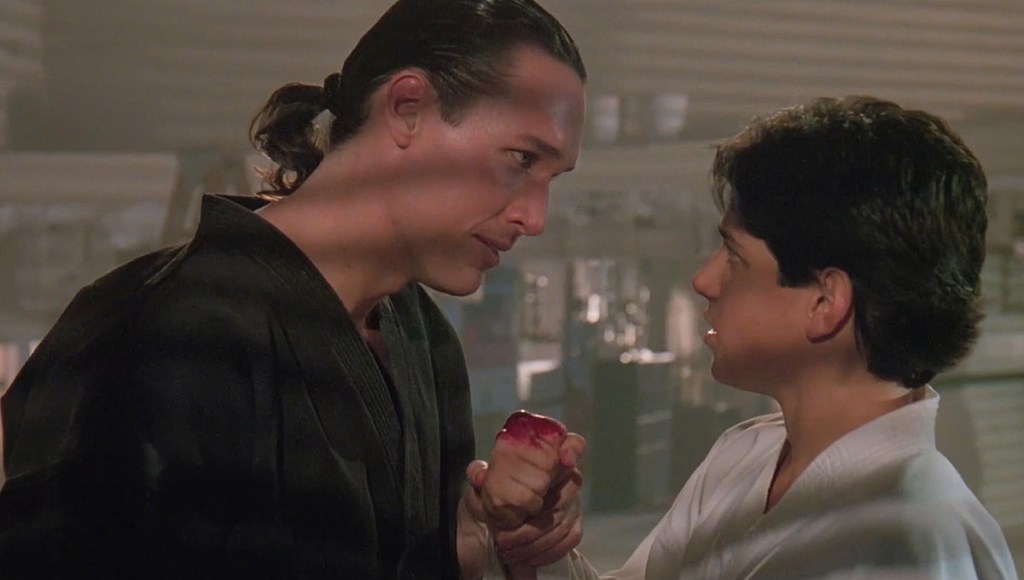 Thusly, Daniel's brief tenure as a Cobra Kai—which, years later, would be mentioned on the series—commences with one-on-one lessons with Silver. However, once at the dojo, Silver's friendly veneer quickly erodes, revealing him to be a tough taskmaster who consistently forces Daniel to hit a wooden dummy until he bleeds, forgoing everything he'd learned from Miyagi to instead rely on brute force and dubious loopholes to exploit at the tournament. Yet, in hindsight, Silver's manipulative martial-arts tutelage was a prime example of the phenomenon that modern parlance refers to as gaslighting, since the training was designed to make Daniel doubt his own skills, and believe that he needed to rely on cheap tricks to win. This method was defined by Silver's quotes in the Cobra Kai Season 4 teaser, which he collectively calls, with douche-baggish delivery, "Quicksilver" (which has nothing to do with Aaron Taylor-Johnson or Evan Peters). The plan worked to its fullest degree, since Daniel—despite having grown significantly as a person and a martial artist in The Karate Kid Part II—spends a good chunk of Part III making childish choices when he's not getting pummeled by Mike Barnes. However, that failed fate could be attributed to the psychological damage done by Silver, rather than Daniel's skills, which ultimately come through for the tournament victory at the end of the film.
That leads us back to Silver's return for Cobra Kai Season 4, which also happened to be heralded furtively via Kreese's Season 3 Vietnam War flashbacks, in which a young Silver (Nick Marini), known as "Twig," is saved by Kreese, forging the life debt at the center of their friendship. With Kreese having made a fateful call for help to a friend we now know is Silver, the dynamic will be significantly altered, not just for Daniel and Johnny's new joint endeavor, but the teens who have chosen to remain with Kreese at the Cobra Kai dojo, notably Johnny's wayward son, Robby Keene (Tanner Buchanan), and Tory Nichols (Peyton List); characters whose backstories have made them ripe for the resentment that fuels the dojo's aggressive ideology. However, the presence of Silver increases that prospect exponentially, since his brand of manipulation is far more insidious than Kreese's straight-forward brand of "strike-first" brutality. Indeed, to borrow a now-common metaphor, if Kreese is Darth Vader, then Silver is The Emperor, an unassuming figure who's significantly more powerful—and evil—than the former.
Fans still likely have a long wait until Cobra Kai Season 4 finally hits Netflix, with no premiere date or proper trailer available as of yet. However, Season 4 is expected to arrive by the end of the year, which would stand in slight contrast from Season 3's New Year's Day premiere.