Features
Cobra Kai Season 4: What to Expect
Cobra Kai season 3 brought back some major Karate Kid characters. What...and who could possibly be in store for season 4?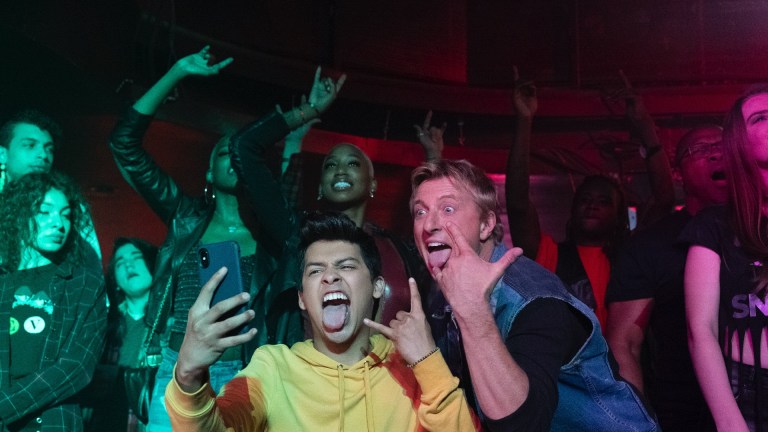 This article contains Cobra Kai season 3 spoilers.
"Hey. Long time," Kreese (Martin Kove) says at the end of Cobra Kai season 3 when he calls someone mysteriously, as if to ask a favor. Now just who could it be?
The most likely candidate is Terry Silver (Thomas Ian Griffith), Kreese's war buddy and the main villain from The Karate Kid Part III. Season 3 of Cobra Kai explored Kreese's backstory, adding credence to this postulation. We see Young Kreese's (Barrett Carnahan) traumatic experience as a prisoner of war in Vietnam, and how he saved his friend that he nicknamed Twig (Nick Marini). It's implied that Twig is Silver. In The Karate Kid Part III, Silver was a rich CEO of DynaTox Industries, an unscrupulous nuclear waste disposal company. He helped to fund the Cobra Kai schools and was a major sponsor of the All-Valley Karate Tournament. Since the season 3 finale reveals that season 4 is headed to another yet showdown this tournament, Silver would be a good play.
And here is everything else we might be able to glean about Cobra Kai season 4.
Potential Villain Cameos for Season 4
There are some other possibilities for a potential Cobra Kai season 4 villain for as we've already seen, Cobra Kai Easter egg clues can be intentionally misleading. Tory's (Peyton List) mom was an expertly played red herring, which we'll come back to in a moment. The writers know that their audience is watching the callbacks closely and are game to toy with our expectations.
With the season 2 cameo of Chozen (Yuji Okumoto), Cobra Kai has exhausted all the villains from The Karate Kid Part II except for Sato (Danny Kamekona). At the end of that film, Sato had mended his ways so he wouldn't have returned as a villain anyhow. In season 3, episode 4 'The Right Stuff,' Sato is mentioned when a villager explains the changes at Tomi Village to Daniel (Ralph Macchio). But in the following episode, 'Miyagi-Do,' Chozen reveals to Daniel that he inherited the Miyagi-Do artifacts when Sato died.
Sadly, Kamekona died in 1996, so even if Cobra Kai wanted to revisit him, he would have to be digitally reincarnated like Moff Tarkin (Peter Cushing) in Rogue One, and that doesn't seem likely. Those episodes also revealed that Yukie (Nobu McCarthy) died too, which is appropriate since McCarthy died in 2002. But back to villains, Chozen had some dojo-mates, Toshio (Joey Miyashima) and Taro (Marc Hayashi), who helped him harass Daniel (Ralph Macchio). However, they were tertiary henchmen roles. Few fans would recognize if they reappeared in Cobra Kai and Kreese had no ties to the Okinawan Miyagi-Do villains so he wouldn't call them.
The other great villain from The Karate Kid Part III was 'Karate's Bad Boy' Mike Barnes (Sean Kanen) although he was Silver's guy, not Kreese's. Both Kanen and Griffith are still alive so maybe they both can return. Kanen is still acting with movie and TV roles as recent as 2019. Griffith retired from acting about a decade and a half ago and shifted to writing. Most recently, he was a writer for the NBC TV series Grimm. Regardless, he's still in the business. What's more, Barnes had two henchmen, supplied by Silver, Snake (Jonathan Avildsen) and Dennis (William Christopher Ford), but they were peripheral characters like Toshio and Taro. They wouldn't have much impact without Silver or Barnes. Most fans wouldn't even remember their names if not for the Internet.
One other wild card for Kreese's call recipient is Dutch (Chad McQueen) from the original films. When the Cobra Kai dojo-mates reunited in season 2, episode 5 "Take a Right," Dutch was the only one missing from the original line-up. During that episode, the rest of the gang raise a toast to him, explaining his absence as due to his incarceration in Lompoc Federal Prison. Perhaps in season 4, he'll be released.
McQueen is the only son of Steve MeQueen. He retired from acting around the turn of the millennium and has devoted himself to racecar driving since then. In 2010, he founded the custom car company McQueen Racing. There were rumors that Cobra Kai reached out to McQueen to reprise his role as Dutch in "Take a Right", but he was too busy with McQueen Racing at the time. Dutch was arguably the worst bully of the original Cobra Kai members. When Kreese beat Johnny (William Zabka) after he lost at the All-Valley Karate Tournament, the gang abandoned their sensei, but Dutch could have remained loyal.
Mysterious Parents
One of the best red herrings of Cobra Kai was the identity of Tory's mom. Most fans thought it was Ali (Elisabeth Shue) because Tory introduced herself in Season 2 as "Tory… with a 'Y'" echoing Ali introduction to Daniel in The Karate Kid when she said "Ali… with an 'I.'" Tory's mom is bedridden due to health issues, forcing Tory to hold down two jobs while in high school to support her family. Her mom was offscreen in a scene in Season 3 which further stoked suspicions. But later in the season, we discover Ali is back and healthier than ever, and her two kids are Lucas and Ava, not Tory.
So, who is Tory's mom? The only potential remaining lead female characters from the original films are Jessica Kennedy (Robyn Lively) from Karate Kid Part III and Julie Pierce (Hilary Swank) from The Next Karate Kid. Both actresses are still active in TV and movies. Tory had some martial arts background which she may have received from her parents (Tory's dad could be in play too, but her mom has already been presented, albeit hidden from view, so she's a more likely reveal for Season 4). Jessica wasn't a student of Miyagi, but Julie was. So maybe Julie is Tory's mom.
Fans are split on the possible return of Julie. The Next Karate Kid was a critically panned flop, so it is generally disdained by the fanbase. It was Swank's first lead role, and she shines despite the awkwardly bad script. Swank went on to win two Oscars, two Golden Globes and was named one of the 100 most influential people by Time magazine. She is the most successful alumni of the Karate Kid franchise. What's more, if Cobra Kai should bring Julie back into the canon, it opens the possibility of The Next Karate Kid villains, Colonel Paul Dugan (Michael Ironside) and his school security squad, the Alpha Elite, including Ned Randall (Michael Cavalieri).
Beyond Julie and Jessica, there weren't many other women in the original films. Ali had some high school girlfriends in The Karate Kid, Susan (Juli Fields) and Barbara (Dana Andersen) but like Toshio, Taro, Snake and Dennis, they were peripheral characters. The dramatic impact of one of them being Tory's mom would be minimal.
The other mystery parent is Miguel's (Xolo Maridueña) father. His mom Carmen (Vanessa Rubio) describes him in Season 3 as "a very bad man." Perhaps he could be Barnes or Dutch (Silver should be around Kreese's age because they both served in Vietnam so he's too old for Carman, although it's noteworthy that despite playing his elder, Griffith is a year younger than Macchio). If Miguel's dad is Dutch, that could really mess with Carmen and Johnny's blossoming romance.
Return to the All-Valley Karate Tournament
A key figure to bring back at the All-Valley Karate Tournament in what will probably be the season 4 finale is the Referee (Pat E. Johnson). Johnson was the martial arts master behind the original franchise, a noted master of Tang Soo Do. And in season 3, episode 6, 'King Cobra,' Captain Turner (Terry Serpico) tells Young Kreese that the martial art he will learn is Tang Soo Do. This confirms a theory that many martial artists have held about what martial art Cobra Kai really practices – it's Tang Soo Do, a Korean martial art often labelled as Karate. Following the original movie, Zabka continued to train under Master Johnson. Coincidentally, Johnson also taught Steve McQueen and along with several other notable celebrities. Now in his 80s, Johnson still teaches Tang Soo Do. It would be so fitting to honor Johnson with a cameo because he was largely responsible for the Karate in the franchise.
One character we'd like to see developed in season 4 is Anthony LaRusso (Griffin Santopietro), Sam's (Mary Mouser) punk little brother. So far, he's only been a nuisance for the LaRusso family, the one slacker, but he has untapped potential for a more significant role. He appeared in almost every episode of season 1, but his role diminished to just two appearances in season 2. At least he's still in the cast for season 3. Aisha (Nicole Brown) and Raymond (Paul Walter Hauser) were major characters who simply vanished in the third season.
A huge wild card might be a cameo from Dre Parker (Jaden Smith). In the 2010 redux of The Karate Kid, Dre was the reinterpretation of Daniel's role, the bullied outsider who finds redemption in the martial arts. While many hardcore fans of the original reject this as part of the Miyagi canon because there's no connection of any of the characters to the original films, there's no reason Dre can't be integrated. After all, if Spock Prime (Leonard Nimoy) can meet Spock (Zachary Quinto) from the Kelvin timeline in the Star Trek redux, anything is possible with franchise reboots. Admittedly, the plot of Cobra Kai doesn't include time travel (except for an overdose of nostalgia), however that doesn't exclude the possibility of Dre existing within the world of Cobra Kai. More intriguingly, it would open the door to a cameo from Mr. Han (Jackie Chan). That would really raise the bar on the martial arts of Cobra Kai. And most significantly, Will Smith is an executive producer of Cobra Kai. Smith's company, Overbrook Entertainment, acquired the rights for The Karate Kid to make the reboot and retained them for Cobra Kai. Cobra Kai has been incredibly witty with its homages to the original film franchise, but with more seasons to come, it will need to expand its scope lest it exhaust its supply of those golden Easter Eggs.
For years, there have been persistent rumors about a sequel to the Jaden Smith/Jackie Chan version of The Karate Kid. The film was by far the most profitable installment of the entire franchise, earning $359 million from a $40 million budget, more than all the original four films combined, so it is surprising that Hollywood hasn't pushed harder for a sequel. But Jackie Chan is a busy man. There have been unconfirmed rumors of his involvement with Rush Hour 4 and Shanghai Dawn for years too and those are no closer to fruition. Nevertheless, a Dre cameo in Cobra Kai would be a good steppingstone for a redux sequel. And Dre could fit right in with the cast easily. Jaden Smith is the same age as Tanner Buchanan (Robby).
One of the reasons that Cobra Kai left YouTube Red to go over to Netflix was because YouTube wouldn't commit to a fourth season. Given how the show has played out, the writers seem to have the underlying story arc sketched out, at least as far as season 4. With the escalating surprises that Cobra Kai has already brought, season 4 should be even more fun.
Cobra Kai never dies!
Cobra Kai season 3 is available to stream on Netflix now.