Features
Cobra Kai Season 3: Breaking Down the Karate Kid Part II Easter Eggs
Cobra Kai season 3's fourth and fifth episodes feature major throwbacks to The Karate Kid Part II with a fateful trip to Okinawa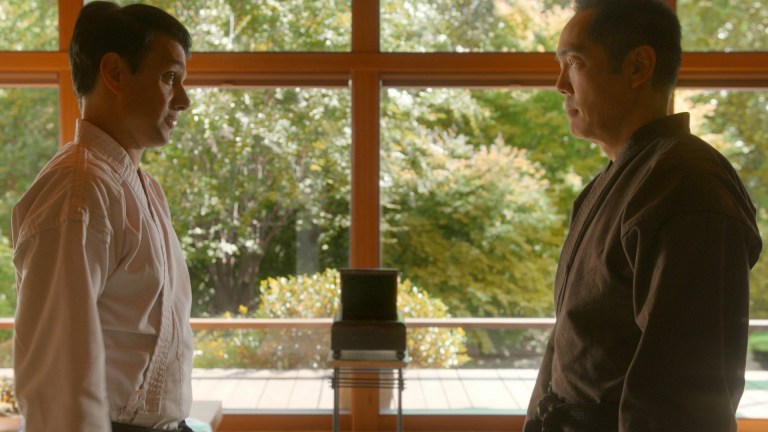 This article contains spoilers for Cobra Kai season 3.
"Are you sure about that?"
Even without seeing who said it, fans of The Karate Kid knew exactly who it was. It had to be Chozen Toguchi (Yuji Okumoto), the nemesis of Daniel (Ralph Macchio) from The Karate Kid Part II. The line whetted our appetites at the end of the season 3 teaser released back in August 2020. In December, Netflix released the full season 3 trailer which confirmed the appearance of both Chozen and Daniel's love interest, Kumiko (Tamlyn Tomita).
Cobra Kai has made a habit of delivering heartwarming and nostalgic cameos from the cast of the original films throughout the series. In the first season, Randee Heller reprised her role as Daniel's mom Lucille, and when Martin Kove joined the cast as the notorious Sensei Kreese, everything changed. Season 2 episode 6 reunited several of the original Cobra Kai dojomates: Tommy (Rob Garrison), Bobby (Ron Thomas), and Jimmy (Tony O'Dell). In one of the most poignant episodes of season 2 "Take a Right," Tommy is suffering from a terminal illness, so his old Cobra Kai comrades break him out of the hospital for one final ride. Sadly, reality imitated art as this was Garrison's final performance. He died in September of 2019 and the first episode of season 3 ended with a fitting tribute to him along with the slogan "Cobra Kai Never Dies."
With any reboot series, it's often the Easter Eggs that are the most endearing for longtime fans. The creators of Cobra Kai have been on point with this so Daniel's return to Okinawa is full of homages to The Karate Kid Part II. Even that sequel had an early Easter egg, before Easter eggs were even a thing. When Daniel and Kumiko go dancing at a '50s retro club, the song that's playing is "Rock Around the Clock." That was the theme song to Happy Days – the '70s TV show where Pat Morita had a recurring role as the owner of the soda shop, Arnold Takahashi. Here are some ways in which Cobra Kai season 3 plays homage to The Karate Kid Part II.
The Sequel
First, a reminder of just what went down in The Karate Kid II. The sequel was the most financially successful film of the Mr. Miyagi (Pat Morita) tetralogy. It reunited almost all the cast from the first film, but only for segue cameos. The story picked up immediately where the first film left off, right after Daniel's first victory at the All-Valley Karate Tournament. Kreese (Martin Kove) was so angry about Johnny (William Zabka) losing that he starts to choke him. Choke holds are a choreographic motif echoed in later fights between Kreese and Johnny in Cobra Kai. Miyagi rescued Johnny from Kreese but instead of finishing him, he honks his nose.
After that, Daniel and Miyagi left the rest of the cast behind and travelled to Okinawa. Ali (Elisabeth Shue) did not return for the sequel. She was replaced by Kumiko, a new love interest for Daniel. And Johnny stayed in California, so he was replaced by a new rival, Chozen. Aside from the opening scene, the cast and location of the sequel is swapped out completely except for Miyagi and Daniel. It was a bold move but it worked.
The finale fight between Daniel and Chozen was flawed on several levels. While Kumiko performed a traditional fan dance on a moat encircled platform in the center courtyard of an ancient castle, Chozen swooped in and challenged Daniel to a fight to the death. However, Daniel tips over the bridge, the moat appears to be only about a foot deep. There was a large audience watching Kumiko's dance recital but when Daniel and Chozen begin their death match, no one tries to break them up. Instead of intervening, Miyagi and the reformed Sensei Sato (Danny Kamekona) lead the audience in twirling their spinning hand drums (known as den-den daiko) to inspire Daniel to use the new secret hand technique that Miyagi taught him. But if it's a Miyagi-do secret, wouldn't Chozen know it too? He had the same grandmaster as Daniel, Miyagi's father (Charlie Tanemoto). And if it was so secret that Chozen didn't know, why would the audience understand that the den-den daiko had anything to do with Karate? The finale fight is a silly attempt to insert some poetry into the film's climax, but it doesn't make much sense when you step back and look at it logically. In a painfully predictable conclusion, and an important coup de grâce for the Cobra Kai Easter egg, their fight ends exactly like the one between Kreese and Miyagi at the beginning of the film. Instead of finishing Chozen, Daniel honks his nose.
Because The Karate Kid Part II was set in Okinawa, it was an outlier and challenging to weave into Cobra Kai. The den-den daiko has been shown several times, but that was as far as they could go. The only logical way for Cobra Kai to evoke The Karate Kid Part II was to have Daniel return to Okinawa.
The Right Path
In Cobra Kai season 3, after losing distributorship of Doyona cars, Daniel is forced to return to Japan in hopes of renewing his dealership's contract. While there he decides to visit Tomi village, Miyagi's hometown, and the setting of The Karate Kid Part II. But what was a quaint rural fishing village thirty years ago is now Tomi Village Green, a modern shopping mall. There he finds Kumiko performing a traditional dance on the shopping mall stage. Gone is the American military base. It's also a long way from that moat stage in the castle, which surely would've been converted to a tourist site. Nevertheless, seeing Kumiko again gives any Karate Kid fan the feels. We recently saw Tomita as the cold Romulan Commander Oh in Star Trek: Picard, but when she finds her character of Kumiko, her smile is as disarmingly warm as it was thirty years ago.
As Daniel and Kumiko catch up, she tells him she achieved her dream to be a professional dancer and travelled the world. She tells him she liked London best and Daniel guesses it was because of the tea. In The Karate Kid Part II, Kumiko treated Daniel to a traditional tea ceremony which led to their first kiss. Kumiko reveals that she had many suitors but never married because "None of them fought to the death for me" like Chozen intended at Kumiko's dance recital.
They return to the house from The Karate Kid Part II. Kumiko inherited it from her aunt Yukie (Nobu McCarthy) who was Miyagi's former love interest. Kumiko reads some letters from Miyagi to Daniel and it's beautiful. The chemistry between Macchio and Tomita is still palpable, and the actors deliver an incredibly moving scene. Tomita brought tremendous grace to Kumiko. It was her first film role, and she has kept that flame burning.
Miyagi-Do
They meet again at a bar where there is a strange rack with vertical ice block slabs. It's a nod to the strange ice break technique that Daniel had to do in The Karate Kid Part II. As a side note, no one ever does ice breaks with the slabs lined up vertically like that. The physics of such a set up makes such a break exceedingly difficult. Ice breaks are done with horizontally stacked slabs because it is so much easier, and you'd have to make a special custom rack to hold your ice before it melts.
Enter Chozen. Like Tomita, Okumoto has been working steadily as an actor, predominantly in television. Coincidentally, Tomita, Okumoto and Morita reunited in 2006 for the film Only the Brave, a film based on the history of 100th/442nd Combat Regiment, which was comprised of Japanese-American soldiers who served during WWII. Miyagi served in this battalion, and in The Next Karate Kid, Daniel Inouye appears in a cameo. Inouye was a genuine veteran of the 442nd, a senator for the state of Hawaii, as well as the highest ranking Asian-American government official until Kamala Harris takes office as Vice President. Only the Brave was Morita's final film role before his death in 2005.
While Macchio has retained his boyish face, Okumoto still has guns. He was one of the few original cast members that had a genuine background in karate and it's clear that he's kept up with his training. Chozen takes Daniel to his dojo and tests him by combat. It sets up what everyone wants to see – Daniel versus Chozen: the rematch. Chozen is as intimidating as ever and the fight ends predictably with another throwback to The Karate Kid Part II – Chozen honks Daniel's nose.
Without a sensei, Chozen serves as a device for Daniel to learn some new techniques. It's a classic cliché in martial arts shows – the student learns some technique whether it be a crane kick or hand drum spinning and then must use it to gain their final victory. In Karate Kid Part II, Chozen introduced traditional Okinawan weapons with the line "Your little teacher ever teach you how to fight with spear?" For Cobra Kai, he teaches Daniel the staff fighting methods that he passes to his daughter Sam (Mary Mouser) which will save her in her season finale fight, as well as the pressure point techniques that Daniel will use against Kreese at the end. Daniel learns all of this in a day, which is preposterous, but if we keep calling out the martial arts in Cobra Kai, that will ruin it.
Yuna, the "Girl Bell Ringer"
The best Easter egg of all is when Kumiko introduces Daniel to Yuna, the girl he saved from the typhoon in The Karate Kid Part II. He had returned to Japan in hopes of renewing his auto distribution contract with Doyona motors, and in a wonderful piece of karma, Yuna has grown up to be the Senior Vice President of Sales for Doyona International. She saves his company. It's also a wonderful Easter egg. Yuna is played by the original actress too – Traci Toguchi. Toguchi made her acting debut at age 12 as the 'Girl Bell Ringer' that Daniel saved in The Karate Kid Part II.
The visit to Okinawa leaves the door wide open for Chozen and Kumiko to appear in season 4. It's an exciting prospect. Cobra Kai never dies.
Cobra Kai season 3 is streaming now on Netflix.