News
Cobra Kai Season 4 Looks to Deliver Same Recipe for Different Taste
As Cobra Kai prepares for an "even bigger" fourth season, its creators discuss their recipe for generating good feelings.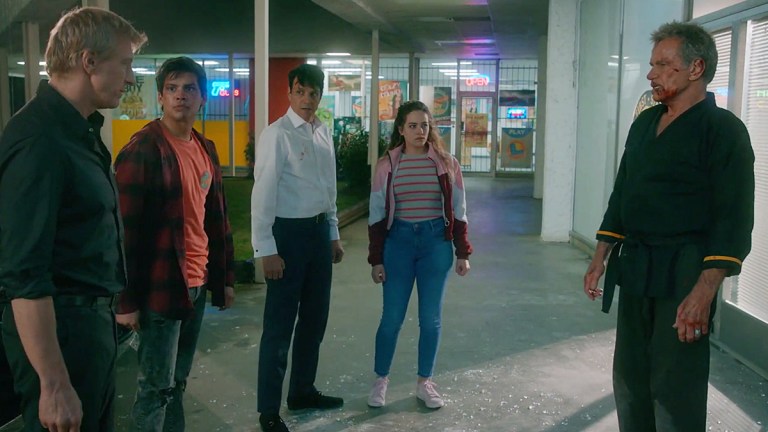 With Cobra Kai having recently wrapped production of its upcoming fourth season, speculation over the show's escalating onscreen tensions is high among its growing legion of fans. However, the cast and crew of the Netflix-migrated series seemingly have black belts in the art of keeping an airtight lid on plot details and cast additions that could even give Marvel Studios a run for its substantial money. While the show's creators were characteristically mum on Season 4 in a recent sit-down, they did offer intriguing thoughts on their successful creative mindset.
Cobra Kai creators Josh Heald, Jon Hurwitz, and Hayden Schlossberg have turned The Karate Kid sequel series from a concept that, on paper, seemed destined to become an indulgent short-term burst of nostalgia into an engaging, humorous, pathos-packed series that was far too good to be trapped on its imploded original platform, YouTube Premium. Now, with this past January's Season 3 having made it into one of the most-watched shows on the world's biggest streaming platform, Cobra Kai's fans are frothing in anticipation for news of any kind. While no succor would arrive on that front in the recent virtual Paley Front Row panel, Heald's comments on the creators' approach going into Season 4, in the very least, shows promise.
"All I can say is it was really important for us to end Season 3 the way we did with a kind of like 'yah' as a feeling as opposed to 'aw,' where Season 2 went. And we want to deliver on that feeling," Heald explained. "We want to keep providing the dopamine that generates that good feeling. We want to make sure we're delivering on goosebumps, on tears, on belly laughs, and fist bumps. It's the same recipe with different tastes and everything else, but it's even bigger so we're really, really proud of what we're making so far. I can't wait for you to see what everybody's doing."
Heald's comments reveal how Cobra Kai has been—and continues to be—a carefully constructed emotional rollercoaster, with highs and lows laid out in an artful manner that creates a thematically diverse work when viewed as a whole. After all, the layperson's perception of it being a superficial series that's quixotically attempting to recreate The Karate Kid franchise's 1980s heyday is consistently belied by the surprising dramatic depths it achieves. As Heald points out, Season 2's cliffhanger is the best example of this, having stamped a bleak punctuation after Johnny's Season 1 restarting of the Cobra Kai dojo—and Daniel's Season 2 answer to start a rival dojo for Miyagi-Do—climaxed in a destructive vendetta between their high-school-aged students—two of whom are their own children. That battle culminated in a giant school brawl that left Johnny's beloved student, Miguel, in a coma, temporarily paralyzed, leaving Johnny in a drunken, heartbroken nadir.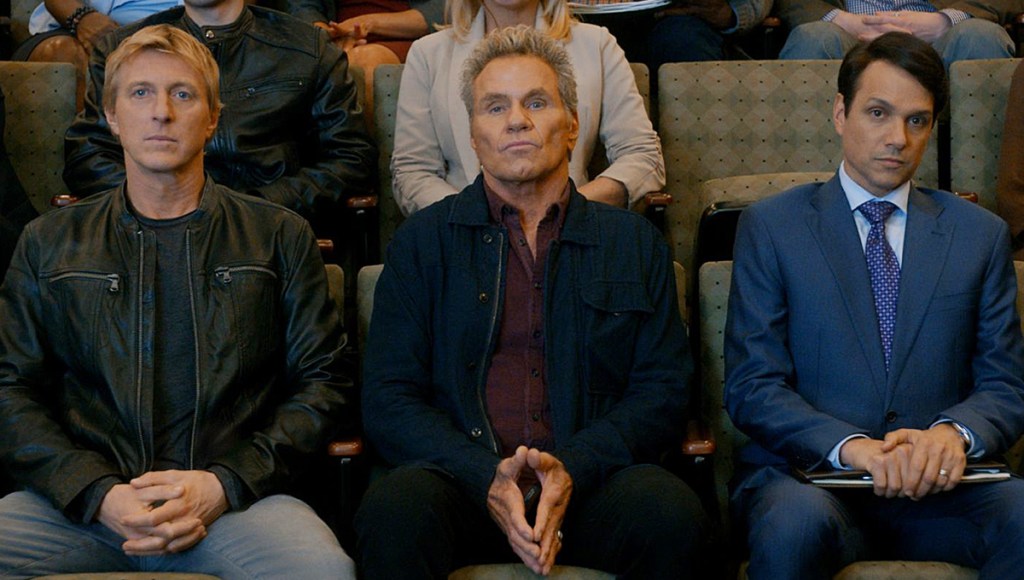 While that was more emotional potency than a light-hearted, nostalgia-driven show like Cobra Kai seemingly had a right to wield, the creators and cast pulled it off impeccably. Likewise, Season 3 may have ended with another big brawl—between the adults, with Daniel and Johnny's respective fights against Svengali sensei John Kreese—but it turned into a high (or, as Heald put it, a "yah"), since the cliffhanger laid down long-term groundwork for the series when Daniel and Johnny definitively put aside their 35+ year rivalry to work in tandem for Kreese's loser-leaves-town challenge set at next year's All Valley Karate Tournament. Indeed, the season-closing imagery of the two former rivals combining Daniel's Miyagi-Do and Johnny's hilariously-named upstart, Eagle Fang, into a hybrid school to train their students in a more productive, ethical form of karate for the upcoming challenge was unquestionably one of the biggest highs of the series thus far.
On another interesting note, the creative team's comments also reveal how they fly by the seat of their pants when it comes to cementing cast acquisitions, utilizing their aforementioned talent for keeping behind-the-scenes secrets. The most notable of them was Elisabeth Shue's expected-but-still-surprising Season 3 role reprisal as the 1984 original movie's love interest, Ali, which was teased at the end of Season 2 when Johnny's abandoned phone revealed an accepted friend request from the long-separated high-school girlfriend.
"When we wrote at the end of Season 2 that you're gonna see this phone on the beach, we're basically saying, 'Oh, Elisabeth Shue will eventually come,' and that was just us trying to will it into existence," Hurwitz explained. "We believed we were making a really great, well-intentioned show, we were proud of the work that we were all doing and we felt like we had something really interesting for her to do."
Luckily, Shue—a 1996 Best Actress Oscar-nominee for Leaving Las Vegas—had "an open-mindedness" about an onscreen return that eventually bore a memorable bit of fruit.  
Likewise, fans have been speculating that Cobra Kai Season 4 will continue to cull from its classic movie mythos for additions to its rogues gallery, specifically with The Karate Kid Part III's sinister mastermind, Terry Silver, who was played by Thomas Ian Griffith in the 1989 film. Silver—a black-belt-level practitioner of the Cobra Kai karate style—was depicted as having become obscenely wealthy from shady practices in the hazardous waste management trade, and was revealed to be an old army buddy of Kreese's, to whom he owed a perpetual debt for having saved his "ass" numerous times, a debt he'd started to repay years earlier when he bought the Cobra Kai dojo for Kreese in the first place. Thus, after Kreese's self-destruction left him without students and in debt, Silver offered to become a benefactor and asset in an elaborate plot to rebuild his business and get revenge on Daniel and Miyagi.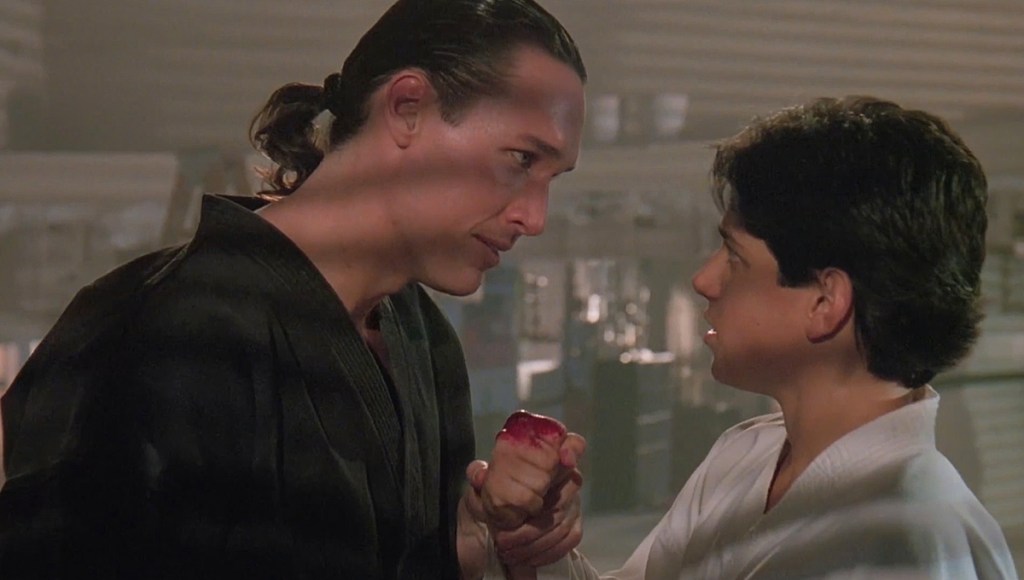 Pertinently, Cobra Kai Season 3's character-defining Vietnam War-era flashbacks for Martin Kove's Kreese culminated in the very moment in which that life debt occurred. The scene, set in a POW camp, shows Kreese (seen as a young man played by Barrett Carnahan) saving the life of his whole platoon, which included a young man who found himself on the proverbial chopping block, called "Twig," leading the grateful rescuee to promise Kreese anything he ever needed for his whole life, thusly revealing him to be Silver.
Moreover, that event would be dovetailed with a cliffhanger scene, set in the present, in which Kreese—having just laid the aforementioned tournament challenge to Daniel and Johnny—holds a flashback-era photo of himself and the army buddy while contemplating the difficulty of the task ahead, inciting him to make a fateful call to…well, you know who! Also of note, the bellicose tournament ringer who Silver hired to torment Daniel in the threequel, Mike Barnes, played by Sean Kanan, has long been expected for a return on the series.
Of course, we'll have to wait and see how Cobra Kai Season 4 ultimately unfolds. With the season having wrapped, it is expected to hit Netflix by the end of 2021.