Features
Bodies Cast: Meet the Netflix Time Travel Crime Drama Characters
Who's who in Netflix's mind-bending graphic novel adaptation?
In 2014 and 2015, Vertigo published Si Spencer's eight-issue graphic novel Bodies, a mind-bending mystery about four police officers from different historical eras who discover the same corpse in the same London location, decades apart. Featuring detectives from the present day, the 1940s, the 1890s and 2053, it's a complex conspiracy thriller about a very dark future. Originally illustrated by four artists – Dean Ormston, Phil Winslade, Meghan Hetrick and Tula Lotay – each era had its own distinct feel and look.
Spencer, who had also written on other Vertigo titles including Judge Dredd and Books of Magick: Life During Wartime, sadly passed away in February 2021, meaning he wasn't able to see Paul Tomalin's eight-part Netflix series adapted from his work. It's out now, with a sprawling cast of characters including Boiling Point and This Is England's Stephen Graham, several established actors and a handful of newcomers. Here's more about them.
Amaka Okafor as DS Shahara Hasan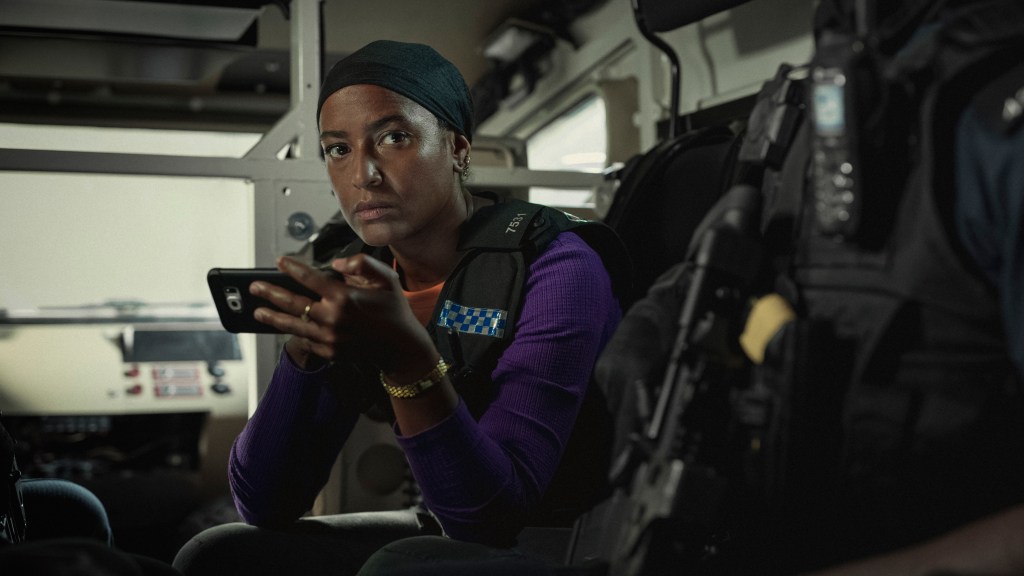 DS Hasan is a detective sergeant who lives in London with her father Ishmael (played by EastEnders' Nitin Ganatra) and young son Jawad (The Midwich Cuckoos' Oscar Coleman). While policing an anti-immigrant march in London's East End, she chases down a suspected killer to Longharvest Lane, where she discovers a mysterious corpse.
Okafor has several voice roles under her belt, from Nada in The Sandman audio drama (well worth a listen for Neil Gaiman fans), to a regular role as Kaz on BBC Radio 4's The Archers. She recently starred opposite Aisling Bea in Take That jukebox musical movie Greatest Days, and has appeared in crime dramas The Responder, Vera and Grace. She's also a seasoned theatre actor who, among several stage productions, played Lady Macduff in The National Theatre's 2018 Macbeth.
Jacob Fortune-Lloyd as DS Charles Whiteman
DS Charles Whiteman is the 1940s detective who gets involved with the corpse mystery. He also has a mystery of his own, and personal demons to battle alongside the spivs and crims of WWII London.
He's played by Jacob Fortune-Lloyd, seen recently as gangster Ricky Monke in Prime Video's excellent sci-fi adaptation The Power, and as General Petrov in season three of raucously fun historical drama The Great. Movies-wise, Fortune-Lloyd popped up in crime caper See How They Run and in The Rise of Skywalker, but his biggest roles are so far on television, in prestigious 2015 adaptation Wolf Hall and Netflix's chess-based mega-hit The Queen's Gambit, in which he played D.L Townes.
Shira Haas as Iris Maplewood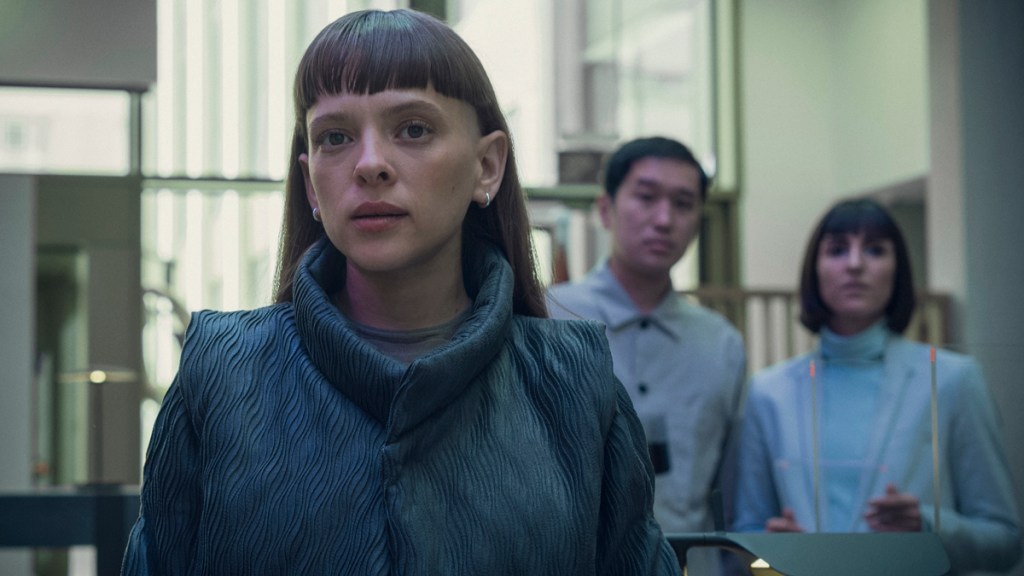 Iris is the detective in the 2053 segment of the story, which presupposes big changes to society after a catastrophic event that left its scars on her family.
Israeli actor Shira Haas stunned audiences with her performance as Esty in acclaimed 2020 Netflix series Unorthodox, about a young woman who leaves behind New York's Hasidic Jewish community in search of personal freedom in Berlin. She's a big name in Israeli television, having played Ruchama in Shtisel and Odi in The Conductor. Marvel fans will soon be seeing Haas in Captain America 4, subtitled "Brave New World", where she'll play a modernised take on mutant and Mossad agent comic book character Sabra.
Kyle Soller as Hillinghead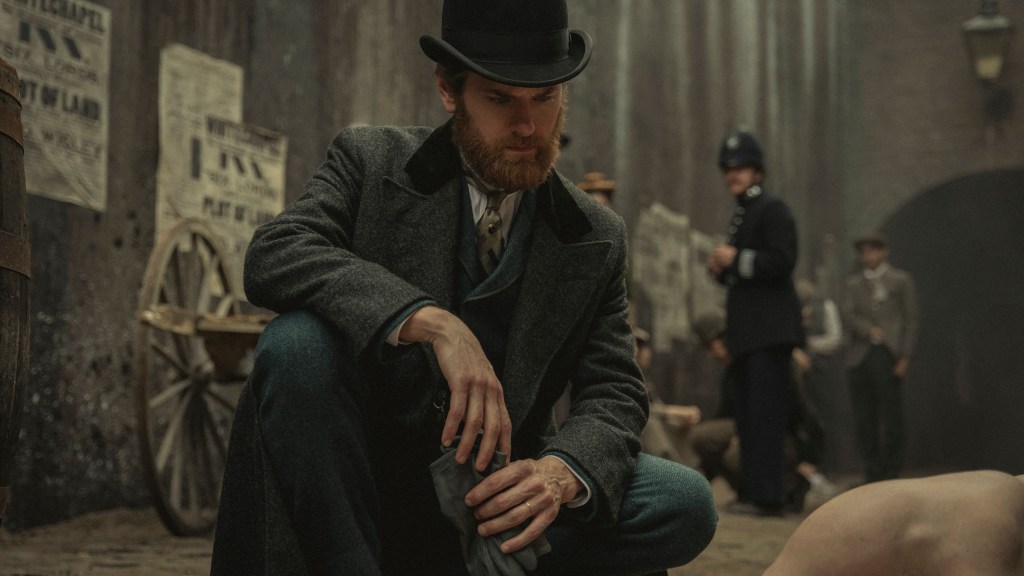 Hillinghead is a Sherlock-esque detective in 1890s Whitechapel, where he battles his own inner conflict at the same time as the street thieves and murderers.
He's played by Kyle Soller, who should be recognisable (even with the beard) to Poldark fans as Francis, the cousin to Aidan Turner's romantic lead, Ross Poldark. Soller is a RADA-trained actor who has appeared in numerous stage and videogame roles, as well as appearing in 2012 film Anna Karenina, and TV series Silent Witness.
George Parker as Henry Ashe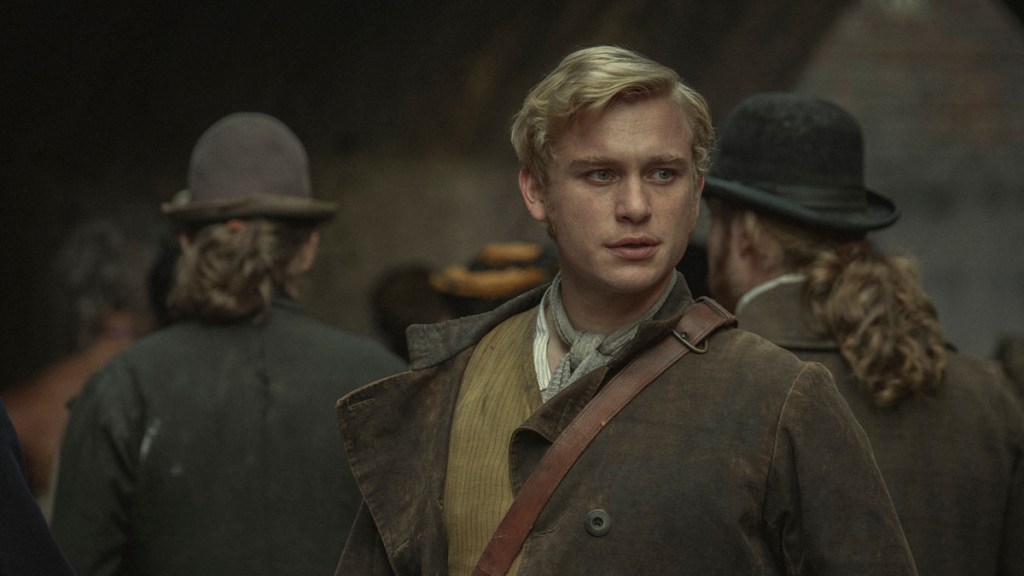 Henry Ashe is a Victorian journalist who crosses paths with Hillinghead in the 1890 storyline when he takes photographs of the mysterious corpse in Longharvest Lane. He's played by George Parker, who's probably best recognised as having played Prince Vasily in Shadow and Bone and Sam Shay in Batman prequel Pennyworth.
Michael Jibson as Barber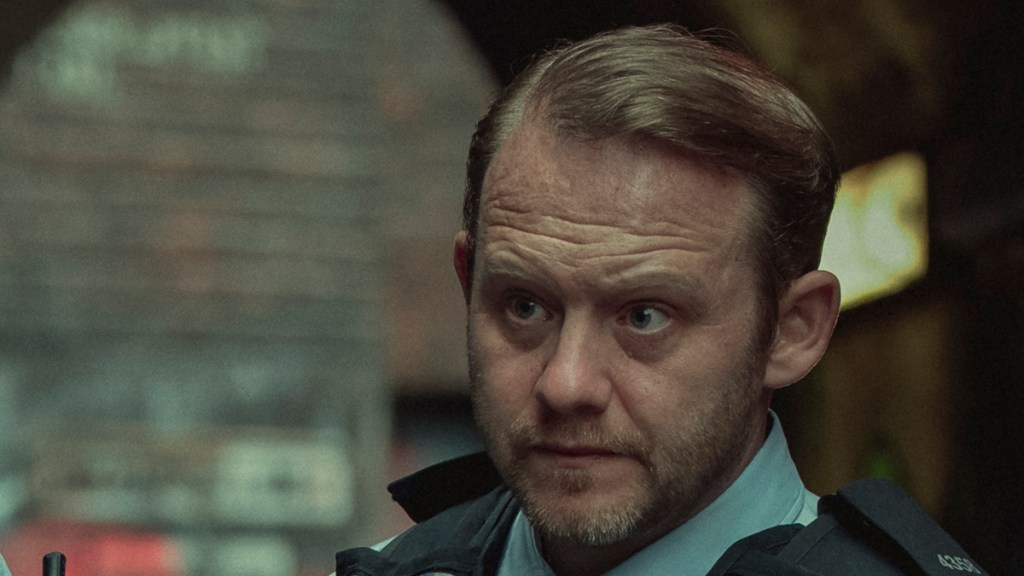 DS Hasan's boss Barber is part of the 2023 storyline and leads the investigation into the body Hasan discovers in Longharvest Lane. He's played by Michael Jibson, a great character actor who's always a welcome face on screen. He recently played Matthew opposite Claire Danes and Tom Hiddleston in Apple TV+ adaptation The Essex Serpent, appeared as Lieutenant Hutton in WWI feature film 1917, was part of the "Coughing Major" scandal as Tecwen Whittock in ITV drama Quiz, played Rudolf II in A Discovery of Witches, Steve Hewlett in The Crown and most recently appeared in BBC Jimmy Savile drama The Reckoning.
Stephen Graham as…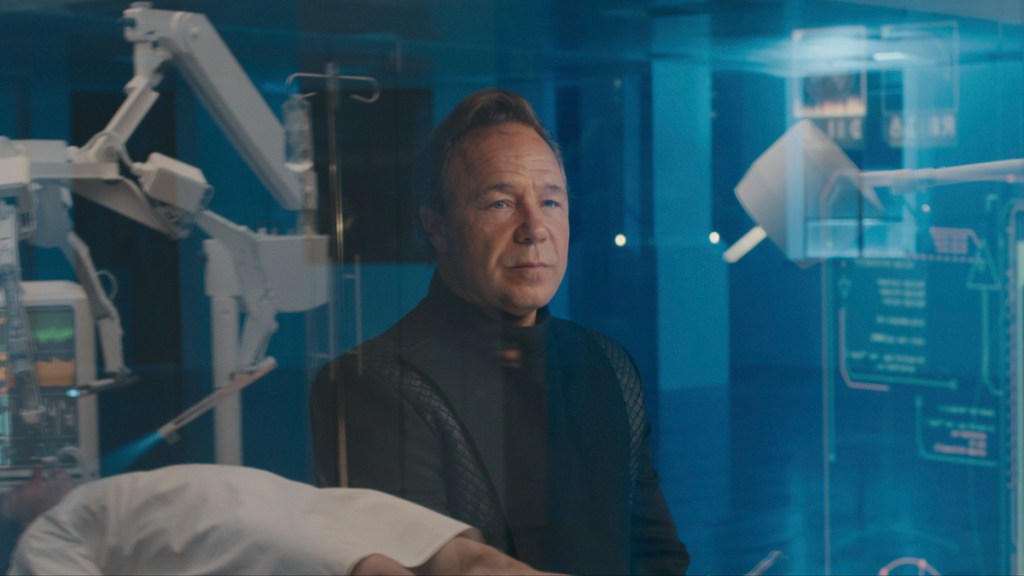 To say too much about Stephen Graham's mysterious character in Bodies would be a spoiler, and the man himself needs no introduction to fans of UK drama, but Graham is best known for playing Al Capone on Boardwalk Empire and Combo in Shane Meadows' This is England film and TV continuation. He recently played the guest lead in Line of Duty series five, in true crime drama The Walk-In, and most recently in the TV series sequel to acclaimed feature film Boiling Point.
Tom Mothersdale as The Body/Gabriel Defoe
The mysterious corpse who appears in four different historical periods is played by Tom Mothersdale, whom you may have seen as Ethan in Anglo-French sci-fi series War of the Worlds, or as real life historical figure Edward Kelley in Sky fantasy adaptation A Discovery of Witches. He was Ferguson in 2019 action series Treadstone, computer hacker Smoking Mirror in Prime Video's Alex Rider, and has also appeared in Hanna, Doc Martin and Philip K. Dick's Electric Dreams.
His character, later identified as Gabriel Defoe, plays a key part in the latter half of the Netflix series.
Greta Scacchi as The Lady
The mysterious voice on the end of the phone in Bodies' 1940s segments belongs to Italian-Australian actor Greta Scacchi, playing "The Lady" – to say any more about her now would be a spoiler.
Scacchi is a familiar face on screen, with movie and TV roles going back to the early 1980s. She was celebrated for 1983 Merchant Ivory film Heat and Dust, and for 1996 film Rasputin: Dark Servant of Destiny, and is perhaps best recognised for starring opposite Tim Robbins as June in Robert Altman's 1992 film The Player and opposite Gwyneth Paltrow in 1996's Emma, among many, many roles.
Alexandra Roach as Maggie
Police forensics officer Maggie, who works with DS Hasan in the 2023-set Bodies segments, is played by Welsh actor Alexandra Roach, who came to fame playing Becky in Channel 4's excellent comic book conspiracy thriller Utopia. She's most recently appeared in Welsh drama The Light in the Hall, and in hit creepy podcast series The Witch Farm, but has a host of roles under her belt after starting out in Being Human and The IT Crowd. Roach was a lead in crime comedy-drama No Offence, and Julia Davis historical comedy Hunderby, and has had roles in Sanditon, Killing Eve, Black Mirror and Inside No. 9 episode "The Riddle of the Sphinx".
Synnove Karlsen as Polly Hillinghead
Polly is the daughter of Detective Hillinghead (see above) and his wife Charlotte (played by The Nevers actor Amy Manson – who's actually only 11 years senior to Karlsen).
Polly is played by Scottish actor Synnove Karlsen, who's best known for playing Clarice in lush historical drama Medici, the lead in BBC young adult psychological thriller Clique, the daughter of Keeley Hawes' character in Sky's recent adaptation of John Wyndham's sci-fi The Midwich Cuckoos, and Jocasta in Edgar Wright's spooky 2021 film Last Night in Soho.
ALSO STARRING
– Gabriel Howell from The Fence and Nightsleeper as young Elias.
– Kate Ashfield, best recognised for playing Liz in Shaun of the Dead as Elias Mannix's adoptive mother Elaine Morley.
– Mark Lewis Jones, who plays Tom in Outlander and Steve in Keeping Faith as Elias' adoptive father Andrew Morley.
– Newcomer Chloe Raphael as 11-year-old young German, Jewish "Kinder" child Esther Jankovsky.
– Philippa Dunne from Motherland and The Woman in the Wall and Derry Girls as Lorna Dunnet.
– Michael Shaeffer from The Sixth Commandment and Bodyguard as DI Hayden.
– Happy Valley and Gentleman Jack's Derek Riddell as Whiteman's Inspector Calloway.
Bodies is out now on Netflix.