Reviews
The Power Review: Event TV That's a Force to be Reckoned With
Prime Video's The Power is a superb sci-fi series about a changing power dynamic.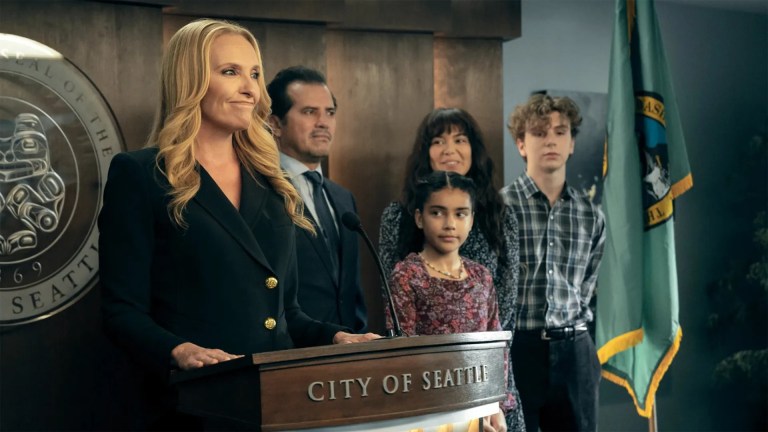 This The Power review contains no spoilers.
Power corrupts, absolute power corrupts absolutely etc. etc., but not (yet) in Prime Video's excellent adaptation of Naomi Alderman's 2016 best selling work of speculative fiction. The novel, developed with help from a mentorship with Margaret Atwood, imagines what would happen if teenage girls suddenly developed the ability to produce electrical charges through their fingers. 
The series takes this premise, updates it slightly for a 2023 audience and creates a show that feels complex, nuanced, emotional, and, yes, electric. This is not a simplistic girls against boys diatribe. It's not a diatribe at all, but a fascinating thought experiment translated into colorful, dynamic TV, with a banging sound track and an impressive ensemble cast. 
With an all-female writers room, the show was developed by Alderman, Raelle Tucker and Sarah Quintrell, with Tucker as the showrunner. They've created a powerhouse.
At the top of the show is Toni Collette's well meaning Mayor Margot Cleary-Lopez, a mother of three including teenage daughter Jos (Auli'i Cravalho) who develops The Power. She's an early advocate for the women and girls and their bodily autonomy, protesting suggestions of creating registers of who does and does not have it, while her husband (John Leguizamo) is devastated to discover plans via his work to develop a suppressant for The Power.
Representing the younger generation in the US is Jos and her classmates. Initially bullied and terrorized by the frightened staff, the girls quickly learn the upsides to their new skills. But what effect will this switch have on young men and boys? Margot's son Matty (Gerrison Machado) feels increasingly disenfranchised and lacking a voice. And the internet can be a dangerous place to turn.
This is a global show, with major ambition. Young Nigerian video journalist Tunde (Toheeb Jimoh – aka Sam from Ted Lasso), takes us from Nigeria to Saudi Arabia where he witnesses a glorious uprising of marginalized women (it's uplifting but guns still exist…), to fictional eastern bloc dictatorship Carpathia where we meet Tatiana (Zrinka Cvitesic). Plucked as a young teen gymnast and married off to the disgusting finance minister, as an adult she finds herself as the first lady locked in a gilded cage with a brute. And then there's her sister Zoia (Ana Ularu), separated from Tatiana when they were children, she's a captive of a different kind and there'll be hell to pay when both sisters are freed.
Over in the U.K. there's the gangland Monke family headed up by patriarch Bernie (Eddie Marsan), whose daughter by an affair, Roxy (Ria Zmitrowicz from excellent UK true life drama Three Girls), gets The Power and turns out to be highly skilled at using it. Poor loveless, friendless Roxy becomes a powder keg, an attack dog with taser-fingers seeking comfort in all the wrong places.
And then there's Allie (Halle Bush), a troubled child who reinvents herself in a convent as Eve, a leader of disenfranchised young women searching for something to believe in.
Exploring major facets of society: politics, religion, crime, sex, the media, and of course gender The Power is a show about big issues. Despite this it's also a surprisingly zippy one, skipping elegantly between characters and locations. The cast across the board is excellent though you will of course have your favorites.
Cvitesic's Tatiana is a rage-filled figurine who has a standout needle-drop moment in episode eight that is simultaneously glorious and terrible. Jimoh's Tunde is almost the perfect model of an ally until he's confronted by women who don't want a man to tell their story. Meanwhile Zmitrowicz gives a towering performance as the most messed up character in the show. She's a car crash but you can hardly blame her, nor can you take your eyes off her when she's on screen.
Bigger in scale and less bleak and harrowing than The Handmaid's Tale, The Power is nevertheless likely to appeal to fans of that show, and hopefully it'll find a wider mainstream audience too, since this is in some ways NOT actually a show about women, and just about who holds the most cards… Or is it? What's for sure is it's likely to be the source of many important discussions, not least of which should be about what exceptional event telly this is.
The first three episodes of The Power arrive on Prime Video on March 31, with new episodes landing every week.