Features
Neil Gaiman: How The Sandman Reinvents the Audiobook Format
Neil Gaiman's Sandman finds its first true adaptation in an 'audio movie' and it could be a game changer
"For years, I've said that I would rather have no adaptation of Sandman than a bad adaptation," says Neil Gaiman – and for years we've had no Sandman adaptation. But perhaps surprisingly, given the very visual nature of a graphic novel, the first one to make it past the finish line is an audiobook – more than an audiobook, a scripted audio drama, something akin to a radio play or perhaps an 'audio movie' of the first three volumes of Gaiman's The Sandman graphic novel series. It might not be the adaptation audiences were clamoring for but it works surprisingly well and might just set a path for a whole new way of consuming classic storytelling during a time when traditional screen productions are stymied.
Directed by Dirk Maggs who is well known in radio for producing complex, immersive and cinematic audio productions, the new Sandman adaptation has a Hollywood cast and an epic feel, spanning almost eleven hours in total. It's a project which almost certainly couldn't have worked as anything other than an audio production and retained the scope and scale, especially right in the middle of lockdown.
"When we made Coraline, on a good day, you would get seven usable seconds," Gaiman explains. "Shooting a movie, on a good day, you get four minutes. Shooting Good Omens, on a really good day, we would get six minutes done. The amazing thing about audio is because we are just using voice and sound and because you're relying on the listener to work with you as a co-creator and to imagine and to build, themselves, things are relatively – and I'm using the word 'relatively' here just because I do not, in any way, want to diminish the magnitude of what Dirk Maggs and his collaborators have done here – but it's 'relatively' simple."
Simple compared to a full on 11 hour screen version but, still with a ferocious number of moving parts and a massive cast spread across different countries, there were still major factors to take into consideration. Talking separately to Maggs we start to get a sense of the magnitude of the production. Sound was, unsurprisingly, the key to making the series work.
Maggs explains that they first recorded the ensemble cast, a group of around 60 actors who between them formed all the smaller supporting roles – some who are A-listers in their own right. These parts were recorded in London.
"I shoot on shotgun microphones, the same mics that you use on film sets to pick up actors' voices, because I'm trying to carry this cinematic feel through everything," he says. "So my first question to the other studios we were using is 'what mic have you got?' and then we work from that. Then it's just a case of me carrying in my head how the recording is shaping up now. The director's job for me is to make sure that as an audience, the listener isn't suddenly thinking 'hang on a minute, that sounds like it was recorded 3000 miles away, a month later.'"
The layering of sounds effects is a complicated business too and something that Maggs has been perfecting for much of his career. From directing Superman radio plays back in the '90s he's no stranger to translating comic books to audio.
"The movie feel we strive for is a case of taking the voices and then basically mixing it as if it were a movie and not a radio play. It's not the sort of polite teacups rattling, 'more tea, vicar?' BBC thing. This is where we add pretty much everything to the audio mix down to footsteps, clothing, rustles. If you listen to episode eight where Dream is feeding the pigeons and chatting to Death you can hear their movements as they turn to each other and throw and catch basketballs and so on. So it's a very complex business and it's very labor intensive, but the end result is something where if you close your eyes, you'll see it play out on a screen in your head."
It helps that the production managed to round up a cast that any blockbuster movie would be proud of. Front and center is James McAvoy as Morpheus – he was easy casting as far as Maggs was concerned.
"I knew that James had everything we needed to deliver Morpheus," Maggs says. "We'd worked with him on Neil's Neverwhere for the BBC. The thing about James is that he brings an energy. The tricky part with Morpheus is that he's not a passive character, but he doesn't actually do a lot of decisive action. A lot of the time he is reflective. I needed an actor who even in the reflective moments would get the sense of action and that's what James brings."
McAvoy was set to record his part last of all. "What none of us then knew was the day that he was due to go into the studio was the day that we went into lockdown…" Gaiman says, telling us that in the end they had to ship McAvoy "a studio" and he had to learn to work it. "He had to become his own sound engineer while Dirk Maggs directed him and talked him through, at the other end of a screen," he explains. Gaiman says he's started to do the same from his place in Scotland and shows us the very professional looking microphone he's using for this Zoom call.
The result is surprisingly seamless. McAvoy and Gaiman himself are the two main constants throughout the series. Morpheus' arcs in Preludes and Nocturnes sees the lord of the Dreaming captured by mortals and held prisoner for decades until he is able to free himself and go on a mission to win back his three stolen tools. The Doll's House which is the second Sandman book adapted sees him on the hunt for errant dreams who have escaped from The Dreaming. While the third book, Dream Country tells standalone stories, not always featuring Morpheus at all, like the Element Girl tale, which stars Samantha Morton as a faded and long forgotten DC superhero who is severely depressed and longs for the freedom of death she is unable to attain. Morton is brilliant and the whole episode is just terribly sad.
"Dirk mentioned that, when he taped her performance, she wanted the lights down," Gaiman explains. "He recorded her in the half dark. And then he had to go and find Kat Dennings in Atlanta. She'd been doing an all-night shoot, and she was exhausted. She still gave us her all, which is so wonderful." The episode includes Kat Dennings as Death gently handing a tissue to Morton's Element Girl in reality from across the Atlantic as if the two were sat together talking quietly in a dark room.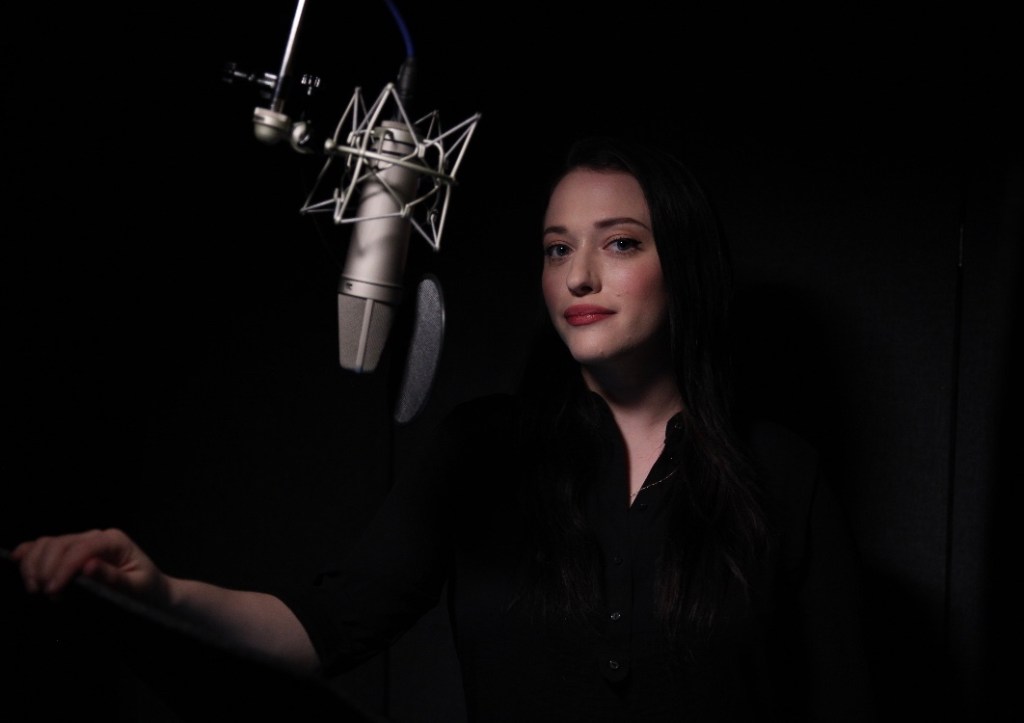 One element of the series that may provide an extra thrill to fans of the book is Gaiman's appearance as the Narrator. By necessity, the adaptation adds extra levels of description to make up for the lack of panels to really paint pictures of The Endless and more in listeners' heads.
"The entire experience was very strange. I would very happily not have been the narrator," Gaiman smiles. "Dirk wanted me, and this was Dirk's project. My attitude was that I wanted whoever played Morpheus to be the focus and the voice that you were going to hear the most of."
It's a lovely bit of meta-casting which sees the creator of Dream of The Endless as the overlord, weaver of his own stories. And the extra description needed added no problems for Maggs or Gaiman since the original directions Gaiman gave to the artists on the series still existed.
"If you go into my hard disk, and you go into ancient photocopies of ancient drives on computers that have long since been forgotten and junked and abandoned…," Gaiman says, taking us on another journey of undiscovered hidden treasures, "and you follow down ancient, DOS branchings, you eventually get to files with names like Sandman and Sandman Archives, in which all of the files are in WordPerfect 4.1 format. And they are the original Sandman scripts."
Gaiman dug out the scripts of old and sent them to Maggs to work from.
"Everything in Sandman has been described by me at some point or another," Gaiman says. "So Dirk would then go and find the lines that he wanted to use, which were my original descriptions to an artist of what a place looked like, what a person looked like, and slide that in and give me, as the Narrator, that line that I'd already written long, long ago, as a line of description. So, that was kind of weird. It's almost like asking everybody who's listening to this to become the artist for their own comic."
It's a rather lovely element to the adaptation which means it works just as well for people completely new to the comic as those who have images of the Endless already burned into their subconscious minds.
There's another advantage to this approach too.
"I love the idea that blind and partially sighted people, people whose brains do not process comics, people who just can't pick up the comics for whatever reason, now have a way of accessing those stories. That, for me, is huge," Gaiman explains.
The Sandman brings in other well loved DC characters too with similar quality casting. Taron Egerton plays John Constantine in an arc from Preludes and Nocturnes which sees the occult detective visiting an old girlfriend to help Morpheus in his quest for his lost artefacts. Egerton plays Constantine as a convincing Scouser (Egerton's parents are both from Liverpool) and Maggs says the Golden Globe winning actor gave him the most trouble in the edit.
"Taron's was the hardest because he gave me so many great choices on each line that it actually made it quite quite a challenge to make any set of decisions," he says. "He's like James, he comes in with ideas."
Michael Sheen who played an angel in Good Omens, which Gaiman scripted, plays Lucifer Morningstar, "I'm not sure if it's a promotion or a demotion," laughs Maggs. He's something of a favourite in the world of The Sandman who we are likely to see more from if the show gets a second series. "Michael came in and he ran with the idea of Lucifer being based slightly on David Bowie which was really nice," says Maggs. "It worked really well with James's Morpheus."
With Miriam Margolyes as Despair, Riz Ahmed as The Corinithian, Arthur Darvill as Shakespeare, and Matthew Horne as Hob Gadling, among many favourites rounding out the cast, this is an all-star production that transports listeners to hell and back via the world of The Dreaming in a beautiful, sleepy way.
There's also the chance that this adaptation might reinvent people's expectations and perceptions of what an audiobook can do, at the very time when many on screen productions have had to be shut down due to Covid.
"This was the chance to take a modern classic like The Sandman and realise it so convincingly in audio that people who think audiobooks consist exclusively of single voices reading against a silent background will have their expectations massively opened up by the breadth and power of the acting of our superb cast, the cinematic atmospheres, settings and sound effects, and the beautiful full score especially composed for The Sandman by James Hannigan," explains Maggs.
"I'd love this production to open some doors for people who feel the only epic entertainment worth their attention has pictures already attached. Hopefully they'll find the pictures in their head can match anything Hollywood can produce!"
There's still so much material to adapt, too, with the rest of the series of graphic novels as well as The Sandman: Overture, the prequel, to work with. Gaiman is hopeful for more.
"Put it this way. This is currently number one in all categories in the UK and around much of the world on Audible and only number two in the US, because the thing about President Trump from Trump's niece, about how awful he is, is just sitting there at number one," says Gaiman. "Everybody's very happy at Audible with how well this has done in terms of reach and listening and people enjoying it and everybody's loving it. So, I cannot imagine a world in which we don't now go on and do Season of Mists and keep going. I want the whole thing."