Reviews
Boiling Point Review: BBC Restaurant Drama Deserves a Michelin Star
It's so much more than just dinner.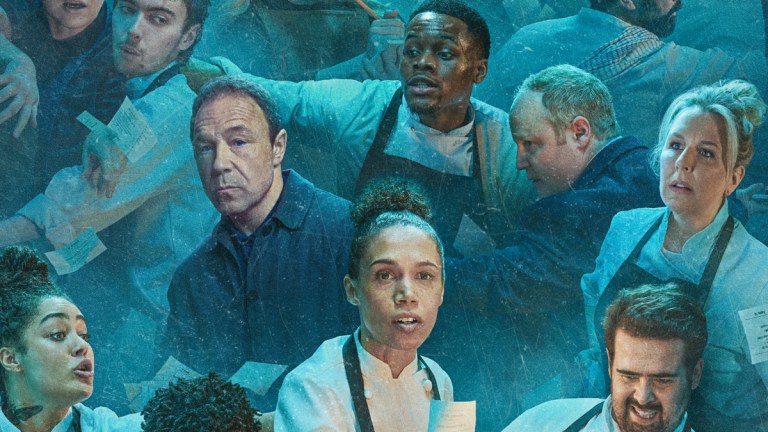 Be nice to waiters. That's the first lesson of new four-part BBC One drama Boiling Point. Be nice to waiters not only because it's nice to be nice, but because however calm and smiling they emerge from behind those flapping kitchen doors, inside blows a hurricane. Personal dramas and business pressures, dodgy colleagues, nightmare customers, shifts that end at midnight and leave you buzzing with adrenaline that needs to go somewhere… it's the perfect cocktail for dysfunction and conflict. Handily, that in turn is the perfect cocktail for TV drama, as we know from rightly critically acclaimed US series The Bear (watch that and watch this too; there's plenty of room for both.)
Boiling Point's second lesson is just to let this creative team get on with it. Give them a second series with the full six episodes immediately, please, because they clearly know what they're doing. 
They should know, by now. Writer James Cummings, director Philip Barantini (The Responder) and co. first made Boiling Point as a short film in 2019 before it expanded like rising dough, first into a celebrated one-take feature film in 2021, and now into this BBC One drama with most of the original cast, and endless potential to return. It's worked in every form, because this lot has the storytelling chops to grip you. 
Chops may feature in Boiling Point – pan fried, basted, sauced and artily plated with a locally sourced garnish – but it's far from just a show about cooking. It's a workplace drama about a group of people (and post-Covid, a whole industry) struggling to keep its head above water. Yes, they're in a kitchen, but the characters put themselves under the pressure of a submarine crew or casualty ward to create much more than, as one relative carelessly dismisses their vocation, "just a bit of dinner."
The Lazarus Project and Doctor Who's Vinette Robinson plays Carly, a head chef who's sunk everything she has into Point North, her first restaurant. In her brigade is sous-chef Freeman (Ray Panthaki), pastry chef Emily (executive producer Hannah Walters), and a host of fresh talent. In Carly's recent past is her former boss, celebrated chef Andy Jones, played by This Is England and The Virtues' Stephen Graham – great as ever. Andy's story was told in the 2021 film, which played out over one calamitous shift, and this picks up in a new restaurant eight months later. You can easily go in cold not having seen the film, but given the opportunity, why not go back to catch up?
Each episode centres on a single evening shift as well as following one or two characters home. That means that by the end of this short series, we've only been properly introduced to a handful of the ensemble, leaving plenty of stories to tell in future.
We meet Cathy's difficult mother, played by Band of Gold's Cathy Tyson, and new commis chef Johnny (Stephen Odubola). An episode follows pastry chefs Emily and Jamie (Stephen McMillan) as they battle personal demons outside of the kitchen, while another goes on a tense road trip with kitchen porters Holly and Jake (Hannah Traylen and Daniel Larkai). 
The locus though, is the Point North kitchen. That's where Carly strives to serve high-end versions of classic Northern dishes while putting out fires and spinning plates – sometimes literally – and trying to cope with an ever-changing team, rude customers, boorish potential investors, and a draining home life. Be warned, this is not a relaxing watch, but it's also never a dull one. Gripping, frustrating and tense, it's the kind of television best paired with a chamomile tea and a course of beta blockers.  
Alongside the drama, there's also the required quota of food porn – energetically edited sequences of braising, charring, saucing and painstaking plating, complete with tiny tweezered-on garnishes. It's always exhilarating to watch people at the top of their game do their thing, and Boiling Point provides plenty of opportunity to do that.
It's also exhilarating to be part of a TV gang, which is exactly what this is. When Carly ("yes chef") berates her brigade, you burn with their shame, but when she praises them, you glow. Vinette Robinson makes a powerhouse of a lead, but the whole cast is packed with interest and the direction is high-energy and non-stop. By the end of episode four you'll feel like this is only the beginning of this ballsy, character-driven drama. Book a table. 
Boiling Point starts this Sunday at 9pm on BBC One. All episodes will be available to stream on BBC iPlayer from October 1.