Features
Netflix's Scott Pilgrim Takes Off Isn't Just a Movie Rehash
Exclusive: Scott Pilgrim Takes Off co-showrunners and producers Bryan Lee O'Malley and BenDavid Grabinski discuss their Netflix anime adaptation.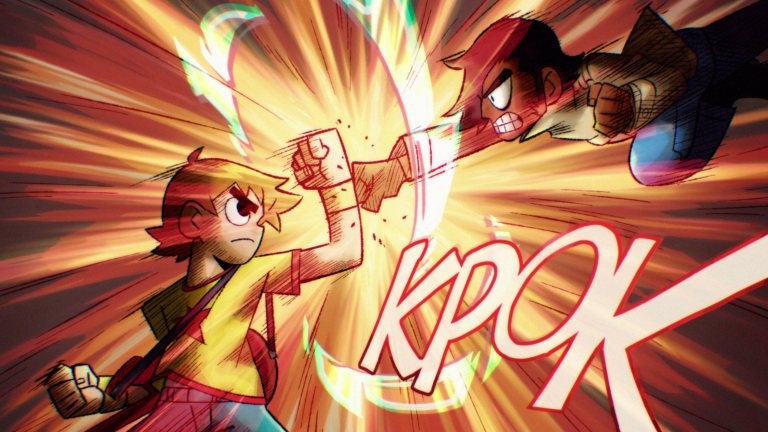 This article appears in the new issue of DEN OF GEEK magazine. Get your copy here.
It's been 13 years since the popular comic book series Scott Pilgrim, created by Bryan Lee O'Malley, was adapted into cult classic live-action film Scott Pilgrim vs. the World. O'Malley and co-showrunner BenDavid Grabinski are bringing a new vision of Scott Pilgrim to life on Netflix this November with the eagerly anticipated original anime series Scott Pilgrim Takes Off, crafting an engagingly fresh take on O'Malley's action-packed coming-of-age story. The duo aren't alone, with filmmaker Edgar Wright, who helmed Scott Pilgrim vs. the World, joining the anime production as an executive producer, along with the fan-favorite cast from the 2010 movie reprising their roles.
For the uninitiated, Scott Pilgrim follows the eponymous 20-something as he and his band try to make a name for themselves in their native Toronto. After falling hard for local delivery carrier Ramona Flowers, Scott must prove his worth by fighting her Evil Exes in progressively more intense video game-inspired battles. However, Scott has to ask hard questions about his own sense of self-worth as he endures a whole line of kinetic and stylish showdowns.
Scott Pilgrim Takes Off follows not only Wright's 2010 film but also a well-received video game, Scott Pilgrim vs. the World: The Game, which had its own distinct take on O'Malley's original story. For O'Malley, himself a longtime anime fan, he and Grabinski wanted to take full advantage of the anime format and explore a creative freshness to the familiar narrative.
"The comic, the movie, and the game were all their own idiosyncratic take on the story," O'Malley says. "That was our ethos at the start of this: this is an anime, so let's embrace the anime-ness of it and make this the anime Scott Pilgrim more than anything else. That freed us up to think about it in new ways."
Led by director Abel Góngora and producer Eunyoung Choi, Tokyo-based animation studio Science SARU studied the Scott Pilgrim comic books extensively, as well as O'Malley's separate artwork, including fan art he made. O'Malley and Grabinski visited Science SARU's offices in Japan as production on the series progressed, with the showrunners impressed by how much the studio analyzed O'Malley's signature art style. "They came back and used iconic images from the book in new contexts. They did all their homework and their due diligence," O'Malley recalls.
This level of visual fidelity carried over to Science SARU, not only recreating an animation style that matched O'Malley's but reconciling the artistic sensibilities O'Malley displayed in the earlier volumes of Scott Pilgrim with his visual evolution across the comic book series' run into a cohesive and instantly recognizable presentation for the anime.
"It was very important to us to not interfere with their visual inspirations; we tried to stick to emotion and humor in the narrative and try to just give feedback," Grabinski explains. "Instead of being like, 'It needs to look like this,' we'd talk about their outfits or props that were related to what we were doing in the storytelling. We always were just hoping they'd come back and surprise us, and they did every time."
One noted consistency between Scott Pilgrim Takes Off and earlier versions of the story is that the anime series still very much takes place in 2000s-era Toronto rather than in the present day. There was early consideration to set the story in 2010 as a nod to the movie, but this was dropped in favor of a more nebulous period in the 2000s to give a sense of "a fantasy of Toronto at that time." O'Malley likes the ambiguity in time period instead of being "too on-the-nose," and that a show with a prominent "indie rock milieu" reflects his real life as it was when he was working on the comic book, not how it is now over a decade later.
"I like dealing with the memory of your 20s and that emotional time instead of being a direct thing," Grabinski agrees. "The thing now is that we have the experience of looking back on it, and we're trying to infuse not just nostalgia but to create something that feels more like a vague concept and what you felt like at that age instead of the specificity that this is today but heightened with magical realism."
One of the biggest strengths behind Scott Pilgrim Takes Off is the presence of the movie cast, from Michael Cera as Scott Pilgrim himself, alongside Mary Elizabeth Winstead's Ramona Flowers, to the extensive supporting cast, including Brie Larson, Chris Evans, and Anna Kendrick. The creators felt that if any one actor had declined to return, they would've recast the whole show, with Grabinski not wanting a repeat of The Return of Jafar, the 1994 Aladdin sequel that infamously recast the Genie role after Robin Williams' refusal to reprise the character.
"The spell would be broken if any component was missing," O'Malley says. "I think the special feeling from the show comes from having a lot of the cast return, and that's all thanks to Edgar and his magic the first time around. The enduring friendship between the cast has led us here, and it's beautiful."
Wright was instrumental in reassembling the cast for Scott Pilgrim Takes Off, with Grabinski complimenting the filmmaker for believing in the production and reaching out to the cast via email to encourage them to reprise their roles. O'Malley noted that Wright's support and clout helped the production overcome many potential obstacles, making the production "such a smooth process." And with the original cast back together, the showrunners wanted to be sure to give them new dialogue and fresh jokes.
"The stuff that was really hard was writing scenes that already existed in the movie and book and trying to not do the same joke but also do something that still works because the pressure is that you have to do something that's as good or better," Grabinski says. "We have a lot of new stuff because it's just not exciting to me to do a cover band version of it; it's actually stressful."
Despite these changes, the video game and other pop culture references that have made Scott Pilgrim so endearing to fans worldwide are very much back in full force. This includes weird and personal references that O'Malley and Grabinski have their own connection with, O'Malley citing the NES game Clash at Demonhead from the comic and movie being an obscure gaming reference he personally grew up with
Running for eight episodes, O'Malley is clear that no one capped off the number of episodes the anime series could have, and he preferred writing bite-sized installments rather than 55-minute episodes. Grabinski feels the eight-episode count is the perfect number to tell the story in the anime series, with Grabinski agreeing, "We got to make exactly the show we wanted to make with people that I respect more than anything."
Grabinski observes that O'Malley is the x-factor in any adaptation of Scott Pilgrim, calling any attempt to make an adaptation without O'Malley's involvement "the dumbest thing imaginable." O'Malley is more reluctant to label himself the secret sauce in making an effective adaptation of his work but concedes that his personal and deep connection to the source material is a likely factor in its success and continued relevance.
"It does have to be a quirky, weird thing that's coming out of someone's head, and, in this case, it's me and BenDavid," O'Malley offers. "We're very 50/50 on everything, but we're also referring back to the books and so is SARU. I think the work that I did back then gives a lot to work with now, which is amazing."
Scott Pilgrim Takes Off will premiere on Netflix on Nov. 17.