Reviews
Mythic Quest: Raven's Banquet Review (Spoiler-Free)
The It's Always Sunny crew heads to the world of gaming for wonderful workplace comedy Mythic Quest: Raven's Banquet.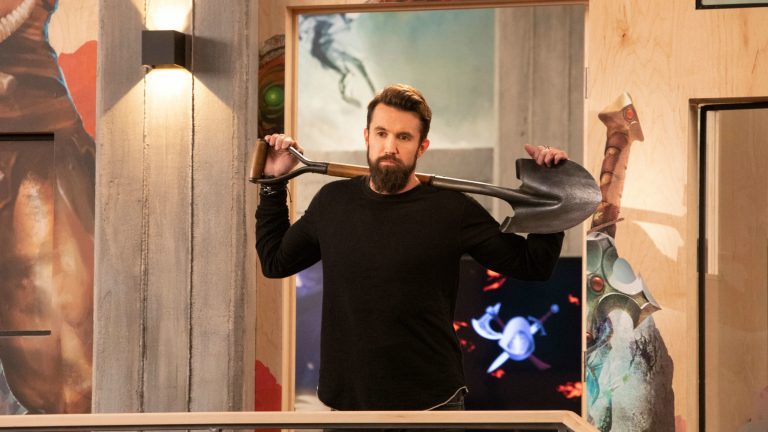 This Mythic Quest: Raven's Banquet review contains no spoilers.
Gaming is the dominant entertainment option of the future…if it's not already of the present.
There are an estimated 2.5 billion gamers in the world. In 2018 more viewers watched that year's League of Legends world final than the Super Bowl. The global games market in 2019 was $149.8 billion (compared to the film industry's revenue of $136 billion).
With those facts in mind, it was inevitable that television would one day produce a television series about the fanciful goings on at a Blizzard-like studio trying to maintain a massive multiplayer online game. Now that day is here with Apple TV+'s torturously named Mythic Quest: Raven's Banquet. Thanks to the producing team of Rob McElhenney, Megan Ganz, and David Hornsby (all of It's Always Sunny in Philadelphia) Mythic Quest isn't just an attempt to exploit those gaming numbers, but a timeless, hilarious, and at times touching workplace comedy.
Mythic Quest: Raven's Banquet brings viewers inside the day-to-day operations of a game studio as they fine-tune their massively popular online fantasy game Mythic Quest, and prepare to roll out their first big expansion pack called Raven's Banquet. Creative Director Ian Grimm (McElhenney) sees himself as the heir apparent to Steven Spielberg, James Cameron, and George Lucas and puts his creative team through hell to make sure everything is pitch perfect before launch.
The show makes great use of its video game concept early and often, setting up fantastic and uncomfortably real jokes about the industry. While introducing a simple shovel, the devs must be concerned with its "Time To Penis (TTP)" potential or how long before someone uses the new tool to create a phallus. The industry's most powerful tastemaker isn't The New York Times, or even Kotaku, but rather Pootie Shoe – a scatalogically-minded teenager streaming from his mom's house. Of course by episode 3, Nazis have taken over a Mythic Quest server, as Nazis online are won't to do.
read more: Mythic Quest Season 2 Confirmed at Apple TV+
Beyond all the gaming verisimilitude however, it quickly becomes apparent that the appeal of Mythic Quest: Raven's Banquet is simply that it's an excellent TV show. Back before the streaming era fractured television into whatever it is now, good workplace comedies were something of the dark matter of the medium: the all-encompassing backdrop upon which networks built their weekly schedules. Mythic Quest has more in common with the Scrubs, Offices, and NewsRadios of TV past than it does with the spectacle of TVs future.
Apple TV+ has already proven that it's committed to prestige on television, launching its service with high profile projects like The Morning Show, For All Mankind, and See. Now with Mythic Quest, it's proven that there's a spot for good old-fashioned TV comedy on its stream as well.
The key to it all, as it usually is in shows like these, is the cast. McElhenney appears to have been training his whole life for a role like Ian Grimm. Ian (pronounced "Eye-en" of course) is just the kind of overly-physical blowhard that McElhenney has played for 14 season on Sunny as Ronald "Mac" McDonald. Ian's TTSO (Time to Shirt-Off) is roughly three minutes in the show's premiere and in every flashback or news clip from the past, the tortured creative genius is sporting a different style of facial hair. Still despite the idiosyncrasies, Ian is more recognizably human than Mac, giving the character and the show more opportunities for dramatic arcs throughout the season.
In fact, every character on Mythic Quest: Raven's Banquet is recognizably human, albeit with some heightened traits. Danny Pudi plays against type as Head of Monetization David Bakshi, a soulless, profit-obsessed snake who everyone openly hates yet can't live without. Imani Hakim and Ashly Burch are Dana and Rachel, game testers with impeccable chemistry. Jesse Ennis is Jo, an assistant who is somewhere between April Ludgate and Joe Goldberg from You on the darkness and obsession scale. If that weren't enough, F. MURRAY ABRAHAM of all people stars as C.W. Longbottom, the game's head writer who knows nothing about games.
But the two real finds are the actors playing characters nearest Ian Grimm's orbit (and perhaps coincidentally all three roles seem to correspond with Mythic Quest's three main producers in McEllhenny, Ganz, and Hornsby). After playing subhuman mongrel Rickety Cricket for over a decade on It's Always Sunny, Hornsby clearly has a ball embodying the sweet, yet meek and ineffective executive producer David Brittlesbee. To keep the workplace comedy comparisons going, Hornsby is a perfect modern approximation of someone like Dave Foley in NewsRadio, the character charged with keeping everyone in line but who is hopeless inept in doing so.
Then there's little-known (to American audiences at least) Australian actress Charlotte Nicdao as Lead Developer Poppy Li. In speaking to Den of Geek at the winter TCA press tour, McElhenney said that the role of Poppy was originally written to be a more direct foil to Grimm and closer to his age. The character was then rewritten to be a younger developer trying to operate from under Grimm's thumb when it became clear to the producers that they couldn't let Nicdao head back to Australia without some kind of role. And thank Kratos they did as Poppy is the piece that pulls all the madness together.
The appeal to this kind of ensemble comedy is to watch as actors become more comfortable with their characters neuroses over a season and even series to the point where audiences can predict how each individual character will react to a new event before they do. At only nine episodes, Mythic Quest does a marvelous job at accelerating this process. By episode three or four, every personality is so clearly defined that it feels like we've spent multiple seasons with these people. It's TV comfort food in a unique environment and at an accelerated place.
Even if much of Mythic Quest is traditionally constructed as a familiar hang out comedy, the show is also quite ambitious at times. If the wonderfully-rendered Mythic Quest cutscenes designed by Ubisoft (and some other resources) weren't enough to make that plain, some of the season's story structure would. Last year HBO comedy The Righteous Gemstones made waves by carving out time for a surprisingly emotional flashback during the show's fifth episode of its nine-episode season. In a shocking bit of TV's Great Minds Think Alike, Mythic Quest also uses the fifth episode of its nine-episode season to tell a touching story from the past.
To be clear, this isn't a case of plagiarism on anyone's part (in fact, Mythic Quest has been wrapped for an absurdly long time pre-air thanks to the Always Sunny schedule and Apple TV+'s protracted launch). It's just fascinating to watch some of the medium's brightest comedic storytelling minds come to similar conclusions as to how best tell a nine-episode story. Mythic Quest's fifth episode is a triumph featuring two very impressive guest stars. Set your watch for mid-afternoon on February 7 to discuss it later.
Ultimately Mythic Quest: Raven's Banquet is an exciting look into TV's future, where online gaming provides more opportunities to tell stories about new kinds of storytellers. But more than that, it's a charming blast from TV's past where all any good comedy needs is a bunch of mismatched weirdos and an office to put them in.
Alec Bojalad is TV Editor at Den of Geek and TCA member. Read more of his stuff here. Follow him at his creatively-named Twitter handle @alecbojalad