Reviews
Search Party Season 3 Review (Spoiler-Free)
The ambitious Search Party returns for its biggest season yet as Dory prepares to face the music with a grandiose murder trial.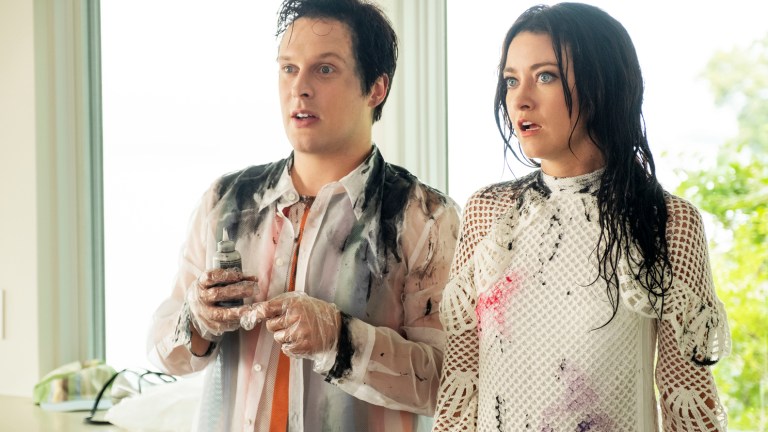 This Search Party season 3 review contains no spoilers and is based on all 10 episodes.
"You're acting pretty calm for a murderer."
"I'm not a murderer."
"Well, you're acting pretty calm for somebody wrongfully accused of being a murderer."
Problematic protagonists are far from a new concept and television has learned how to embrace them to great effect. What makes Search Party such an exciting examination of this idea is that it's a comedy that dresses itself up as a pitch-black romantic mystery, but it's actually a show about disassociation and a narcissist's ability to justify their unhealthy decisions in life. Alia Shawkat's Dory Sief has a self-destructive hero complex and sinks deeper into dramatic quicksand with every step that she takes. The events of Search Party season 3 nearly gave me panic attacks. It's easily the best and most ambitious season for a show that was already doing incredibly challenging things.
Let's be honest: Shouldn't Dory go to prison? She killed someone. Yes, things got wildly out of hand, but she is responsible for this. It seems like on some level Dory understands that everyone's lives might become markedly better if she's removed from them. Dory is in an impossible situation where she doesn't know how to act and everything that she does seems to inadvertently radiate her guilt and create more trouble. This season carefully unpacks Dory's further descent into sociopathy as her ego verges into Ted Bundy territory in many respects.
The most difficult thing for Dory this season is whether she can actually admit her crimes to herself and karmically come clean so she can stop living such a difficult, destructive lifestyle. This season begins with a bleak flash-forward that hammers in how this is a story about hopelessness and delusion.
Search Party expertly deconstructs guilt and grief as themes and looks at how they manifest differently in people. This was a major aspect of the show's second season as everyone tried to cover up and deal with Keith's murder in their own ways. The level of culpability is much more visceral this season since their private acts have been made public. Whatever they do, there's still a looming trial and even if they win it there's the chance that they'll still be branded as pariahs and face uphill battles for the rest of their lives. Dory and Drew's verdict doesn't arrive until the season finale, but in many ways their imprisonment has started from the moment the second season concluded.
Each season of Search Party looks very different than the last, but this year heads into a giant murder trial. This includes all the typical elements that are associated with courtroom dramas, like acquiring a lawyer, evidence, witnesses, and appeals. The trial itself is fantastic and does not disappoint. It's given the weight that it deserves and even though it takes up a third of the season it's all thrilling time that's well spent. The process to the trial is also arguably even more mentally draining for Dory and Drew.
Search Party season 3 adds many new and compelling obstacles, but it also carefully plots its events and everyone's arcs. So many moments had me literally screaming over the risks that the characters take, but it's all a testament to how Search Party always pushes itself and doesn't try to take the easy way out of the serious problems that it creates for itself.
All of Search Party's characters are a part of the same crime, but the stress manifests in unique ways within them. Everyone gets pulled down disparate paths, but it's all such a graceful car crash in slow motion that cannot be avoided. One poor decision will lead to an avalanche of others. It's also amazing how everyone takes something like Dory's arrest and makes it about themselves. It's such an elegant distillation of what Search Party has been about from the start.
The entire cast is superb and hit new peaks in their careers, especially Alia Shawkat. Search Party has consistently featured the actresses' best work, but she tops it this season and gives such a complex and draining performance. She takes Dory to some surprising and frightening places. At times it feels like she's about to shatter into pieces from all of the stress. During other moments she'll pose for the cameras and embrace the attention in a way that's genuinely unsettling.
The chemistry between these characters is still some of the best on television and it's immensely satisfying to spend time with these people again, even if they're in the worst trouble of their lives. The riffing between everyone is just so effortless. In spite of this, this season explores the fissures that separate this group when they need to work together the most in order to heal all of their psychological abuse.
There are also some fresh faces this season, like Shalita Grant as Dory and Drew's rookie defense attorney, Cassidy Diamond. Cassidy has more of a glamorous PR mindset to her legal strategies and she's an extremely entertaining new character. Cassidy's mentality also speaks to the larger media circus that begins to grow around this murder trial. As much as she's supposed to ease Dory's concerns about the trial, her attitude often leads to more stress for her client. She's the season's secret weapon, but leads a strong list of guest stars that also includes Michaela Watkins, Louie Anderson, Mitra Jouhari, and Joel Kim Booster.
One of Search Party's specialties is that magical way in which it juxtaposes everyday minutiae with some of the most dramatic moments of a character's life. Dory fears for what the future holds for her while police officers moan over computer errors and office gossip. Search Party builds a lot of its comedy from out of this, but it also contributes to this festering anger inside of Dory that feels like it could consume her at any moment.
The scrutiny that Dory and company are under this season leads to the rich territory of how the media has such an intense affect on the public's perception of innocence and guilt. A lot of this season explores society's impression of Dory and how everyone is informed and inspired by what various forms of media spit out on the subject. Innocence is irrelevant if the media has already billed her as a villain. This becomes especially detrimental when Dory, someone who's often lacked a strong sense of self, succumbs and plays into the notorious image that the media has created for her.
Search Party is everything that television should be. It's a combination of elements that shouldn't always work, but it's why it's one of the most satisfying comedies on television. The story and characters are legitimately addictive and this new season goes to its most dangerous territory yet. Search Party straps the audience in on an overwhelming ride that they can't escape from and its impressive that this show has been able to naturally evolve into such a dramatic character study. It's comforting that another season has been confirmed, but it's actually stressful to think about where Dory will be at the end of it all.
Search Party season 3 premieres on HBO Max on June 25.