News
I Think You Should Leave: Sam Richardson Gives Season 2 Update, Predicts Baby of the Year 2020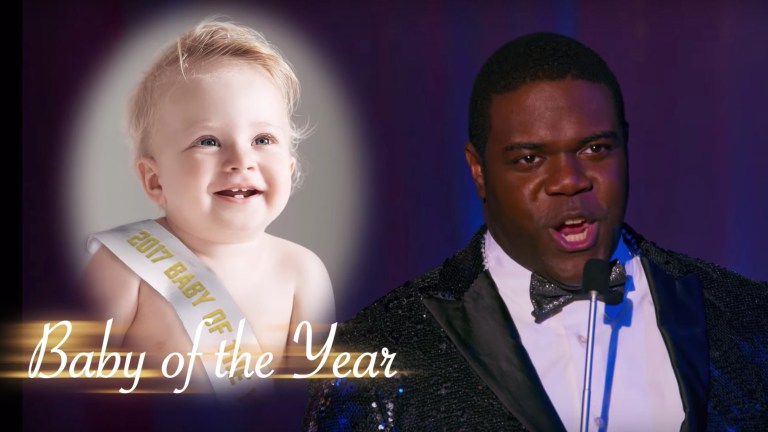 Netflix's breakout sketch comedy series I Think You Should Leave has reached a level of cult phenomenon that one of the show's actors is only just beginning to process.
"Somebody's got a tattoo of Tim [Robinson] on their leg," says actor Sam Richardson. "I'm like, wow. I guess that's it. That's the point. We made it." 
Richardson is in awe of the show's viral status, which has led to a tidal wave of memes, an unlikely breakout star, and niche fan accounts like the brilliant NBA/I Think You Should Leave crossover. Richardson starred alongside Robinson, his lifelong best friend, in Comedy Central's Detroiters, the short-lived but critically acclaimed buddy comedy about two Detroit ad men. After the series was canceled in late 2018 and was unable to find a second life on a streaming platform, Robinson and Detroiters co-creator and producer Zach Kanin landed the Netflix sketch series and found a natural spot for their buddy Sam in two standout season one sketches, "Baby of the Year" and a post-apocalyptic take on A Christmas Carol. 
When we caught up with Richardson, he was promoting Hooking Up, a romantic comedy in which he stars alongside Brittany Snow (we'll have a full interview with the stars soon). We asked the VEEP actor to provide an update on the highly anticipated I Think You Should Leave season 2, and he confirmed his involvement.
"It's about to go into production right now. I think it's actually just started production. I just got back into town. So yeah, I will be returning for season two," he says. "Tim sent some scripts and I got to look over them and just give my two cents on them, and they're all so funny. Tim and Zach, they write so well together and it's just, it's the funniest stuff you can see."
Coming off Detroiters, where their characters are inseparable, Richardson points out that they only put him in sketches without Robinson.
"It's kind of funny and maybe it's a conscious effort [laughs], but maybe it's not," he says. "I think Tim was thinking, 'I know Sam can do these the best.' He sent them to me and I was like, 'Oh yeah, I want to do all these.'"
Richardson says as of right now he's roughly in the same amount of sketches in season two, though he's potentially in more. If given the choice, he'd spring for the latter. 
"I am so busy with my things, which is a nightmare in that all I want to do is hang out and work with my best friend. We do what we can."
In I Think You Should Leave, heavy is the head that wears the littlest crown. Richardson was the man responsible for hosting the Baby of the Year awards in the popular season 1 sketch. Like most sketches in the show, it went completely off the rails, leaving the audience to guess which baby came out on top. Deep down, we all know it was Bart Harley Jarvis. 
Does Richardson, the master of ceremonies, have an early favorite for Baby of the Year 2020?
"My friends Tanner and Kayla just had a baby and she is the most beautiful baby I've ever seen," he says. "So maybe that's the baby of the year."
While his friend's child may be an early leader, Richardson knows that Baby of the Year 2020 is an ongoing process. 
"What you're asking is a very highly controversial thing without going through the judges and the pre-screening process. So me naming baby of the year could send an upheaval and uproar throughout the entire baby circuit. It's like Obama speaking on the candidate he likes, he can't do it. He's gotta wait."
You can next find Richardson in the cross-country road trip comedy Hooking Up, which hits theaters and on-demand on March 20th. Check out the trailer below.