Reviews
Schitt's Creek Season 6 Review
The Rose family is back for Schitt's Creek Season 6, and we're not ready to say goodbye.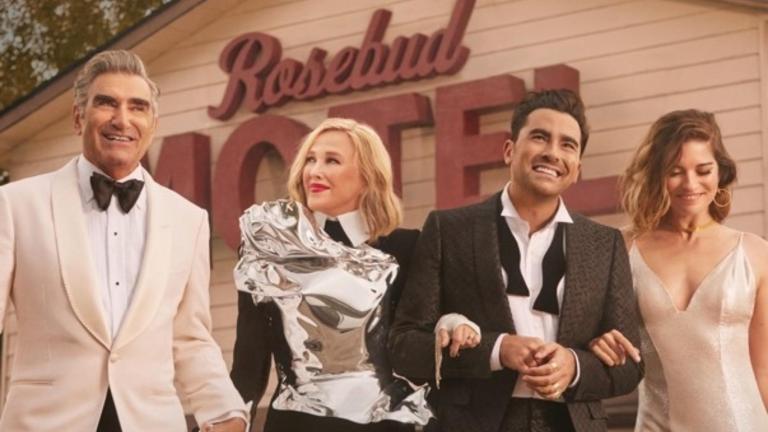 This Schitt's Creek Season 6 review is based on the first four episodes of the season. It contains minor spoilers.
The Rose family and their neighbors in Schitt's Creek are back for a sixth and final season and, as with any TV series that is able to go out on its own terms, Schitt's Creek has some questions to definitively answer. Though this comedic gem is far from the kind of plot-driven shows like Game of Thrones that demand plot-driven answers, the questions Schitt's Creek asks are no less important to its fans, and in no less demand of answers. 
Heading into a 14-episode Season 6, which picks up not long after the events of the Season 5 finale, the big question Schitt's Creek has to answer: Will the Rose family choose to stay in Schitt's Creek? Or, to put it another way (because the most important question to answer when wrapping up a TV show are thematic): Will the Roses be OK? Will this forced integration into community-driven living after decades of ego-driven isolation be fully embraced for what it is: not a prison sentence, but the best thing that has ever happened to the Rose family.
In the first four episodes, Schitt's Creek is in no rush to get to the end, but you can see the show starting to plant the seeds for some kind of closure. At the close of Season 5, some members of the Rose family seemed more inclined to settle in Schitt's Creek on a more intentionally permanent basis than others. While the announced death of Moira's Crows movie had her climbing into her motel room closet in the Season 5 finale, too distraught at what this might mean for her plans to escape this smalltown life and return to the limelight to face anything.
read more: Best TV Shows of the Decade
When Season 6 picks up, the Crows movie is quickly back on (thank god—I need to see as much of this in-universe film as possible), and Johnny is ready to make moves on a business opportunity that at least Moira sees at their other best chance to get out of Schitt's Creek. Somewhat surprisingly, Stevie is also on the What If Not Schitt's Creek? Bandwagon, wondering what life might look like for her outside of the town's limits.
Meanwhile, both David and Alexis have found love with Schitt's Creek residents, suggesting a commitment to the town. When Season 6 picks up, David is going full-steam ahead on his wedding planning, which makes for some especially wonderful moments between the bridezilla and his sister, who gets lots of opportunities to drop mentions of the connections she has and the previous shindigs she's helped pull together as part of the planning process.
read more: Best TV Episodes of 2019
If it sounds like these first four episodes are all high-stakes closure machines, it is because I am diminishing the presence of those familiar qualities this show has developed and grown into over the course of its last few seasons: The Jazzagals. Moira's wigs. David's sweaters. Ted's puns. Nose boops. Johnny and Roland's odd couple banter. The show's foundational truth that you don't have to fit into a clean, socially-constructed idea of desirability to be worthy of love, acceptance, and community.
When we ask the question "Will the Rose family choose to stay in Schitt's Creek?" what we're really asking is "Is the Rose family worthy of love?" What we're really asking is: "Are we deserving of love?" I have yet to see the rest of Schitt's Creek Season 6, but I have a feeling I know the answer to those questions. Because, like any masterful TV series, Schitt's Creek isn't just answering the question "Do we deserve love, acceptance, and community?" in its final episodes. It has answered it every time these community members have been there for one another. Every time one of these characters has shown up for another, or for themselves. Every time they have made the brave choice to be vulnerable and are seen and found whole.
The answer to the question is: yes, yes, yes. And we can all look forward to one last season of Schitt's Creek reminding us of that foundational truth.
Schitt's Creek premieres Tuesday, January 7 at 9pm ET/PT on Pop TV.
Kayti Burt is a staff editor covering books, TV, movies, and fan culture at Den of Geek. Read more of her work here or follow her on Twitter @kaytiburt.