Features
Pinky and the Brain: The Touching Story Behind the Strangest Animaniacs Episode
A discussion with voice actor Rob Paulsen brings up a rather heartwarming story behind the most bizarre Pinky and the Brain short.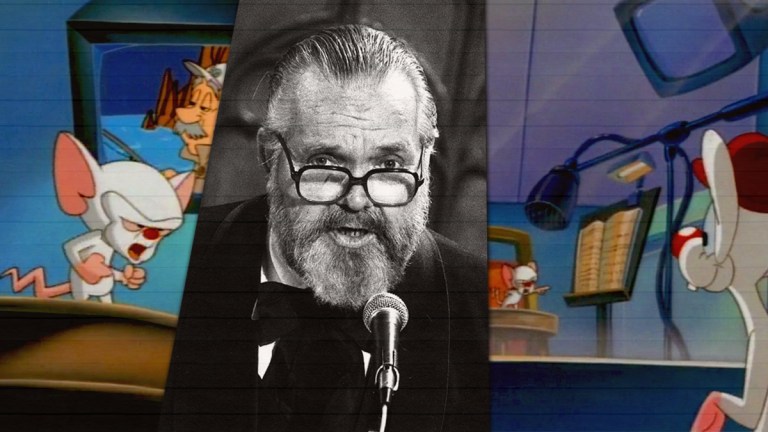 Orson Welles is remembered for many things. His narration of War of the Worlds on the radio is legendary. He gave the world the groundbreaking film Citizen Kane. He schemed to the tunes of zither in the Third Man. He died voicing the planet-eating robot Unicron in Transformers: The Movie. One of the more obscure episodes in his life was when he was hired to record voiceover ads for Findus and their frozen food products.
Yes, it's one of those things that's just too weird to exist.
Once upon a time, Welles was tasked with recording lines for a peas commercial and things started to go off the rails. He and the directors didn't see eye-to-eye, he didn't appreciate any notes about his delivery, and eventually, he stormed out of the session, claiming that no money was worth this. Somehow, the audio was bootlegged and the situation became a ridiculous moment of legend.
Maurice LaMarche has had a long and storied career as a voice actor. He's been Egon on The Real Ghostbusters, Kip on Futurama, Duke Nukem on Captain Planet, Elsa and Anna's father in Frozen, and so on. LaMarche's specialty is his Orson Welles impression, which not only pops up when he is playing the actor himself (as he did when he provided a voiceover for Tim Burton's masterful Ed Wood), but when he's playing the megalomaniacal mouse the Brain. LaMarche was very much aware of the commercial recordings and basked in the ridiculousness of it all.
LaMarche actually lampooned the Findus situation a few times on The Critic, where he portrayed Orson Welles both in a disastrous peas commercial and a video where he introduced a will reading, only to go on a tangent about fish sticks. It helped to know the source material, but it wasn't necessary. These short gags played up the ideas that Orson Welles was a has-been and a glutton. That was enough.
Yet there was another LaMarche performance that was far stranger. The 52nd episode of Animaniacs featured a short cartoon called "Yes, Always" starring Pinky and the Brain. Usually, Pinky and the Brain were known for going on nightly adventures thanks to Brain's overly elaborate attempts to take over the world. In this instance, it was nothing ordinary. It was a cartoon about Brain being asked to do voiceovers for frozen food commercials. All the while, he got in arguments with the director Pinkie and a nearby engineer.
In fact, the dialogue was taken almost verbatim from the original blooper tantrum. Brain replaced the promise of a sexual favor with, "I'll make cheese with you." Other edgier words were replaced with "shoot," "tripe," and "jiminy."
This cartoon made less sense than the Critic jokes. It wasn't in the spirit of what Pinky and the Brain were usually about. While there were kids out there who understood who Orson Welles was for one reason or another (I myself at least understood how one of Brain's failed plans was a reference to Welles' chaotic broadcast of War of the Worlds), it was a lot to ask children to play along with a take on a dead actor's grumpy audio outtakes.
There is a rather sweet story behind the episode, though. While the "Yes, Always" episode aired on February 11, 1994, it was actually recorded on April 15, 1992. The day represented something truly tragic and, well…I'm going to let Rob Paulsen describe it.
I recently interviewed Rob Paulsen – the voice of Pinky – about the Animaniacs reboot, among other things. I asked him if there were any times he was taken aback by how weird a cartoon script was (inspired by that audio clip on the internet of Lion-O's voice actor losing it over his hilarious Thundercats dialogue). I expected to hear about some wacky Cobra plot or something stupid the Shredder and Krang cooked up. Instead, Paulsen threw a curveball.
He started discussing Animaniacs and said that there was a Pinky and the Brain script that was too "inside baseball…a $300,000 in-joke." Immediately, I guessed that it was "Yes, Always" and he happily confirmed it.
"None of us knew it was being written," Paulsen recalls. "We got to work, and the scripts were on the music stands, and we started perusing. Right away, we all just went, 'Oh my God' and we could see Tom Ruegger and Andrea and the people on the other side of the glass because they were looking at us like we were opening a Christmas present. And we all started laughing out loud at the same time. Of course, Maurice was the star of this episode, he had yet to arrive, and we were all just slapping our knees. We couldn't believe our good fortune."
In addition to being a beloved voice actor and "a world class impressionist" and as Paulsen puts it "a freaking genius," LaMarche was a standup comic before making it as an actor, and he was very close with comedian Sam Kinison, who had recently died in a car accident.
"One of Mo's best friends in the world was Sam Kinison and he was at Sam's funeral that day," Paulsen says. "All of the producers knew of this going on, and when Sam died and Mo was going to go to the funeral, they held the recording of that particular episode till that day. So Mo shows up, and he's a pro. He's going to be able to pull it off…and man, when he started reading that script, I was sitting right next to him. I was just kind of looking out of the corner of my eye, and it was almost like he collapsed and put his forehead on the music stand and just said, 'Oh my God. You guys, are you fucking kidding me?' It was just fantastic."
The producers gave LaMarche another nod during the session, as well, letting him deliver a signature mic check as part of the bit.
"The other thing is that Mo used that spot-on impression of Orson Welles doing the, 'We know a remote farm in Lincolnshire, where Mrs. Buckley lives. Every July, peas grow there.'" Paulsen says. "Mo's used that as his mic check for decades in Hollywood. Everybody knows that, regardless of the show he works on. The whole thing conspired to be a really powerful moment for Maurice personally, for the people around him, and a show that really left its mark, especially when they start do to a little homework, and they go, 'Holy Shit. That's a killer episode.' And the way it was put together is even better because they were doing it for Maurice, and he deserved it."
Animaniacs will be making its return to Hulu on November 20. It'll be full of country goodness and green pea-ness.