Features
Best British Medical TV Series: Drama, Comedy and Reality
With dramas, comedies, documentaries and more, here are our recommended UK hospital-themed shows.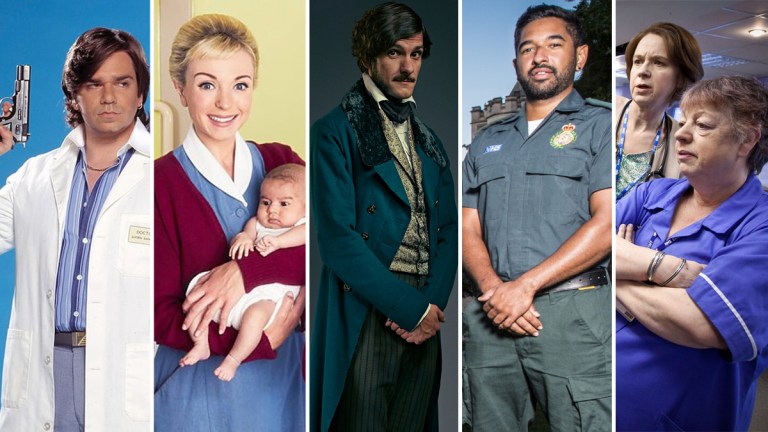 You've got your Casualty and Doctors – medical soaps that have been around forever and will hopefully stay around forever to reliably entertain, educate and break in the stars of tomorrow. Next, there are your factual medical shows of questionable taste – Embarrassing Bodies, 101 Things Removed From the Human Body and other fleshlump-zoo tours that'd put anybody off their dinner.
And then there are the following – quality 21st century hospital dramas, documentaries and comedies, all of which present their unique take on the world of medicine. (And in one unusual case, mostly on hellbeasts.) Leave your own recommendations below.
Call the Midwife
Watch on: BBC One and BBC iPlayer (UK); PBS Masterpiece (US)
If you know, you know. And if you don't know, then you haven't been paying attention. There's a popular misconception that BBC One's long-running Sunday night drama Call the Midwife is a sickly sweet, rose-tinted, tweer-than-twee nostalgia-fest. Nuns on bicycles! Cockneys with hearts of gold! Cutesy babies and beaming new mothers!
In reality, Heidi Thomas' show is a full-voiced scream of political rage. It's the loudest and clearest voice protesting the present government's hunger to strip the NHS for parts and sell it to the highest bidder. Some weeks, it's felt like the only functioning Opposition. Its storylines are bold and brave, tackling subjects as varied as incest, labour rights, venal slum landlords, domestic violence, the immigrant contribution, female genital mutilation… there was a whole-series arc about the life-saving need for access to legal abortion. All of it told with wisdom and humour, by characters who strive to care for, and confer dignity on, all people.
Cardiac Arrest
Watch: on DVD and elsewhere.
When BBC One drama Cardiac Arrest started airing in 1994, creator Jed Mercurio was still working as a doctor, so it's no wonder he wrote it under a pseudonym. Its depiction of hospital life was far from idealised and attracted some controversy for that reason, though medics quickly took to the series as an unvarnished portrayal of a workplace that resonated with their experiences.
Andrew Lancel, Helen Baxendale and Ace Bhatti starred in three series depicting the realities of medical work in the NHS, far away from any shining, white-coated heroes fantasy. Its hospital staff characters are disillusioned, having developed a carapace of callousness towards patients after feeling dismissed and underappreciated by their uncaring, PR-focussed management.
24 Hours In A&E
Watch on: Channel 4 (UK); Prime Video, Tubi & Freevee (US)
No television programme makes you want to hold your loved ones close like 24 Hours In A&E. The 300-plus episodes of this accident and emergency ward docuseries follow a winning formula of high drama and throat-stopping fear followed – usually, but not always – by blessed relief. Each episode tracks a day's intake on a busy A&E unit and tells the human stories behind the injuries through follow-up interviews.
This show lets us accompany real people on the scariest days of their lives, and witness the skill and dedication of the medics that do everything they can to save them. It's frightening, heart-breaking, and makes you grateful for each dull day that nothing of note happens to you or the people you care about.
Garth Marenghi's Darkplace
Watch on: Channel 4.com (UK); Prime Video, Peacock, Pluto TV (US)
Perhaps the greatest hospital-set TV show of all? Forget underfunding and overwork, the staff at Darkplace have actual problems to deal with, i.e. hellbeasts, occult existential threats and unspeakable evil.
Cult Channel 4 comedy Garth Marenghi's Darkplace is a show-within-a-show that tracks the making of a (fictional) low-budget 1980s horror TV series using behind-the-scenes interviews with the talent, and dreamweaver creator Garth Marenghi ("I know writers who use subtext and they're all cowards"). With an excellent comedy cast including Matthew Holness, Richard Ayoade, Alice Lowe and Matt Berry, it's a beloved spoof of horror fiction.
This Is Going To Hurt
Watch on: BBC iPlayer (UK); Prime Video, AMC+ (US)
The dark humour of Adam Kay's blistering NHS memoir won This Is Going To Hurt plaudits in print, but divided audiences on screen. Some people (mostly Mumsnet) felt outrage at Kay's caustic gags about life on an obstetrics ward, while others watched in a different kind of horror, thinking 'how has it come to this?' The series shows junior doctors forced to study and work, and work and study for more hours than technically exist in a week, to the point of exhaustion and sometimes – as this series unforgettably shows – much worse. This seven-episode drama starring Ben Whishaw, Ambika Mod and Ashley McGuire is brutal, unflinching, yet still somehow, funny. If that is, you can bear to laugh.
Green Wing
Watch on: Channel 4.com (UK); Fubo, Roku, Tubi & more (US)
Another TV hospital where you'd be lucky not to end up as a patient, the staff of the East Hampton are… distracted, to put it mildly. Mostly by their love lives, or by anaesthetist Guy Secretan's wastepaper-bin-on-head game 'Guyball', or by their HR manager's deep, deep weirdness (Michelle Gomez turned up to 11), or by any number of other odd events going on in their bleached corridors.
Green Wing is a Channel 4 comedy that's part anarchic sketch show, part sitcom, from the creators of Smack the Pony. With a great cast including Stephen Mangan, Tamsin Grieg, Julian Rhind-Tutt, Mark Heap, Michelle Gomez and a pre-Oscar win Olivia Colman, its two series that ran from 2004 to 2007 are strange, funny and unlike anything other medical show around.
Bodies
Watch on: BritBox (UK); not currently available to stream in the US
If audiences felt squeamish about This Is Going To Hurt, they may wish to avoid BBC drama Bodies. It'd be a pity though, because this 2004-2006 hospital drama is one of the best there is. Written by Line of Duty creator Jed Mercurio based on his experience as a hospital doctor, it stars Max Beesley as a young registrar in an obs and gynae ward that's just like any other workplace – except that here, human error, arrogance, laziness and PR-led management bullshit, lead to patients dying.
Keith Allen, Patrick Baladi and Neve McIntosh also star, in this unflinching look at the early noughties healthcare system (it's different now of course. After over a decade of underfunding, things are much worse). Two series were made, and roundly held up by the medical community as being on-the-money.
Getting On
Watch on: Apple TV, Google Play (UK, purchase only); The Roku Channel (US)
Despite a shower of awards and the kind of reviews that keep TV creators warm at night, this excellent 2010-2012 satirical comedy remains criminally under-watched – perhaps because it's the opposite of some of the shows on this list. Not high drama, not feel-good; its low-key comedy is extremely well-observed, with a keen sense of absurdity and quiet but determined protest.
Written and directed by its cast (former psychiatric nurse turned comedian Jo Brand, Vicki Pepperdine, Joanna Scanlan, and Twelfth Doctor Peter Capaldi), it's a workplace comedy set on a geriatric ward in an NHS hospital where bureaucracy and human weakness compromise professional values – but, you know, funny. Three series plus a sequel spin-off aired between 2010 and 2016, along with a US remake on HBO starring Lady Bird's Laurie Metcalf and The Marvelous Mrs. Maisel's Alex Borstein.
Hospital
Watch on: BritBox (UK); Freevee (US)
Seven series of this award-winning BBC Two documentary have aired, most recently filmed at the University Hospitals Coventry and Warwickshire Trust. As unfussy and unadorned as its title, it's a clear-headed look at life inside a UK NHS hospital. Drama and human interest stories are baked in to any medical doc, so what this series adds to the 'red phone' emergency of 24 Hours in A&E and Ambulance (see below) is a broader scope. Instead of focusing solely on the high-stakes moments, it lets us in on the functioning of the hospital on every level, from students to nurses to doctors, support staff, admin and management. It's eye-opening, sometimes distressing, and fulfils a proper informative function.
Quacks
Watch on: Amazon, Google Play (UK, purchase only), not currently available to stream in the US.
Everybody – apparently apart from the BBC Two comedy commissioner at the time – loved Quacks, an absurdist Victorian-set comedy by Rev. creator James Wood. Despite favourable comparisons to British comedy classics like Blackadder and Monty Python, and an excellent cast including Rory Kinnear, Rupert Everett and several members of the Horrible Histories/Yonderland/Ghosts crew, it was cancelled after one series in 2017.
Six great episodes remain, combining surreal humour with real historical events, and poking fun at self-described trailblazers in the medical world. We should have had more.
Ambulance
Watch on: BBC iPlayer (UK); not currently available to stream in the US
During the first 2020 lockdown, the UK was invited out onto its doorstep at 8 p.m. every Thursday to clap for the workers in the NHS – being feel-good and free of charge, the government encouraged it, unlike the pay rises nurses and doctors so clearly need but are currently having to strike to get.
For the lucky people (myself included) to whom those doorstep applause sessions were the extent of their interaction with hospitals during the pandemic, it took programmes like Ambulance to really drive home what we were applauding. This paramedic docuseries from the makers of One Born Every Minute shows it all. By following on-board and control room medical teams responding to emergency calls, we witness their bravery, expertise, hard work, compassion and invaluable care, all in a day's work.
See Also
Five-part ITVX thriller Malpractice, starring Niamh Algar as a doctor whose conduct is probed after a patient death.
Jodie Whittaker's pre-Doctor Who role in medical thriller Trust Me, about a nurse who fakes her qualifications to pose as a doctor. Series two has a new cast and follows the plight of a paraplegic soldier in a Glasgow ward.
ITV thriller Trauma with Adrian Lester and John Simm follows a surgeon who loses a teenage patient on the table, and the grieving father determined to prove that mistakes were made.
One Born Every Minute is Channel 4's long-running childbirth docuseries, following women in labour and the midwives, nurses and doctors who bring new life into the world.
Riffing on 1970s medical series Angels, Channel 4 2004-2006 comedy-drama No Angels followed four nurses with messy personal and professional lives, starring Jo Joyner, Sunetra Sarker and Tom Ellis.
Jed Mercurio's follow-up to Cardiac Arrest and Bodies was 2015 Sky One series Critical, set in a major trauma unit and starring Line of Duty's Lennie James.
ITV daytime drama Maternal about three doctors returning to work after maternity leave didn't get the chance it deserved beyond one series, despite a great cast led by Sherlock's Lara Pulver, ER's Parminder Nagra and Mum's Lisa McGillis.